Another member of the Hobgoblin range from Wychwood brewery. With that name you would expect it to be the king of the range. But is it, how good is King Goblin beer?
It is an imperial version of the Hobgoblin Ruby Beer, so you would expect it to be bigger and better. It is certainly bigger on strength, however does it deliver on flavor?
How Good Is King Goblin Beer?
It's good and certainly deserves its place in the Hobgoblin line up. A rich full bodied strong beer. It pours a dark brown that shows a red side when the light hits it. As it settles, an off white foamy head rests on top, but fades to just a thin cover.
The nose delivers aromas of sweet toffee caramel over a rich malt base with a breeze of fruit and just a hint of spice. The taste is structured around roasted malt that is rich and smooth. Sweet toffee and liquorice play with the taste buds before a hint of coffee shows its face. It ends with a slight bitter edge that is satisfying and smooth. A worthy beer that scores 4.6 – 5.0.
Another high scoring beer from the Hobgoblin range, those goblins know how to brew beer.
Wychwood Brewery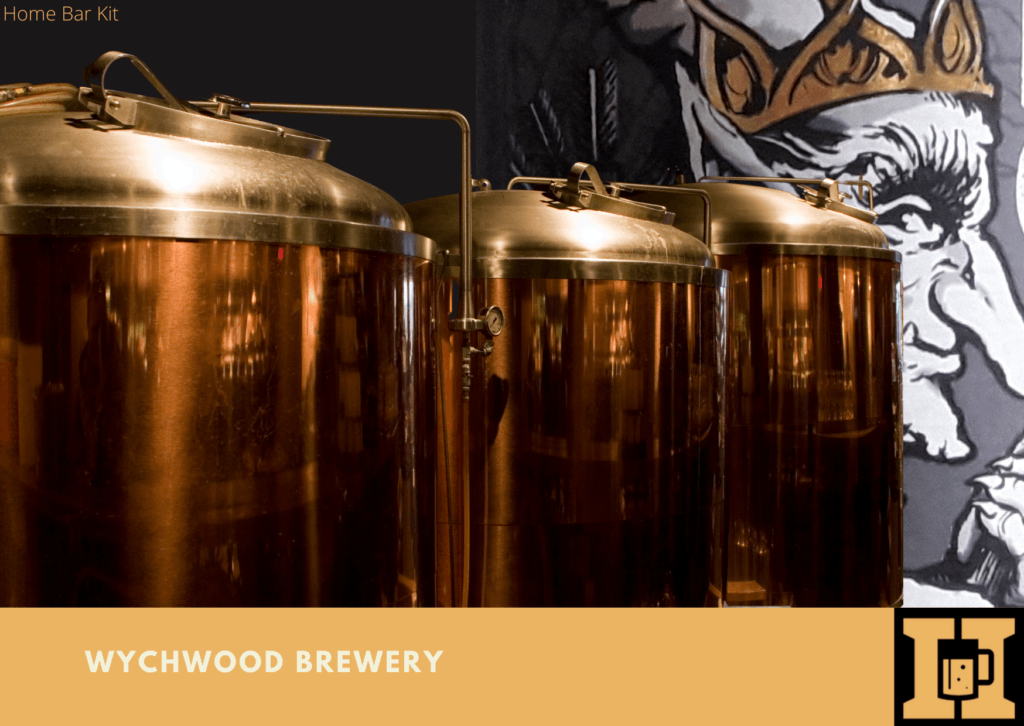 Wychwood brewery is nestled in the old market town of Witney, Oxfordshire England. It's an old brewery that has changed owners as well as names several times over the years.
It even closed at one point before it was known as Wychwood when it was acquired by Courage Ltd. They were only interested in the large pub portfolio. Today it is owned by Carlsberg Marston's who also own Courage.
The brewery is close to Wychwood Forest, hence the brewery name. The hobgoblin range as well as the other beers are inspired by the mythical spooky forest stories set in local folklore.
I talk more about the history of the Wychwood Brewery in other Wychwood beers I have tried Hobgoblin and Firecatcher.
How Good Is King Goblin Beer?
I was expecting this beer to be great, and the reason for that is the Hobgoblin Ruby Beer is great. King Goblin is an imperial version of that beer, so it is surely going to be better.
Bigger and bolder than the Hobgoblin it is called King Goblin after all, so its the top beer of this range. However although the King is a good beer, and I do like it a lot.
For me Hobgoblin is better, it seems to have more going on and develops as you drink it, becoming more complex.
King Goblin although nice, does not quite hit the same spots as the Hob does. This is why it didn't score as high as the Hob.
Although they are similar to each other, there are slight differences and this is in the malts and hops used.
Hobgoblin
Hops: Fuggles, Styrians and Goldings.
Malts: Pale, Crystal and Chocolate.
King Goblin
Hops: Fuggles, Sovereign, Styrian and Cascade.
Malts: Chocolate, Crystal.
The different combination of malt and hops do set these two beers apart, and for me the Hobgoblin wins. Although that does not take away the fact that the King is still a good beer.
When you pick up a Wychwood brew it all starts with the label, and this one is no different. The Hobgoblin range is instantly recognisable with the funny little Goblin on the front.
This one has the Goblin in a Royal guise with a gold crown and sceptre which are the only colors on the grey and white label. Time to open up the King Goblin.
Drinking King Goblin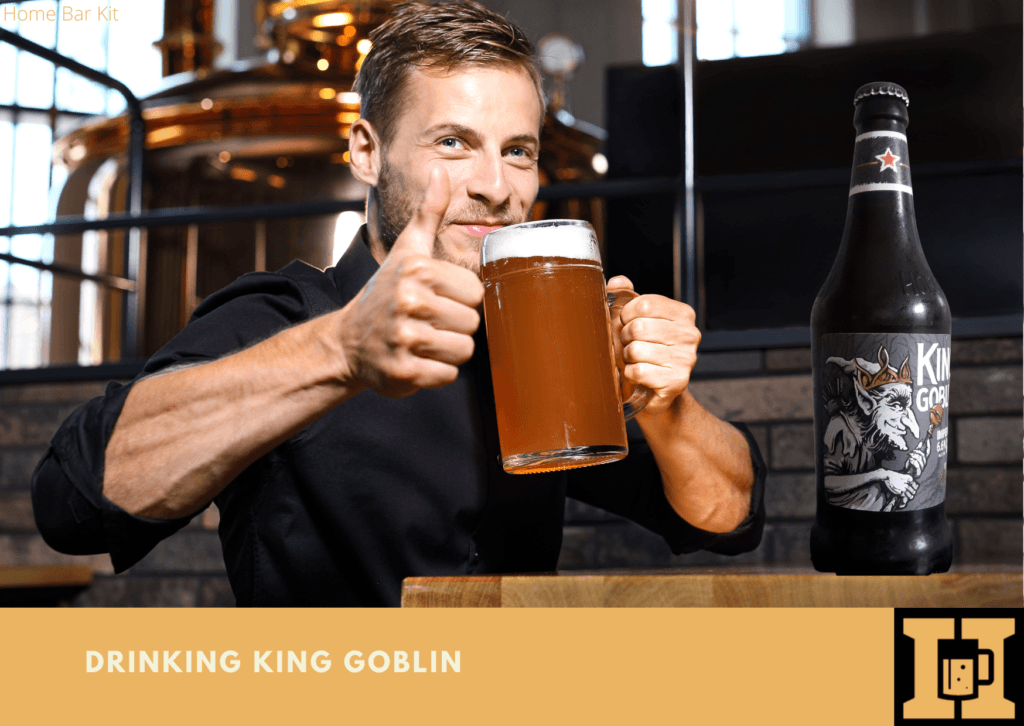 On opening and pouring the King into a glass, it is a swirl of deep mahogany with off white streaks. It settles the same with a moderate thick foamy top. This does fade to just the slightest of covers and leaves a decorative lacing as the beer goes down.
The ruby color only comes into play when the light hits the glass. The nose is fragrant with a sweet aroma of toffee and caramel over biscuit malt. There is a sense of fruit dashing around in the background and just a hint of spice pops up.
Go in for a sip and it is rich and smooth in the mouth with a strong malt base. The sweetness of toffee and liquorice lay nicely over the malt. This turns to a moderate bitter roast coffee with a tinge of spice that finishes the whole thing off nicely.
It is rich and smooth and surprisingly light and easy to drink. There is certainly nothing to complain about, however at 6.6% Vol it is stronger than it feels.
M'Lady likes it too, a Christmas pudding came to mind apparently. She did say it might become her Christmas eve drink, a pint of King Goblin and a mince pie will do nicely.
It is a good beer, for me not quite as good as Hobgoblin, however it still scores a respectable Rate My Beer of 4.6 – 5.0. Lou scored it slightly higher with a 4.7 – 5.0, well it is her new Christmas eve drink.
Wychwood Beers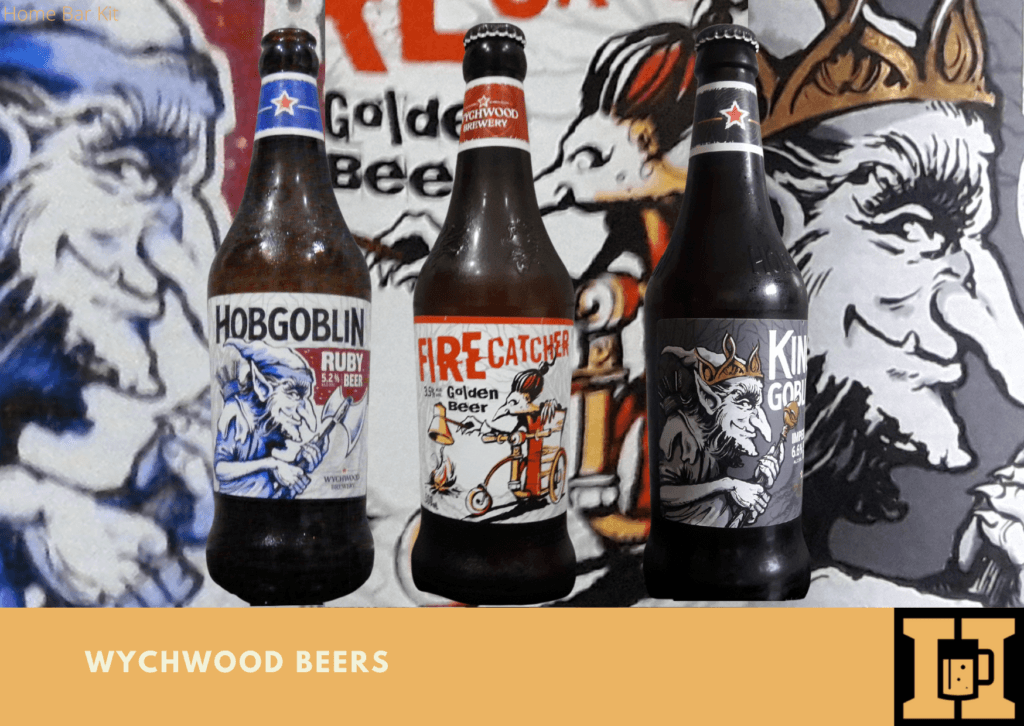 Although not a vast range of beers, it is a decent range. It is nice that the beers have stayed intact and are still being brewed the same way despite being owned by a large brewery group.
On the Hobgoblin website they explain their brewing process which is quite interesting and worth a read. They certainly come up with the goods when it comes to beer, so here are a few to look out for.
Hobgoblin Gold Beer
Described a a solid gold legend this hoppy golden beer jumps forward with a citrus kick loaded with tropical fruits topped with lemon and lime zest. It promises to be lively and refreshing with a mouth watering malt base loaded with a hoppy kick.
The cask is a reasonable 4.2% Vol, while in the bottle it hits a little harder at 4.5% Vol. It sounds like a beer that needs to be tried and I will be looking out for it.
Session IPA
The Hobgoblin session IPA looks to be a light hearted crowd pleaser, why? Because it goes lightly on the strength at just 3.4% Vol, but doesn't compromise on body and flavor.
Five new world hops make it a lively contender for a go to session beer. It might be light, but it packs a punch delivering a juicy zesty citrus hoppy carnival. It is a lighter version of the standard Hobgoblin IPA which is 5.0% Vol in Cask and 5.3% Vol in bottle.
Diceman Stout
No beer range is complete without a stout and the Diceman delivers a silky smooth version. Dark malts are used to create a smoky finish with aromas of toffee and fruit.
The sweetness and bitterness are balanced well with cocoa and coffee, side notes of liquorice and fruit give it a rich and smooth feel. It weighs it at a straight 5.0% Vol and feels like an armchair by the fire kind of tipple.
Final Thoughts
You can't help but like Wychwood beers, from the labels to the last drop as you empty your glass. They just have a certain charm and the beer is good too. They have been around for a long time and I hope they stick around for longer.
Although King Goblin didn't score as high as Hobgoblin, it is still a decent beer and worth trying. I still have more of Wychwood's brews to try and will continue to work my way through their range.
What about you, what beers from their range have you enjoyed? Why not share your thoughts below and let me know what you think of their beers. You can even rate them with a score of your own.