The Hobgoblin range of beers from Wychwood Brewery needs no introduction. The beer is well known in the UK and very popular too. I have had a Hobgoblin on many occasions over the years, especially when I have seen it on tap. However, I thought it was time to pick one up and rate my beer. So how good is Hobgoblin Ruby Beer?
Lets just say for now it is good, it has depths, it has character and it builds on the drink down. Some say it is made by the Hobgoblins of Wychwood Forest. Or maybe that was just me after a couple of bottles, anyway it's an interesting beer.
How Good Is Hobgoblin Ruby Beer?
The Hobgoblin pours a dark brown beer and settles with a thin creamy top. Hold it up to the light and a red glow illuminates the beer. On the nose it hops forward with a malty chocolate sweetness accompanied by a fruity citrus merging in the background. The initial taste brings a full bodied slightly bitter malty biscuit with a sweet toffee coat. It doesn't stop there, as you drink it, the flavors build and the experience is a wonderful thing. The result is a gratifying 4.9 – 5.0 rating.
It's a high scorer indeed, but it deserves the glory. Well done the Hobgoblins, they certainly know how to brew beer.
Wychwood Brewery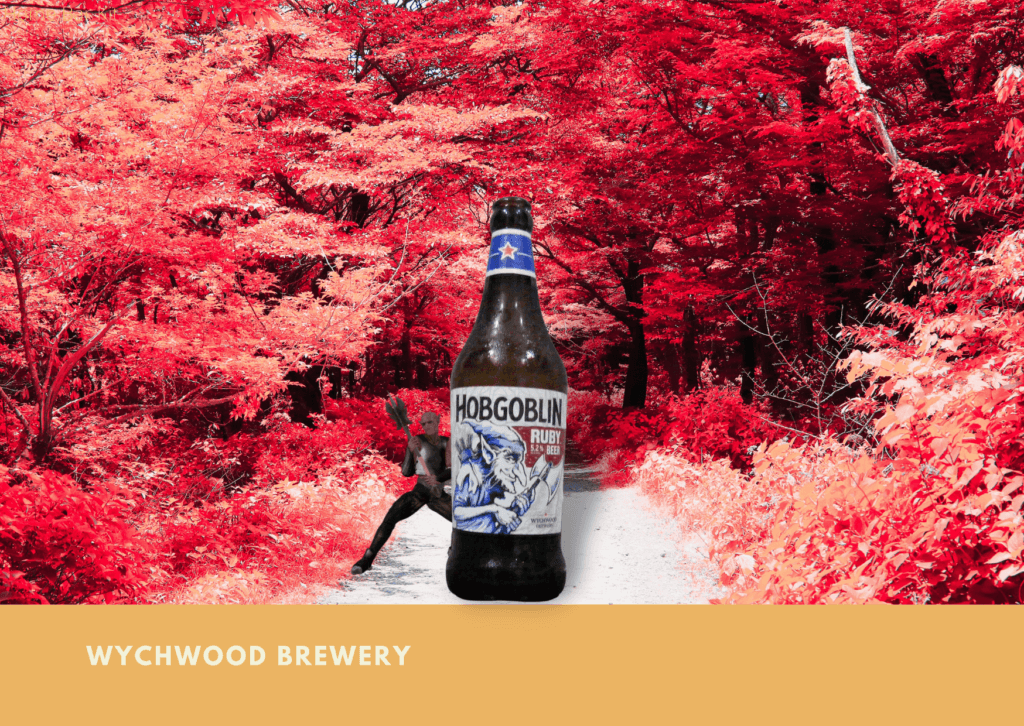 The Wychwood brewery is an old brewery situated in the old market town of Witney in Oxfordshire, England. It has gone through several transformations and owners over the years. Originally founded by a John Clinch the brewery enjoyed a 120 years of success. John Clinch also owned 71 pubs alongside the brewery, several of which were in Witney town.
In 1961 Courage bought Clinch's empire, but only wanted the pubs and closed the brewery. How dare they, unbelievable. Moving on a few years to 1983, Clinch's brewery (you know the one sitting empty that Courage's closed down, Unbelievable) was acquired by a Paddy Glenny. Well done Paddy.
He initially named it The Eagle Brewery, but later changing it to Glenny Brewery. Paddy's friend Chris Moss is said to have joined him a few years later. Then in 1990 Paddy sold his shares to Ian Rogers and the brewery was then renamed to Wychwood brewery, inspired by the mysterious Wychwood forest close by. At the same time it moved to Two Rivers Industrial estate.
In 2002 Wychwood brewery was taken over by Refresh UK, which was a subsidiary of the mighty Marston's. 2008 saw Marston's take over Refresh UK completely, which also included Wychwood.
Chris Moss was responsible for the Hobgoblin beer which became the flagship range for Wychwood brewery. What an amazing gift to award the world, we can only say thank you Chris for your Hobgoblins.
The Hobgoblin
It is said that Chris originally came up with the beer that is Hobgoblin by request of a local Landlord. The Landlords daughter was getting married and he wanted a new brew to mark the occasion. Chris didn't let anyone down and came up with a stonker of a beer.
It eventually went into production and Hobgoblin beer was born. I am not sure how the name came about, but some say it was inspired by the mysterious Wychwood Forest.
Wychwood are certainly proud of their beer, and so they should be. Often seen as the unofficial beer of Halloween, it has a new lease of life. Wychwood decided to challenge the lager drinkers with a slogan "What's the matter Lagerboy. Afraid you might taste something"?
Even though I like lager, you have to admit it is an amusing piece of marketing.
How Good Is Hobgoblin Ruby Beer?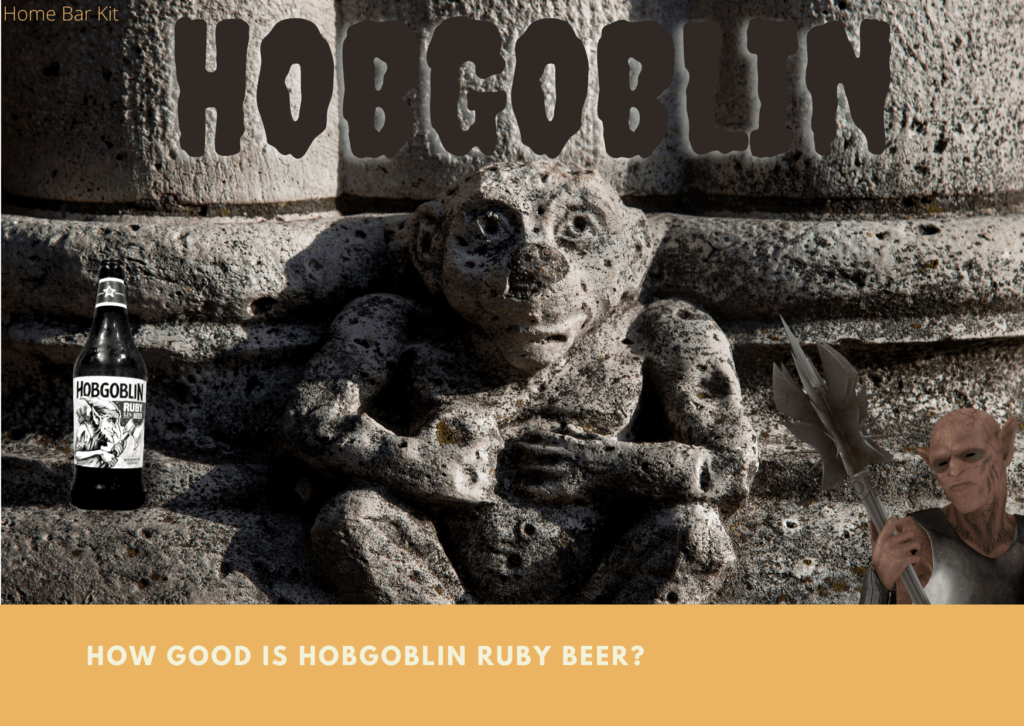 It has a lot going for it, a rich full bodied beer that stands alone as a perfect pint in the pub. A moreish beer that can be a session beer. But when is a session beer not a session beer?
When the bottles are stronger than the tap or can. Take a Hobgoblin from the tap and you are in session territory, at a 4.5% Vol. The same goes for the can, but the bottle version is 5.2% Vol taking it out the session bracket.
Whichever version you drink, it's a good beer, it has layers in look, nose and taste. Swirling around the glass walls as you pour, it settles to a deep brown with a thin creamy froth top. The top fades to a wispy covering, yet decorates with a good lacing. Hold up the glass like a trophy to the light and you get another layer of wonder. A beautiful red hue glows from the glass, radiant and rich.
All this happens before you even sip the beer, but when you do its a similar triumph. A rich malty biscuit flavor covered in a chocolate blanket, enriched with a bitter sweet fruity background. The beer develops as you drink it with toffee and caramel and even a hint of citrus. It becomes mildly bittering with a silky sweet accent almost like honey.
As mysterious as the creature on the front, with hidden corridors of flavor that jump out and surprise you on your journey. It hits big numbers and for a very good reason, so a 4.9 – 5.0 rating is awarded.
M'lady Liked It Too
Yes, the lovely wife Louise loved the Hobgoblin too. Lou described it as a strong chocolate base with fruity tones. It reminded her of a coffee liqueur and a pint that would go well with a steak or alone as a dessert beer.
Lou then had a vision that took her to the Lake District. We have just finished a long walk in the picturesque lakes on an Autumn afternoon and there it stands the great British pub. It's like an unspoken law in Britain, at the end of a walk drop in the pub.
We do just that and to greet us is an open fire, and guess what is on tap, Hobgoblin of course. Two pints do nicely and are sipped gazing into the mysterious flames of the open fire. It's a heavenly combination and one that is now in Lou's head and will come to fruition one day.
I look forward to it.
More Beers Enjoyed By Me (and Lou).
More From Wychwood Brewery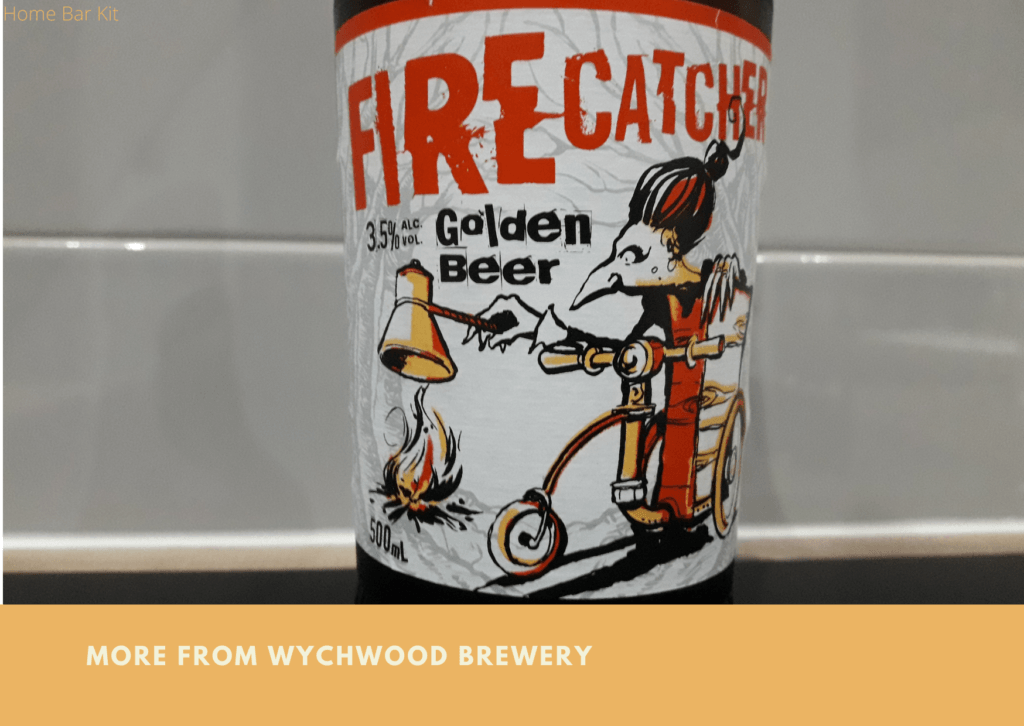 Wychwood brewery which also houses the Brakspear brewery beers (which is a story for another day) have a good range of beers. Obviously they have the Hobgoblin range, but also have another range of batch beers too. It would be rude not to investigate the complete range, including the Brakspear beers.
Looking like it is based around another mythical character. The label has a weird looking witch like creature on a carriage putting out small fires with a cup like tool.
A golden beer that promises to be light, crisp and fresh. A thirst quenching beer with the warmth of silky honey with a sharp gooseberry Hit. I will report soon as I have a bottle ready to go. At just 3.5% Vol it is an obvious session beer that by the sounds of it will put out your fiery quench on a hot day.
Hobgoblin IPA
Wychwood call this a legendary IPA. I guess they are allowed to because it won the accolade of the best IPA in the world. Now that is an award that anyone would shout about, and one on my list of try's.
Weighing in at a rounded 5.0% Vol it just fits into the session bracket and I've got a feeling there might be the need for more than one. The character is complex and fruity with the promise of zesty oranges along with tropical citrus notes. It is one to look out for, especially on tap.
Another beer from the Hobgoblin range, but this time wearing a crown, it could be the king of beers. At a high 6.6% Vol proceed with caution because kicks like a mule. The deep red beer holds notes of treacle toffee as well as a rich fruity framework.
An earthy full bodied and rich beer that is sure to satisfy. I have a feeling it will be as complex and layered as its cousin Ruby Beer.
Final Thoughts
The history of Wychwood brewery is as complex as its beers, changing hands several times. As well as moving site and then moving back again. But we have to thanks John Clinch for founding the brewery in the first place. However, secondly we have to commend Paddy Glenny for bringing the brewery back to life after Courage so rudely closed it.
Finally we have to thank Chris Moss for creating the Hobgoblin Beer, a true stroke of genius. A beer that has stood the test of time and is still as popular as ever today. If you haven't already tried a Hobgoblin then maybe now is the time. On the other hand if you have indulged then leave your thoughts below.