Brewed for many years in Wickwar, Gloucestershire, its a very dark beer almost black with the strength to back it up. It also has the feel of a beer you would sip in a comfortable leather armchair with friends around an open fire. Sounds good to me, but what is Station Porter Premium Ebony Ale Like?
Coming from a brewery that has now closed its doors and ceased brewing. Station Porter is now contract brewed which is why it is still available. Thank heavens for that.
What Is Station Porter Premium Ebony Ale Like?
It's a classic porter that has a full body with a smooth coat. The pour is a swirl of rich dark beer settling with a light frothy head. The aromas rise from the dark brew carrying a chocolate note with roasted malt. In the background hints of rich fruits tease the senses. The taste buds get the rich dark chocolate laced with a smokey caramel. It's smooth and creamy with a sweet signal turning into a slightly bitter end. So a half decent porter that deserves a solid 4.3 – 5.0 rating.
It stands up for itself with a full body as well as a kick ass 6.1% Vol.
Wickwar Brewing Company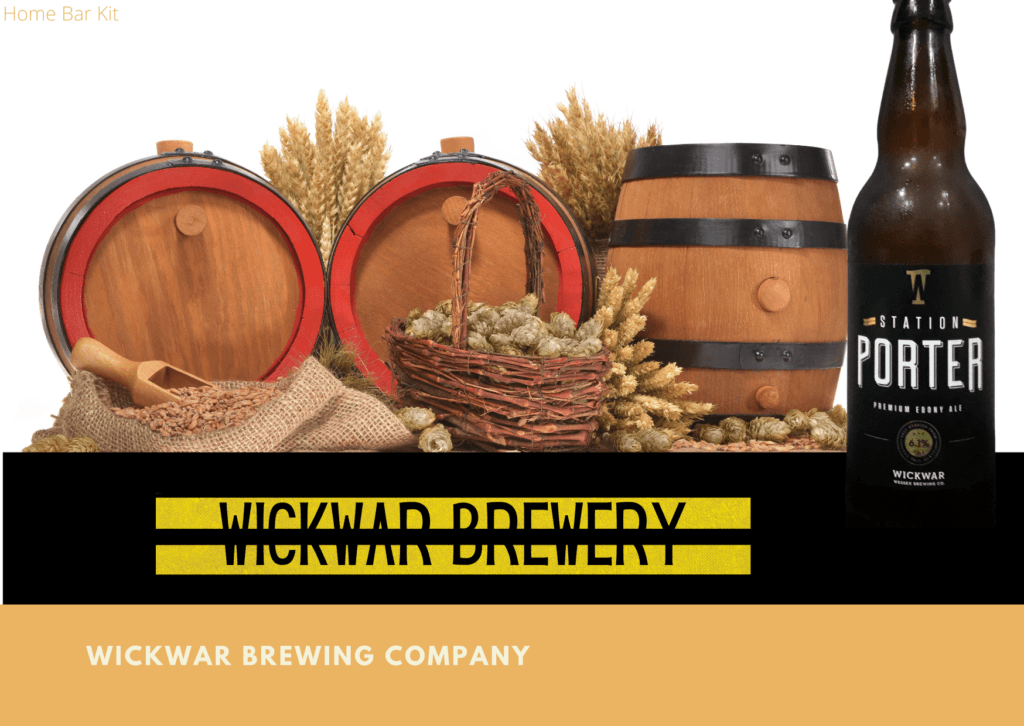 Born in 1990 and founded by Brian Rides and Ray Penny the brewery started life in an old cooperage. This was part of the the original Arnold Perrett brewery. In 2004 the brewery was moved to a newly kitted out brewery in the main brewhouse.
Apart from brewing beer a decent number of public houses were built under the brewery. These were mainly in the Bristol and Gloucester area's. However in 2017 Wickwar acquired the Moles brewery along with their pub collection.
All was going well with a reputation for producing good beers, until 2020. We all know what happened that year and it hit this brewery hard. In fact to the point of its forced closure. After 30 years brewing in Wickwar the brewery took the decision to end brewing and shut the doors.
Wickwar Wessex Pub Company acquired the brands from the brewery. Consequently they continue to supply the Wickwar pubs as well as many retailers too. The beer range is now brewed under contract, so we can still get our hands on it, thankfully.
What Is Station Porter Premium Ebony Ale Like?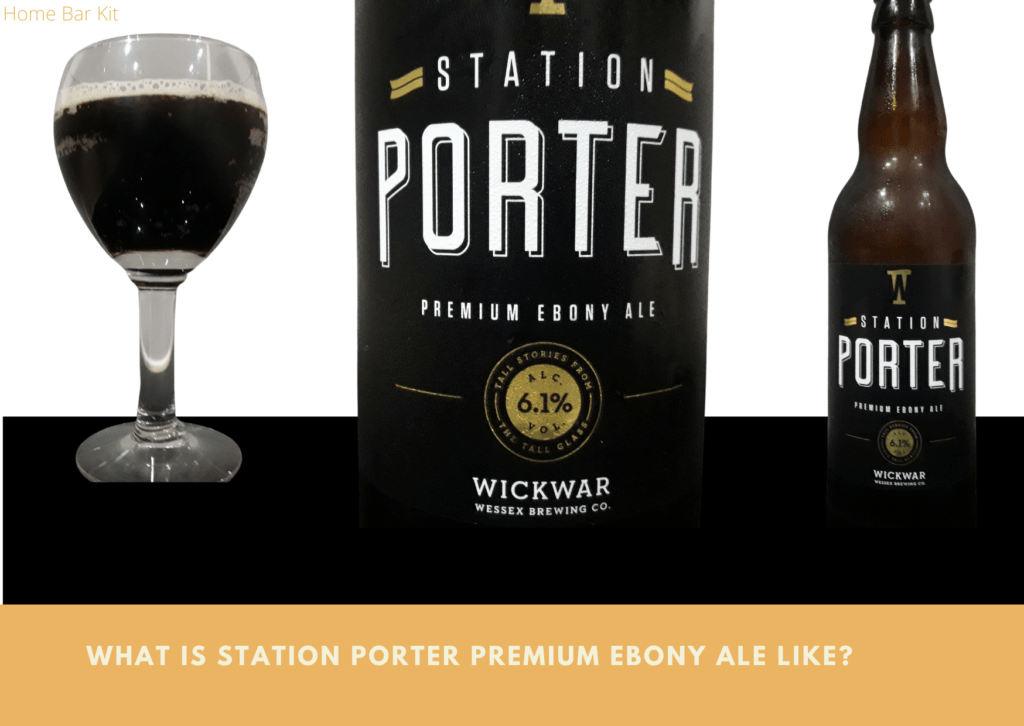 It's a decent porter that has a flavor signature that builds into a rich pleasant experience. It leaves a satisfying smokey bitterness that works well.
The pour is a jet black swirl with light brown highlights rippling through its body. As it settles a creamy lid seals off the shiny black brew. Hold it up to the light and a ruby hue lights the glass up.
Hold it to the nose and the rising aromas speak of chocolate, with roasted malt and coffee. Lurking in the backdrop are suggestions of dark fruits promising a sweet treat.
The anticipated first taste rolls the smooth rich creamy dark chocolate around the mouth. Outlined by a smokey caramel coffee with a sweet edge. Finally a slight bitterness pushes through to leave a comfortable ending.
Mouthfeel produces a moderate carbonation that settles to a smooth creamy texture delivering flavor and depth. The overall experience is a good one and it leaves an almost warming feel. At 6.1% Vol, it is no shrinking violet, but does warrant a second glass.
It's not the best porter, but it is decent nonetheless. Thus why it deserves a solid 4.3 – 5.0 rating.
More Beers Enjoyed By Me.
Wickwar Beers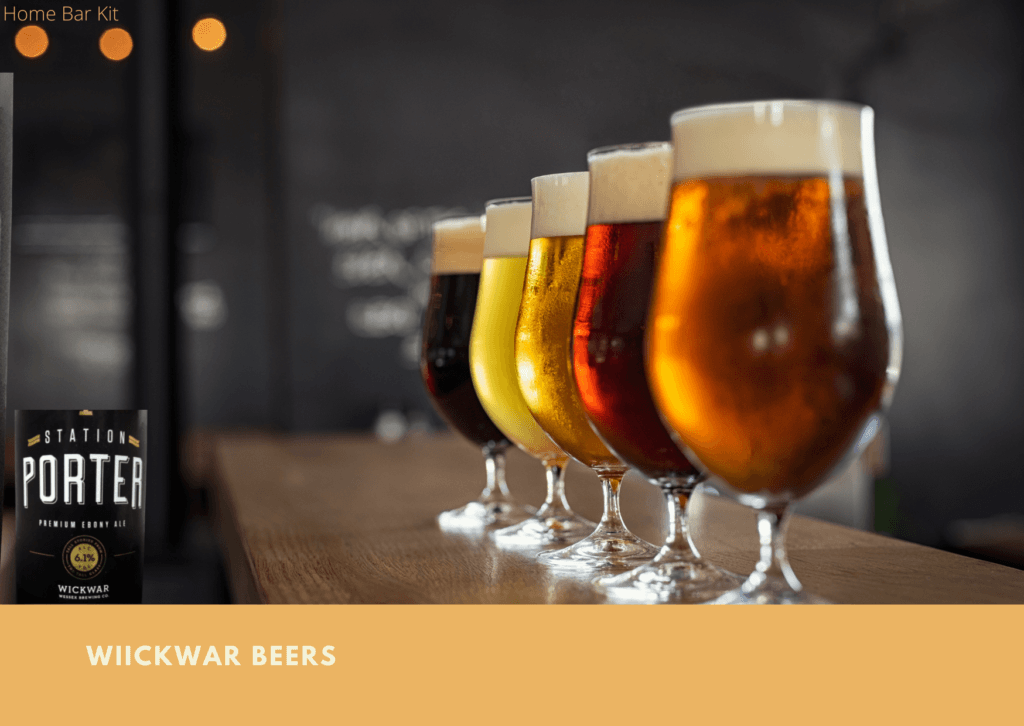 Just like any other brewery, Wickwar have their range of beers. Having said that, even though they have ceased brewing, they are now brewed under contract. On the bottle I have it says brewed at Butcombe Brewery which is in Bristol, England.
What other beers are still available to enjoy?
BOB Classic Amber Ale
Brand Oak Bitter or BOB as its known is the first beer to come out of the Warwick Brewery. It is an award winning classic amber ale and has been a favorite session beer for years.
Using Challenger and Fuggle hops it has an earthy, woody profile with a fruity clean bitterness. A clean amber ale with aromas of malty toffee and a dry like bitter taste it sounds a winner. At 4.0% Vol it might be a little moreish, just as well it fits into the session beer bracket.
Falling Star Premium Golden Ale
This little number promises a golden citrus with an emphasis on hops. Talking of hops, it has a blend of Cascade, Willamete and Mittlefruh. Therefore this could mean a fruity citrus buzz with some floral and spicy undertones, which could end in a smooth bitterness.
A beautiful golden beer with aromas of zesty citrus and floral to tease the senses. The taste promises a smooth light malty experience with hints of grapefruit and pineapple. I can feel there being a equal amount of bitter sweetness to the finish.
At 4.2% Vol it is still well within the session bracket, so we can enjoy more than one. Looking forward to one soon.
Platform 6.1 Impeccable IPA
A classic IPA with a pale light golden appearance and a blend of Pacific Jade and Pallisade hops. May just give it a floral herbal aroma with zesty citrus tropical type hoppy flavor, maybe just a touch of spice.
However it is describe as tropical fruits on the nose with a hint of sweetness. The taste is hop forward with a good balance of bitterness and a dry crisp ending. Sounds good, but it is not for a session, boasting a 6.1% Vol it packs a tidy punch.
Definitely one to look out for, I've got a feeling I might like this, so it may be a feature soon.
Final Thoughts
A sad ending to a 30 year old brewery, but at least we can still enjoy the beers they worked hard to make. My experience with their station porter was a good one. I am sure I will bump into it again in the future. Meanwhile I will look out for their other brews.
I think the Platform 6.1 Impeccable IPA will be the first one to get hunted down. However I would not walk past any of them, it just seems my duty to give them all a chance. Until then, there are plenty more beers waiting patiently.