Hall & Woodhouse are the brewery and Badger Beers is the face of the brewery. I am familiar with most of their beers and have had the pleasure of drinking them on many occasions. But this is the first time I have tried this one. So is Forum Helles Lager any good?
Coming from a brewery that dates back hundreds of years you would hope so. And seeing that I have enjoyed many of their beers over the years, I am pretty optimistic.
Is Forum Helles Lager Any Good?
For a lager produced in Dorset, England, this German style lager is pretty good. It is light, refreshing with a lemon twist. It pours a clean light gold like the sunshine on a summers day. The nose is typical lager, not much to shout about. However there is a fruity citrus burst that tickles the nose buds. The taste reveals this to be a subtle lemon floating over a clean crisp malty lager base. I worthy pint of craft lager with a rate my beer score of 4.2 – 5.0.
Hells Bells it's a pretty good German style beer from the Badgers.
Hall & Woodhouse Brewery
A brewery that runs back some 245 years and had a government contract to supply Wellington's troops with beer. Each soldier was allowed five pints of beer a day and the brewery supplied that beer.
William Hall a farmer ran a small brewery operation in Dewlish, Dorest, England. This was maninly to keep his farm workers and family in beer.
His son Charles saw an opportunity and set up his own brewery. Charles Hall established his brewery in 1777 in a small village in Ansty, Dorset, England.
Ansty Brewery brewed beer on a commercial level employing many local people. Robert the son of Charles who worked at the brewery eventually took control when his father died.
The head brewer at the brewery George Edward Woodhouse who married Hannah the grand daughter of William Hall, became a partner in the business. Hall & Woodhouse brewery was born.
When Robert Hall died George and Hannah Woodhouse became the business as Robert had never married and never had children.
George and Hannah did have children and in 1875 their sons George and Alfred took over the business. Their growth was rapid and they started to purchase other businesses including several public houses.
Fast forward to present day and the 8th generation of family, the brewery has a large brewing facility in Blandford, Dorset. Along with an impressive portfolio of pubs across the south of England.
Most of their beers are marketed as Badger Beers a logo and name taken on in 1900 when they built a new brewery.
Is Forum Helles Lager Any Good?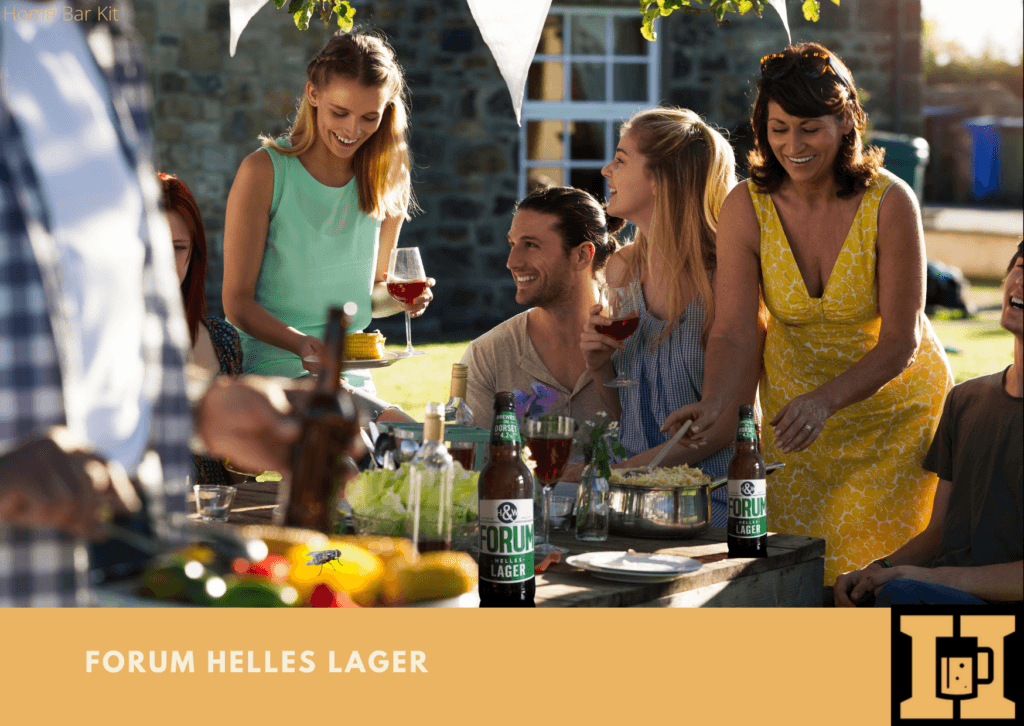 A brewery known more for ales than lager it was a surprise when this beer dropped into my hands. And it dropped into my hands when trying a few craft beers at our friends barbecue.
Blue Moon was another beer I tried at said barbecue, which was an interesting beer. Anyway back to the beer in question, Forum Helles Lager.
A straight forward brown bottle with a green and white label. It is nothing fancy, just plain and to the point. However it doesn't come in the Badger livery, instead it carries the Hall & Woodhouse logo.
It pours a clear light golden straw with a fluffy medium white head. The head fades a little, but lightly fizzes away through the duration of the drink.
On the nose it is subtle and mild with a slight flowery note. However a distinctive fruity citrus aroma buzzes around the nose teasing the senses.
The taste is crisp and fresh with a mild malty base that is clean and smooth. There is a sweet hoppiness followed by a citrus lemon twist that surprises the palate. A medium carbonation carries the flavors around the mouth and ends in a smoothness with a subtle lemon bite.
Its a good lager and ideal for a warm summers day, especially at a barbecue. I would be happy to order this on tap in any bar, a decent pint.
At 4.2% Vol it will make a great session lager. It pulls a decent rate my beer score of 4.2 – 5.0.
Hall & Woodhouse Range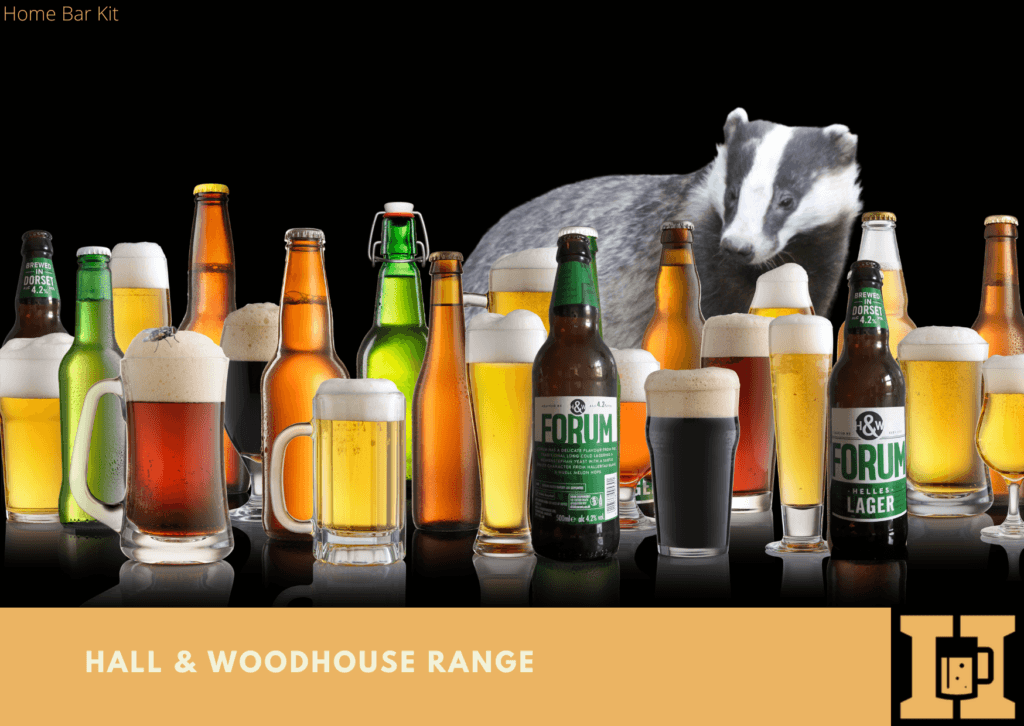 The Hall & Woodhouse range is very limited, there is only one other beer at present that is brewed under this name. However as I mentioned most of their beers are brewed under the name Badger Beers.
Badgers range is a little more extensive, in fact it is a good core range of beers that will be familiar with many beer lovers.
Beers like Fursty Ferret and the famous Tanglefoot, which by the way can tangle your feet after a few. So here are a few of their great range of beers.
NEIPA
This part of a new small batch series branded under the Hall & Woodhouse name. A New England IPA that promises hints of tangerine over tropical mango and pineapple fruit.
A smooth beer brewed with oats and wheat, its a juicy fruity party with a smooth body. At 5.5% Vol it is not a session beer. However give yourself some time, it is worthy of a beer to savour and enjoy.
The Blandford Fly
This one worries me because the Blandford fly is a nasty little blood sucking fly that wreaked havoc in the spring of 1972 in Blandford. I have been bitten by one on several occasions, So I hope this beer doesn't replicate the experience.
On the contrary it is a far more pleasant experience, a golden ale that promises sweet and spicy notes. The sweetness comes from toffee undertones and the spice comes from a twist of ginger.
At 5.2% Vol it is another out of the session bracket, but if you like it sweet and spicy, then this could be worth a shot. This one is brewed under the Badger Beers name.
The Wicked Wyvern
Obviously named after the legendary dragon, this beer is a West Coast style IPA. It pours a beautiful golden bronze color and has aromas of grapefruit and possibly orange. Which come from the hop bill consisting of Amarillo, Cascade and Mosaic.
The citrus hoppiness is held up by a slight bitter body that ends in a crisp dry finish. It promises to be a refreshing well balanced IPA beer. At 5% Vol it sits on the edge of a decent session beer, so more than one can be enjoyed in one sitting.
Final Thoughts
Hall & Woodhouse then are a brewery with a long history who brew some great beers, mainly under the Badger Beers guise.
A craft brewery that doesn't look to push boundaries on adding too many flavors or lift the roof on design. In contrast they brew traditional style ales and add a little from new style beers.
In conclusion a good solid brewery that serves their beers up in a chain of great pubs across the South of England.
If you get the chance to visit any of their pubs, then do so as I have been in many and its a good experience. Likewise try their beers and share your thoughts below, If you can't get to one of their pubs, you can get them in bottles in many stores.