When in Greece you have to drink beer, well you don't have to, but I did. A recent trip to Zakynthos saw me try a few Greek beers. So which Greek beer is best, Mythos, Fix or Alfa?
Obviously there is more beer on offer than these three, but some are hard to find. Mythos, Fix and Alfa are readily available in most bars and tavernas, so I went with them.
Which Greek Beer Is Best, Mythos, Fix Or Alfa?
As Greek Beer goes, there is not much between these three. They all have little nose to them and differ only slightly in taste. Mythos is crisp and light with a bitter end. Fix is also light but has a lemon citrus edge. Alfa has a malt base with a crisp bitter top. They are all light and refreshing and work well in the hot Greek sunshine. Fix Just makes first place for me.
Table Of Contents
There is another Greek beer that became the beer of the day, not because it was the best, but more about that later.
Is Mythos The Best Greek Beer?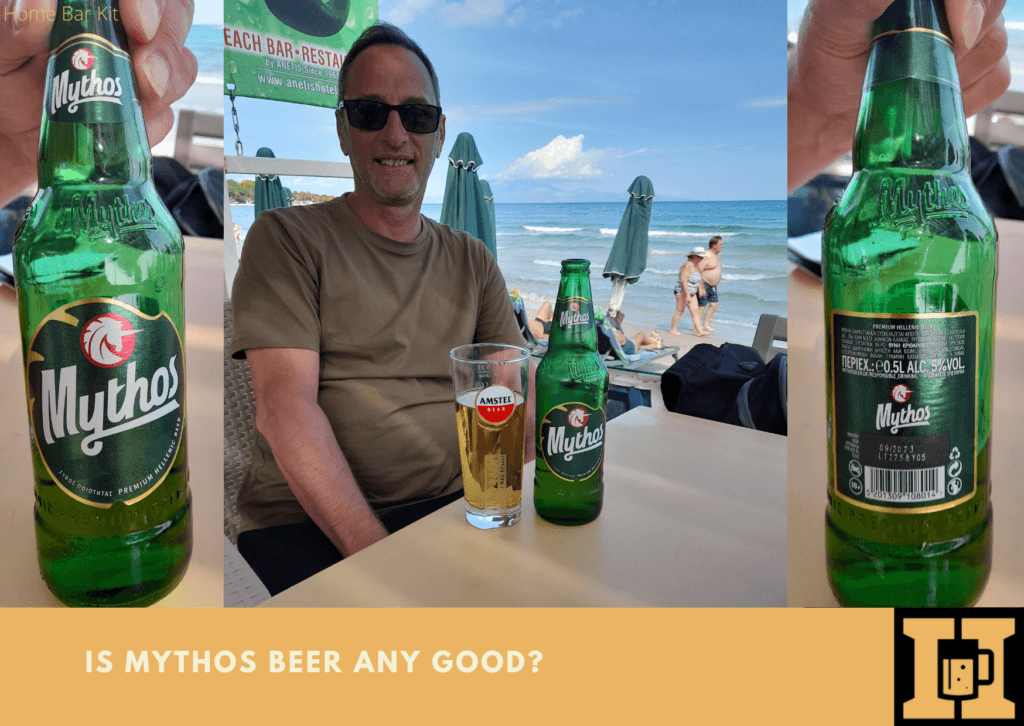 Mythos is probably one of the most well known beers from Greece. So it is no wonder that the beer of choice in many bars it Mythos. It it hard to avoid, not that I was trying too.
Mythos Brewery started out as Henninger Hellas S.A. and was established in 1970. In 1992 it became part of the Boutari Group which started out as a family winery in 1879.
The brewery had a name change in 1994 and became Northern Greece Brewery. However this didn't last long and became Mythos Brewery in 2001.
In 2008 Carlsberg got involved and so Mythos Brewery is part of the Carlsberg Group.
What Is Mythos Beer Like?
It comes in a 500ml green bottle with a pull ring crown top and accompanied by an Amstel glass. The pour is lively and settles to a pale golden color with a generous fluffy pure white head.
The head fades fast and then disappears altogether with little or no sign of lacing.
The nose is very faint and only produces a light malty smell of biscuit. I tried but couldn't get anything else, but I was in a bar right on the beach, the aroma of sea was all around.
The taste is light and crisp, the malt biscuit is most evident and creates a nice body. The moderate carbonation teases the tongue and it finishes with a comfortable bitter edge.
It weighs in at 5.0% volume and to be honest it is just your standard mass produced lager. Ideal for a refreshing tipple at the local beach bar.
M'Lady Lou and I came to the same conclusion and we both rated it 3.7 – 5.0.
Is Fix A Good Greek Lager?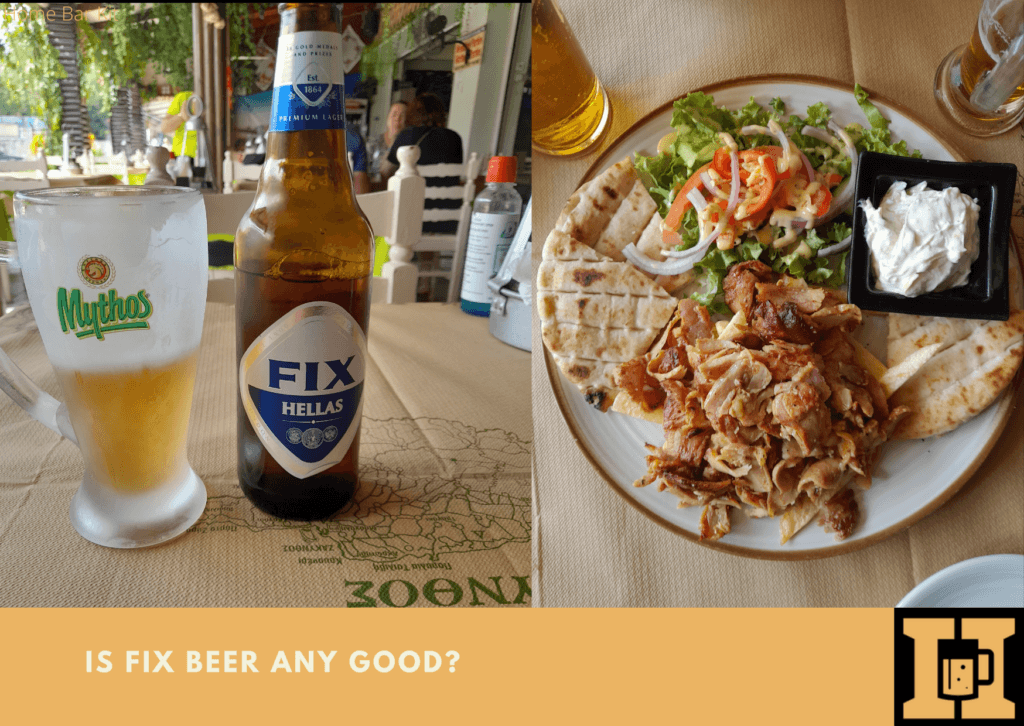 Another well known beer from Greece. Fix brewery was founded in 1864 by Johann Karl Fix in Athens and was one of the first major breweries in Greece.
So Fix beer has been around a while and is now made by the Olympic brewery. Guess who now owns the Olympic brewery?
Yes you got it, Carlsberg, enough said.
What Is Fix Hellas Like?
This beer comes in a 500ml brown bottle with a simple blue and white label. I had this at a Greek Taverna with a plate of Gyros, yum.
It was served with a Mythos glass straight from the freezer and poured a light golden with a moderate white top.
The head did fade but left a thin layer of white and a subtle lacing down the glass. The nose is light again with a malt base and a citrus fruity top. M'Lady thought it smelt fresh and fruity.
The taste had a little more going on than Mythos with a good malt base and strong carbonation fizzing on the tongue. The pleasant citrus of fresh lemon gave it a refreshing edge and maybe even a hint of banana seemed to be present.
Another 5.0% Vol beer that is fresh and smooth and goes well with Gyros. It gets a rate my beer score of 3.9 . 5.0. Lou went slightly lower with a 3.8 – 5.0.
Is Alfa The Best Beer In Greece?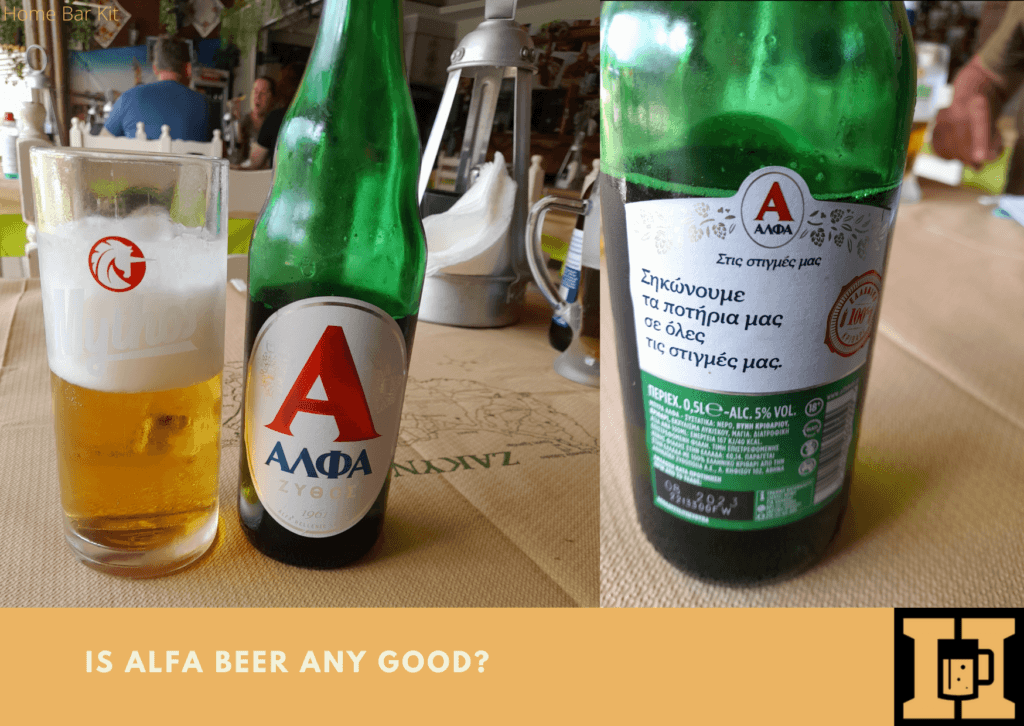 Alfa beer comes from the same brewery as the famous Amstel. First started back in 1963 by a group of Greek entrepreneurs Athenian Brewery SA is one of the largest beer producers in Greece.
Can you guess who owns it?
It is not Carlsberg this time, but Heineken.
Is Alfa Beer Any Good?
I also had this one at the Greek Taverna once I finally got through the Gyros, which was amazing. It comes in a green 500ml bottle with a big red A on a simple white label and served with another Mythos glass.
It is a very lively pour and settles to a light gold with a humongous foamy white head. This did fade but left a good covering and a nice decorative lacing too.
The nose again is very slight, I think it is because they serve these beers so cold. However there was a grainy note with the slightest of herb vibe.
The taste is slight malt with a smooth bitterness, that is it really. It's light, its crisp with a moderate carbonation, but not as smooth as Fix, I do like the bitter edge though.
Like the others it hits home at 5.0% Vol and gets a 3.7 – 5.0 from me. Lou liked it the best out of the three beers and rated a higher 3.9 – 5.0.
What About Zorbas Beer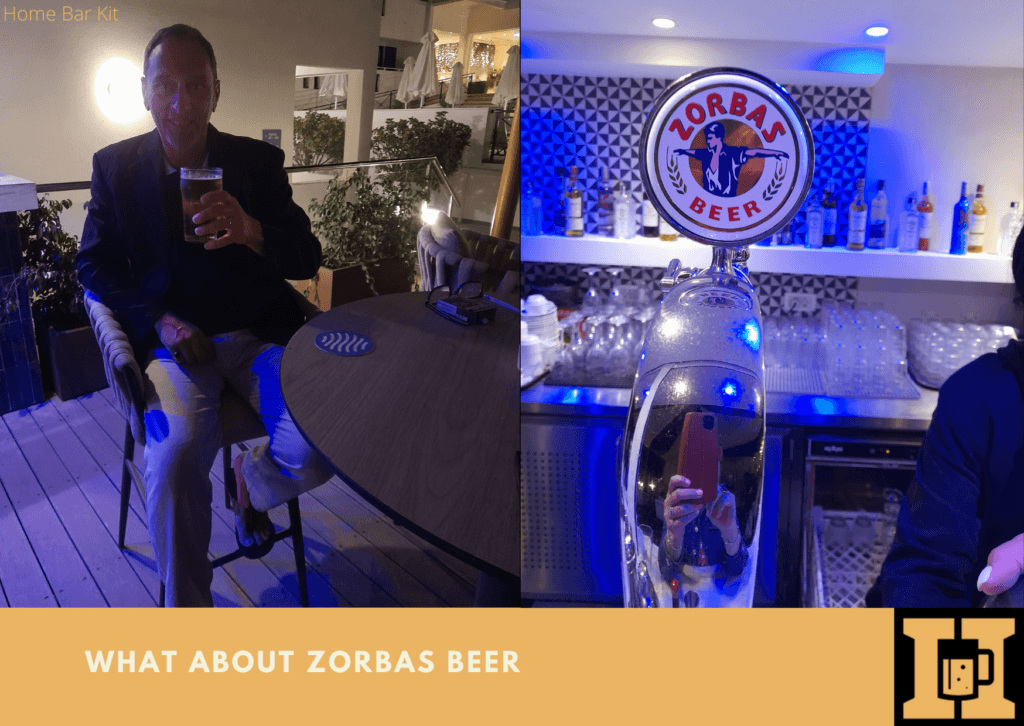 Zorbas beer is another product of the Athenian Brewery and was the only beer served at the hotel I stayed in at Zakynthos.
The only beer I had from the tap while in Greece and the one I had the most of either by the pool or at the bar.
Is Zorbas A Good Greek Beer?
It pours a pale straw like gold with a moderate head that disappears fast and leaves the slightest of lacing as you drink.
The nose is as light as the color with just a touch of sweet malt and nothing else. The taste is crisp with a sweet malt base, the mouthfeel is a little watery.
Another beer at 5.0% Vol and one that is pretty plain. It's a standard lager beer that doesn't really have anything to shout about. I wouldn't have drank it by choice, but was happy to as it was the only one served at the hotel.
Maybe the Greek sunshine helps to elevate it a little as a beer. It gets a rating of 3.3 – 5.0.
What Is The Most Popular Beer In Greece
Mythos has to be the most popular beer in Greece. It is the one that most people recognise in and out of Greece. Fix and Alpha beer are also popular, but Mythos seems to be the top Greek beer.
Final Thoughts
So which Greek beer is the best Mythos, Fix or Alfa? Well it isn't Zorbas, but that didn't even make the list for comparison.
For me the better one of the three is Fix Hellas for its smooth malt base and slightly hoppy citrus top. It just seemed to have more flavor than the others.
However going by Lou's scores she rated Alfa as the better beer of the three. I did ask her reasoning, but she said "No Comment" 🙂
There are plenty more beers to try in Greece especially with many more microbreweries popping up. Discover Greece discusses a few in the article Greek Beer and Microbreweries.
My trip to Greece saw me discovering Macro beers, the next visit I will seek out some craft beers. What beers have you tried while in Greece? Share you thoughts on the good and bad beers you have had while in Greece.