Although born in Portland, Maine USA, the Shipyard Brewery is a partnership between America and England. An American Entrepreneur and an English Master Brewer created a world famous brewery producing world famous beers. Among those beers is this one, but is Shipyard American IPA a good beer.
It is an American style IPA, but brewed in the UK for the UK market by a giant in the beer industry. I guess that's the easiest way for the British beer lovers to get the Shipyard beer experience. That aside, is this a worthy beer to depict the American style?
Is Shipyard American IPA A Good Beer?
For me it is a good beer, not outstanding, not blow your socks off brilliant, but a good solid beer. The pour is a river of gold settling to a deep amber gold with an ample frothy white top. It kicks up aromas of a citrus hoppy front with a toffee caramel malty biscuit base. The taste follows through with a citrus foreground of grapefruit. There's a smoothness that has a nice malt base leading to a dry crisp finished laced with a slight bitterness. It's good, but not great and scores a Rate My Beer of 4.1 – 5.0.
It's American style, just not American beef.
Shipyard Brewing Co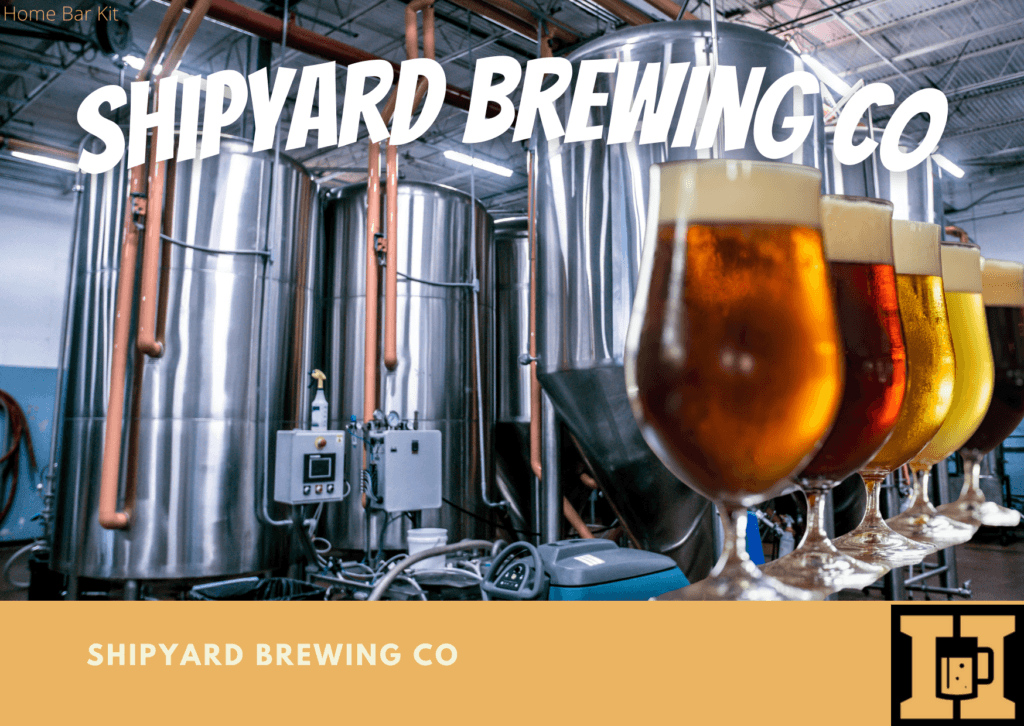 The seeds for the Shipyard Brewing Co started in 1992 in Kennebunkport Harbor, Maine USA. American Entrepreneur Fred Forsley and English Master Brewer Alan Pugsley started a restaurant and brew pub named 'Federal Jack's'.
Brewing went well, however the demand was high for their beer, and the brew pub did not have the capacity to meet it. In 1994 the pair opened the Shipyard Brewing Co in Portland, Maine and have never looked back. They were in the thick of the American craft beer industry and swimming well.
They have a vast range of beers including the craft classic American Pale Ale, the delightful Wild Maine Blueberry Pie Ale. The powerful XXXX IPA that packs a 9.25% Vol punch, and of course the once a year Pumpkinhead laced with cinnamon and nutmeg.
Alans background was always brewing and he mastered his craft with Peter Austin at Ringwood Brewery in Hampshire, England. He went onto helping set up many breweries in America before partnering with Fred to create Shipyard.
A well known beer from Ringwood brewery called Old Thumper made the journey to America with Alan. Shipyard brew it under license for the American market, I hope they love it.
Shipyard Britain
Today there is a long standing relationship between Shipyard Brewery and Marston's Brewery. A range of Shipyard beers are brewed in the UK by Marston's at the Banks's Brewery in Wolverhampton. Hence the Shipyard American IPA.
Although it is great to get beers from a great American brewery here in the UK, are they as good. I don't think they have the punch of the American range, though I could be wrong. Only time will tell when I get my hands on the real McCoy.
I just think the beers are hushed a little for the British market because they think our tastes are more conservative. That may be the case to some extent, or was the case. However I want the full on American craft beer experience, loud in you face flavor and punch.
I'm just saying 😉
Is Shipyard American IPA A Good Beer?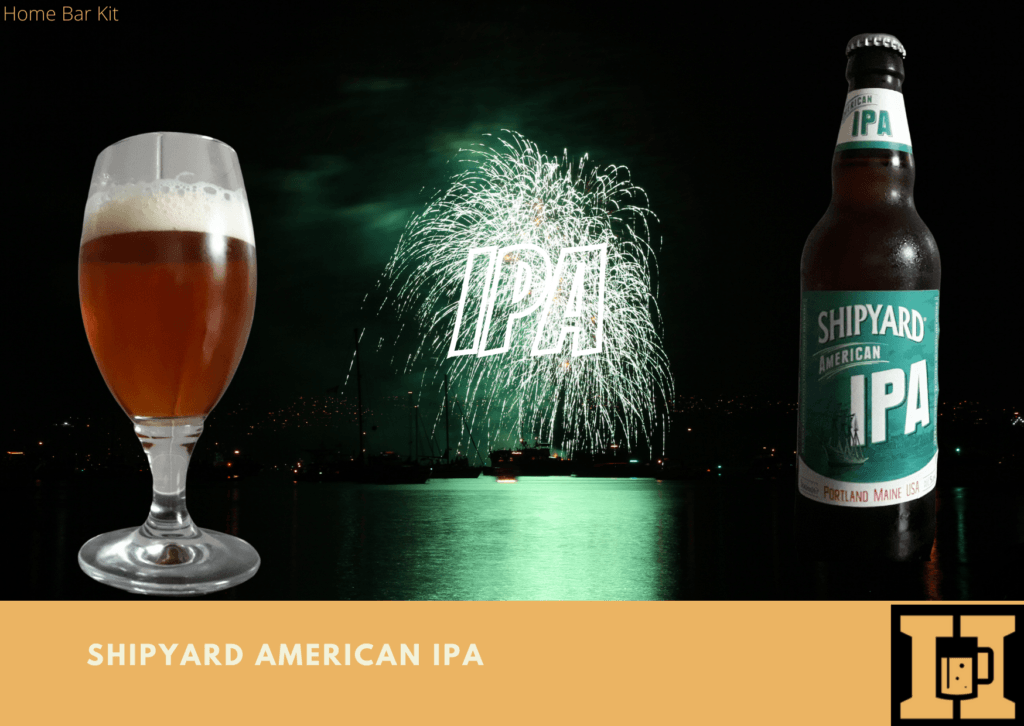 Yes, with out a doubt it is a good beer, it's just not good enough. Maybe it is me, I just expected more, I wanted it to be great. I wanted it to shout out loud in the mouth and deliver maximum flavors. It just seems to be holding back and hiding its Americanness.
Having said that, it is a good beer, a solid IPA that will not disappoint, unless you are expecting a titan of American beer.
Shipyard American IPA Experience
The bottle sits proud with a ship sailing away from Port on a cool green background with the wording 'Shipyard American IPA'. It is simple and subtle.
Crack the crown and it pours a white and gold swirl that settles to a deep amber gold with a decent frothy head. The head does fade a little but enough sticks around and leaves a good lacing down the glass.
Citrus aromas of grapefruit and or orange kick up from the white froth with a hoppy edge. A smooth toffee malt biscuit holds the base fragrance.
This follows through in the taste with a hoppy citrus feel with hints of grapefruit popping on the tongue. Wrapped around this is a solid biscuit malt that has a satisfying smoothness, but at the same time a crisp bitterness. A mild carbonation leaves a bitter sweet aftertaste.
You can't fault it as a standard IPA, an easy drinking standard IPA. It ticks all the boxes for a good solid IPA, and one I would drink again. For that reason it scores a decent Rate My Beer of 4.1 – 5.0.
Looking at the label again, I guess it sets the scene for what to expect, I'm going to say it again, a standard IPA. At 5.0% Vol on the nose it will just peep in as a session beer to enjoy with friends at the next barbecue.
A great video of Shipyard Brewery, there is plenty to see, including the owners speaking. It is from 2014 the 20 year Anniversary of Shipyard.
Shipyard Brewing Co Range
The English core range is not as extensive as the American one, and you wouldn't expect it to be. They consist of an American pale ale and IPA, as well as a low alcohol pale ale and a lager. The American pale ale is the next Shipyard beer on my hit list.
However the American range of beers is much more extensive and it has to be said, more exciting too. These are the beers I would like to get my hands on. Consequently I will feature a couple below and begin my search to track these down.
Kicking off here is one from the UK range.
American Pale Ale
This will be my next stop from the Shipyard range. An American style pale ale that promises pine and gooseberry aromas. A fruity citrus hopped up flavor. It boasts Chinook, Cascade, Centennial and Columbus hops for a daring shout out loud hoppy extravaganza. This is want we want pop in the mouth flavor without compromise.
Will this satisfy the British demand for full flavored American craft beer? I certainly hope so, and at 4.5% Vol it can be enjoyed as a session beer. I look forward to trying this, in fact it will be in my cooler soon.
Finder NE IPA
I would love to get my hands on this New England IPA, its smooth hazy and juicy, or so they say. But I would sure like to find out for myself. The Citra, El Dorado and Mosaic hops lend a fresh citrus grapefruit and orange tropical experience.
However it is not for the faint hearted, nor is it favorable for a session with its hard hitting punchy power pack of 7% Vol. Wow, this is a kickass IPA with no regard for the meek and demands respect. Get me some of that please.
Summer Ale
Based on a traditional American wheat beer this little number as you would expect from the name is one of Shipyards seasonal brews. It's a light bodied ale that is lively and refreshing and perfect for those hot summer days.
Saphir and Williamette provide the hop bill and promise a clean mild and pleasant beer with a hoppy tang. It's ideal for a summers day, however don't go mad because it just falls out of the session bracket. At 5.1% Vol it defies its on laid back image, but it deliver a refreshing hit.
Final Thoughts
Shipyards American beer range is exciting with plenty of variety. A selection of IPA's, a brown ale, stout and even an apple ale are just the tip of the iceberg. There is something for everyone and I would love to try them all. Until I can I will have to make do with their UK range.
Their priority is obviously the American market and why wouldn't it be. Therefore it is great that they have given the UK market a taste of their beers. I am looking forward to trying the APA I mentioned earlier, and will report back with my findings.
You may be a lucky beer lover that has the opportunity to try the US range, if so do share your thoughts. I would love to know what experience you had with them. Also if you have a can left, then send it my way.