A beer named after an incredibly skilful Indonesian textile dying technique and pronounced eekaht. Which is probably a connection to the textile factory Sir Titus Salt built in Saltaire, West Yorkshire. This is of course the home of Salt Beer Factory. So that said, is IKAT DDH DIPA a nice beer?
The moment this beer came into my possession I have been looking forward to getting into it. However it is a little potent, so I had to pick my moment. Here is that moment, so what is it like?
Is IKAT DDH DIPA A Nice Beer?
IKAT is a nice beer, maybe a little sweet, but good all the same. It has a hazy orange juice like appearance. The nose is tropical fruity and sweet with aromas of mango, pineapple and pear. Diving in for a taste, it hits with a hoppy tropical fruitiness. Mango, pineapple, passionfruit hit the mouth with a little bitter grapefruit edge. There is a sweet honey base to it, that I think it could do without. It gets a 3.9 – 5.0 rate my beer score.
The mouthfeel is silky smooth, but that sweet honey is just a little too sweet. Also it could do with more bitterness to balance the sweetness, but that's just me.
The Salt Brand
The Salt Beer Factory was founded by Jamie Lawson back in 2018 and is about a brand that is led by experience. The idea is to brew beer without limits and with freedom.
Then create relaxed chilled out spaces for people to enjoy the beer. These spaces come in the form of the ever growing number of Salt Taps in the North of England and London.
1 Salt Bar & Kitchen in Saltaire, West Yorkshire.
2 Salt Taproom, the Brewery Tap also in Saltaire, West Yorkshire.
3 Salt Leeds City, Craft & Cocktails, obviously in Leeds.
4 Salt Deptford, Craft & Pizza in London.
5 Salt Woolwich, Craft & Pizza in London.
6 Salt Sheffield, Craft & Bao in Sheffield.
7 Salt Granary Wharf, Craft & Falafel in Leeds.
8 Salt Boston Spa, Craft & Cocktails in Boston Spa.
9 Salt Oakwood, Craft & Cocktails in Oakwood, Leeds.
10 Salt Calls Landing, Craft & Cocktails in Leeds.
You can guarantee the list of taps will keep growing in the future. Salt then is not just a brewery, but a whole experience, from the brew to the glass.
Is IKAT DDH DIPA A Nice Beer?
Ikat is a double dry hopped, double India pale ale. It comes in a pink can with the Salt hexagon design, striking and inviting.
It's hoppy, tropical and being a double IPA packs a punch at 8.0% ABV, which is what you expect from a DIPA.
But what is it like?
Drinking IKAT DDH DIPA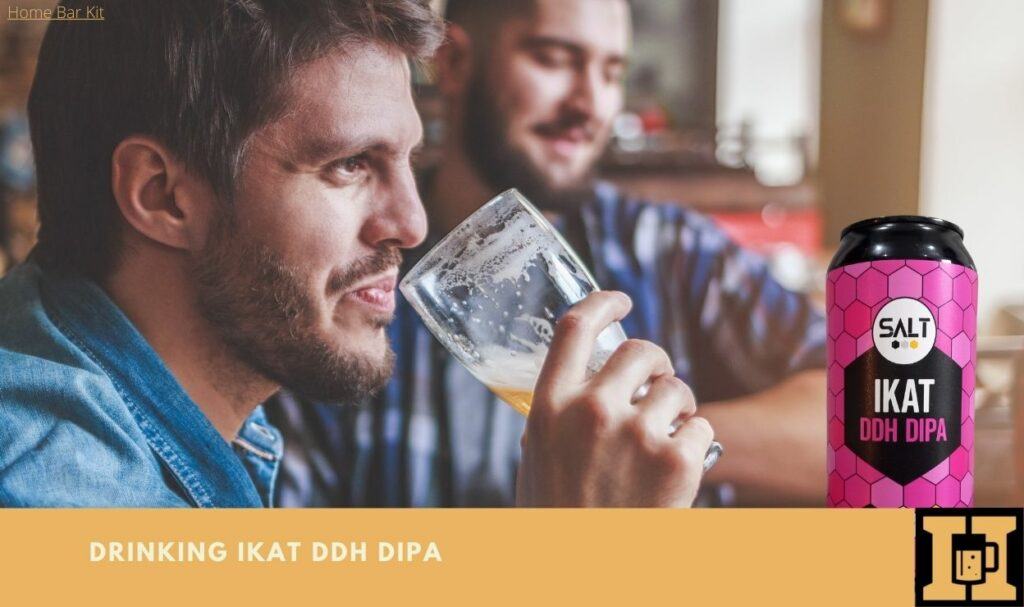 An orange and white swirls around the glass as you pour it. When it settles, it stands a hazy light amber orange with a three finger frothy white top. This does fade to a thin cover and leaves a satisfying lacing around the glass.
The nose is vibrant with tropical fruity and citrus aromas. Mango, pineapple and a little pear fill the nose with sweetness.
The taste is a similar affair, sweet and fruity. Its hoppy and tropical up front with mango and pineapple stealing the show. However there is that pear again, which could be guava maybe. There is a sweetness like strawberry that finishes with honey.
There is a little relief from the sweetness though, with a little bitter grapefruit popping by at the end.
The texture of the beer in the mouth is smooth and creamy. However for me it is just a little too honey sweet and not enough bitterness.
IKAT gets a decent rate my beer score of 3.9 – 5.0.
M'Lady likes it too, and although Lou prefers a sweet beer to a bitter beer, not all is well. "A nice fruity and fresh aroma. The initial taste is fruity, but a taste that follows does taint it a little."
I think that is the honey, Lou is not into honey.
Anyway, Lou score it an identical 3.9 – 5.0.
You can tell it is a quality beer that is well made with care and passion. It is just too sweet for me though.
Salt Beers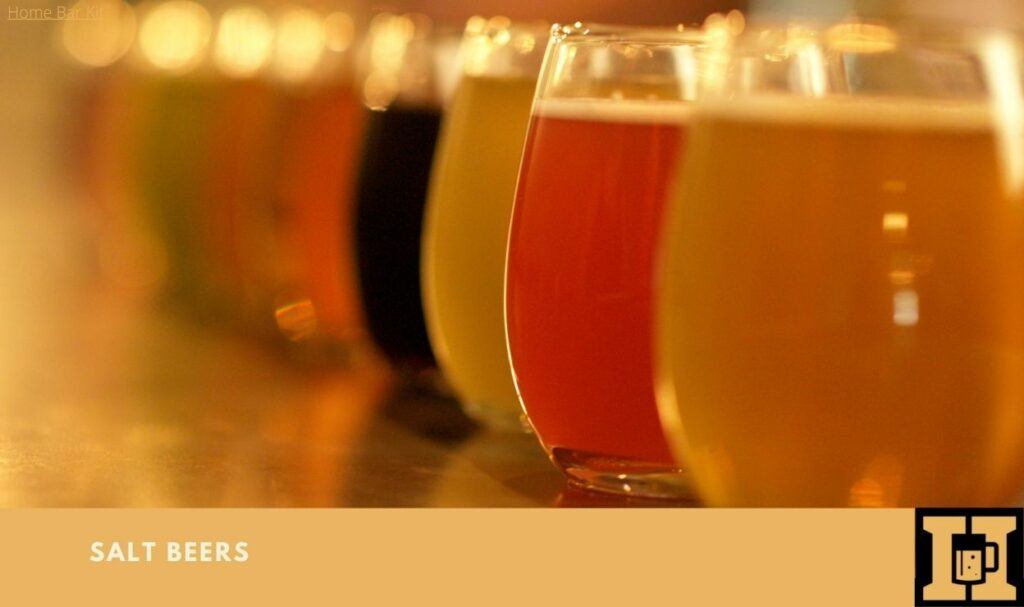 Salt are an exciting brewery making beers their way. They give themselves the freedom to brew any style and source new and exciting ingredients. They put no limits on how they brew their beer.
The beer range is a wide variety or core, specials, collaborations and of course their Hexagon project. Small batch beers which blow the rule book out of the window. However be cautious, they all pack a punch when it comes to strength.
Here are few featured beers from the mighty Salt Beer Factory.
Hessian Porter
Hessian is a coffee and cacao porter using a special blend of coffee from the Jolly Bean Roastery also based in Saltaire.
So its a straight coffee and chocolate porter with a hint of vanilla thrown in for good measure. Expect it to dark and roasty with a keen coffee hit.
At 6.2% Vol it is probably a sipper, and would maybe be Ideal after a meal.
Loom
Loom is a pale ale with a West Coast feel, using American Idaho7 and Simcoe hops for that classic taste. It is dry hopped for a refreshing and crisp taste. Described as full of flavour but surprisingly light too.
At just 4.0% Vol it is a session beer that sounds like it is ideal for a hot summers day. Sounds like a decent pale ale that needs to be tried, I'm in.
Sabro
Sabro is part of a series of single hop beers from Salt and this one is the fourth edition. Obviously it is all about the Sabro hop in this beer.
Sabro characteristics lend tropical fruit, coconut, stones fruits, tangerine, cedar and mint to the mix. So expect some of those aromas and flavours to be present.
However the hop bill shows Ekuanot hops too, puzzled. Sabro is a hazy, hoppy beer that I would imagine is a pale ale. I'll have to get one and find out.
Final Thoughts
One thing Salt lend to the craft beer scene is excitement and freedom. Okay that's two things, but one things is for sure, they don't produce anything boring.
Their beers are packed with flavour, but the ones I have tried so far have been a little sweet for me. However as I go through their range of beers, I know I will find my bitter friend.
If you have tried any beers from the Salt Beer Factory, then do share your thoughts below. Especially if you have found that bitter one you know I will love.