Craft beer has done wonders for the beer world and beer lovers have more choice than ever before. But more than that craft has transformed Alcohol Free beer into something that actually tastes like beer. So then, what is Nanny State AF beer like?
Brewdogs first Alcohol Free beer. I have had this beer many times over the last few years, but somehow keep forgetting to review it. So I finally put fingers to keyboard and report on my findings, here it is.
What Is Nanny State AF Beer Like?
To put it bluntly it is like a beer, and a good beer at that. All the flavour you would expect from a hoppy ale, but without the alcohol. It pours a deep copper brown with a well formed white top. On the nose it screams hops and citrus with pine notes and a malty base. The taste is a similar affair with those hops bursting with citrus and giving a nice bitter edge. The finish is a rich malty base that lingers in the aftertaste. Its pretty good for an AF beer and gets a rate my beer score of 4.1 – 5.0.
It's a decent Alcohol Free beer, but in my opinion it is not as good as Punk AF.
The Brewdog Rebels
Brewdog which was founded in 2007 has had a bumpy career in beer. Their promotional and advertising antics cause much controversy and have seen them get into trouble more than once.
This has led to conflicts with organisations like the Advertising Standards Authority and The Portman Group. They have come under fire for their working practices as well as their attitude towards staff.
While some of their antics have been supportive with the right intensions at heart. The tongue in cheek and in your face messages they deploy seem to offend some people.
They have even had a fight with Elvis, so they like to stir things up a little. This has earned them a kind of Marmite status, and lost them many fans.
So you either love them or hate them, but one thing is for sure, they do know how to brew beer. Furthermore, they have grown into a monster craft brewery that shows no sign of slowing down.
Brewdog the punks of beer refuse to conform and are defiant as ever.
To find out more about the Brewdog troubles over the years, visit this Drum article, which list many of them in a timeline style.
What Is Nanny State AF Beer Like?
A lot of the names that Brewdog use for their beers does reinforce their anti-establishment attitude. Enter Nanny State and alcohol free hoppy beer that does not compromise on flavour.
The can design is unmistakably Brewdog and although it states 0.5% ABV this is classed as alcohol free. When Nanny State was first released it was a low alcohol beer at just over 1% vol. However it was revamped and launched the Brewdog alcohol free range, which contains five beers.
So what is it like then?
Drinking Nanny State AF Beer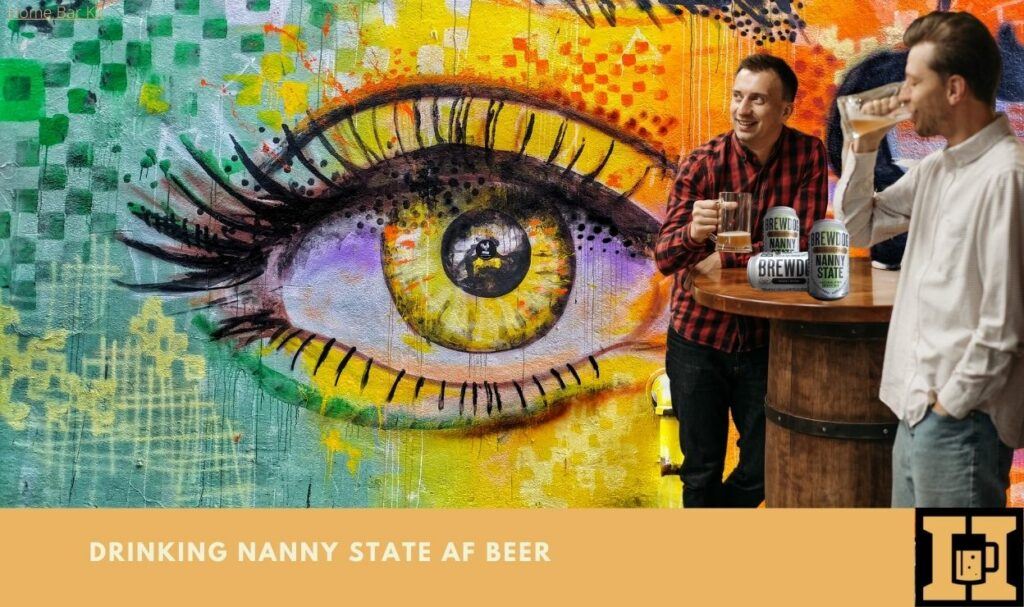 It pours a burnt copper brown and settles with a generous white head. This does dissipate slowly to just a thin covering, just enough to seal the beer in.
The nose is somewhat lively with a burst of hoppiness and citrus with a little pine too. In the background a little bready malt holds thing up.
The taste is a similar line up with those lively hops in the door first spreading a blanket of citrus notes. A nip of orange floats around backed up by pine notes. This creates a nice bitterness swirled around the mouth by a medium carbonation.
At the backend there is a rich malty base that stays on to linger in the aftertaste. The mouthfeel is a little thin, however for an alcohol free beer, it delivers a good experience.
It feels like you are drinking a beer and does not lack in flavour. For that t gets a decent rate my beer score of 4.1 – 5.0.
Brewdog Beers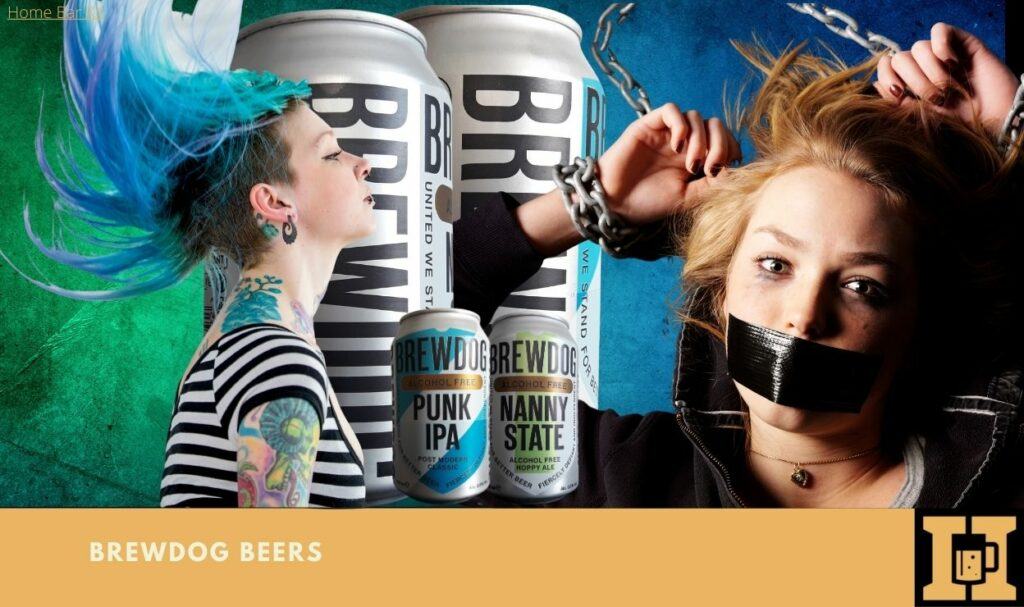 Brewdog is a brewery that brews a lot of beers, of course they have the popular core range. However they come up with many one offs and small batch beers.
It is fair to say that some of their beers get brewed as a direct response to things and people in the world. Laout which was turned around in about five weeks was in response to Peter Crouch.
Peter talked about mixing lager with stout as being a nice drink and called it Laout. So Brewdog produced just that a beer named Laout.
Ald IPA was a result of a friendly online spat on social media with the supermarket Aldi. They ended up brewing the beer for Aldi.
Anyway stop waffling and feature a few of Brewdogs other offerings.
Neon Dream
Neon Dream is a tropical wheat beer ideal for summer days. Laced with an array of tropical fruits it lends notes of pineapple, mango and passionfruit. Made using wheat is overlays those tropical flavours with a wheaty body.
It pours a light gold with a pure white head looking like a lager beer. At a sensible 4.5% ABV it sits in the session range for a wheaty tropical summer beer.
Black Heart
This a new stout from Brewdog, it uses chocolate and extra dark malts to give a rich indulgent flavour profile. It is said to have layers of roasted and toasted cocoa and coffee flavours with a touch of caramel.
I have one waiting in the chiller, so expect it to feature soon here soon. It is a dark black ale as you would expect from a stout. It weighs in at just 4.1 % Abv and is marketed as the 21st Century Stout.
Looking forward to giving it a test drive.
Barn Dance
Described as line dancing juice, Barn Dance is an American Barley Wine, or so it says on the can. A full body beer it has a rich malty base with caramel and toffee flavours. Layers of tropical mango and citrus mingle with the malt and it all ends with a little spice.
It sounds good, but proceed with caution because it packs a punch. At 9.5% Vol it ain't for the faint hearted.
Final Thoughts
Brewdog then are a force to be reckoned with and their beers are confident and defiant. Love them or hate them, I don't think they are bothered. They move along with speed regardless of what anyone thinks.
Nanny State is a solid alcohol free hoppy ale that feels like a beer. I prefer Punk AF, but then again I still have three other AF beers to try from this brewer. I might prefer one of them, however at the moment Punk AF remains on top.
It is great to see the development of AF beers, and breweries are doing a great job of producing some classics.
What is your opinion on the AF scene are you a fan or not? Also have you tried any of the Brewdog versions? If so, do share your thoughts below and let us know what you think.