A beer from the brewery that was born from a family feud. Built on experience as a fifth generation brewer Paul Theakston, the original black sheep. So is Milk Stout from Black Sheep a nice beer?
I do like a milk stout and this is one that has avoided my attention. So I am looking forward to trying it out and seeing how it stacks up.
Is Milk Stout From Black Sheep A Nice Beer?
To say it is a nice beer, wouldn't be true. It's a great beer, a full body flavoursome stout with a silky smooth light bitter finish. On the nose it bleeds chocolate caramel biscuit with a coffee lacing and a hint of sweet vanilla. The taste takes you on a flavour journey, milky coffee laced with caramel chocolate and a shot of vanilla. The flavours are complex, yet subtle too and finale is a light dry bitterness. It's a winner and gets a rate my beer score of 4.8 – 5.0.
A high score indeed, but one well deserved, a top quality milk stout that is now firmly on my favourites list.
Black Sheep Brewery
It has been a bit of a journey for Paul Theakston, and one with many bumps and obstacles. Starting his brewing career as a nineteen year old back in the sixties for his families brewery Theakston.
A brewery dating back to 1827, Paul became managing director at the young age of 23. However fast forward to the eighties and family disagreements saw the Theakston brewery come under the control of Scottish & Newcastle Brewery.
Seeing his family brewery swallowed up, Paul Theakston decided to leave the business.
A few years later he arose from the ashes and with many rocks to negotiate on the road ahead, built the Black Sheep Brewery. The brewery stands only yards from the Theakston brewery, which is now back in the family and owned by direct descendants of Thomas Theakston.
Today Pauls two sons Robert and Jonathan run the Black Sheep brewery. The vision at the beginning and still true today is to brew proper traditional Yorkshire beer.
What Is Milk Stout From Black Sheep Like?
It is close to perfection in a beer glass. Smooth as silk with beautiful well balanced flavours. I like a milk stout anyway, however I wasn't expecting what I got from this beer.
What I mean is that I wasn't expecting it to be as good as it is. And it really is that good.
On the bottle a simple cow print sits with the name milk stout, creamy, rich and dark. It is creamy, it is rich without being sickly, and it is dark.
It's milk stout.
Drinking The Milk Stout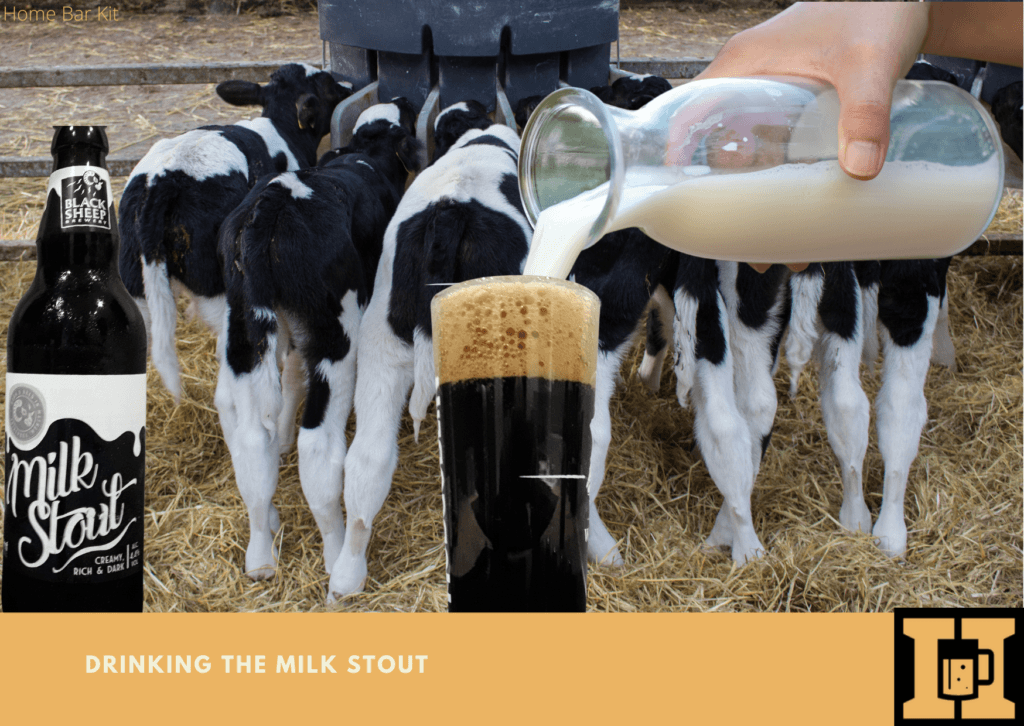 It pours like a flowing black river swirling around the glass and settling with a generous thick tan head. Although the head fades some, a decent one finger depth stays to the end.
On the nose it is rich and vibrant with notes of chocolate, caramel and coffee over a malty biscuit. Little sweet notes of vanilla fleet around playing in the background.
Likewise the taste reflects the nose, a caramel malt chocolate steams in carrying a distinct creamy coffee edge. Hints of vanilla pop in and out and a smooth sweetness is played down by a light dry bitter finish.
The rich flavours though clear-cut are surprisingly subtle, making a well balanced smooth moreish beer. And at 4.4% Vol it is safe to crack open another bottle, but its a big shame as I only bought one. I love it, and it gets a rate my beer score of 4.8 – 5.0.
However M'Lady is not so impressed and her reaction to this milk stout was a surprise to say the least. Lou says "It tastes like an espresso, and not a good one, I don't like it." Lou rates it an extremely low 2.0 – 5.0.
I am gobsmacked by this and can only apologise to the Black Sheep family for my wife's outburst. I know she is not a stout fan, but really 2.0, come on.
Anyway, I love it.
Black Sheep Range
Black Sheep Brewery then, have stuck to brewing traditional Yorkshire beer and it has worked for them. However their beer range is growing and you can find more craft style beers in their range these days.
Beers like Raspberry & White Chocolate Milkshake IPA, also Pineapple Milkshake IPA. I guess this is to keep up with the ever growing craft beer market.
Do they need to do that?
Possibly, but as long as they keep the real ale too, then that is fine, everyone's a winner. Here are a few beers from their range.
Cry Wolf
Cry Wolf is a black IPA with plenty of roasted malt flavours. However with the copious amounts of hops created a bitter bite not for the faint hearted.
The hops in question are Cascade, Chinook, Citra and Columbus giving a tropical citrus top to a dark malt base. At 5.0% ABV it sits on the edge of session, but sounds like a ferocious beast to me.
Looking forward to trying that one.
Golden Sheep Ale
This Golden Ale from Black Sheep is a little lighter, brewed with Whitbread Golding Variety hops its an every day pleaser. It has been around since the turn of the century and is a popular Black Sheep beer.
Aromas of fruity citrus which reflect in the flavour as well as a crispy bitter orange. It is light refreshing with a zing in its tail.
At 4.5% Vol it falls neatly in the session bracket and needs to be enjoyed very soon.
Riggwelter
Riggwelter is a strong dark ale with a roasted malt base and hints of coffee, liquorice and banana. It is inspired by the Yorkshire farming term Rygg Velte. When a sheep is on its back and unable to get back to its feet, something to do with a heavy thick fleece.
The beer weighs in at a non session 5.7% Vol so commands a little respect. Have they been able to balance this one as well as the Milk Stout. Or will it be a little too rich, I will find out one day.
Final Thoughts
Black Sheep Brewery has an interesting history. A descendant of Thomas Theakston branching out because his ancestors brewery was eaten up.
Despite a lot of challenges Paul Theakston rose back up and created a great Yorkshire brewery. And from the suggestion of his wife Sue is named the Black Sheep Brewery. I wonder why?
I thoroughly enjoyed the Milk Stout and look forward to trying more the this breweries range of beers.
If you have enjoyed (or not, Lou) the Milk Stout too, or any other Black Sheep brews. Then do share your thoughts below, I'd love to get your opinion.