I love a decent IPA as I am sure many do. However when the brewery decide to double up you have to be a bit careful. They can be just as easy to drink but you can forget just how strong they are. So is Ultra Phase by North Brewing a decent DIPA?
Brewed with hops from the US and Australia it promises to be a fruity affair with the back bone of an elephant. I was in and ready to double up my IPA with a diehard enthusiasm.
Is Ultra Phase By North Brewing A Decent DIPA?
The simple and correct answer is yes. Once poured it settles to a hazy mango orange with a generous foamy top. On the nose it is on fire, a fruity citrus bursts from the glass like an aromatic circus. Hints of grapefruit, pineapple, mango and tangerine explode on the nose. The taste hits with the same fruits spiking over a clean malty biscuit background. It has a soft and smooth mouthfeel that ends with a slight bitterness. I like it and it scores a decent 4.5-5.0.
A fruity number with a soft smooth base and the right amount of bitterness all packaged in a tidy can. It's ultra nice.
North Brewing Co
It all started in 1997 with a small bar in the City of Leeds, North England. But how did that small bar grow into a new craft brewery?
Christian Townsley had always wanted to open and bar, and along with friend John Gyngell did just that in 1997. What was on offer in the centre of Leeds at that time was not, lets say inspiring.
These guys wanted something different, open and friendly, a place they wanted to drink at. A small loan from John Smith's got them their bar premises located in a shop in New Briggate, Leeds.
They were restricted to the beers they could sell, like Kronenbourg, Beamish Red, Fosters and Guinness. I think this was part of the loan agreement.
However after a slow start, many quiet days and their minds thinking what have we done. They started attracting staff from Leeds Grand Theatre which happen to be on their doorstep.
Things soon picked up and North Bar became a success. In fact it became a hub for craft beer once they were free from the loan restrictions. Beers from around the world were soon being featured and including the first ever tap pour in the UK for Sierra Nevada.
North bar was on the map, but more bars followed and they now have seven bars performing well and providing a great craft experience.
The Birth Of North Brewing Co
The decision was made to finally started to brew beer, with Seb Brink as the master brewer. The first beer he brewed for them to try was a triumph and named Transmission a 6.9% IPA.
In 2015 they got the keys to their first brewing premises in Sheepscar and the journey began.
It wasn't long before space was getting tight and expansion was needed into other units on the same site.
By 2018 even with the extra units space was still tight and they knew they would have to think about new premises. At the end of 2019 they agreed on leasing an old grade II listed building at Springwell, a former Tannery.
Moving into 2020 the lockdown hit and everything was up in the air. Despite the obvious worries Christian and John committed and work began to transform the old building into a new brewery.
Fast forward to today and North Brewing Co are hitting it hard in the Craft beer scene. You just know there is so much more going to come from the brewery, keep your eyes peeled.
Is Ultra Phase By North Brewing Co A Decent DIPA?
I hands down like it, which means, yes it is a decent double IPA. I know its bad, but if I'm honest this is the first beer I have had the pleasure of trying from North Brewing.
Like I said, I know that is bad but at least I had a good one to introduce me to this exciting brewery. Because of this I will be looking out for their others offerings.
Ultra Phase is a special, so I am keen to try some of their core beers, like Transmission and Sputnik. But for now lets concentrate on the beer in question.
Drinking Ultra Phase DIPA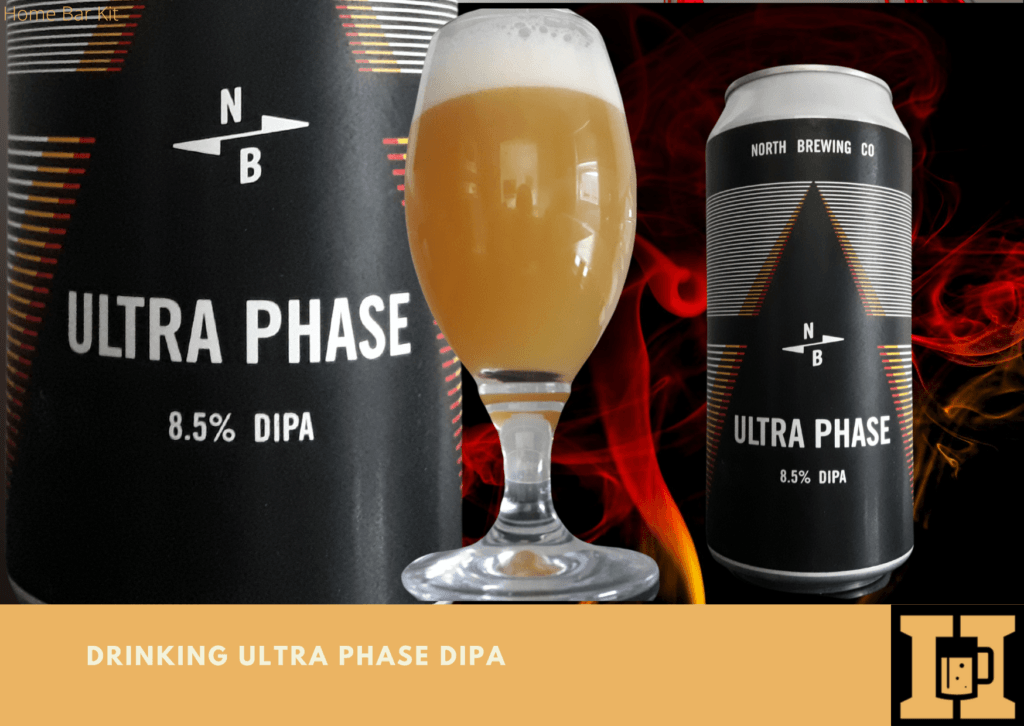 The can at first sight is nothing to get excited about, I'd even go as far as saying it's a bit bland (sorry NB). This seems the theme of all their can designs, however the more you look at it, the more it draws you in. I can't describe why, but there is something striking about it.
Lets just say it is simple and to the point.
Open that baby and pour, and a swirl of orange and white DIPA cascades around the glass. It settles to an opaque haziness with a generous tight foamy white lid.
The head does calm down a little, but leaves a small white lid that sticks around. White lacing decorates the glass walls as I enjoy every mouthful.
The nose is not shy in coming forward, it bursts its way into your senses promising an extravaganza of flavor. An array of fruity notes hit out like a tropical fruit line up. Grapefruit, tangerine, pineapple all seem to be buzzing around. A softer mango and melon follow to clam things down.
The taste is just as lively on the front with hits of a fruity carnival. The background boasts a sweet malty biscuit holding everything together. It's a pleasant combination of hard hitting tropical zest over a calm solid base.
In the mouth it has soft smooth almost creamy feel and this leads to a finish that is laced with a little bitterness. That extends to the aftertaste and you find yourself diving back in for another sip.
The Verdict
Ultra Phase then is a decent DIPA, however it is also a little dangerous. At 8.5% Vol it is like a wolf in sheep's clothing. It brings a great drinking experience with an aggressive ABV that could trip you up if you don't respect it.
For me Ultra Phase scores a solid rate my beer of 4.5-5.0 and leaves me wanting more. However M'Lady did not agree.
Although Lou liked it, the promise on the nose did not live up to the taste. For her it did not deliver on the taste given what the nose was saying. She scored it 4.0-5.0.
North Brewing Co Range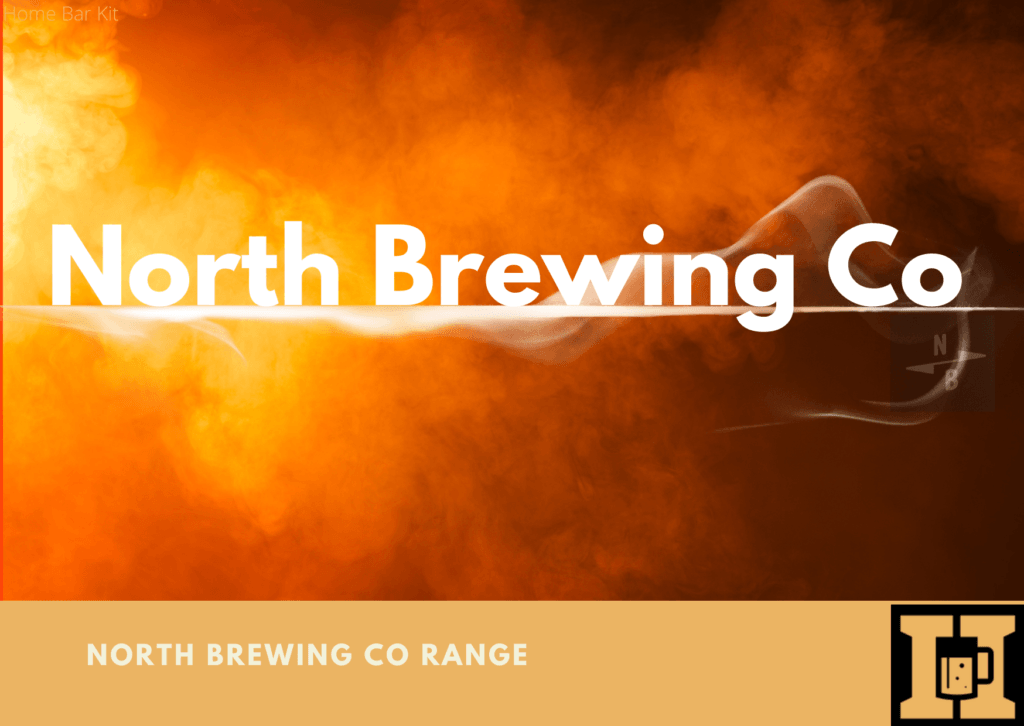 Have North got a decent range of beers?
I am glad you asked that because their core range is a good range. From crisp pils to pales for a session and IPA's worthy of awards. There is something for everyone among their regular brewed beers.
On the other hand they also do a range of specials that push boundaries and try new ideas. These may only appear once, but can make a second appearance too.
Collaborations are important to North too and they have an amazing range of beers to choose from.
This makes for an extensive range of beers that have to be explored. Here though I am going to feature a few from their core beers.
Transmission
The beer that kicked it all off and the present day head of a range of great beers. Transmission is an American mix up IPA, with influences from the East and West Coast coming together.
It combines zesty fruits as well as sweet juicy fruits and a spicy overtone adding a little savoury to the table. A tropical experience with a keen bitter edge.
At 6.9% Vol it is way out of the session range, so needs a little respect. But lets be fair it has been on the bill from the start back in 2015, so it must be a winner.
I'm gonna get me some 😉
Atlantis
North knocks up a bright little Pale Ale that lives well within the session bracket. Bursting with fruity aromas laid over a bed of pine needles.
It's punchy on the tongue with sweet blueberries and pineapple teasing the buds. A bitter finish promises a satisfying end.
Made with Mosaic, Citra and Galaxy hops you know you are in for a treat. Just as well because you will be back for a second.
But don't worry at just 4.1% Vol, North has got you back, so its safe to dive in and explore.
Springwell Pils
A crisp fresh pilsner style beer made with German malts for a light gold brew with a fruity freshness. It could be a go to lager that delivers refreshing and dry crisp finish.
It carries characteristics of gooseberry along with subtle herbs and floral hints to finish off. At a sensible 4.5% Vol its a lager to enjoy in a beer garden on a sunny afternoon.
If lager is the drink of choice, then Springwell Pils is worth a shot.
Final Thoughts
I have enjoyed the North Journey and I'm glad I stumbled across Ultra Phase. There is a lot more to write about the North Brewing Co which I will cover further when I try more of their beers.
My eyes will be peeled for more of their beers, it would be great to try them on tap too. I can only suggest you do the same, however if you try Ultra Phase, do it with caution. It is far more easy drinking than its strength suggests.
Don't forget to share your thoughts below on your experience with beers from North Brewing Co. Also if you have been lucky enough to visit any of their bars, report your findings too.