So I found myself drinking Space Hulk NEIPA, another exciting beer from Beavertown. You always know when you pick up a beer from this brewery it will take your taste buds on a journey. Normally a journey that is thrilling and exhilarating.
But does the Space Hulk deliver? Will it have all that lovely New England citrus hoppiness ready to burst the taste buds? There is only one way to find out, crack it open and dive in.
Drinking Space Hulk NEIPA
It may be drifting through space, but it delivers all the sharp citrus you would expect with a fruity bitter end. It pours a hazy tangerine orange with a lavish foamy head. On the nose it is subtle, but releases citrus notes of candied fruit salad. The taste is a sharp citrus circus tantalizing the tongue with hints of orange and grapefruit. It finishes with a slight bitterness that carries a citrus edge right to the end. It's a lively beer and rates at a lively 4.5 – 5.0.
The Space Hulk then is a worthy New England IPA.
Beavertown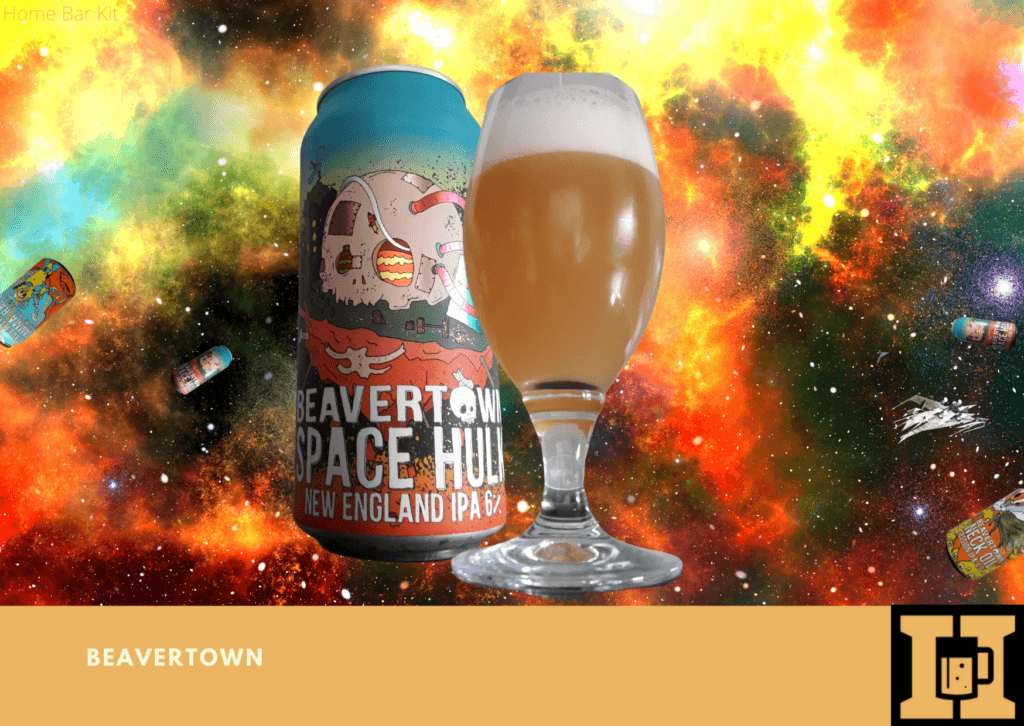 I have written about the brewery on previous Beavertown beers I have tried, such as Neck Oil and Gamma Ray. Just to recap, the brewery was born in London by the hands of Logan Plant, a musician turned brewer.
He started off with a modest homebrew kit and eventually moved onto brewing and serving his beers from a restaurant bar. The bar was in Haggerston, London, which brings me onto the name, Beavertown.
Sounds an odd name for a brewery, but there is meaning behind the name. The bar in question Dukes Brew and Que is in the district of De Beauvoir and that is where the name comes from.
Beavertown is the old cockney nickname for De Beauvoir (town) which developed from a farm bought by a Richard De Beauvoir in 1620.
So the name then was not just picked out of thin air. But instead taken from a nickname of the area the brewery has its roots.
The brewery has come a long way since then (2011) and now has a state of the art brewery in Enfield known as Beaverworld.
Drinking Space Hulk NEIPA
Beavertown do like a wacky name for their beers, and it makes you wonder if they are plucked out of thin air. Just like the name of the brewery, I suspect not. So where does Space Hulk come from?
A little research leads me to believe that the name comes from a term used in a game. The game in question is Warhammer 40K. In the game old spaceships and other space debris is referred to as Space Hulk. A mass of these space ships and debris fuse together and drift through space.
So the name is from a game, and the art work as wacky as ever depicts the name. However what is the beer really like?
Beavertown Space Hulk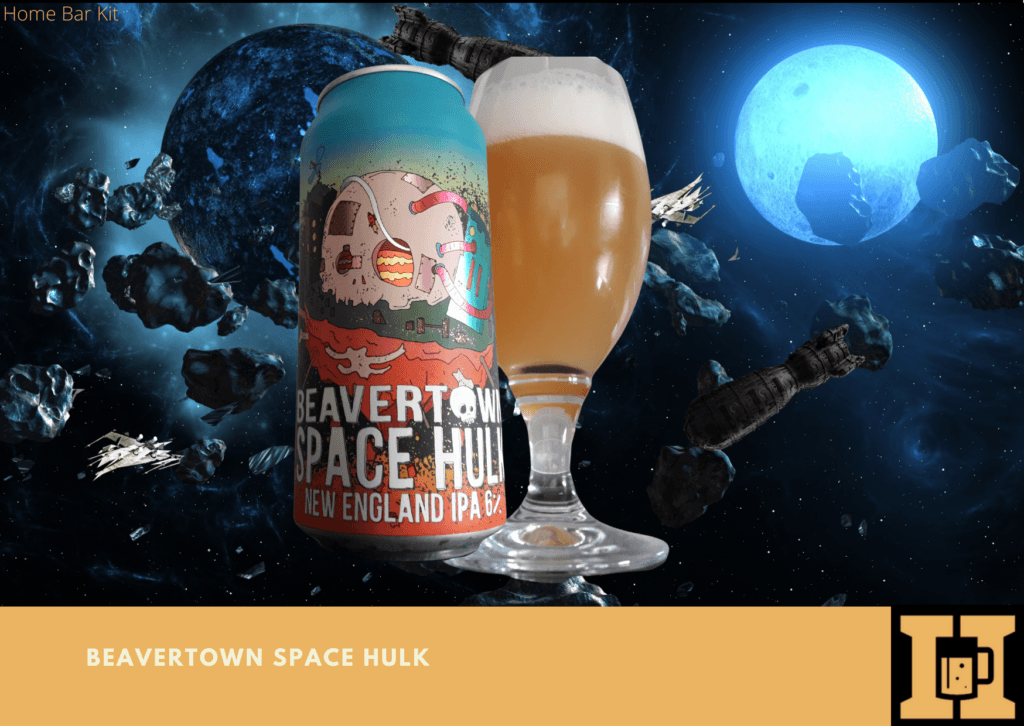 This New England IPA is a lively pour of orangey zest laced with a white surf. It settles to a hazy amber with an ample tight white foamy lid. This does fade and ends up a thin white cap, but plenty of lacing decorates the glass as it descends.
The nose is not as powerful as I thought it would be. However although it is subtle it does reveal aromas of citrus, sweet fruit like pineapple and fruit salad candy.
The taste is more powerful than the nose and a hoppy sharp citrus attacks the mouth. A sweet tangerine orange and peach is backed up by a sharp and bitter grapefruit. It is fruity and fresh with a bitter base that follows through to the end carrying a little tang with it.
M'Lady agreed with the flavors, but found it to be smoother than my experience.
The non session 6% Vol this beer packs does not come across in the mouthfeel. It feels very light and fresh, not as full bodied as you might expect. However for me it is still a great hazy IPA and gets a Rate My Beer score of 4.5 – 5.0.
Beavertown Brews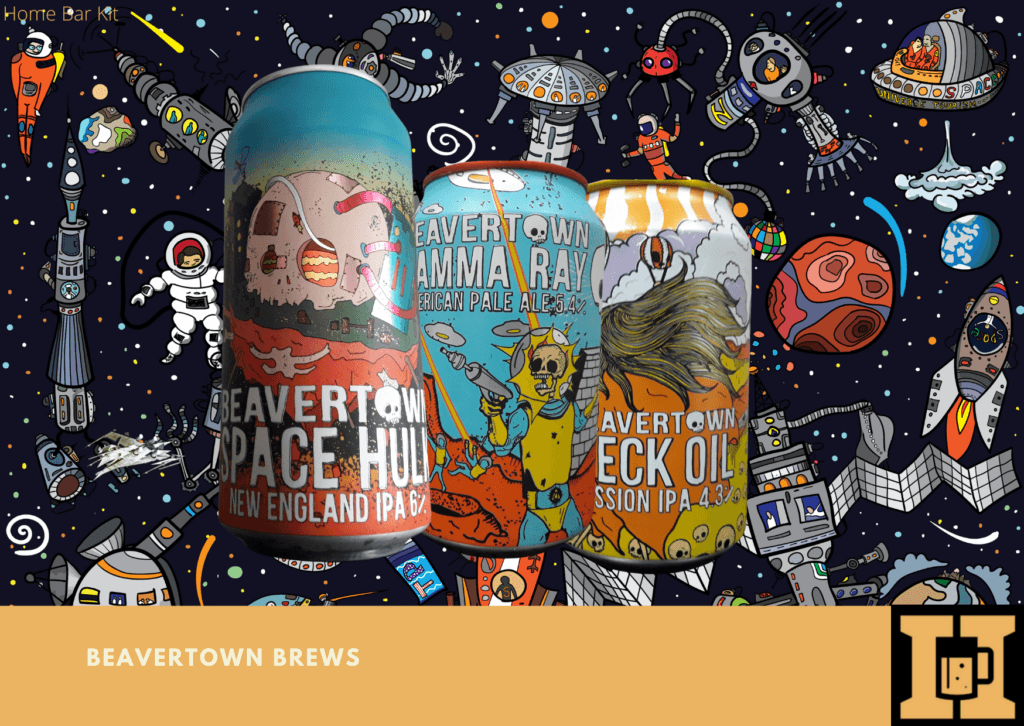 Beavertown with their large brewing facility will not be resting on what they have produced to date. Although some popular core beers, you just know they will be bringing out many more in the future.
The vibe from this brewery is exciting and wacky. But you know you are in for a treat when you pick up a beer from Beavertown. So here are a few to take a look at and hunt down if you fancy a tipple.
Solar Flare
Another hazy beer this double IPA Solar Flare promises a deliciousness with power. Aromas of mango, lychee and melon set it up as fresh and light. These flavors follow through to the taste and it becomes a tropical paradise laced with a botanical bitterness.
Don't get sucked in though because it is a powerhouse in strength. At 8% Vol it is not for the faint hearted and definitely not a session beer. Sounds like a worthy IPA to get involved with, just the one though.
Sunlight
Fancy something lighter without the strength tag of Solar Flare. Then what about a Lite Lager with a light powerband. At just 3.8% Vol it will not sting you, but promises to refresh at the pull of a ring.
It's the perfect set up for those picnic days or barbecue sessions in the garden. An easy drinking lite lager set to please and satisfy. Perfect for handing out to friends on hot summer days, go lite, go Sunlight.
Double Chin
If light is not your game and you prefer to jump into the deep end, then think Double Chin. A double IPA, in fact it is a double Neck Oil.
This is the ever popular Neck Oil at its session 4.3% Vol beefed up to a whopping 8.6% Vol. So tread carefully because that strength is deep and you could go under. It's a West Coast DIPA that will not take any prisoners, but delivers flavor by the bucket load.
Lemon and Grapefruit team up to deliver a zingy fresh crisp taste, but go easy because it also bites.
Final Thoughts
Beavertown just keep on delivering great beers to those that like it exciting and fresh. It is not a brewery that we can get bored with, from the striking artwork on the cans to the quirky beers within.
I love Neck Oil and for me it still comes out on top so far with the Beavertown range. However, I haven't tried Double Chin yet. Will double Neck Oil be overkill, or double the joy?
Only time will tell, when I get my hands on one, and it will be just one (8.6% Vol). At least their range of strengths are a diverse as their beer range. So there is a beer to suit everyone, try one and you will not be disappointed.
Just remember to share your thoughts on the Beavertown beer you try. Drink Responsibly, especially with those higher ABV beers, but most of all have fun too.