It is the original beer from Innis & Gunn a Scottish brewery. A golden beer that is matured in single malt whisky casks. It sounds great and looks good too. But is The Original golden beer any good?
I was looking forward to this beer matured in a whisky cask. Like I said it sounds good and the honey gold beer shines through the large clear bottle. Really quite inviting, so how did it fair?
Is The Original Golden Beer Any Good?
Unfortunately no, don't get me wrong you can tell it is a quality beer. However it is way too sweet without any real bitterness for balance. It sits in the glass radiating a beautiful copper hue with a moderate white top. The nose shares its strong malt base with hints of whisky and orange floating on top. The taste is toffee malt with a mixture of whisky, vanilla and orange that all seems a bit sticky and sickly. It's just so sweet and hits only a mediocre rate my beer score of 3.2 – 5.0.
Why does it have to be in such a big bottle, it took me two hours to get through it.
Innis & Gunn Brewery
The Innis & Gunn Brewery is reported to be founded in 2003 by Dougal Gunn Sharp. However looking into it a bit deeper, apparently it was actually founded by Russell Sharp along with his sons Dougal and Neil (not sure if that is true).
Initially the company was about brewing beer that was aged in oak casks. The casks were then used to age whisky. This was for William Grant & sons the whisky distillers who would use the beer casks to age whisky. A whisky with a hint of beer flavour, nice.
The beer that Innis & Gunn brewed to flavour the oak casks was a bit of a hit. The idea came about to reverse the process and age the beer in whisky casks. So the Original whisky infused Scottish Golden Beer was born.
Also involved was Dougal's brother Neil Innis Sharp, that's where the name comes from. Russell used his sons middle names for the brewery name.
Russell retired and Neil left to work for a large drinks company. Dougal cracked on and is in the process of building a new brewery in Edinburgh, Scotland. A dream that has been a long time coming.
I think the whisky cask matured beer maybe a little like Marmite.
Is The Original Golden Beer Any Good?
The bottle and labels shout classic and quality. A beer matured for 51 days in a single malt whisky cask, I'm in.
I really did have high hopes for this beer. The thought of a beer having a hint of whisky about it sounds great.
It looks great too and the bonus is a super large bottle, which actually turned out to be a negative for me.
The description tells of vanilla, malt, toffee and orange marmalade notes. It has all those things, but boy it is so sweeeeeet.
Drinking The Original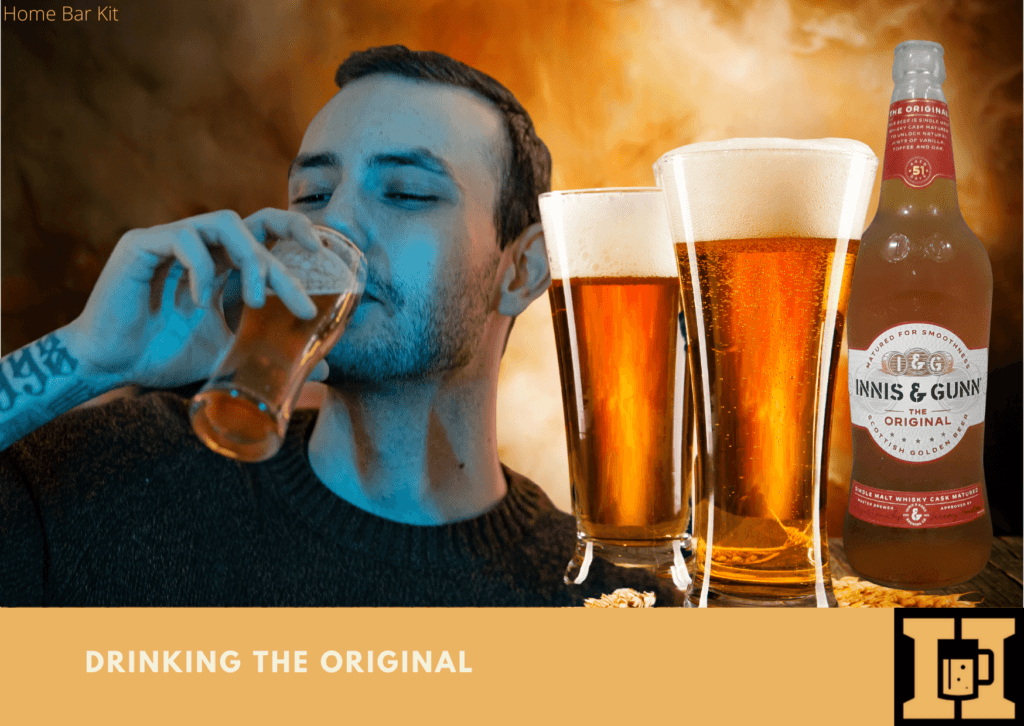 Once settled in the glass, a beautiful honey coloured liquid shines out with a foamy white top. The head fades fairly quickly to the thinnest of covers.
Sweet toffee malt aromas flare up the nose laced with hints of whisky and orange.
The flavours are held up by a toffee malt base with a strong orange over the top. Vanilla does show its face and a slight spicy spirit pops in too (must be the whisky).
I was hoping for a bitter end, however it didn't happen, sweetness is the name of the game from start to finish.
However I did get a little heat in the throat which was pleasant. For me it is just way too sweet, to the point where it is a bit sickly. It took me two hours to finish this bottle of beer, that is a personal record.
At 6.6% Vol it means business in the strength department, but for me it gets a weak rate my beer score of 3.2 – 5.0.
I didn't expect M'Lady to like it as she is not a whisky fan. Well predicted by me, Lou doesn't like it at all and scored it just 2.0 – 5.0.
Innis & Gunn Beer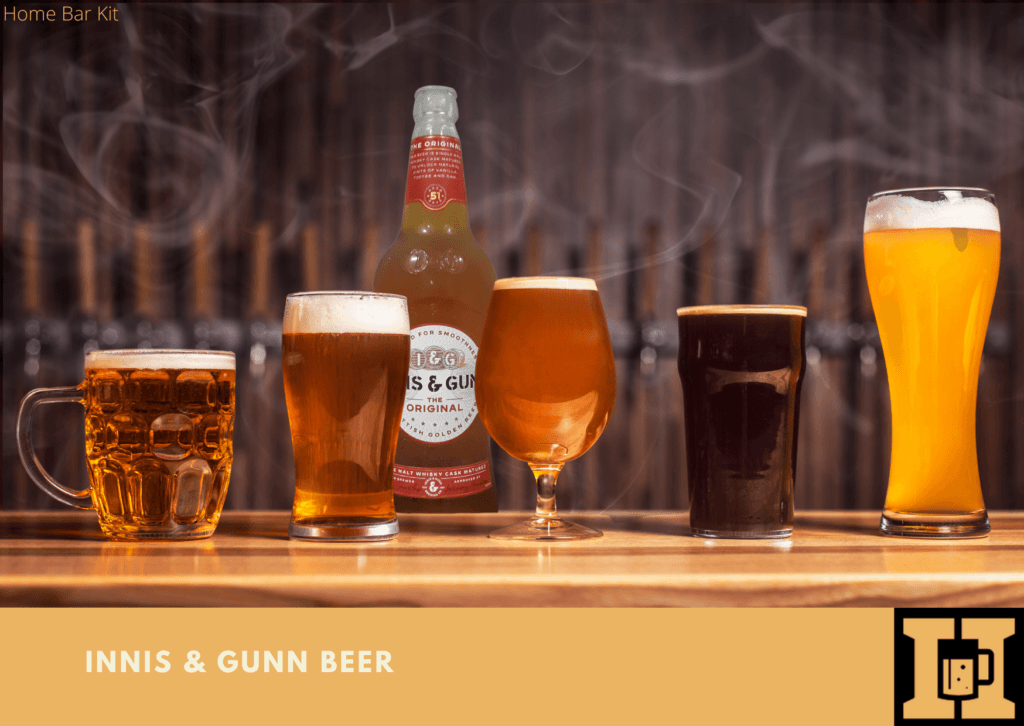 Dougal has grown Innis & Gunn considerably from those early days, seeing massive success both at home and overseas.
The beer has grown too and offers a sizeable range of craft brews to suit the palate of any beer lover. An 11% Vol rich Imperial stout called Vanishing Point 05 seems a long distance away from their 4.6% Vol lager beer.
But that is the contrast of their range. Although I am not keen on their whisky beer. I will certainly be trying some of their other offerings. Featured below are a few to mull over.
Gunpowder IPA
This one could really float my boat. With three varieties of hops and two varieties of malts it promises a powerful experience.
The hops are Cascade, Centennial and Mandarina, with Extra Pale and Munich taking care of the malts.
At 5.6% Vol it packs a decent punch without knocking you bandy.
It is described as a explosive hoppy experience with orange grapefruit and pine flavours turned up to 11. I've got a sneaky suspicion this Gunpowder IPA will be filling a glass near me soon.
Caribbean Rum Cask
Renamed from Blood Red Sky this is a Scottish red beer that is aged for 51 days in a Caribbean rum cask. I am on alert, but will rum work better than whisky? There is only one way to find out.
With notes of fruit, spicy rum and chocolate it is rich in flavour and rich in ABV too. At 6.8% Vol its not mucking about and promises a punch on more than one level.
I'm on the fence with this one.
Irish Whiskey Cask
A rich dark oatmeal stout aged again for 51 days in Irish whiskey casks. I like an Irish whiskey, not sure I want it in my stout though. Having said that, it may work better in a stout than a golden beer.
Brewed with Extra Pale Ale, Amber and Chocolate malts it has a full rich body. To balance this richness, Herkules hops bring a spicy floral and piney relief.
It's not shy in strength at 6.1% Vol, just as well because I think one will be enough.
Final Thoughts
Although I am not a fan of The Original from Innis & Gunn, I am sure there are plenty that are. It is just not my thing, however I am looking forward to trying some of their other beers.
Well the ones that are not matured in whisky casks anyway. A lager beer and a few hoppy IPA's are definitely on the hit list.
How about you, are you familiar with the Innis & Gunn whisky cask matured beers? If so, get involved and share your thoughts below. Why not give them a rating out of 5.0, that will be interesting.