Just another Indian Pale Ale, not according to the brewer. This one is a traditional IPA hopped up to the top with a strength to make your feet curl. Well it sounds good, but is Cannonball IPA a quality beer?
I liked the last beer I tried from this brewery Stiggy Pop, therefore when I saw another Magic Rock offering I snapped it up. So I had high hopes for this one and couldn't wait to get it open.
Is Cannonball IPA A Quality Beer?
I can confirm it is a quality beer and one I would revisit without hesitation. It pours a slightly hazy golden amber with a white luscious head. The nose is a citrus hoppy affair with an array of tropical fruits flaunting their presence. The taste has a hoppy bitter front surrounded by those tropical fruits adding a little sweetness. It's a smooth mouthfeel with a perfect partnership of bitter and sweet which follows through to the after taste. A well balanced IPA scoring a rate my beer of 4.4 – 5.0.
It is like bitter and sweet come together and find some common ground to live in harmony.
Magic Rock Brewing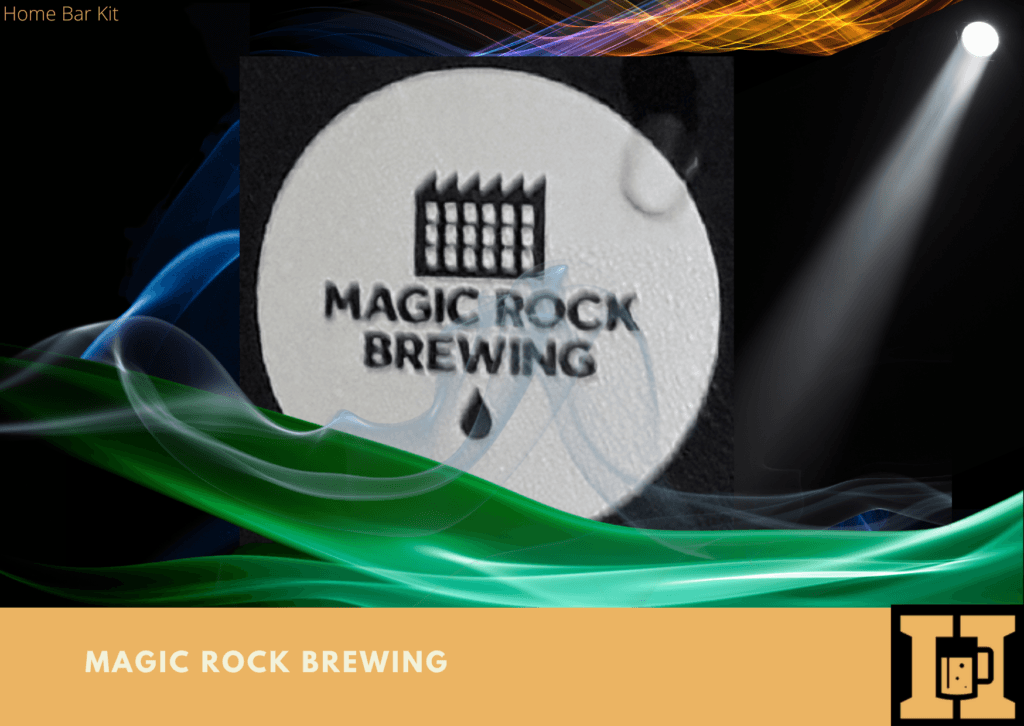 An exciting brewery that came to life back in 2011 founded by Rich Burhouse and Stuart Ross. Initially it was just Rich and Stuart brewing beer and getting it out there for beer fans.
The two man operation dealt with everything a brewery is, from brewing the beer through to distribution. However they soon saw growth and added to their team. In 2015 they moved premises and created a new bigger brewing operation.
Growth continued to the point where they struggled to keep up, they knew they needed financial investment.
That investment came by way of Lion a beverage company based in Australia. Lion is part of the Japanese giant Kirin Holdings who have a long list of companies.
Lion who also own several other breweries in Australia and New Zealand and are now conquering the US purchased Magic Rock. The deal happened in 2019 and it wasn't just an investment, the purchased the whole company.
Magic Rock continued as per normal with Rich and Stuart and the rest of the team pushing forward. It seemed like Lion would let the brewery continue to grow with their input and the emphasis on growth.
However recently Lion decided to sell Magic Rock along with another British brewery they also own Fourpure Brewery based in London.
In step Odyssey Inns Ltd a hospitality group led by Stephen Cox with the purchase of Magic Rock and Fourpure brewery.
Only time will tell how Odyssey move forward with the two breweries. But lets hope they continue to produce great beers and maintain their independent indentities.
Cannonball India Pale Ale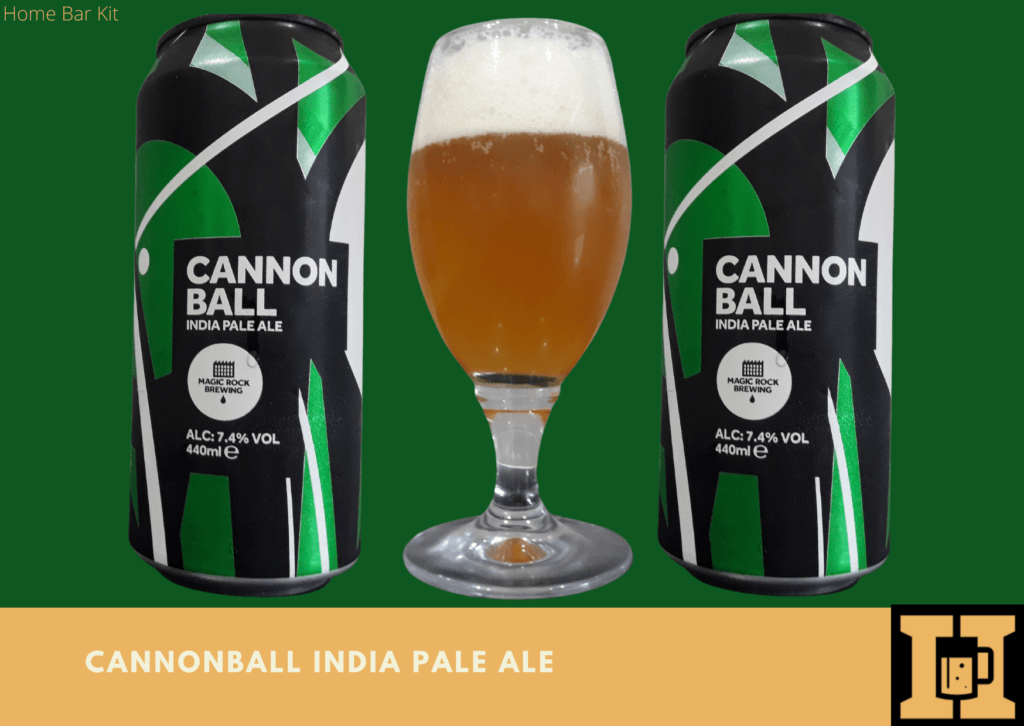 Cannonball India Pale Ale is a core beer for Magic Rock their flagship beer that becomes an event every year. The Cannonball Run sees the brewery up the anti with this core beer, more hops and more kick.
Each year they release three limited editions of the mighty Cannonball IPA, and they are available now.
The first one is Human Cannonball a West Coast DIPA with a kick of 9.2% Vol. Second we have Neo Human Cannonball a New England IPA with the same ferocious 9.2% Vol. Finally we have the king of the crop with the Super Human Cannonball an Imperial IPA with a slap you round the face 10% Vol.
Is Cannonball IPA A Quality Beer?
Yes it is, well brewed and well balanced. Likewise it is refreshing and somewhat moreish, which could be a problem with its heavy ABV.
The can is the usual abstract affair from Magic Rock, this one being a sharp green and black with a little white thrown in.
The pour reveals a hazy golden amber liquid with a very generous head, which is probably down to my aggressive pour. However it does fade, but maintains a good quarter inch presence throughout.
The nose is a lively one with the familiar tropical hoppiness of an IPA. Orange and grapefruit seem prominent, but there are others lurking in the background. This is no surprise with Amarillo, Centennial, Columbus and Simcoe featuring in the hop bill.
The taste is hoppy, but not as powerful as I expected, having said that it performs with a colorful citrus blend. A great feel of bitterness is married with a fruity sweetness that just works so well.
A really well balanced beer, a Bitter Sweet Symphony as The Verve say, although the beer is a lot lighter than the song.
In fact it doesn't feel like the mighty 7.4% Vol it boasts, which means it can be a little dangerous. But don't be tempted to treat this like a session beer, because it is way out of that range.
I like it and give it a handsome rate my beer score of 4.4 – 5.0. M'Lady liked it too and scored it a 4.2 – 5.0, however Lou soon changed her mind and said it deserved more like the 4.4 I had scored it.
Whichever way you look at it Cannonball IPA is a great beer.
Magic Rock Beer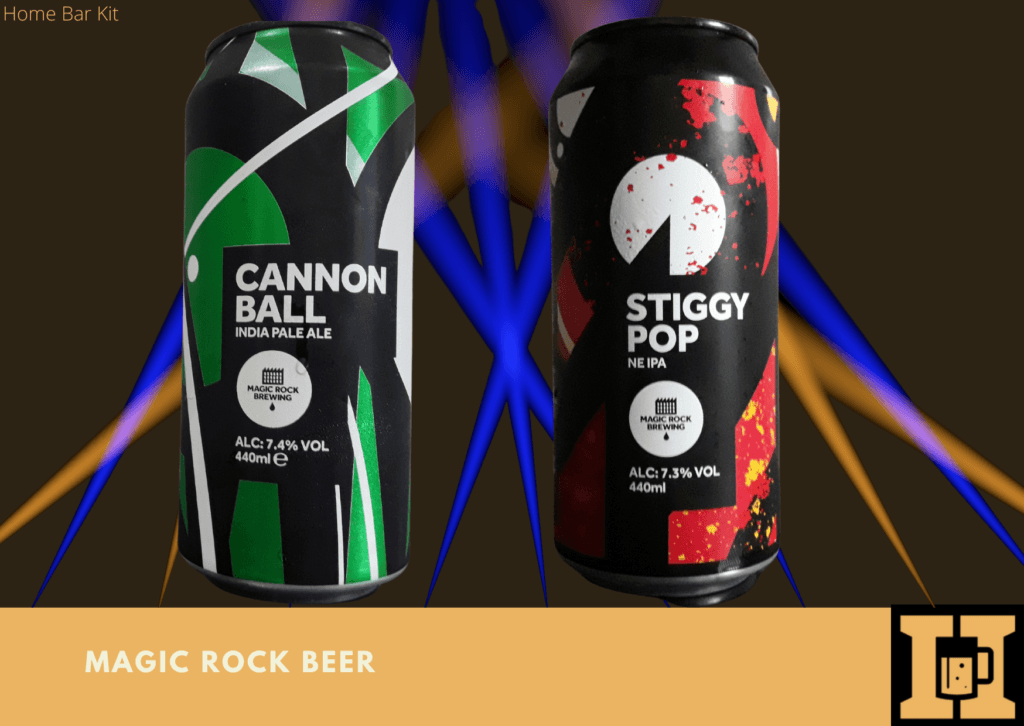 Now that the brewery has changed hands again, lets hope they continue to keep up the good work and carry on producing quality beers.
Magic Rock have a decent range of core beers, including various limited edition beers like the Cannonball range. Influenced by the American style beers, they produce a fair amount of IPA's in different guises.
However they do a lager as well as a stout, both of which I featured in my Stiggy Pop article. For now though I will feature a few more of their core beers. Beers that I will be looking out for and adding to my Magic Rock conquests.
High Wire
Hire Wire is a West Coast style pale ale that promises to have a hoppy bite. The hop bill consists of six hops including the popular and powerful Citra hop. No wonder then this brew boasts an array of fruitiness like mango, lychee and grapefruit.
These float over a smooth malt base that ends with a burst of bitter. It sounds good and is not as powerful as Cannonball. However it still breaks out of the session bracket and weighs in at 5.5% Vol.
It's a must have for me and is sure to feature soon.
Fantasma
A little step on the gas and we get this stronger IPA Fantasma, weighing in at 6.5% Vol. Promising to be a smooth sweet malty affair with a fruity dank feel and the delights of tropical mango.
It is Magic Rock's first gluten free beer and is made using brewers Clarex. Having said that, I have seen a few people say they did have a reaction. Also looking at Clarex, it is used to reduce gluten in beers, so tread carefully.
Murk-Life Balance
This one is a New England hazy Pale Ale and is said to be less bitter with a softer mouthfeel. It of course has plenty on those tropical fruits with passionfruit and tangerine. To keep faith with the tropical, there is also a hint of coconut thrown in.
Sounds a tropical pale ale delight and will definitely make my fridge at some point soon. A just 5% Vol it just sits on the edge of session, so more than one can be enjoyed.
Final Thoughts
It is a shame that an independent craft brewery has changed hands twice in the last few years. Having said that, I think it will remain recognizable going forward. As far as I know Rich and Stuart are still running things, and lets hope it stays that way with the new ownership.
To date their beers have been well made quality beers that are popular in the UK. Although they do export to many other countries too.
For me Cannonball is a worthy IPA and like I said I would not hesitate to buy it again, especially on tap. If You have tried it or any other of their beers, then share your thoughts below. What is your opinion?