A dark beer from the German brewer Erdinger Weissbräu, who have been around a while. I love a dark beer, so am looking forward to cracking this one open and getting stuck in. But is Erdinger Dunkel a decent beer?
I am expecting full flavours of rich caramel malt with a hint of chocolate. A little spice over banana maybe and a touch of bitterness on the end. But will it live up to my expectations.
Is Erdinger Dunkel A Decent Beer?
Erdinger Dunkel is a decent beer, however it is a little too subtle. The rich flavours I was expected are there, but are just too soft. Aromas of malt caramel do hit the nose with a little spice note and a wheat background. The taste hits with toffee caramel, a little hint of vanilla and chocolate with a faint spice. It is sweet and smooth and lacks any bitterness at all. It gets a rate my beer score of 4.0 – 5.0.
I like it, but was expecting more, however it is very drinkable which saved it a little on my score.
Erdinger Weissbräu
Erdinger Weissbräu brewery dates back to 1886 and was founded by Johann Kienle in Erding, Germany. The Weisse Brauhaus (White Brewery) was built in 1886 and went about its business until 1930. When Malt Factory F W Otto acquired the brewery.
Five years later the managing director Franz Brombach bought the brewery, and in 1949 gave it its current name.
In 1975 and the passing of Franz, his son Werner Brombach takes over the brewery. It continues to expand and a new brewhouse is built in 1983.
Erdinger is said to be the largest wheat beer brewery in the world and adheres to the Bavarian Purity Law.
Is Erdinger Dunkel A Decent Beer?
Like I said I was expecting this dark beer to be better that it actually is. However that is not to say it isn't a decent beer, because it is. It just lacks the deep rich flavours I thought it would have.
Especially as it goes through the Bavarian Double Maturity Method which allows the beer more time to develop. This is a method that increases the carbonation and develops the flavours of the beer.
I did pour the beer correctly too, making sure to swirl the last inch of beer in the bottle to collect the all important yeast.
Drinking Erdinger Dunkel
It pours like a flowing river of darkness developing a very generous off white head. A good amount of carbonation flows from the bottom of the glass upwards.
The nose releases a malty caramel aroma with a slight detection of spice.
As the beer settles it takes a little time for the head to gently subside. A few sips in and it is time to swirl the last drops of beer in the bottle. Add this to the glass and have a proper tasting.
It is good, with a malty toffee caramel base over vanilla chocolate, and a hint of spice in the background. The tingling carbonation carries a sweet roasted feel around the mouth. It's smooth and creamy, just a little too mild.
I expected punchy flavours, but it lacks depth as well as bitterness. However this does make it very drinkable and a second could easily fit the bill.
At 5.3% Vol though it is not a session beer, and not supposed to be. It goes down well and I did enjoy it, but the lack of punch means it gets a rate my beer score of 4.0 – 5.0.
M'Lady does like it too, but describes a similar experience. Lou said "It's a sweet creamy dark beer" and she hit my score on the nose at 4.0- 5.0.
I am going to look out for this beer on tap, I think it may deliver a better experience.
The Erdinger Range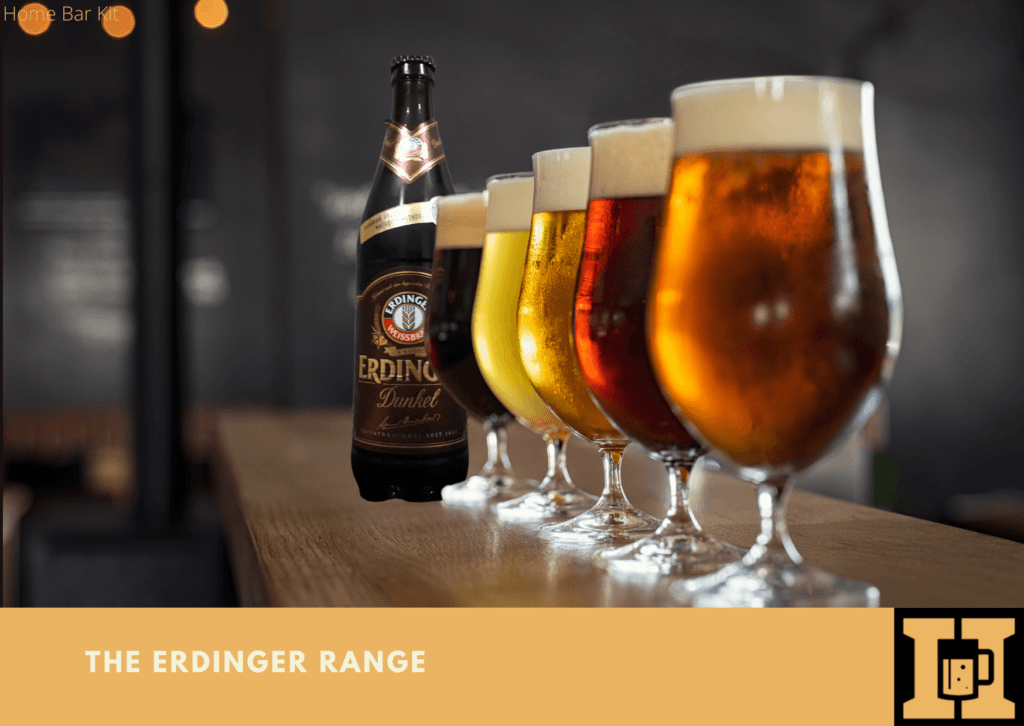 The Erdinger range of beers is not vast, but does seem strong. There is around nine beers, including a couple of alcohol free beers. One of which is infused with Grapefruit, sounds refreshing.
A couple of dark beers star in the range as well as the classic Weissbier and an Oktober Fest beer. Here are a few that may find there way into my possession.
Urweisse
Urweisse which translates to Primeval White is a good old Bavarian style white beer. Brewed the traditional way it has roasted malt aromas with a touch of clove.
It has strong yeast flavours with caramel, banana and cloves teasing the taste buds. At 4.9% Vol it just squeezes in the session bracket. So a refreshing second drink is allowed.
Pikantus
Another dark wheat beer from Erdinger said to be complex and intensive. A rich dark beer with a creamy head, it is ideal as an aperitif.
Aromas of roasted malt, caramel and chocolate with the hint of fig tease the senses. The flavour is a rich malt base with notes of dark chocolate, liquorice and plum.
Sounds delightful, but I think one will be the limit or it could get a little sickly. Also at 7.3% Vol its a definite one only kind of beer.
Schneeweisse
Schneeweisse which translates to Snow White is a beer that is specifically brewed for the winter season. So it is only available between October and February.
An amber colour with a red hue it promises aromas of smooth malt, honey and red berries. The flavour experience is rich malt over spice and yeast notes. Red berries add a sweetness carrying nutty hints, but it all finishes with a hoppy bitterness.
Sounds a good one, I will definitely have to look out for this one. At 5.6% Vol it offers a bit of a kick, but is not a session beer.
Final Thoughts
Although I am a little disappointed with the depth of flavour of the Dunkel. It is a decent beer and you can tell its a quality beer too. A beer that you feel has been brewed to high standards using top quality ingredients.
I think this may be well received by those that like this style of beer. However likewise many may prefer other Dunkel's out there that pack a bit more punch.
Having said that it is a very drinkable dark beer and I wouldn't complain about drinking it in the future.
If you have experienced the Erdinger Dunkel, then join the Dunkel debate and share your thoughts below. Especially if you have had it on tap, it could be a different experience.