Although porter is not my go to beer, I do like to indulge in one now and again. So when this dark ruby porter came up from a local brewery, I was all in. But how good is this Dark heart Porter?
Produced by a micro brewery on the West Coast of Wales. Mantle brewery make real ales with the emphasis on traditional techniques and quality ingredients. So lets take a look at this premium dark ale.
How Good Is Dark Heart Porter?
Dark Heart is very good, smooth with a decent body and well balanced flavours. It pours black with an off white creamy head. The nose is a malt base with notes of caramel and roasted coffee. In for a taste and the malt caramel base is laced with roasted coffee and a little spicy fruit. There is a nice sweetness and a little bitterness on the back end. A good well balanced dark beer which gets a rate my beer score of 4.7 – 5.0.
I like it, there is a sweetness and bitterness, without too much of either.
Mantle Brewery
Mantle Brewery is a small micro brewery started back in 2013 by Ian Kimber and his partner Domi. It is situated in a small unit on an industrial estate in Cardigan, West Wales.
They brew a selection of quality real ales, their first beer being a best bitter named CWRW Teifi. When the first batch emerged it went straight into the nearest pub to the brewery.
Dark Heart soon followed and within a year had won a SIBA award in the specialist beer category. The core range of beers is what you might expect from a micro brewery, with around seven beers.
Dark Heart Porter
It sits in a brown 500ml bottle with a black label with red motives and white writing. The design is subtle, but classic and pleasing to the eye. It says its a premium dark ale, but is described as a rich dark ruby porter.
Once you pour, if you hold it up to the light, there is a slight red hue, apart from that it is just dark. I don't agree with it being rich though, in fact that is what I like about it.
Time to open Dark Heart and dive in.
Drinking Dark Heart Porter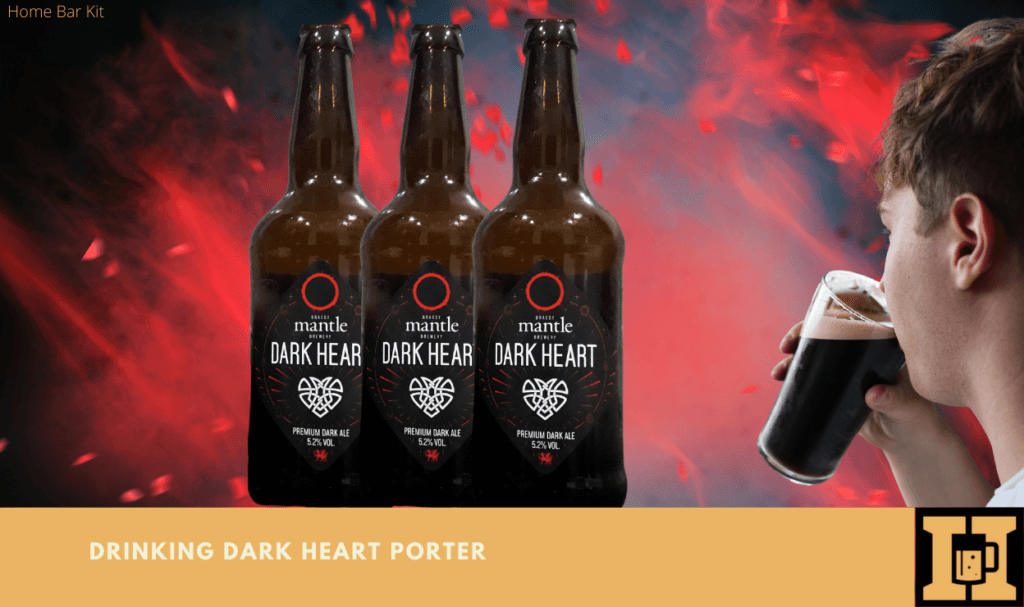 Pouring is a joy as the black beer swirls around the glass with flecks of ivory surf. It settles to reveal a black body with a one finger light tan head. This does fade to a thin cover pretty quickly, but leaves an nice decorative lacing around the glass.
The nose is a typical porter whiff, with notes of malty caramel hitting first. This is followed by a fresh roasted coffee aroma.
Dive in for a taste and the malty caramel base lends a initial sweetness. This soon gets joined by a distinct roasted coffee flavour that cuts through the sweetness to add a bitter edge. In the background there is a hint of spicy fruit just teasing the buds.
It feels simple and straight forward, a medium body that is really well balanced. Most porters I try, one is enough because they can be a little rich and sickly. However I could easily have more than one Dark Heart, although I better be careful at 5.2% Vol it might not be wise.
For me its a quality beer and the rate my beer score reflects that at 4.7 – 5.0.
M'Lady wasn't as keen, although she is not a fan of porters to start with. Lou thinks it is like drinking a cup of coffee with a slight sweetness all ending in an unpleasant bitter aftertaste.
Lou score it a dismal 2.8 – 5.0, unbelievable.
Mantle Brewery Range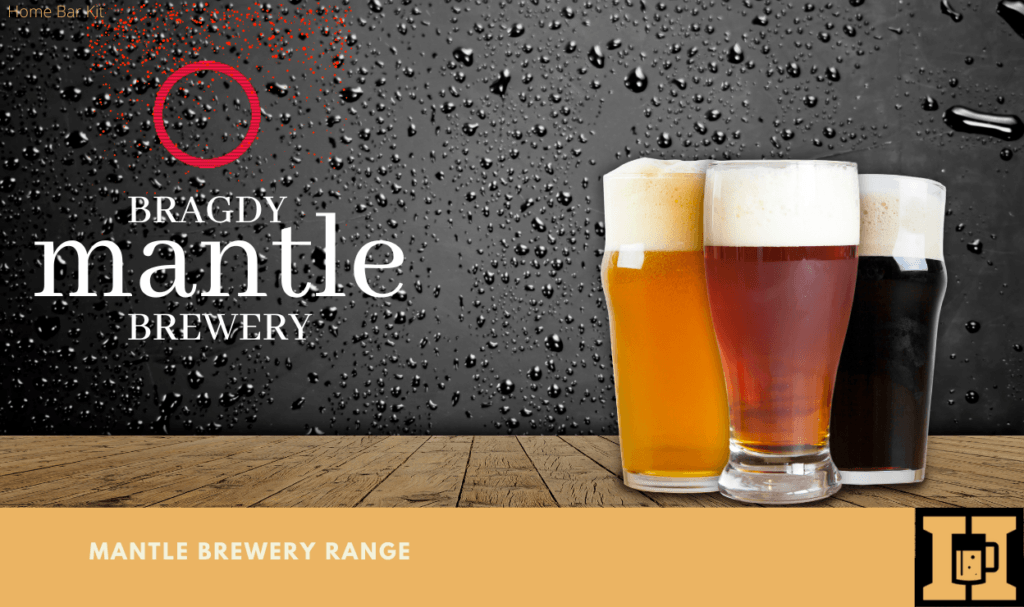 As I have already mentioned the beer range at Mantle Brewery is not vast. But that doesn't matter because you know what they do produce is good quality beer.
They don't go for outrageous flavours or copious amounts of hops. No, they just produce good real ale that appeals to people that like beer.
Here are a few of the core range of beers at Mantle Brewery.
Moho
Moho is a Welsh Pale Ale with a 4.3% ABV kick to it, so you are allowed more than one. It is light in colour and light on the palate. A hoppy front with hints of fruity floral flavours.
I have had this a few times over the years on tap, and if my memory serves me, it has a nice bitterness on the back end. I must get around to reviewing it soon.
CWRW Teifi
This is a traditional style best bitter that is certainly a go to pint if you like that style. Lots of rich malty biscuit flavours blend through the body. A full body with a creamy mouthfeel and to top a little bitter finish.
I have sampled this one in the past too, and from memory it is a nice solid beer. At 4.5% Vol it sits well in the session range, so really is a got to beer.
Dis-Mantle
This one is a strong amber ale with full flavour and body. A copper colour with a malty base and a hoppy bitter finish.
A good solid amber ale with a strength tag of 5.8% Vol, so lives outside the session bracket. This one sounds good, a proper ale that gives a bit more bite than its sibling CWRW Teifi. It's on my hit list.
Final Thoughts
So Mantle Brewery then are a small solid brewery producing some great beers. Their beers are not fancy, but instead good solid go to beers full of flavour. Well the ones I have tried are.
The brewery is not that far from where I live, so I need to visit this spring or summer and maybe buy their whole range.
Dark Heart Porter is up there for me with this style of beer. Its a decent dark ale that delivers good flavour without to being too rich.
If you have sampled Dark Heart or any other Mantle beers, the do share your thoughts below.