How about a nice Belgian beer from a Trappist Brewery. Sounds good, and this one comes from the famous Chimay Brewery at the Scoutmont Abbey in Belgium. So what is Chimay Triple Ale Like?
Well you know it is going to pack a punch, as well as being brewed in a traditional way. This beer dates back to 1966 and was known as Chimay White, which I think is because the cap is white. There is also a Chimay Red, with a red cap, and Chimay Blue, with a blue cap.
What Is Chimay Triple Ale Like?
It is a decent beer of this style, for me a little sweet and powdery dry. It pours darker than expected with a generous soft white head. On the nose it is hoppy with fruity pineapple and pear aromas, and a sherbet scent. The taste is hoppy with those fruit flavours of pear and pineapple which are pretty sweet. A little spice dances on the tongue and a nice bitterness ends things. It is quite dry and does have a little sherbet candy lurking, it gets 3.8 – 5.0.
It's okay, but not a beer I would seek out to drink.
Chimay Brewery
Chimay Brewery is located at Scoutmont Abbey in Chimay, Belgium. Their history dates back to 1850, a Trappist Monastery that makes beer to support their local community and charities.
There are not many Trappist Monasteries that produce beer. A search results in many conflicting numbers, so I went to the International Trappist Association. They list the exact number of Monasteries that brew beer, which is thirteen. Although there are only twelve listed.
There are three key Trappist principles that Chimay Brewery adheres to. One, the products are made within the Abbey. Two, the beer is brewed with the supervision of the monks. And three, most of the income from their products go to helping charitable causes.
I say their products because apart from making beer, Chimay also make cheese too. Their beer and cheese are recognised as authentic Trappist products and carry the logo on their labels.
Chimay Triple Ale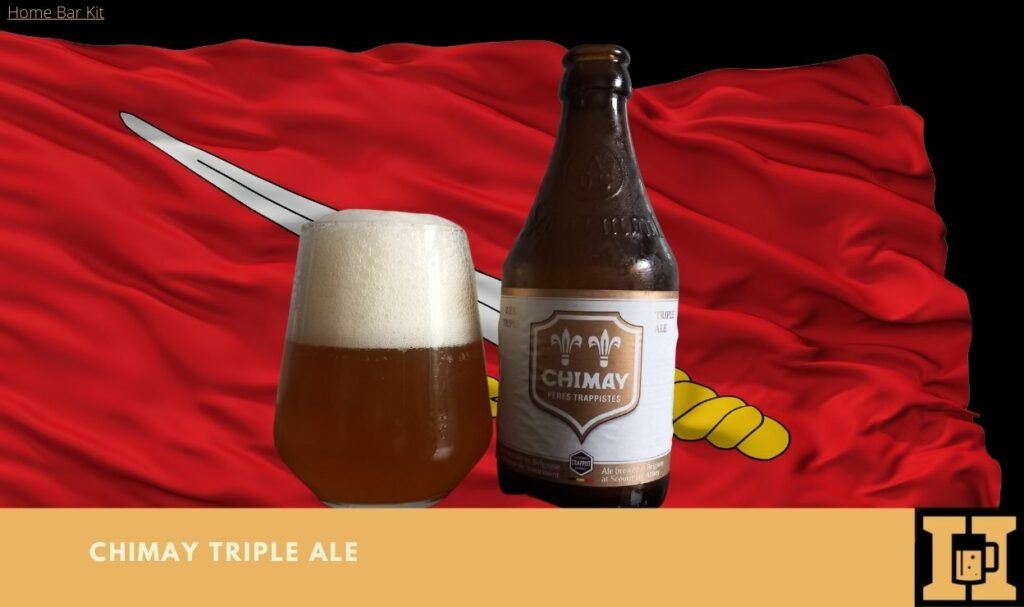 I don't know why, but I expected this beer to be light in colour like a blonde beer. Maybe it is because it is also known as Chimay White, or that it has a white label and cap.
Anyway it doesn't pour light, it pours a deep copper with a three finger fluffy white top. The beer has a haze to it, from being bottle conditioned. So expect sediment, and pour carefully leaving a little in the bottle if you are not a fan of sediment.
I love a bit of sediment, so it all went in and the haze shines out.
The nose is hoppy and fruity with aromas of pear and pineapple, the slightest of malt tries its hand, but is hard to detect.
In for a taste and it is a sweet affair. Hoppy and fruity with a sherbet bite, the sweetness turns to a dry feel in the mouth. The saving grace is a little spice that hits the tongue carrying a nice bitterness with it.
A blonde beer that is a little sweet and then turns dry, but for me has a powdery synthetic taste to it. I do like the spicy bitter finish though and give it a rate my beer score of 3.8 – 5.0.
M'Lady isn't that keen either saying "A fresh tingly hoppy beer, it doesn't taste as nice as it smells, a bit soapy." Lou scores it a slightly lower 3.5 – 5.0.
This triple ale does pack a punch with its 8.0% ABV, so not one for a session.
Chimay Beers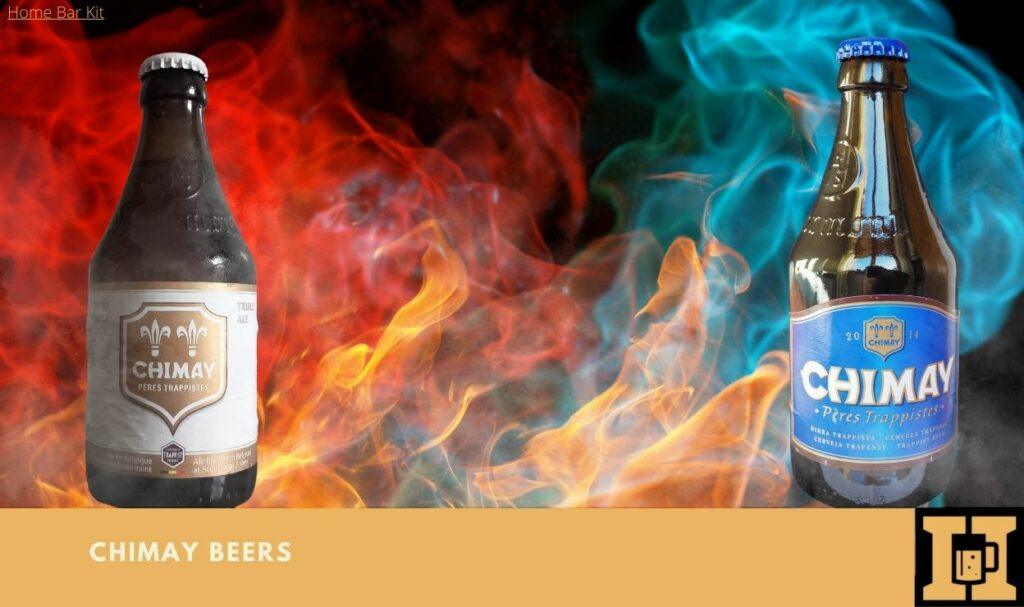 There is not a vast range of beers that come out of the Chimay Brewery. However the beers they do produced are loved by many.
Here are a few to look out for.
Gold Ale
A light blonde beer that is also known as Dorée and once held back for the monks and the Monastic community. It is now available for all and has notes of floral, spice and citrus, said to be crisp and fresh.
A good balance of sweet and bitter with flavours plenty of citrus and a spicy finish for a dry aftertaste. At 4.8% Vol it might just work well for a few in the beer garden.
Red Ale
The Chimay Red Ale is a darker beer, a deep brown colour sits in the glass with a bright ruby hue. Rich malty biscuit and toffee blend with peach and orange fruits all ending in a smooth bitterness.
Sounds delightful, but does weigh in at a strong 7.0% ABV, so one to sip. An original Chimay Beer dating back to 1862, so its been around a while.
This is a Chimay beer I will be hunting down.
Blue Ale
Chimay Blue is a strong dark ale, which sounds like it is worth tracking down. It pours like a porter with an tan head. Flavours of rich toffee, chocolate and coffee blend with fruity and spicy notes. It is smooth with a velvet finish.
Mind you it packs a real punch at 9.0% Vol, so would be perfect for a dessert beer or sat in front of a real fire on a winters night.
Final Thoughts
Chimay Brewery then is a Trappist brewery steeped in tradition. Although I am not that keen on their Triple Ale, it doesn't mean it is not a quality beer. It just isn't my glass of beer.
However, I am looking forward to trying the Red and Blue Ales. They sound more up my street, but only time will tell.
If you have tried any of the Chimay beers, then do share your thoughts below. Especially the triple ale, let me know how it measured up on your taste buds.