Glide is from a relatively new brewery who say 'The Purpose Of Beer Is To Create Pleasure' I can hop on board with that. Their beers are brewed without any limits, so is Glide NEIPA by Salt a good beer?
This New England IPA is brewed by Salt Beer Factory in collaboration with Drop Project Brewing Co. It is tropical, hazy and packs a punch. But is it any good?
Is Glide NEIPA By Salt A Good Beer?
It is good, but not the best. A typical hop forward tropical fruit IPA that gets a little sweet. The pour reveals a hazy juice like orange with a generous fluffy white hat. Tropical fruits like grapefruit, pineapple, strawberry and mango burst from the rim. A slight bitter taste of citrus grapefruit flows over a hoppy front. This soon turns to a mango, pineapple and strawberry sweetness with a smooth mouthfeel that ends in a slight dryness. A pretty decent beer and scores a rate my beer of 4.1 – 5.0.
It is not my favorite, but Salt have got my attention.
Salt Beer Factory
Salt was founded by Jamie Lawson in late 2018 off the back of another brewery. Jamie is no newcomer to brewing being appointed a director at Ossett Brewing Company back in 2004.
So lets start at the beginning. Back is 1997 Bob Lawson started Ossett Brewing Company in Ossett, West Yorkshire. It started at the back of a pub and grew quickly.
Bobs son Jamie was a successful investment banker that decided to change direction in 2002 and joined Ossett Brewery. He also set about finding suitable pubs to become part of the Ossett brand.
Fast forward to 2018 and Jamie who is now the head of Ossett Brewery not only sold off a 50% stake in the brewery, but started a new one.
SALT
Salt Beer Factory was born out of a large investment from Ossett Brewery. Based in the heart of Saltaire, a village in West Yorkshire it has thrived.
The idea of Salt is to build an experience led brand. So the brewery was built with a tap room and live venue at its heart. They are all housed together in a Grade II listed building which was a former tram depot.
Customers can see the journey of the beer from brewing to tap as they enjoy drinking it in the tap room.
The name Salt was inspired by the founder of the village Sir Titus Salt who built a textile mill in 1851. He then proceeded to build a village around the mill to house his workforce. He called the village Saltaire after his name and the River Aire.
Salt Beer Factory has grown quickly in four years with several tap rooms and bars in the North. As well as a few in London too, including a new brewery.
It seems like Jamie is building on the same principle he did with Ossett Brewery.
Salt then as a brewery are fast moving and exciting too. I will be looking at trying more of their beers.
Is Glide NEIPA BY Salt A Good Beer?
It is a good beer, but it doesn't stand out from the crowd. There are so many types of this style beer, which is by no means a bad thing.
Glide though is a collaboration with Drop Project Brewing Co. A South London based brewery founded by three friends John Taylor, Joe Simo and William Skipsey.
The three have a passion for beer and boardsports, and their brewery is even younger than Salt. It was founded in mid 2019 and their ethos is to create fresh flavoursome high quality beers.
I'm okay with that and look forward to getting stuck in with their range.
Drinking Glide NEIPA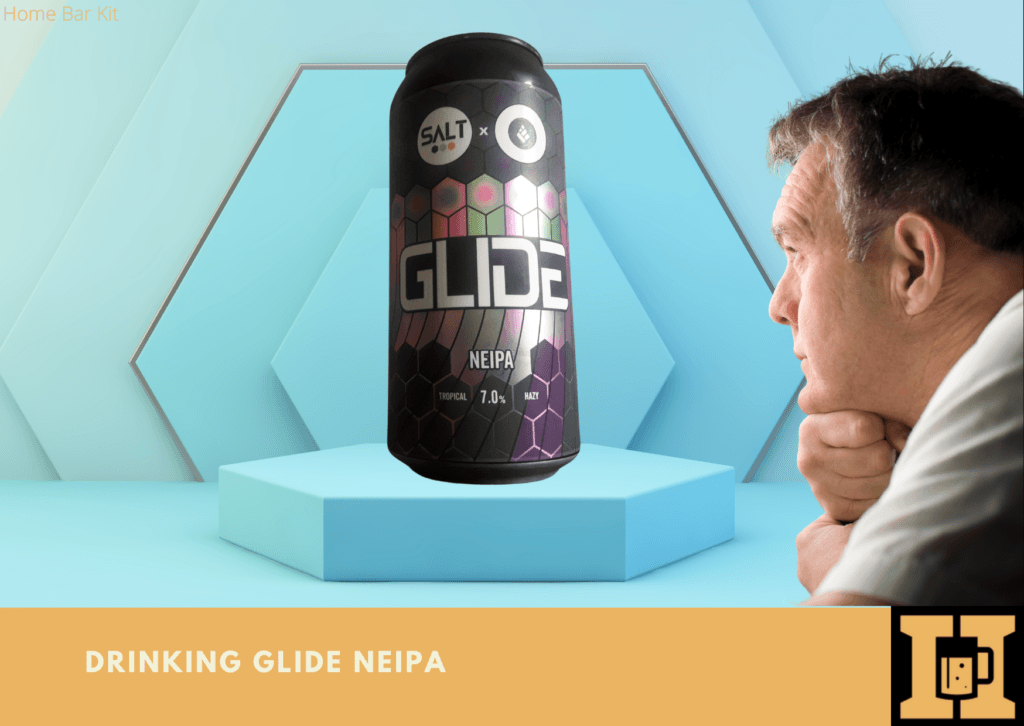 The can design of the two breweries is quite similar, however Glide does have Salts hexagon design. Purple, pink and green with the Salt logo next to the Drop Project logo. Underneath in big white letters it simply says Glide.
A striking design that does stand out on the shelf among other beers.
It looks like a juice and pours a hazy orange with a very generous brilliant white head. That was probably due to my aggressive pour. However it does fade down to finger thick top that stays the duration. It leaves a moderate decorative lacing around the glass as it goes down.
The nose is a vibrant array of tropical fruits from a hoppy mix of Mosaic, Simcoe and Strata. It smells sweet and it oozes hops, you just know it is going to be a fruity affair.
The taste reveals a little bitter front that is laced with citrus fruit like grapefruit, but seems earthy too. A smooth and almost creamy mouthfeel turns it to a sweetness like pineapple and strawberry.
As the hoppy and bitter front turns to sweet, it then ends with a slight dry edge. I found the more I drank, the sweeter it got.
It is not a beer I would drink a few of, and that is not advisable anyway. At 7.0% Vol it is a bit feisty and best consumed with caution.
It scores a rate my beer of 4.1 – 5.0, with M'Lady scoring it a close 4.0 -5.0.
Salt Range
Salt Beer Factory have a solid core range of beers that at the moment consists of seven beers. Only two of these beers are session beers. The others rise above 5.0% Vol, reaching the dizzy heights of 8.0% Vol.
However that is nothing, Salt also have what they call the Hexagon Project. This is a range of small batch beers where they go wild with their brewing, experimenting with different methods and ingredients.
These beers can be a little more powerful, one of which at the moment is a hefty Imperial Stout with a13.0% Vol strength tag.
Salt also does a range of special beers and collaboration beers too. But for now I will feature a few from their core range.
Jute
Jute is a Hazy Session IPA brewed for any occasion and ready to thrill with a crisp refreshing feel. It incorporates a selection of American and Australian hops.
It is juicy and citrus with a low end bitterness and packs a big flavor. At just 4.2% Vol it really can be enjoyed for any occasion.
This is one that I have got my eye and am looking forward to giving it a test drive.
Citra JNR
As you may have guessed by the name this Junior NEIPA it blasted with the very popular Citra hops. It promises to be a juicy citrus frenzy with accents of mango, guava and lychee.
Blasted with dry hopping gives it a full body and plenty of bitterness at the end. Being a junior NEIPA it only comes it at a sensible 4.3% Vol.
This makes it ideal at any time (with in reason) and one I will definitely be trying soon.
Tram
Spiking things up a bit, we have a nail biting Double NEIPA that could blow our socks right off. Brewed with American and New Zealand hops it promises a low bitterness with a full on flavor.
Notes of gooseberry, grape and tropical fruits star in the mouth could make it memorable. However tread carefully because it is a hard hitting tropical machine. At 8.0% Vol it is not going to be the best idea for a session.
Final Thoughts
Salt Beer Factory is an interesting and exciting brewery that like to brew with freedom and no limits. So you have to praise them for that, and for their incredible growth in such a small time frame.
Glide sits in a style that is popular and plentiful, for me it didn't stand out. Having said that I still want to explore more of what Salt have to offer. Their core range is my first target, even though my first sample Glide is a collaboration.
Have you experienced any of the Salt beers?
If so do share your thoughts and opinion on the brewery and their beer.
Rob is a passionate home bar and pub shed enthusiast with a passion for craft beer. With hands-on experience in designing and building his own home bar, Rob shares his knowledge, tips, and inspiration to help fellow enthusiasts create their own perfect space. Alongside the world of home bars and pub sheds, Rob also explores the diverse and exciting realm of craft beer, providing honest reviews to help you discover your next favorite brew. Join Rob on a journey of flavor, design, and craftsmanship right here on Home Bar Kit.