The last Buxton beer I tried was 50Fifty Citra Olicana IPA and I loved it, a real tropical extravaganza. So I am looking forward to trying this one. However is Phoenix IPA from Buxton Brewery any good?
It's another IPA, but will it be as good as 50Fifty, maybe it will be better, I am about to find out.
Is Phoenix IPA From Buxton Brewery Any Good?
Phoenix IPA from Buxton Brewery is good, its a juicy hoppy tropical citrus IPA. The nose is lively, delivering fresh hoppy aromas and fruity mango, pineapple and tangerine notes. The taste awakes the taste buds with a fresh hoppy flood. Those fruity flavours swirl around the mouth with mango, orange, berry and pineapple. A mild bitterness kicks in to give a balanced finish. It's lively and refreshing and gets a rate my beer score of 4.3 – 5.0.
A beer garden cracker, the perfect summer beer, refreshing and light.
A Little About The Brewery
Geoff Quinn the founder of Buxton Brewery started brewing beer in 2009 in his garage. Although his first brews were nothing to the beer he brews these days, it was the start of an exciting journey.
The decision to go commercial was made only a year after brewing tiny batches of beer from that garage.
The number one goal was to produce quality beers that always taste good. Located in the Peak District Derbyshire, England the brewery can take advantage of the famous waters enjoyed since Roman times.
Buxton are a brewery that like to experiment and while their core range is small. They produce many limited edition beers, as well as collaborations with other breweries.
A popular brewery that is still going places.
Is Phoenix IPA Any Good
It is good, juicy light and refreshing. But is it as good as the 50Fifty IPA which marries American hops with English hops. Which in my opinion created something special, a well balanced beer that satisfies to the end.
Phoenix comes in a 440ml can with as you might expect a Phoenix rising from the flames.
That all fits, but how good is this IPA?
Drinking Phoenix IPA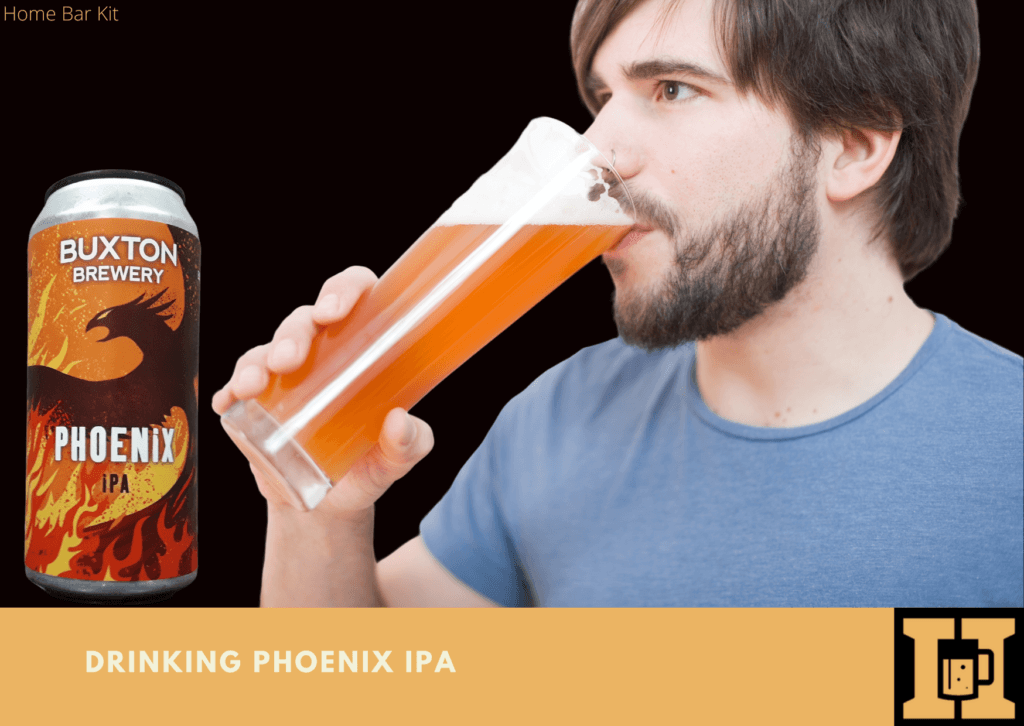 A lively pour sees the beer settle to a hazy bright gold with a generous white foamy head. This does fade, however a thin cover stays for the duration leaving a decent lacing around the glass.
On the nose it is pleasing with hits of hoppy citrus aromas of tropical fruits. Mango, pineapple, orange and berry fruits all explode creating a bouquet of freshness.
Diving in for a taste and a fresh hoppy beer flows around the mouth on a medium carbonation. Those tropical fruits of mango, pineapple and orange are all there playing with the taste buds. But before they become too sweet a mild bitterness flows in to balance it all out to a fine finish.
It's a pleasant hoppy tropical citrus IPA with enough bitterness to satisfy. Light and refreshing and perfect for a hot afternoon in the beer garden.
It doesn't feel like it is a 6.0% Vol beer, maybe it is a bit too drinkable. For me it is a decent beer, however not quite as good as 50Fifty. It gets a rate my beer score of 4.3 – 5.0.
M'Lady likes it too, Lou describes it as sweet and fruity, but also thinks it not as good as 50Fifty. Lou scores it a slightly lighter 4.2 – 5.0.
Buxton Beer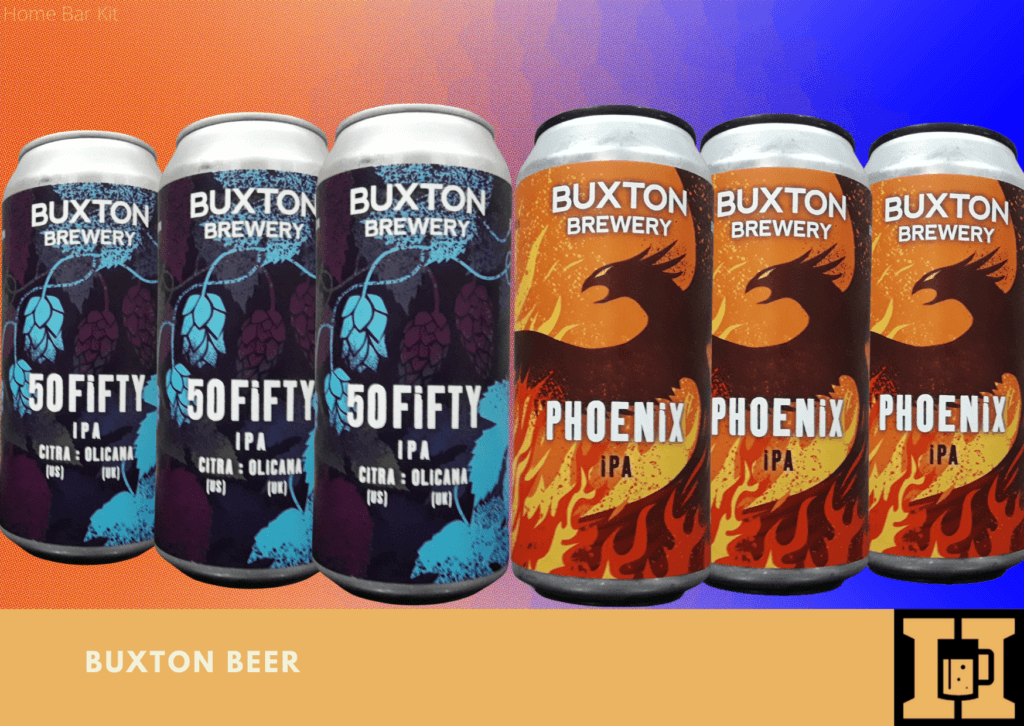 Like I mentioned Buxton brewery have a small range of core beers. However they do like to experiment and do produce a lot of limited edition beers. The downside to this is its easy to miss them, they can come and go before you even know they exist.
So, they are hard to keep up with on their limited range. Buxton like to collaborate too, brewing beers with the likes of Brithop Brewing Co, Brew York and Magic Rock Brewing to name just a few.
Here are a few of Buxton's beers to mull over.
Cavern Helles
Cavern Helles is from the Buxton core range and is an unfiltered Helles style lager. Described as a fresh crisp lager, typical lager then.
Using European hops it is said to be as fruity as it is malty. At a mid range 4.7% Vol it maybe worth a try. That's if you like lager.
Citrus Maxima
Citrus Maxima is a grapefruit IPA so expect some zest. The name suggests it is going to be big on the citrus hit, but will it have enough bitterness to balance it.
Described as delicious IPA that is bursting with Grapefruit, I just hope its not too zesty to the point of overpowering. At 5.5% Vol it is not a session beer, may just as well, the buds might not be able to stand all that sharp zest.
Wyoming Sheep Ranch
This one sounds interesting and maybe right up my street. I like a beer with bitterness, and this one promises to slap me in the chops with its bitter end. I'm up for that, but will it deliver.
Described as fresh and piney with a big bold bitterness. A double IPA that is full bodied and kicks you in the face with its 9.0% Vol strength.
Not to be taken lightly then, but treated with respect.
Final Thoughts
Buxton brewery then, aim to please when it comes to flavour and quality. Well I can say so far thay haven't put a foot wrong.
You can tell they are a quality outfit and the beers I have tried so far are definitely full of flavour. Phoenix IPA is a decent beer that is a joy to drink. I am looking forward to enjoying more of what Buxton have to offer.
If you have tried any of the Buxton brews then why not share your thoughts below. Why not leave your own rating too.