General Dog's Body IPA is a West Coast IPA from Baron Brewery in Buntingford, Hertfordshire. A small outfit producing a constant flow and variety of new fresh beers.
General Dog's Body is a new style IPA with a bit of a bite at 6.6% ABV. But, is it any good?
It's a nice hoppy tropical IPA with a good bitter finish, I like it. It pours a slightly hazy gold with a one finger head. The nose hits with a nice hoppy tropical citrus kick with a slight malt undertone. In for a taste, and although there is a nice caramel malt base. It's all about hoppy hit of tropical fruits like pineapple and orange. On the end it has a good amount of bitterness to finish. It's good and gets a rate my beer score of 4.8 – 5.0.
An exceptional craft beer, one of the best I have tasted for a while.
This is another beer from a batch that my son Joe bought me, and I am pleased he introduced me to Baron Brewery. Thanks Joe.
Baron Brewery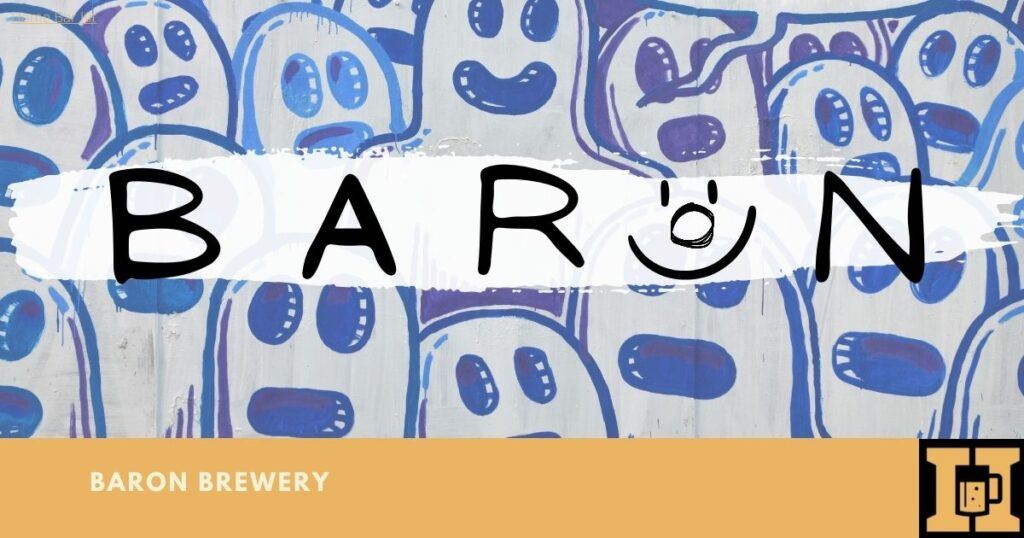 Baron Brewery started life in late 2021 by Jack Baron. It is based in a large outbuilding on a Farm in Great Hormead, Buntingford, Hertfordshire.
After going to University and getting a degree in brewing, Jack began working for a traditional brewery. Namely McMullen's based close by in Hertford.
Although he loves the brewery, Jack became fed up with turning out the same beers week in week out.
This spurred Jack on to go it alone and start up his own brewery to produce some fresh new beers. With some investment and family help he managed to get set up and started brewing.
A bumpy start saw Jack throw away his first 4 batches of beer. It wasn't bad beer, but it wasn't the standard he set for himself.
It might be a small outfit but the aim is to produce fresh modern style beers, with the focus on quality.
This follows through to the artwork on the cans too, original and fun. They are produced by Jacks friends, brothers Max and Harry Wyld.
I think Jack Baron and his brewery are doing some great stuff, one to keep an eye on. I look forward to trying more of Barons beer.
General Dog's Body IPA
The artwork on the cans of Barons beers is simple but great, you are not going to pass them on a shelf. Apart from the artwork, there is so much information on the can too.
A general description of the beer, a list of hops, grains and yeast, which is about as much as you get on most beers. However there is also a 'Nerdy Bits' where there is a description of the brewing process, a great addition.
I try not to look at the back of a can or bottle when reviewing a beer. But was surprised to see how much info is included after I had made my notes. It adds to the whole beer experience.
So what is this West Coast IPA like?
Drinking General Dog's Body IPA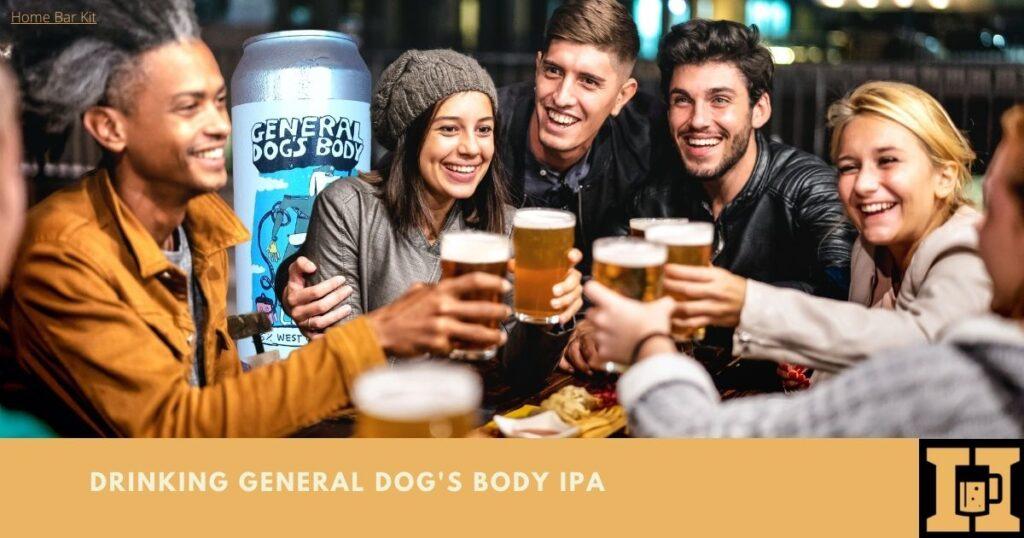 A calm pour reveals a slightly hazy golden beer with foamy white on finger head. The head does fade to a thin cover, but the stays the duration leaving a decent lacing around the glass.
On the nose it is lively with hoppy tropical citrus notes of pineapple and orange. Concentrate and you can pick up a caramel malt base, but the tropical fruits don't let up.
Diving in for a taste and again it is all about the hoppy tropical citrus fruits of pineapple and orange or tangerine, with maybe a little grapefruit or lime. A medium carbonation pops around the mouth and you do get a hint of the caramel malt.
A slight earthiness is present, then the finish is a well balanced bitterness that lingers enough to leave you wanting more. A full body, but seems like a session beer, it is so drinkable.
Ekuanot, Simcoe and Centennial make up the hop bill with Extra Pale, Cara Gold and Crystal 100 collaborating on the grains.
At 6.6% Vol it is not a session beer, but it is a well balanced full bodied beer that is a little morish. I like it a lot and it gets a massive 4.8 – 5.0.
M'Lady likes it too saying "A really pleasant tropical tasting and refreshing IPA with a strong hint of orange. A mild bitter aftertaste leaves you wanting more." Lou scores it an impressive but slightly less 4.5 – 5.0.
Just a great West Coast IPA.
Baron Brewery Beer Range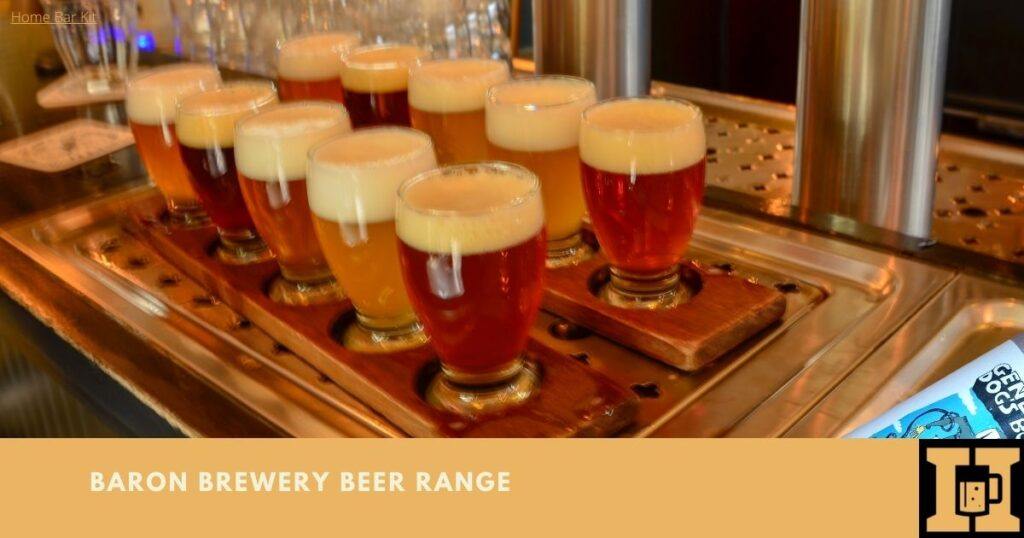 Baron Brewery are constantly brewing new beers, so don't really have a core range of beers as such. However there are always plenty of beers to choose from, a variety of pales, IPA's, lager and a stout too.
All cans are 500ml and you can get a mixed case of what ever beers are available at any time. I will feature a few of the beers that appeal to me.
Bullet Dodger
Bullet Dodger is a crisp and fruity session lager. Rakau and Nelson Sauvin hops produce those fruity notes making it a really refreshing lager.
Perfect for quenching a thirst on a hot day, and at 4.6% Vol it is okay to dive in for another. Sounds like a decent lager with a little hop kick, one to look out for.
Birdbox
Birdbox is an interesting one, a dry hopped porter fermented with Belgium yeast and hopped like an IPA. Olicana and HBC638 hops and dark malts create a spicy earthy beer with a plum fruitiness and a chocolate and banana flavour.
It sounds a little out there, but hey its worth a punt right. At 6.4% Vol it's not for a session, which is just as well as it might get a little too sickly by the sounds of it.
Knitted Baby
Knitted Baby is a double IPA, so expect some power and strength. Described as a no nonsense soft, fluffy, fruity IPA.
Mosaic and Galaxy hops collaborate to provide a juicy fruity beer with plenty of mango and melon flavours. At a whopping 8.2% Vol it is not for the faint hearted, tread carefully and don't exceed one can.
Sounds good though.
Final Thoughts
So Baron is a pretty young brewery without the same resources as the larger breweries. Yet it is producing some fresh exciting beers with no let up, and General Dog's Body IPA is one of them.
I may not have had many beers from Baron (something I will put right), But I am extremely impressed with what I have tried. Real quality beers that excite the palate.
Definitely a brewery to keep and eye on, I can see Baron rising to Mega heights in the industry.
If you have tried any Baron beers, then you will know what I am talking about. So do share your thoughts below, let me know what you think.