You know exactly what to expect from a beer with a name like Bringing Seshy Back. A session beer, and this one is a pale ale. What you don't know is if it is a good beer.
At a mere 3.5% ABV can this pale ale stand among the many and be counted?
Bringing Seshy Back is a cracking little pale ale that might just be too drinkable. It pours a slightly hazy light gold with a two finger white head. On the nose it is loaded with citrus notes, a tropical circus. The taste has a light malt base with a huge citrus kick of grapefruit, mango and lime finishing with a nice bitterness. It's a light drinkable pale ale that gets a rate my beer score of 4.3 – 5.0.
For its strength it has flavour and kick, kind of punching above its weight.
Glasshouse Beer Co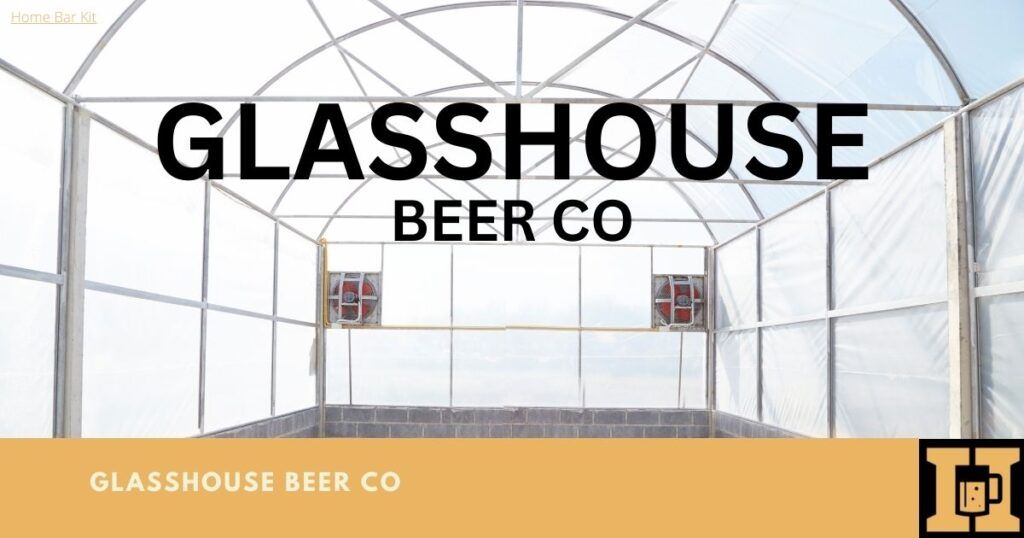 Glasshouse Beer Co was born in a greenhouse in Birmingham, England in 2016, which explains the name. Josh and Calum who are cousins began their brewing career in Josh's Mums greenhouse in the back garden.
I am not sure a greenhouse is the best environment for brewing beer, but these guys obviously pulled it off. Their beers grew popular locally in the Birmingham area.
This led to a move in an industrial unit and some new kit to increase the brewing output. In 2019 they added a taproom to their unit and again in 2020 invested in more brewing equipment as well as a canning line.
Today Glasshouse is not just a local success in Birmingham, but a national success with their beers being popular throughout the UK.
From Greenhouse to a solid brewery, a great success story.
Bringing Seshy Back, What Is It Like?
This is another craft beer that my son Joe bought for me, and its a good one, so thanks to Joe.
Everything about this beer is basic, except the taste. It stands in a silver can with a white label and the name of the beer and brewery on the front.
There is minimal info on the back of the can with just the brewery address, what the beer is, its strength, the hops and the size of the can.
It is basic, but some how appealing too, a no nonsense look that holds no attention. So you just open the thing and get stuck in.
You know what you are getting without any investigation, a hoppy session pale ale.
Drinking Bringing Seshy Back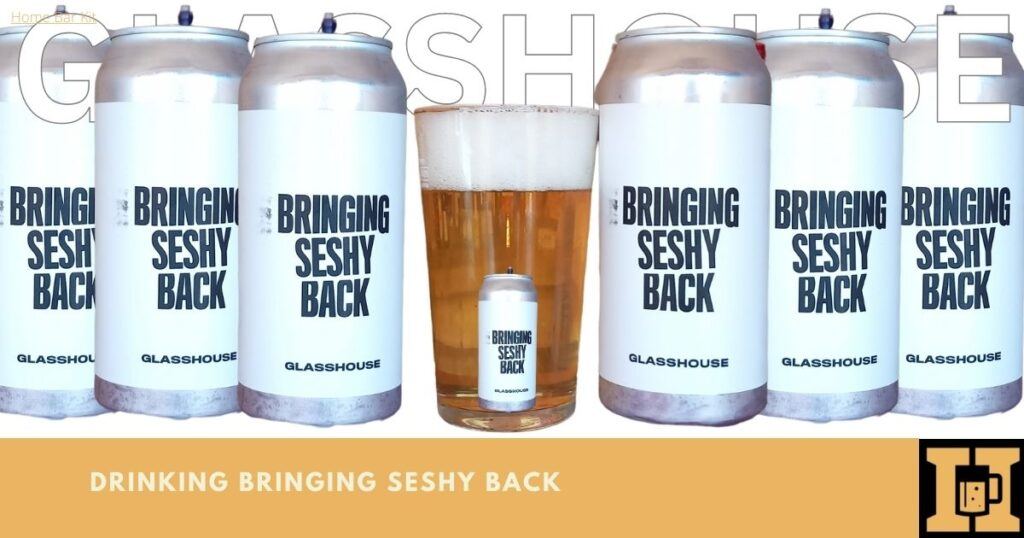 A lively pour leaves a slightly hazy light gold gleaming from the glass. A two finger white head sits on top, which does fade a little, but sticks around for the duration.
Which isn't long because this beer is very drinkable and refreshing.
The nose is lively with plenty of citrus notes of grapefruit and lime, you just know it is going to be hoppy.
Going in for a taste and it reflects the nose, bursting with citrus flavours of grapefruit, mango and lime. In the background there lies a malt base, but is overpowered by the hoppy citrus that dances around the tongue alive with carbonation.
Once this all fades a nice bitterness comes in to finish the experience. It's a light citrussy pale ale with a lot of bite for its strength.
If this was a 5.0% Vol plus pale ale it would get a solid 4.0 – 5.0 score. However because it gives so much for its low strength I score it a 4.3 – 5.0.
M'Lady likes it, but does point out something I missed but got after Lou mentioned it. Lou says "A strong citrus smell, a light and fresh taste, a borderline shandy drink." Lou scores it a straight 4.0 – 5.0.
I get what Lou means about the shandy comment. However I can get pass that because of its sheer audacity of being bigger than it is.
It's a little cracker.
Glasshouse Beer Range
I am not sure Glasshouse have a core range as a visit to their site reveals just three beers, one being Bring Seshy Back. They seem to constantly brew new beers, and once the batch has gone its gone.
It's a conveyer belt of new and fresh craft beer, however I hope they brew Bringing Seshy Back again.
Here are the other two beers that are on the website ate present but will probably be replaced soon.
Softbox
Softbox is a juicy IPA with pineapple, lime and dank orange flavours. It is hopped with Azacca CGX, Motueka and Amarillo so expect a powerful tropical citrus carnival.
This hoppy IPA weighs in at a mighty 6.5% ABV, so not for a session. Sounds like a worthy IPA, however it might not be around for long.
Verticals
Verticals is described as a soft pale ale. Another three hop beer brewed with Citra, Strata and El Dorado. It is described as having plenty of flavour with melon, peach and orange satisfying the taste buds.
At a straight 5.0% Vol it sits on the edge of session, so more than one might be the deal, if they stick around long enough.
Final Thoughts
Glasshouse then is an exciting small brewery producing some popular beers. They are constantly brewing new beers with some great hop combinations.
A brewery that may have started in a greenhouse, but has grown into a thriving brewery known for its quality beer.
Bringing Seshy Back is a great refreshing pale ale that is full on flavour, but light on strength.
If you have tried any of the Glasshouse beers, then do share your thoughts below and give them a rating too.