Out of all the ingredients that get put in beer these days, you don't expect something from the good old Sunday roast. But now we have and it is said to be the first Yorkshire pudding beer, which is made with real Yorkshire puddings, but what is it like?
Well I guess you would expect to smell and taste something that resembles the famous northern pud. Will it be the perfect beer to sup with your Sunday roast?
Yorkshire Pudding Beer pours a light to mid golden brown with a one finger white head. On the nose it is biscuity malt with a sweetness to the aroma. The taste is pretty much the same, biscuit malt with the sweetness of caramel and no hint of any bitterness or pudding. A little ordinary beer that gets a rate my beer score of 3.0 – 5.0.
There may be half a Yorkshire pudding in every bottle, but you wouldn't know if you didn't know.
Malton Brewery
Malton Brewery is a small family brewery on the banks of the River Derwent in Malton, Yorkshire. Founded by Howard Kinder in 2018.
Before Malton Brewery was Horsetown Beer Limited started by Howard Kinder in 2016. On their website it says that Malton Brewery is the trading name for Horsetown Brewery. Then you have the Yorkshire Pudding Beer Brewery which is obviously part of Malton Brewery.
Horsetown Beer LTD has a range of beers, as do Malton Brewery, including the Yorkshire Pudding Beer.
Howard Kinder got the idea for his unique pudding beer back in 2019. In Malton there is mural on a wall with the original recipe of Yorkshire pudding from Hannah Glass in 1747. Admiring this spectacle is where Howard got the idea for his pudding beer.
The beer has been popular since its launch in 2020, and in 2022 it won the Aldi 'Next Big Thing' meaning Aldi would stock the beer in their stores. A life changing opportunity landing Malton Brewery its biggest ever contract.
Find out more about Aldi's Next Big Thing.
So Yorkshire Pudding Beer is a bit of a success story for Malton Brewery.
Drinking Yorkshire Pudding Beer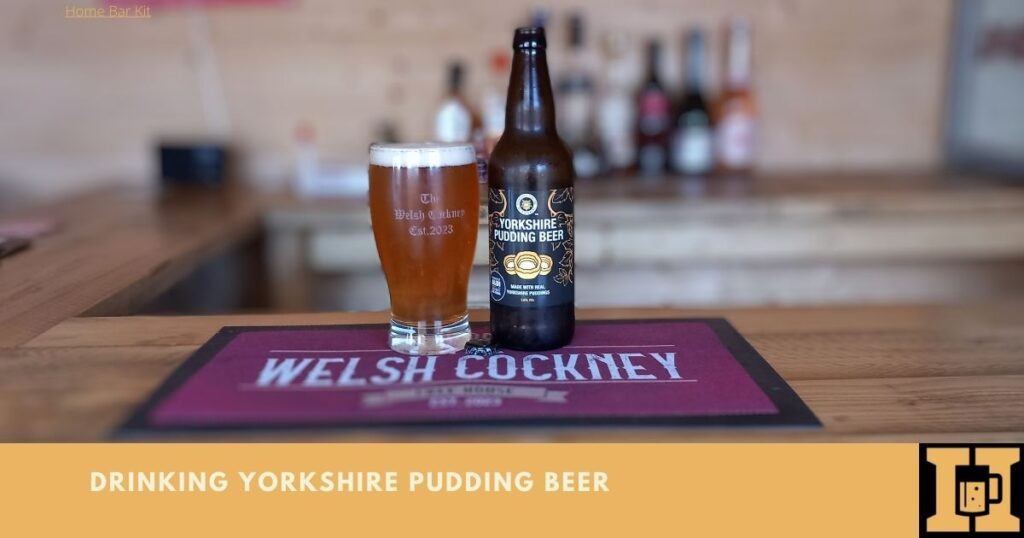 It sits in a 500ml brown bottle with a black label and black cap. Yorkshire Pudding beer is in big letter above a picture of said puddings. So you know what you are getting from the off. Above the logo says 'Yorkshire Pudding Beer brewery' with a pud in the middle.
A lively pour settles to a light to mid golden brown with a one finger bright white head. Slow moving carbonation in the glass with a slight haze to the beer. The head fades to the thinnest of covers.
On the nose it is all about a biscuit malt with a real sweetness to it. The taste follows suit with a caramel biscuit malt which is of course pleasant, but a little sweet. However that is as far as it goes, not much in the way of hops and no real bitterness on the back end.
I expected something different with this beer with the promise of Yorkshire pudding. However it's not a bad beer, quite drinkable and at 3.6% Vol you can fill your boots.
It's just an ordinary beer that for me is a little too sweet. Balance that out with a dose of bitterness and you could have a good beer, Yorkshire pudding or not.
M'Lady is of similar mind saying "I'm struggling, it smells ordinary and tastes ordinary, which is disappointing as I was expecting something different. A Pleasant enough beer, but nothing special."
Lou scores it a little higher than me at 3.7 – 4.0, I think she likes more than she is letting on.
Malton Brewery Range
Malton Brewery has a small range of beers, but it looks a decent line up. Horsetown Beer LTD have a bigger range. And Yorkshire Pudding Beer Brewery have just the one, but they may add the rest of the roast dinner to beer at some point.
Perhaps we will get a roast potato beer, or a beef gravy beer, they have to do a horseradish beer, surely. We will have to wait and see, for now I will feature a couple of the Malton range of beers.
Yorkshire Country Ale
Country Ale is a bottle conditioned beer capturing the essence of days gone by when folk would enjoy a pint of real ale after a hard days work.
It is said to be a solid old style bitter, a perfect beer for when you just want a real pint of ale. At 4.2% ABV you can have more than one, sounds like a proper pint or two you would order in the boozer.
I just hope it has a nice bitter edge to it, I will find out when I get my hands on one.
Yorkshire Pale Ale
I do love a pale ale and I think this one will be more like an old traditional pale ale. It is described as being smooth and well balanced, a beer for all year round. A hoppy little number with a citrus kick and hopefully a bitter finish.
Just like the Country Ale it is bottle condition. At 4.6% ABV it has a little bite without slipping out of the session bracket.
This is a beer I will be looking out for, get me some Yorkshire Pale Ale.
Final Thoughts
The Yorkshire Pudding Beer is not what I was expecting, it is not a bad beer by any means. In fact it is a drinkable everyday kind of beer. It might be brewed with real Yorkshire puddings, but like I said you wouldn't know if you didn't know.
That said at least drinking this beer has opened me up to Malton Brewery and their other beers. As well as the Horsetown Beers too.
I look forward to getting stuck into their range and reviewing them. If you have enjoyed the taste of Yorkshire beer from Malton or Horsetown. Then do share your thoughts and comment on them below.
Including the Yorkshire Pudding beer if you have tried it.