In the beginning it was about picking up a beer that I have not tried yet. This one caught my eye and came home with me. I had no real expectation when I found myself drinking Roll With It by Vocation brewery. However it blew my socks off.
Well that is not strictly true as I wasn't wearing any socks, but if I was, they would have been blown off. This beer took me by surprise, to say I am impressed is an understatement. So is it really that good?
Drinking Roll With It By Vocation
It is better than good, in fact I'd go as far to say that it is a fantastic beer. The pour is a refreshing golden orange haze. A generous foamy white head sits on top and slowly fades to a thin cap just keeping the orange haze contained. A citrus carnival of grapefruit, pineapple and lime burst from the glass and attack the nose. Those citrus notes dance on the tongue with a soft fizzy mouthfeel and a no nonsense in your face hoppyness. It's an explosion of tropical fruits that finish with a soft juicy and ever so slightly bitter end. I like it, I like it a lot and it gets a Rate My Beer of 4.8 – 5.0.
I'm not sure if you can tell, but I really like this beer.
Innovation At Vocation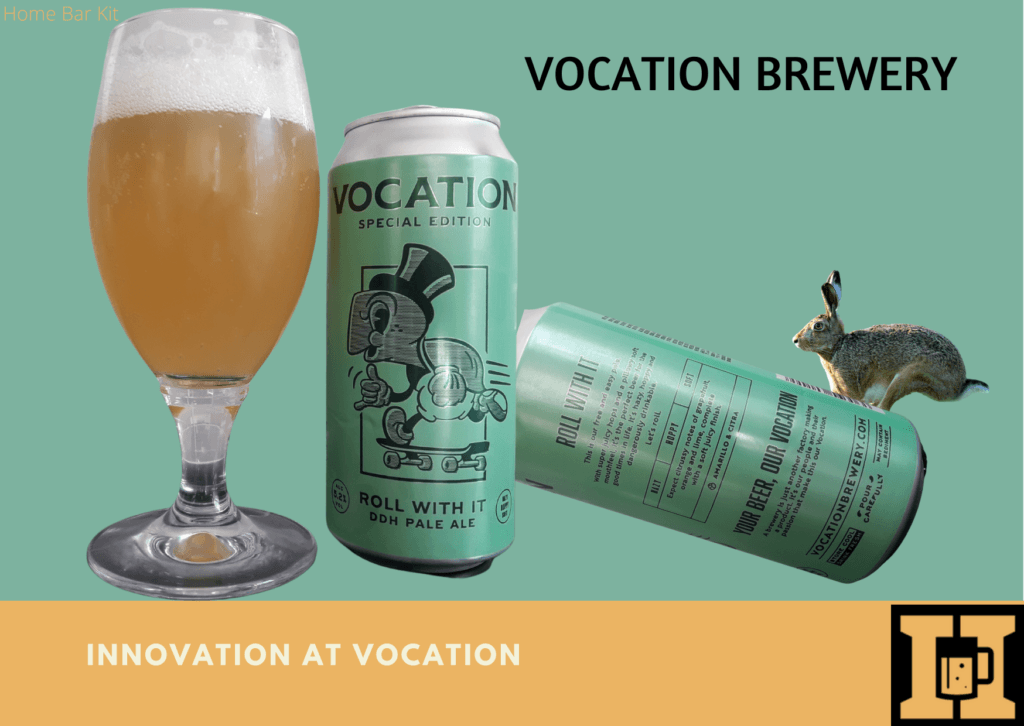 The brewery that started out in a chicken shed in Yorkshire has risen up the ranks and become a force to be reckoned with. Founded by John Hickling and started with just one member of staff the growth has been incredible.
The craft beer market explosion has seen many rising stars, and Vocation is up there with the best. Producing innovative beers in many styles, they never compromise on quality and taste. When you have one of their beers in your hand, you know you are in for a treat.
Their growth has seen them brew over 10 million pints of beer a year. These get sold to a staggering 40 countries worldwide. The 100 strong team work with a passion to brew the best beer and I think they are succeeding.
Not sitting back on their already exciting range of beers, they constantly push forward and regularly release new beers. An independent craft brewery that is constantly brewing some of the best craft beers in the business.
It's a calling, a mission or a purpose, but most of all its a Vocation.
Drinking Roll With It By Vocation
Or to give it its full title 'Roll With It DDH Pale Ale' which is a bit of a mouthful. So its a pale ale, but what the hell is DDH?
DDH stands for Double Dry Hopped, okay, but what does that mean exactly?
Simply put, it is a beer brewed with a lot of hops. Either hops added twice during the brewing process, or double the amount of hops that would normally be used. Some say it is just a marketing ploy to appeal to those beer lovers that have a thirst for mega hopped brews.
The explanation of DDH may differ depending on who you ask. So I have found a useful article that explains it more in depth. WTF is DDH?
Moving on and back to the beer in question.
What Is Roll With It DDH Pale Ale Like?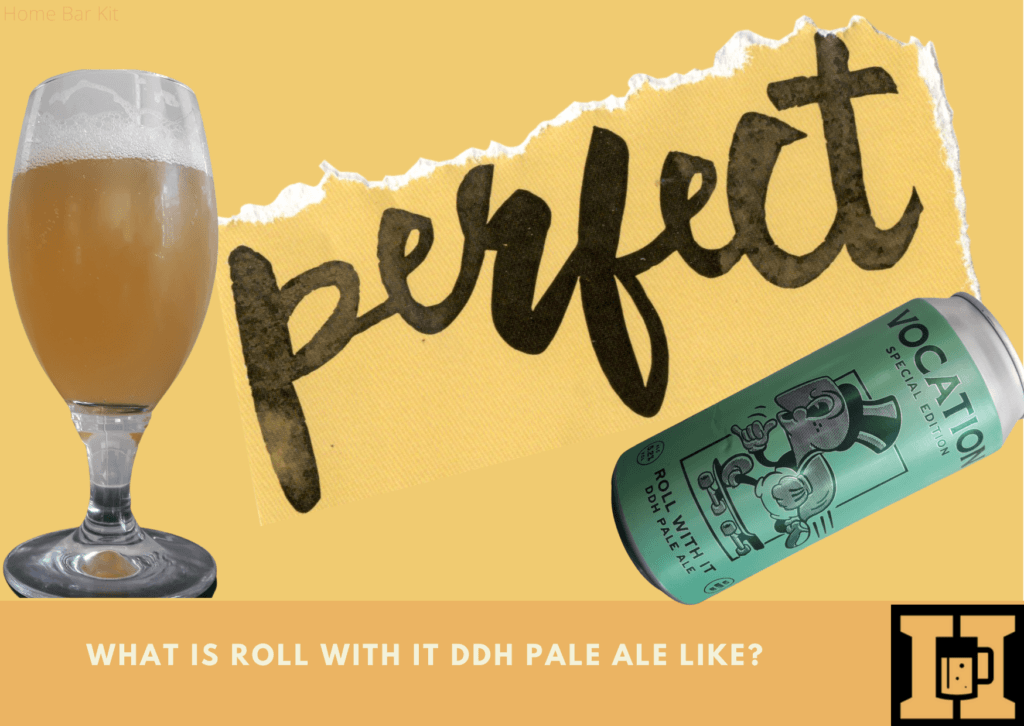 To answer that simply, it is like perfection in a glass. A strong endorsement indeed, but I just fell in love with this beer right from the pour.
The can design does not represent the exciting contents. It is not in your face gripping like the design of the 'Life And Death' beer can. It is very subtle, possibly why the contents surprised me so much.
Once you crack it open and pour, that is where the fun begins. A smooth river of orange and white cascade around the glass. When it settles it is a sight to behold. A hazy orange sunshine sits impressively under a rich white foamy top.
The pure white head fades to a thin covering and garnishes the glass with an steady lacing as you drink.
The nose is powerful and in your face, all things citrus explode from the glass with aromas of grapefruit, lime and pineapple. You just know you are in for a fruity treat and it doesn't disappoint.
The taste is sweet loaded with a hoppy front and an army of citrus tantalising the taste buds. It's a no compromise fruity extravaganza that has a smooth fizz mouthfeel and a soft bitterness in the background.
Vocation describe it as juicy and hoppy with a pillowy soft mouthfeel. I get it, in your face, but at the same time a soft almost friendly cuddle.
The use of Amarillo and Citra hops provide all that citrus fruity flavor and yet somehow they get a smooth soft edge to it. At 5.2% Vol it is just out of being a session beer, however it is hard to stop at just one, highly moreish.
A great beer that deserves its high Rate My Beer score of 4.8 – 5.0.
As an Amazon Associate, I earn from qualifying purchases.
More Beer From Vocation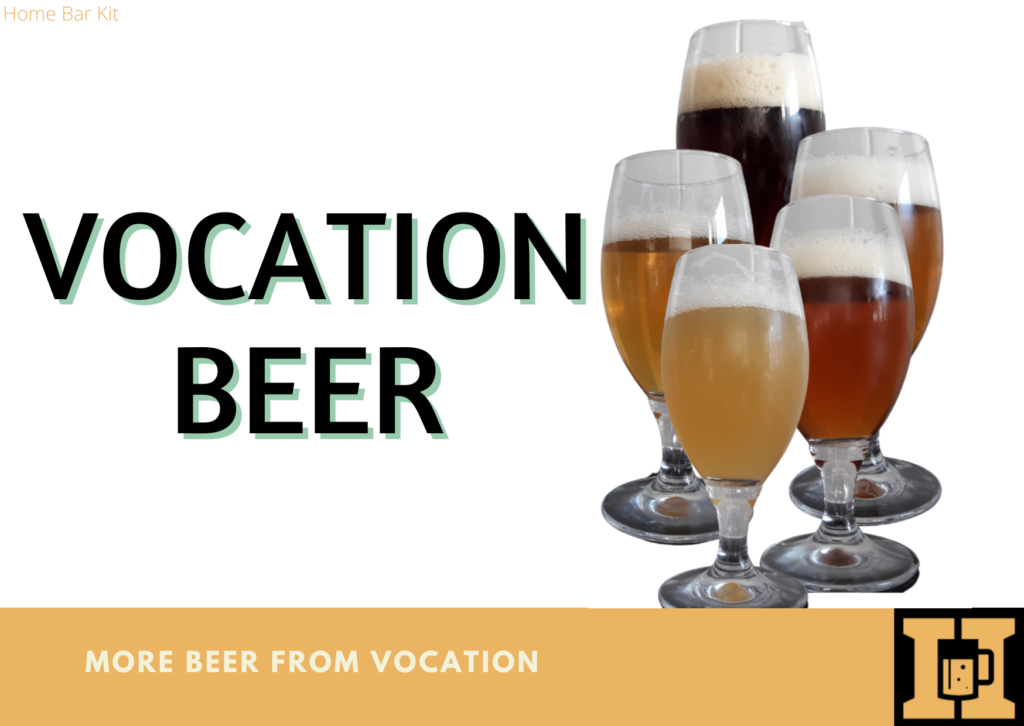 As an exciting forward moving brewery you would expect a variety of beers from Vocation. And they accommodate accordingly with a vast range of thrilling beers on offer.
A selection of lagers through IPA's and a chocolate stout just tip the iceberg of what Vocation bring to the craft beer table. A firm rule of brewing beers that stand as a great example of their style is the Vocation policy.
They are a brewery to get excited about and if you haven't had a beer produced by this brewery yet, then now is the time to get started. Here are a few beers that are on my Vocation wish list.
Bohemian Helles
A Helles style lager using Bohemian malt will give this crisp fresh beer a a toasted biscuit maltiness with a slightly sweet edge. The use of Perle hops lend it floral earthy and peppery notes with a slight bitter finish.
At 4.8% Vol it fits in as a session beer. Vocation have produced a classic style beer which sounds like a very drinkable craft lager. One to sample soon.
Death By Cherries
A cherry sour beer that could divide the crowd, it comes with a warning 'Not For The Faint Hearted'. So be warned because you are either going to be in for a cherry treat, or cherry overload.
As you would expect this beer has a red color to it, even the foamy top has a red tinge. Likewise the flavor is a red alert intense mix of sweet and sour cherries.
At a moderate 4.5% Vol it is all out for a session, however can the zealous cherry mix be tolerated. I have to find out what this beer does to the taste buds. It sends shivers down your spine just thinking about it.
Distorted Intentions
A tangerine pale that is intentional in distorting the senses. It's another mind bending fruity tart extravaganza that is going to attack those taste buds.
A collaboration with the Welsh punk band Neck Deep and inspired by their album All Distortion Is Intentional. It's brewed to hit you with an initial tangerine orange burst followed by hints of peach and lemon. A beer made for summer, refreshing and fruity with a tart edge.
At 5.4% Vol its not a session beer, but it will give a fresh buzz on a hot summers day.
Final Thoughts
It is fair to say that Vocation enjoy what they do, brewing beer is a passion. A vast range of craft beers dip into many styles and there is something for every beer fan to enjoy.
Although they push the boundaries with some funky concoctions, they also brew some traditional and classic style beers. They certainly are not boring, just as they are not frightened to experiment.
Don't play safe, get yourself a Vocation brew and explore the limits of craft beer. However if you have already experienced a Vocation beer, then share your thoughts, I'd love to know what you think. Who will get to the Death By Cherries before I do?