Brewed by Vocation this is a hard hitting New England IPA that makes no apologies. It is an in your face juicy and hazy IPA. But is Love And Hate a decent beer?
The title says it all, you will either love this beer or hate it. If you like a hazy IPA that is big on flavor and has a big ABV, then you will love this beer. If you prefer a more toned down beer, then this may not be for you. It's big and it's bold.
Is Love And Hate A Decent Beer?
It is definitely a decent beer, in fact I would say it is a great beer. The dense hazy orange beer with a generous head is so inviting. On the nose it is pleasing with a fierce hoppy citrus burst of mango and orange. The taste is like the aroma, in your face and full of hoppyness. A smooth blend of tropical fruit like pineapple, orange and mango excite the taste buds. It all ends with a subtle bitterness, it's good, it's really good. A Rate My Beer score of 4.7 – 5.0 is well deserved.
It looks good, smells good and tastes good and I want another one.
The Brewery With A Vocation
The brewery that started out in 2015 by John Hicks is not called Vocation for nothing. John and all the 100+ team members are passionate about brewing beer, so it's their vocation.
The brewery has come a very long way since 2015 and they never forget about taste and quality. There is no limit to the type or style of beers they brew.
Whether it is a light lager or a deep rich stout, the focus is always on taste and quality.
With their growth since 2015 they not only export beer to over 40 countries, but have opened a few tap room bars too.
The first is in Hebden Bridge, the home town of the brewery and called Vocation & Co. The second is in Leeds city centre and is called Assembly Underground which has 50 beers on tap.
A third bar is in Manchester and is called Society with around 35 beers on tap. All the bars offer food from a range of exciting street food vendors.
Things are going strong at Vocation.
Is Love And Hate A Decent Beer?
Vocation really do make some great beers, I haven't had one yet that I have disliked. Having said that I haven't tried them all yet, although I intend to.
This beer has been around for a while now and the can design has changed since its release. And it is the can design that grabs you with a lot of craft beer, especially Vocation beer.
A striking orange can with the big V containing a cupid and a fierce tiger. Underneath the words 'Love & Hate,' Lou knew it was going to be a good beer.
Cupid obviously represents those that love this beer ( that would be me) and the roaring angry tiger represents those that will hate this beer (I can't imagine there will be many).
Why do I love this beer?
Drinking Love And Hate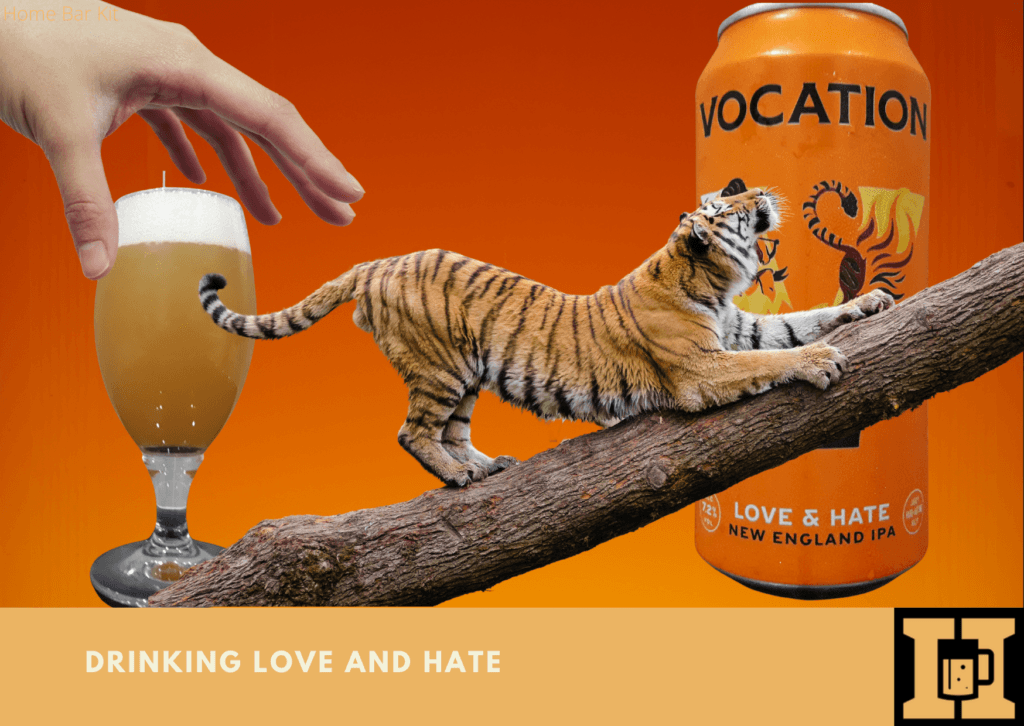 I do love a hazy IPA, however the real reason for my love of this beer is the depth of flavor and the smooth mouthfeel. Therefore it's a winner.
The pour is a cascade of beautiful orange with swirls of white rushing around the glass. It settles to a pleasing hazy orange with a generous white top. This does fade to a thin cover that just manages to contain the silky orangeness below.
The nose is delightful, the hoppy citrus aromas of mango and orange just reach out and punch you in the face. It's a full on tropical fruity extravaganza.
The taste replicates the nose with the hoppy front charging forward carrying a blend of tropical fruit. A cocktail of pineapple, orange and mango lay over a subtle malt y base.
A medium carbonation and very smooth mouthfeel make this a pleasing beer to drink. Then a moderate bitterness comes through to present a satisfying finale.
At 7.2% Vol it is not one to throw back and pop another, rather savour and enjoy. I love it and it gets a strong Rate My Beer of 4.7 – 5.0.
M'Lady loved the can and said it matched the smell and taste of the beer. A complete package that is vibrant and tropical. Lou scored it 4.6 – 5.0.
I recommend it, you will either love or hate it.
Vocation Beer Range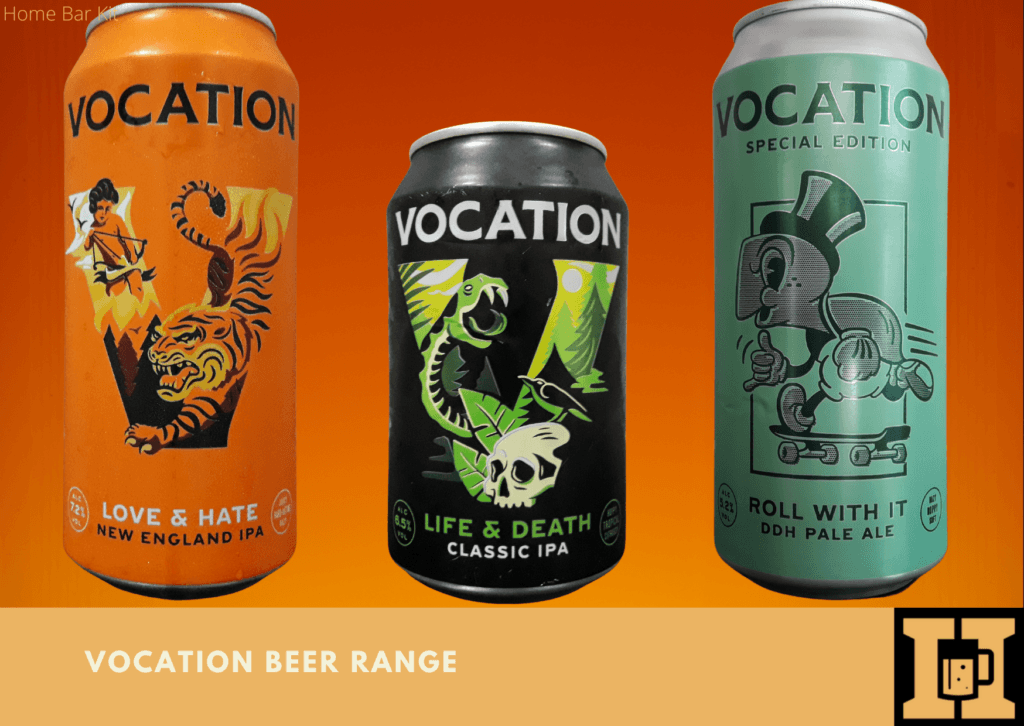 Vocation is one of my favorite craft breweries, they are up there with the best. Producing great tastes and top quality beers. As you would expect they have a healthy range of core beers, as well as special edition beers too.
The range includes a crisp lager through many pale ales and IPA's with some hitting high on the strength meter. Rich dark roasted stouts and intense barrel aged beers top of the extensive list at Vocation. Here are a few of them to mull over.
Hebden
Hebden is a premium lager named after the home town of Vocation. It is clean, crisp and refreshing with delicate floral and spicy aromas.
Sometimes you just fancy a refreshing lager and this one fits the bill. At a straight 5.0% Vol it sits on the fence of session, so a second may be the order of the day.
Pride And Joy
Pride and Joy is an American pale ale and sits in the Vocation core range. It is described as a fresh aromatic hoppy beer. Complex hop flavors lay over a malty base that builds to a bitter finish.
Sounds good and has a tropical citrus body with a touch of mango and blueberry. At 4.8% Vol it is set up as an everyday pale ale that will sit in the fridge waiting to be grabbed.
Knockout
Knockout is a straight up stout that packs a punch of flavor and strength. Rich roasted coffee and dark chocolate form the body with coconut floating on top that leads to a bitter finish.
I wasn't expecting the coconut, however it sounds intriguing and could just add a little extra to the stout to make it stand out. At 6.6% Vol it packs some strength so is one to be sipped and enjoyed.
Final Thoughts
Whether you are into everyday pale ales and IPA's or you want something a little more experimental, Vocation cover the lot.
The brewery is passionate about beer and you can tell when you try one of their brews. From the can design to the aroma and taste the quality shines through.
I have enjoyed the beers I have tried so far and will enjoy my way through the rest of their range. Although it keeps growing.
Have you experienced any Vocation beers? If so share your thoughts and experience with the beer from Yorkshire.