An IPA from the brewery that supplies Welsh cows with beer. It's true, but when they are not supplying cows with beer, they also supply the whole of the UK and beyond with great craft beers. The cows might like it, but is Monty's Mischief a good beer?
Well with a name like that you wonder what lies beneath the surface of this golden IPA. Does it live up to its misbehaving name? Or is it just a cows tipple?
Is Monty's Mischief A Good Beer?
It is not just for cows, although I understand why they like the Monty's Range of beers. It's a good solid IPA that feels lighter than it is. It pours a smooth gold with a generous foamy white head. On the nose it kicks up hoppy citrus fruits of mango and orange. A sip reveals those hoppy citrus fruits popping with a mild sweetness and a rich malty base. It's a credible IPA that is easy drinking and refreshing. A Rate My Beer of 4.3 – 5.0.
Tread carefully with this mischievous easy drinking IPA, it has more bite than it feels.
Monty's Brewery
The brewery was founded in 2008 by husband and wife Russ and Pam Honeyman and has gone on to be a big player in the Welsh brewing scene. It is situated just outside the the Welsh Town of Montgomery which is close to the border of England.
In case you are interested the Welsh name is Trefaldwyn, which means 'The Town Of Baldwin'. A small town with plenty of history and a medieval geography with Victorian and Georgian buildings.
The breweries main facility is just outside Montgomery in Hendomen where Pam the head brewer conjures up their fine range of craft ales. They also operated from 'The Cottage' which was their visitor centre where you could sample their beers, with a small brewing facility in house.
Sadly I believe this is now closed and sold on, I guess the visitor centre is now at the main facility.
What's In A Name?
Now we can find out why this beer is called Mischief. Monty's try to name their beers based on the brew itself. Mischief is a 5.0% Vol IPA which is just on the edge of session. However it drinks like it is around 4.0% Vol, which is where the Mischief comes in.
It draws you into a world of easy drinking only to slap you in the face if you get carried away. So be warned, don't let the Mischief get you.
Monty's bitter 'Best Offa' is the official beer of the 'Offas Dyke Path' a 177 mile long historical path running through Wales.
Their malty amber ale 'Old Jailhouse' is named after their brewery tap in Newtown, Wales 'The Sportsman' which was once the town jail.
Ifor's Welsh Wagyu
It's true the cows love Monty's beer, and it makes for great beef. Ifor's Welsh Wagyu is a farm just up the road from the brewery that breeds Welsh Wahyu beef.
When the beer is brewed there is always part of it that is skimmed off because it is too yeasty and contains sediment. This is put aside in casks for Ifor's cows, who lets them have a little tipple every day.
Who knew cows liked beer. Find out more about Ifor's farm.
How Good Is Monty's Mischief?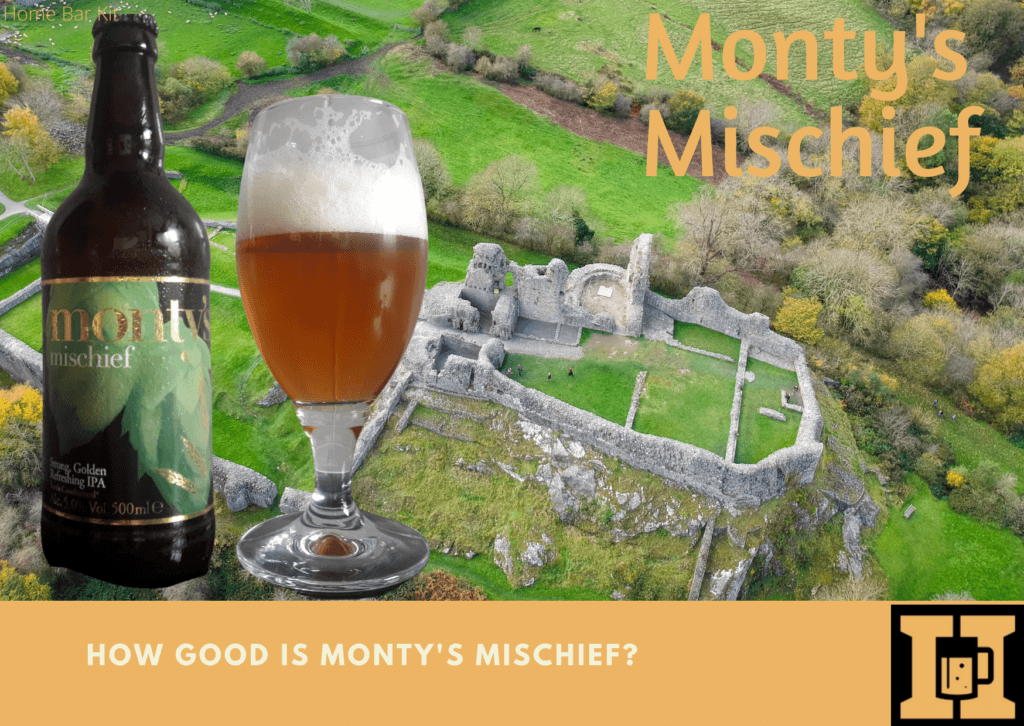 In 2008, Britain was in recession and Pam Honeyman was a teacher. The same year saw Pam attend a brewing course. Featuring her first brew at a local pub, an ex beer critic told her to give up her job and brew beer.
So she did, even though there was a recession on and she had limited brewing experience. That first brew was 'Sunshine' a hoppy golden ale that is very drinkable.
That same year the brewery idea was founded. Leap to present day and we have a serious craft brewery on our hands. All I can say is well done to the beer critic and well done to Pam for listening.
Back to Monty's Mischief.
Rate My Beer
In its large 500ml bottle with black and gold label featuring bright green hops on the front it states its worth. A strong, golden refreshing IPA laced with a little mischief.
You can't admire it for long because the urge to crack the crown is strong. It pours a delightful swirl and settles to a mid golden brown featuring a copious foamy top. This fades to a moderate lid that leaves some great decorative lacing around the glass.
The nose is lively and hits you with a citrus hoppy aroma of mango and oranges. Its a cheeky little nose that provokes a tasting.
So I did and the same is true on taste. The hoppy citrus comes in with a snap, but is surprisingly smooth in the mouth. This is back up by a rich malty base that calms the citrus and finishes with a sweetness that reflect freshness.
It is a well balanced IPA with a mild carbonation and a smooth mouthfeel. It feels lighter than its strength which is why it is aptly named mischief.
A great go to IPA that just fits in the session bracket with its 5.0% Vol. Easy drinking and one I would like to find on tap to compare with the bottled version.
It won't set your world alight, but it is a solid beer that is well balanced and refreshing. A rate my beer score of 4.3 – 5.0 is as solid as the beer.
Monty's Brewery Range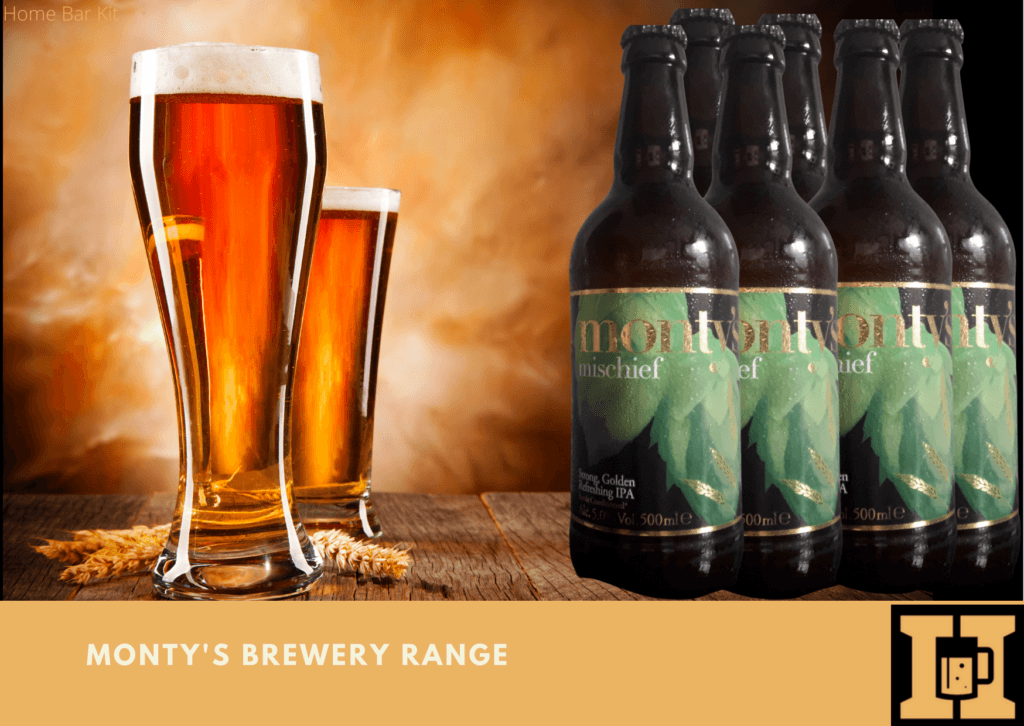 This brewery is not out to come up with loads of different beers, they have a core range of about eight beers. Whilst also producing a few seasonal beers including the 'Fig Pud' a rather indulgent rich chestnut beer. What they do is produce simple beers well, it's quality over quanitity.
Here I will feature a few of their core range beers including the first brew 'Sunshine'. As well as their gluten free full bodied stout.
Sunshine
This is where it all began back in 2009, the first beer and the most popular beer. Pam wanted to create an easy drinking beer that would encourage a second pint. I think she was talking about a session beer.
At 4.2% Vol it fits the bill well, and with its hoppy citrus body and dry finish it speaks sunshine. In fact Pam says "It's like a glass of summer all year round". This popular brew has won its fair share of awards too, hence it's one to get it at home or go out and try on tap.
Masquerade
Intent on hitting the gluten free market, Monty's came up with the golden ale with tropical fruit flavors. Its a hoppy fruity extravaganza the caters for those that are gluten intolerant, how amazing.
Besides being gluten free it is a very drinkable ale and with a 4.6% Vol can be enjoyed more than once in the same session. If you are looking for a gluten free beer that is also great tasting, then this is worth a look.
Dark Secret
If stout is your game, then how about this rich oatmeal stout with chocolate and coffee flavors. It is a full bodied and full flavored stout that has the same surprise as Masquerade. Yes, it is also gluten free, however that is where the similarity ends as it is a little stronger.
Not a beer for a session, this rich stout weighs in at 5.6% Vol, so tread carefully and don't get carried away. Rather it is a beer to be sipped and savoured, possibly a nice after meal beer to compliment the food.
Final Thoughts
In brief then, Monty's brewery is a grown up brewery producing grown up beers. Not looking to produce fancy out there beers full of crazy flavors. But rather brewing beers of distinction, the traditional kind with a little twist to make them stand out.
I have started a new journey with an established brewery. I might have only tried one beer so far, but I can promise you I will be sampling more soon. They will of course turn up here for my rating, so watch this space.
Have you discovered Monty's yet, if not why not try their dark secret, or if you prefer a little mischief. When you do, be sure to share your thoughts on what you think of the Monty experience.