It's good, but probably not the best pale ale you will ever drink. With its American hops that are toned down for a more British taste, its an easy go to option. Mild on taste and strength its a perfect session beer that is easy to get involved with, but not be disappointed with.
Once craft, but now corporate the brewery has joined a big family making Camden pale ale a cousin of Budweiser, losing its independent character. That's progress for you.
How Good Is Camden Pale Ale?
It's good, but not magnificent. The pour reveals a caramel ale producing a solid creamy top, it looks impressive. The nose is pleasant, a citrus hoppy event with grapefruit tones. The taste has a definite citrus hit with a grapefruit bitterness. It's smooth and light, warranting a solid 4.3 – 5.0 rating.
Camden Town Brewery
It's a sweet story really, from an Australian guy that started small and got swallowed up by a giant. Jasper Cuppaidge was in London in the mid 90's planning to go back home. It is said that he missed his flight and ended up working in a London pub.
Move on ten years and Jasper gets involved in petty theft when he spots a pub for sale. He didn't steal the pub, but the for sale sign outside it, probably because he didn't want anyone else to buy it. Only Jasper knows whether he returned the sign to its rightful owner.
Jasper now owned his own pub, The Horseshoe. A year later set up his own little brewing room in the basement. The first brew was based on a recipe from his grandad Laurie McLaughlin, who owned a brewery in Australia called McLaughlin's.
Initially the beer was only sold in The Horseshoe, but fast forward a couple of years and the basement could not cope. In search of premises, Jasper ended up with 5 arches under the railway in Kentish Town, London. Camden Town Brewery was born and the little acorn started to brew.
The Giant Comes To Town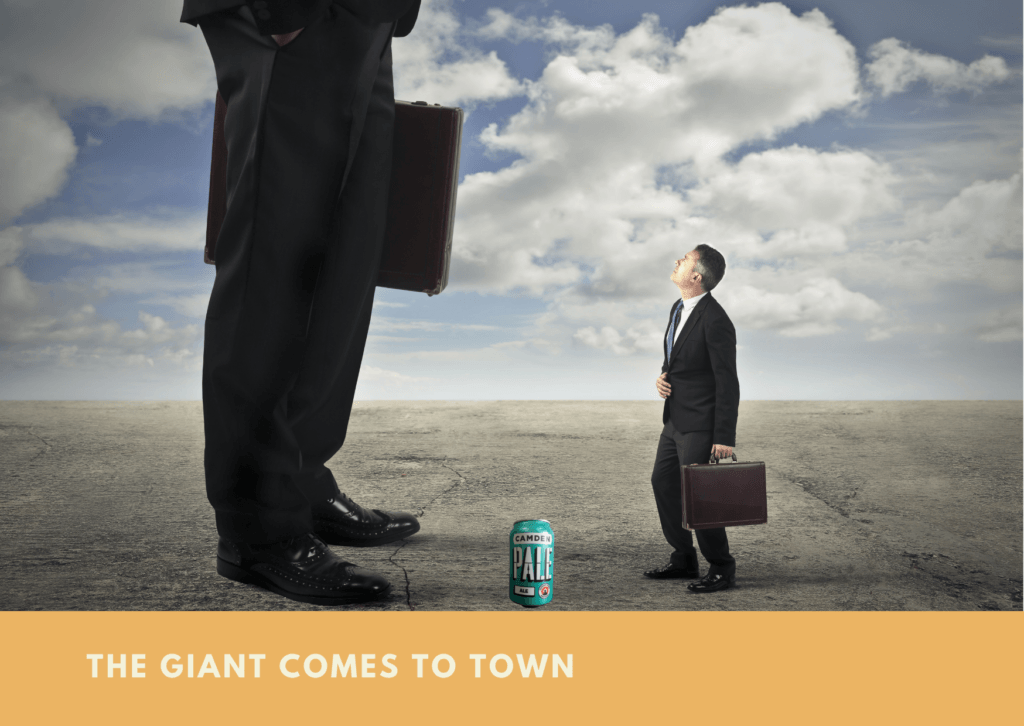 The new brewery under the arches gave Jasper the opportunity to brew lager. The first batch was Camden Hells Lager, which is still a contender to this day. After building a successful craft brewery and accumulating many fans, the giants came to town.
AB InBev the mammoth drinks company bought out Camden Town Brewery with an equally mammoth deal. Jasper hasn't gone though and has built a new large brewing facility in Enfield, North London.
Although many fans complain about the sell out and are disappointed to lose another craft brewery, it's not all bad. Jasper sticks to his guns and is producing the same brews, just on a bigger scale. He hasn't lost his passion, but needed investment to scale up.
It's nice to think you are drinking a beer from a small brewery with a passion for their craft. But growth is inevitable if what you produce it popular. Jasper sold out to grow, much the same as Brewdog, but like the two named Elvis, he still has his passion intact.
More beers enjoyed by me.
Camden Pale Ale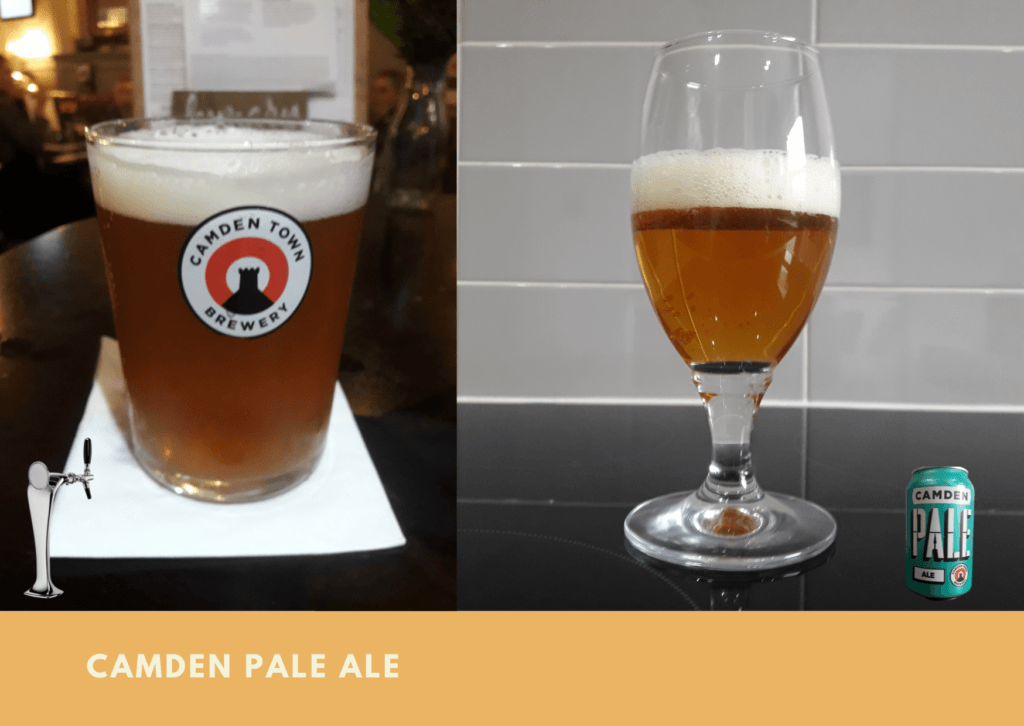 The American hops Simcoe and Citra provide this pale ale with some punch. But Camden brewery purposefully toned it down, apparently for the British taste. They describe it as having the punch of a pale ale, but less shouty.
I guess you get the best of both worlds, or in this case the best of both nations. Thankfully this beer does not go through the pasteurisation process. This keeps the beer fresh and light, but does cut the use by date down compared to other pasteurised beers.
Camden Pale Ale is a solid beer with a mid range flavor and a mid range strength. At 4% vol it falls in the session beer bracket and delivers a dependable drinking experience.
Will it be a regular in my cooler?
The Verdict
To answer the question, yes it will grace my cooler from time to time, but there are so many other beers to try. Some of those beers will include others from Camden Town Brewery.
I do like this pale ale, it is fresh and light, straightforward and uncomplicated. The pour is satisfying with caramel colored liquid cascading into the glass and stirring up a storm. It settles with a solid creamy top that does not fade much and leaves a substantial lacing pattern around the glass.
You get the aromas of citrus immediately, the hoppy scents are weaved with the trace of grapefruit. The taste is pleasant, a smooth malt with that hint of grapefruit giving just enough bitterness. It feels light and fresh in the mouth with a slight zip to it.
A good all rounder that makes for a pleasant drinking experience. I have had this on tap too, in a pub in Haymarket, London on a recent visit. Served in a short but stout glass which is really cool, the beer tends to shout louder from the tap.
How good is Camden pale Ale?
It's not a revelation, but a good solid go to beer, one that deserves a credible rating, this is why it scored 4.3 -5.0. When you see it, embrace it, whether its from the can or tap.
More From Camden Town Brewery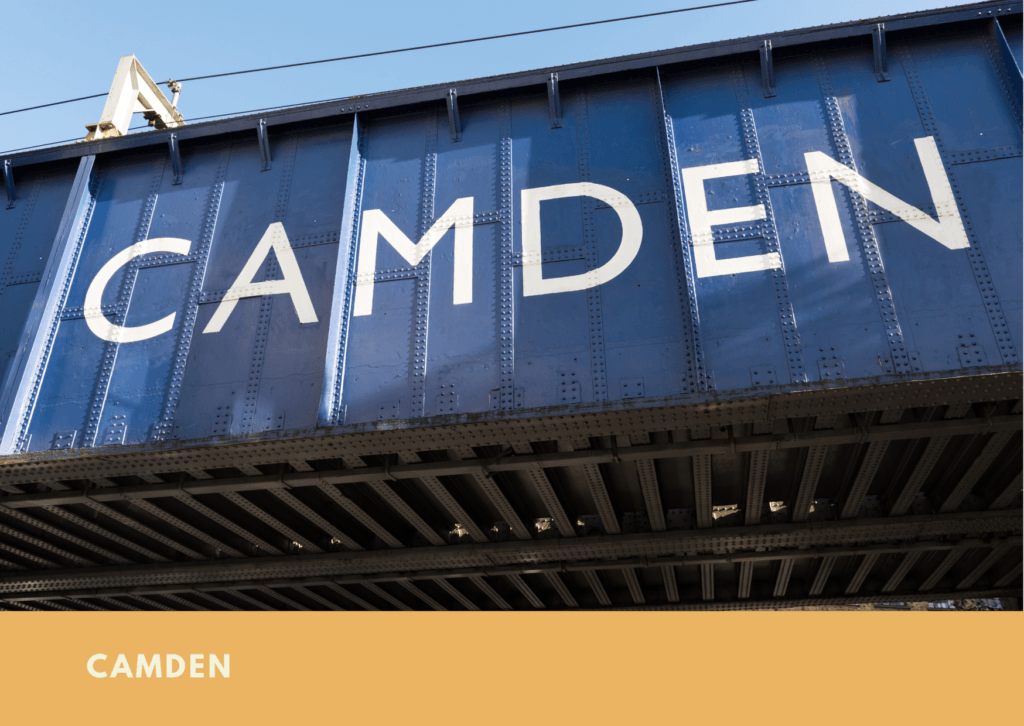 There are plenty to look out for, but here are a few that have caught my eye and will be chilling in my cooler soon.
Camden Hells
This is the lager responsible for Camden Town Brewery. Jasper Cuppaidge was passionate about brewing a lager, which is why he started a brewery. The result is Camden Hells which combines two beer styles of Germany, Helles and Pilsner.
It's a pale golden fresh faced lager that is crisp with lemon notes. At 4.6% vol it promises to be a refreshing dry lager and one I am looking forward to explore.
Marmite Love Hate Ale
I know, what the hell is going on, Marmite in my beer, really. Well it does appear so, Camden brewery have collaborated with Marmite to produce this limited edition beer.
With real marmite added to the brewing process as well as toasted pilsner and Munich malt, it's going to be smoking. I like Marmite, on my toast at least, but will I like it in my beer. I hope I will find out as I look to track this beer down. Like I said it is a limited edition so might prove tough to find.
Gentlemen's Wit
This beer is based on the popular Belgium white beer and is made with bergamot and lemon zest. A light pale gold, it has a haze to it and lays an average top. The lively aromas of bergamot and lemon are prominent.
The beer itself is lively too with a citrus mouthfeel and a touch of spice, but will it compete with an established witbier?
Final Thoughts
Camden Town Brewery is an interesting company with a great back story. Born a stones throw away from where I was, I can't help but like them. But what about the beer?
Camden pale ale is a go to beer, it won't set your pants on fire, but it won't disappoint either. It deserves a place in anyone's cooler, a good beer to have to hand. As for their other beers, time will tell as I work my way through them.
Have you tried Camden pale ale? If so, then share your thoughts below and let me know what you thought.