After trying many ales and IPA's recently it is refreshing to try a lager I haven't had before. I know, this one is a mouthful, in more ways than one. If you are not Scottish then you may be struggling to pronounce the name, me too. So, it goes like this, She-hal-ion, nothing like the word I came up with before I found out the right way to say it. I may have not been able to say it, but I did find myself drinking Schiehallion craft lager.
It was worth all the tongue twisting confusion, in fact the beer is a lot more straight forward than the name. It promised a crisp, fresh and citrus experience. However what was this craft lager brewed at the foot of the Ochil Hills in the heart of Scotland actually like?
Drinking Schiehallion Craft Lager
Just like most lagers it pours a crisp golden yellow with a white lid. However I can't say it was a beautiful clear gold, as I felt it had the slightest of haze. The head just about hangs on leaving a fine silky top. On the nose it is light with a faint grassy aroma and a distant citrus fragrance. Going in for a sip it is fresh with a full body for a lager. With a modest carbonation and a subtle malty taste, it almost feels creamy. The after taste is faint dry citrus that could be described as grapefruit. It feels like a good quality premium lager and gets a 4.6 – 5.0 rating.
As lagers go it is up there, I'd go as far to say it stands out from the macro crowds.
Harviestoun Brewery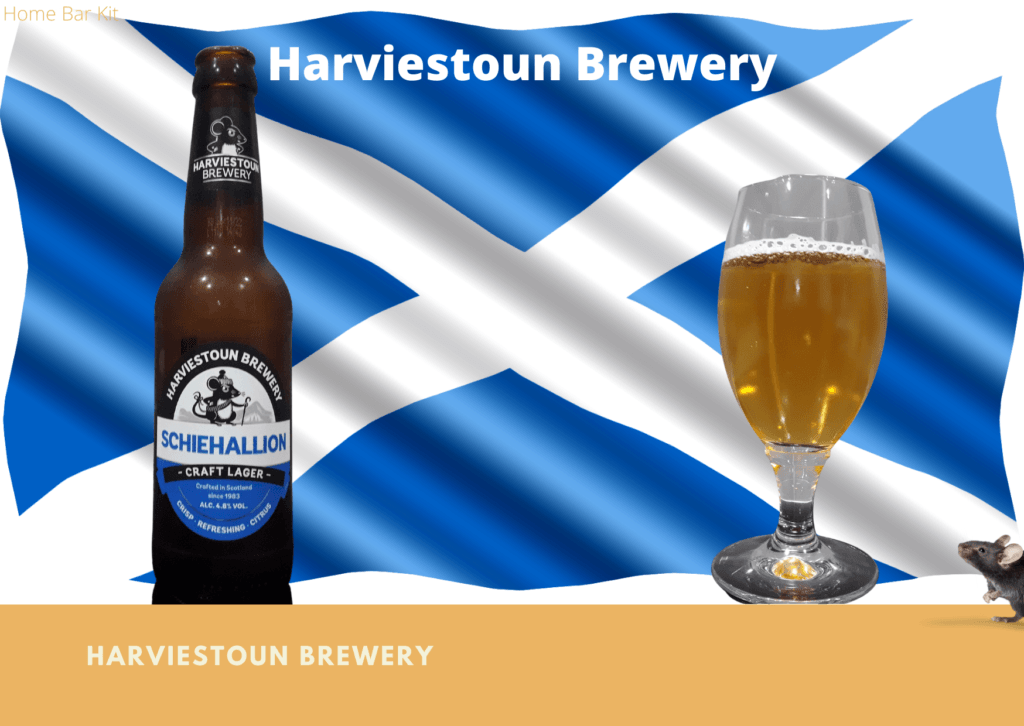 I got a feeling there may be a celebration next year at Harviestoun Brewery as they will be 40 years old. Founded in 1983 by Ken Brooker on a farm in Clackmannanshire, Scotland, its first residence was a 200 year old stone barn.
Going forward in 2004 the brewery moved to an industrial estate in Alva, a small town south of the Ochil Hills. A couple of years later in 2006 the brewery was acquired by Caledonian Brewery, a Scottish brewery founded in 1869. Two years on saw Caledonian taken over by Scottish and Newcastle brewing company.
However before the sale to Scottish and Newcastle a few of the directors from Caledonian Brewery secured the Harviestoun part of the business. It was now once again an independent brewery and is under the careful hands or Sandy Orr and Donald MacDonald.
The brewery produces cask beers and craft lagers using the quality ingredients and the finest water. It is the purest Scottish water naturally filtered from the local mountains. They take their beer seriously and strive to produce the finest ales and lagers. This may be why they have won many awards.
There are a few other beers I fancy from Harviestoun, but more about them later.
Drinking Schiehallion Craft Lager
So what is Schiehallion lager like? And why do I want to try more of its siblings? To answer the first question, it is a good lager. I have heard someone say it is a lager trying to be an ale. I kind of get their point because it just feels different to most lagers. It has a full body and an air of depth you don't normally get with lager. To answer the second question, because this lager feels so different, I want to see what they can do with ale.
Also their beers have clocked up some impressive awards. Schiehallon has won worlds best Pilsner at the World Beer Awards. Additionally it snapped up Gold from The Global Beer Masters too.
A Mountain Of A Lager
This lager got its name from the Schiehallion mountain, so it had to be something special carrying an iconic mountain on its shoulders. I have to say that Harviestoun have created a pretty special lager that truly stands out from the crowds.
Light, but with body, fresh and crisp to quench a thirst on a hot day, with a refreshing citrus end. A great beer to enjoy after you have conquered the Schiehallion Mountain. There is a lot of hop action going on with Challenger, Hersbrucker, Celeia and Bobek hops lending their profiles.
An older version of the label design use to say 'The Champagne Of Lagers'. The tag line read Crisp, Refreshing and Intrepid, a second tag line read Crafted With A Twist. Now it simple says 'Craft Lager' with the tag line Crisp, Refreshing and Citrus. Not sure why the Champagne reference was ditched, may be it is the obvious reason.
A Lagertastic Experience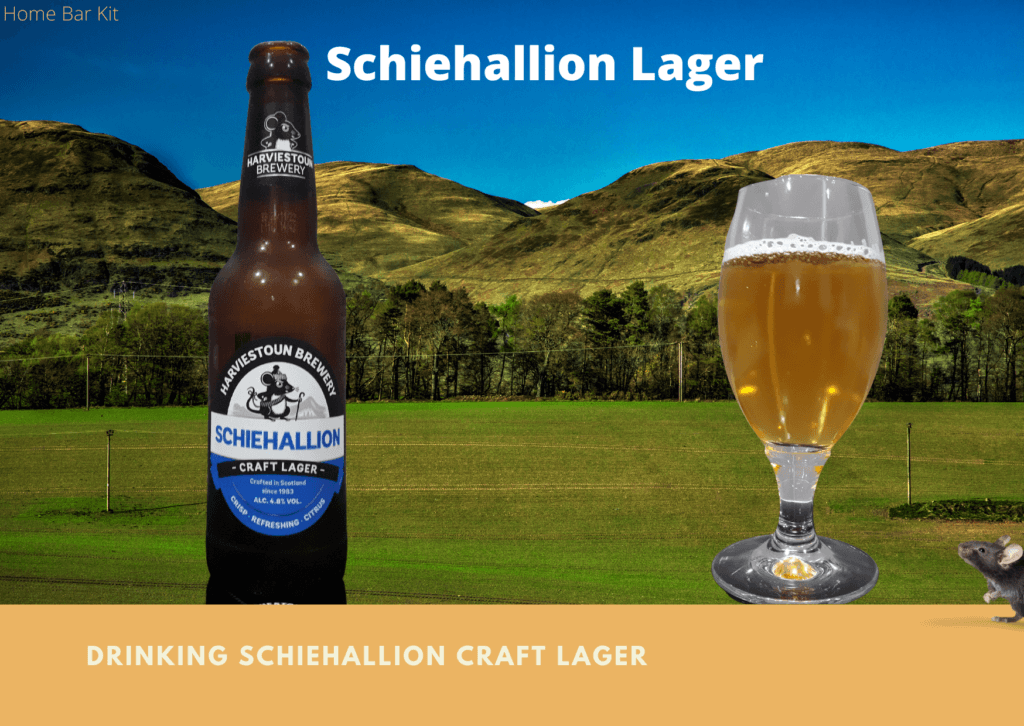 The beer flows from the bottle like a golden nectar, with perfect bubbles ascending to the top to form a moderate white cap. The white foam dwindles to the lightest of coverings, but refuses to disappear altogether.
The nose is faint but gives a grassy almost pine scent with a citrus background. Its like a sunny fresh spring morning.
The taste is a similar affair with malty biscuit up front. Carbonation in the mouth is modest and produces a creamy type feel. It has guts with a full body feel and a depth equal to the Lochs around the mountain. The finish again is subtle but leaves enough dry grapefruit bitterness to want to go in again. And as you drink there is a faint trace of lacing holding onto the glass wall.
It all sounds a bit lame, slight this, modest that, faint this and light that, and I agree. But it has hidden depth, there is a magic around it, the guys at Harviestoun must be Wizards. At 4.8% Vol this is a sessionable beer, and you may just find yourself going for another, just to be sure.
It is hard to pinpoint the appeal of this lager, but it just has that something. I class it as a truly well crafted lager that deserves a 4.6 -5.0 rating. I am almost tempted to up that a little, may be I should try another Schiehallion.
More Beers Enjoyed By Me.
What Else Has Harviestoun Got?
It's fair to say that Harviestoun Brewery have an exciting range of beers. From craft lagers like Schiehallion through pale ales, IPA's and craft stouts like Old Engine Oil. There is a beer to suit everyone and I for one am going to be trying some of them.
They even take the stout 'Old Engine Oil' and mature it in Whisky casks. There is a range of five, matured in Whisky casks 12, 14, 16, 18 and 21 years old with the name tag 'Ola Dubh' which is Gaelic for Black Oil. So I Got a get me some of that.
Bitter & Twisted Golden Ale
The name suggests that it is going to have a bitter body with a twisted end. The promise is a well rounded and balanced beer with a little tang at end. It has a malty sweetness with a fruity feel from the hops and oats. Bitter & Twisted has a strong body with a zesty lemon finish.
The hop bill sees a team of five, Perle, Challenger, Hersbrucker, Celeia and Bobek working together to produce a go to beer. At 4.2% Vol it screams session and I am sure it will be enjoyed by many. After all this too has a Worlds Best Ale award from WBA.
The Ridge Pale Ale
A hoppy pale ale with a certain refinement and balance, well that's what they say anyway. It's a clean medium bodied ale that is hoppy in the front, with piney floral notes. A malty background has a spicy bitter finish.
Harviestoun describe it as two titans colliding, this is down to the American and Scottish hop bill. East Kent Golding and fuggle meet Apollo and Amarillo to produce a hoppy polished ale. At 5.0% Vol it is on the highest end of the session scale, so don't go mad, even if it is a moreish.
Ola Dubh
Stand back stand back he's carrying a 21 year old matured stout from Harviestoun, give the man room. Weird, anyway, this is Ola Dubh (Black Oil) stout and yes it is matured in 21 year old whisky casks. Did you get that, I pretty sure they aren't saying the beer is matured for 21 years. But it is matured in 21 year old Whisky casks.
This gives the stout a Whisky note on the top, surrounded by rich chocolate and roasted coffee body. This coupled with a citrus mango and blackberry undertone. The finish is a bittersweet experience. At 8.0% Vol and it's rich maturity, it's not one to session on, it's more of a sip and savour delicacy.
Final Thoughts
It has been a pleasure rating the Schiehallion lager and I enjoyed drinking it too. I would love to try it on tap, therefore I will be keeping my beady eye out and scanning the bar next time I frequent one. If you see it, even if you are not a lager drinker, give it a try, it might surprise you.
Equally I have enjoyed finding out about Harviestoun's other beers. So when I see one I will snap it up, and you just know it will be featured on Rate My Beer some time soon. How about you, have you had the pleasure of drinking any of Harviestoun's beers? Share your experiences below.