Whitstable Bay Pale Ale comes from the Faversham Steam Brewery, which is Shepherd Neame Brewery in Faversham Kent. This beer is named after the coastal town of Whitstable known for its Oyster beds. So is Whitstable Bay Pale Ale a decent beer?
A beer inspired by walks along the beach past the the Victorian Inn the Old Neptune which is right on the beach at Whitstable. It sounds delightful, but is it any good?
Is Whitstable Bay Pale Ale A Decent Beer?
It is a decent pale ale, light, refreshing with a real zingy bite to it. It pours a copper gold with a one finger fluffy top. On the nose it is hoppy with strong citrus notes of grapefruit. The taste is lively with a hoppy front laced with citrus grapefruit giving a real zingy bite that attacks the mouth. A little spice leads to a slight bitter finish. It's a light refreshing beer with plenty of zest and gets a rate my beer score of 4.3 – 5.0.
An enjoyable beer that I think is best served cold.
Faversham Steam Brewery
Faversham Steam Brewery is of course Shepherd Neame Brewery based in Faversham, Kent, England. In 1789 the brewery was updated with a steam engine used to grind and pump malt. It is said to be the first steam engine used for this process outside London.
At that time the brewery was known as Faversham Steam Brewery and the name is revived for a range of beers. That range being the Whitstable Bay Range of which today's pale ale is a part of.
Shepherd Neame is said to be the oldest brewery in Britain dating back to 1698.
However the Three Tuns Brewery in Shropshire, England also claims to be the oldest brewery in Britain. Three Tuns Brewery dates back to 1642, so is considerably earlier.
That said, there is evidence that brewing at the Shepherd Neame site dates back to the previous century, as early as 1573.
Lest just say that both breweries have been brewing beer for a pretty long time.
Is Whitstable Bay Pale Ale A Decent Beer?
Whitstable Pale Ale looks amazing with its beautiful copper gold shinning through the clear beer bottle. On the label is a scene straight from Whitstable Bay with a yacht and the Old Neptune pub right on the beach.
The beer is described as a refreshingly light pale ale with a lively citrus aromas. I think that hits the nail on the head.
It looks just as great in the glass as it does on the bottle. It oozes summer and for me it is best served cold for the ultimate thirst quenching beer experience.
Drinking Whitstable Bay Pale Ale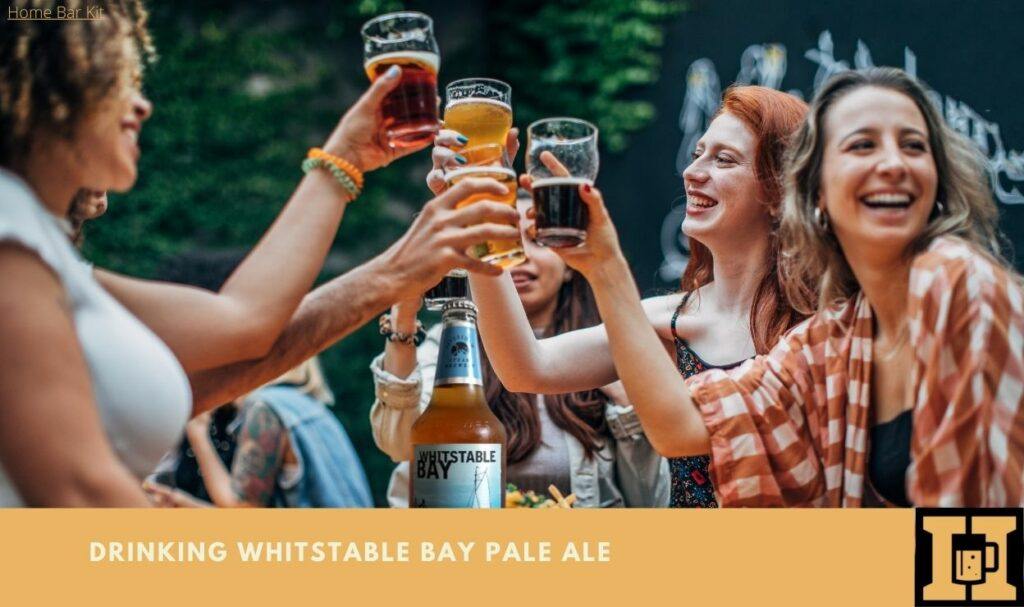 The pour settles the same copper gold as it is when it is in the bottle. On top sits a fluffy white head with plenty of bubbles stream up the body of the beer.
The head does fade to a thin cover, while a decent amount of lacing decorates the glass.
On the nose it is vibrant with the slightest of malt being bullied by hoppy aromas laced with strong citrus notes.
The taste is a similar affair with just a hint of malt being dominated by hops and a zingy citrus that explodes on the buds. Grapefruit feels the most prominent flavour, but there is a hint of fruit salad about the taste too.
A little touch of peppery spice adds to s slight bitter finale. It's a lively beer with plenty of zing up front, but a refreshing smoothness clams it to a nice finish.
At a sessionable 4.0% Vol it is the perfect beer to enjoy in the beer garden on a sunny day. It's a decent pale ale that gets a decent rate my beer score of 4.3 – 5.0.
M'Lady likes it too saying, "A hoppy citrus beer with plenty of zing and a smooth finish. Lou scores it an identical 4.3 – 5.0.
Shepherd Neame Beers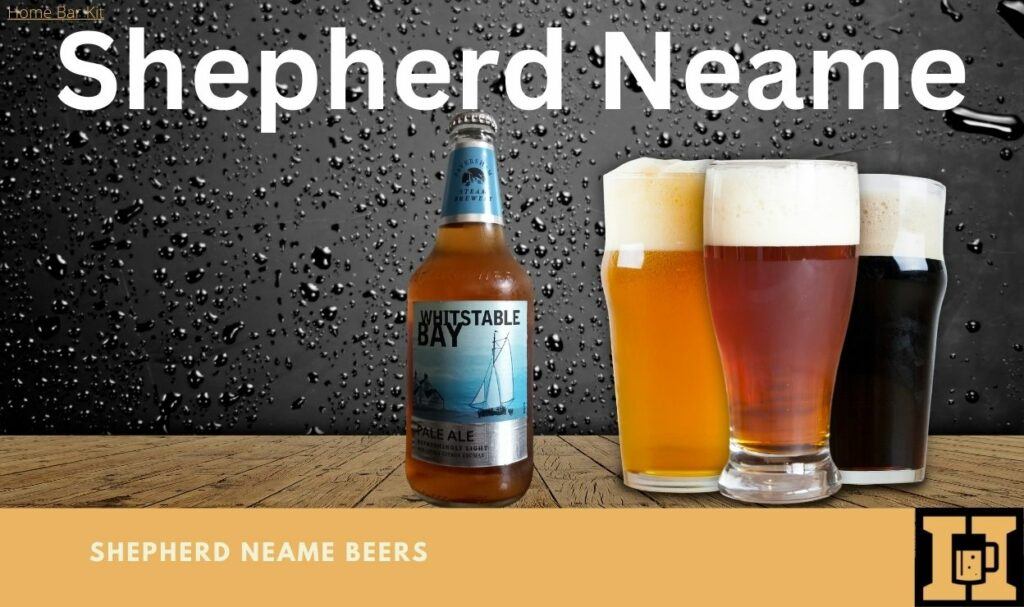 Shepherd Neame is obviously a well established brewery who have an array of beers to offer. A traditional style range with the likes of Master Brew an old style bitter and Bishops Finger, a Kentish strong ale.
They also have the Bear Island Range which uses American hops alongside British hops with and East Coast Pale Ale and a Triple Hopped Lager.
Then there is the Whitstable Bay Range which includes today's Pale Ale, an Organic Ale as well as a Blonde Lager.
Here are a few beers from Shepherd Neame that I have my eye on.
Master Brew
Master Brew is a proper bitter with malt toffee and hoppy notes. It is dry, fruity and bitter, everything you want from a pint of bitter.
This is Shepherd Neame's flagship beer, and I just don't understand how I have not tried this beer. How have I missed it, I will have to put that right, so expect it to feature soon.
At a sensible 4% Vol in the bottle and 3.7% Vol on draught it delivers a full bodied flavour.
1698
This is a Kentish Strong Ale that was first brewed in 1998 to celebrate Shepherd Neame's three hundredth anniversary.
It is a bottle conditioned beer, so matures naturally in the bottle, which will of course contain sediment. Notes of roasted malts, fruit and hops it is a rich warming beer with a good balance of sweet and bitter.
At 6.5% ABV it is not to be taken lightly and is only available in the bottle. This is a beer that is definitely on my beer hit list.
India Pale Ale
A traditional style IPA form yesteryear, based on those heavily hopped IPA's that had to endure long journeys. This IPA promises to deliver a potent level of bitterness, so I'm signing up for this one.
It is hoppy, fruity and spicy with a nice bitter finish. At 6.1% Vol in the bottle it packs a punch too. Although on draught it loses a little strength at a sensible 4.5% ABV.
Another beer to feature here soon.
Final Thoughts
Shepherd Neame have stood the test of time, but have not stood still with their brewing. While they have a great range of classic beers that are draped in history. They also have beers that compete with the more modern styles of today.
They are certainly a brewery I need to taste more of and I will be on the hunt for more of their beers.
Whitstable Bay Pale Ale is a worthy beer with plenty of flavour and zingy bite, as well as a smooth finish. If you have tried it, or any other Shepherd Neame beers, then do share your thoughts.