A hoppy beer from Stewart Brewing in Scotland, which was born from a dream inspired by a trip to Boston MA way back in 1996. Starting from home, this brewery has come a long way since, and produce some great craft beers. So what is Skeleton Blues Hazy IPA like?
It is always exciting to try a new beer for the first time. However I did try this one in an odd location, but that didn't stop me enjoying the experience.
What Is Skeleton Blues Hazy IPA Like?
It's a well balanced hoppy IPA with a good body and plenty of flavour. It pours a lively hazy mid gold with a generous fluffy white head. The nose is striking, tropical fruits burst from the glass with sharp citrus aromas. Take a sip and the hoppy tropical fruits slap you around the chops with a burst of citrus. A calm malty base comes through to lend a little soft sweetness. The finale is a well balanced bitter end. It's good, and gets a solid rate my beer score of 4.5 – 5.0.
A decent hoppy IPA. Hence, one I definitely want to try on tap.
Stewart Brewing
Stewart Brewing was founded by Jo and Steve Stewart. The idea for the brewery was born from a trip to Boston MA. That was back in 1996, and the brewery got under way just two years later in 1998.
Starting from their home, the brewery has gone through many stages of growth. Consequently today it is thriving and offers more than just beer.
The brewery which is located in Edinburgh, Scotland not only provides a growler filling service. But also has a taproom and pizza restaurant. As well as brewery tours, but the most exciting service they offer is brew days for customers.
This is a chance for anyone to brew their own beer to their own recipe right at the brewery. Your beer is then bottled and labelled for you to take away. A really exciting concept and a chance for anyone to learn more about the brewing process while making their own beer.
I can feel a holiday coming on in Scotland.
What Is Skeleton Blues Hazy IPA Like?
I mentioned earlier that I tried this beer in an odd place. That place was on a recent flight to Madeira. I am not sure whether being on a plane at 30,000 feet will affect how the beer would smell or taste. But it has plenty of aroma, and for me, plenty of flavour too.
So I am guessing not, although the plastic vessel probably didn't enhance the beer.
It is served in a 330ml can with a busy abstract style design around the can boasting several colours. The can states what the beer is and who brewed it, simple, but effective.
So it's time to crack the can and enjoy.
Drinking Skeleton Blues Hazy IPA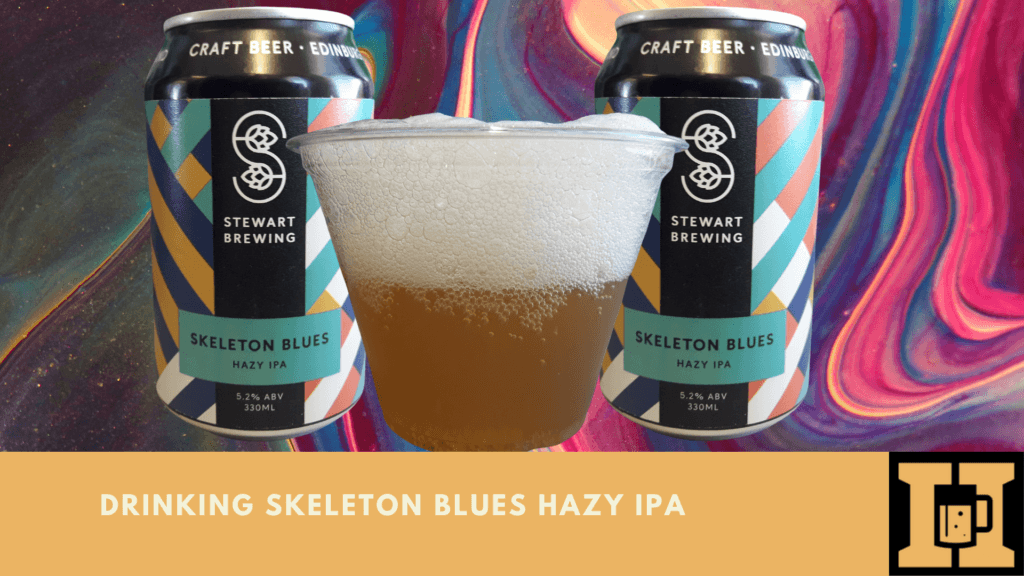 The pour is lively and a two finger fluffy white head sits on top of a mid golden hazy beer. The head does fade to a thin cover, but there is just enough to leave a little lacing.
The nose is vibrant and fruity tropical aromas rise from the glass with a sharp citrus edge.
Going in for a taste and I am hit with a hoppy tropical fruit front with a citrus kick. This blends out with a soft malt base that adds a little sweetness. A slight oat feel moves in with the malt base. On the back end there is a nice bitterness that balances things out and lends to a decent finish.
At 5.2% Vol it just pushes the session boundaries. For me it's a good solid hoppy IPA with a nice bitter finish. Therefore it gets a decent 4.5 – 5.0.
Lou liked it too, saying it has a good balance of sweet and bitter, but not too much of either. Lou's score is slightly lower at 4.3 – 5.0.
Stewart Brewing Range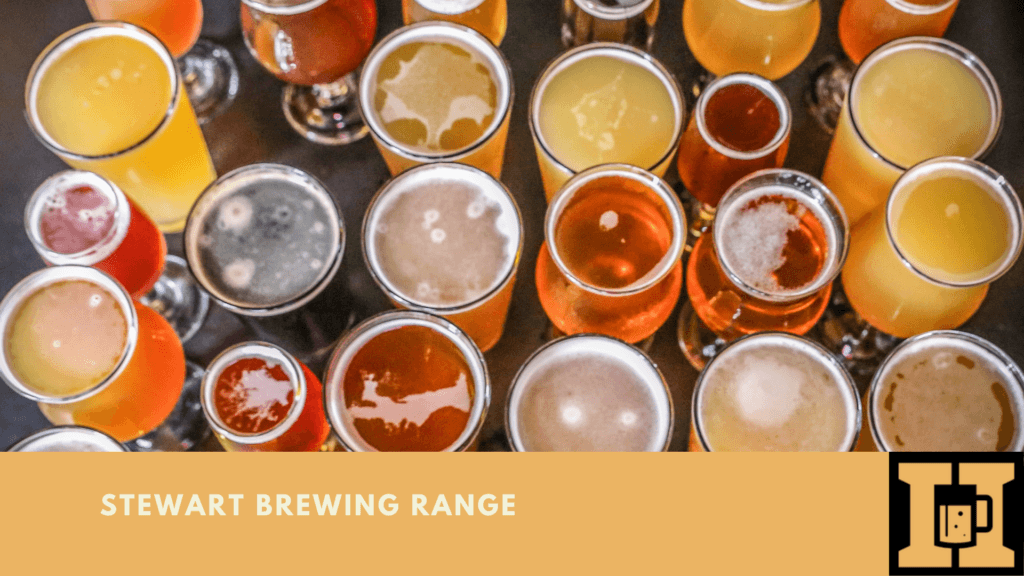 So what else has Stewart Brewing got in their range? Well a pretty good selection actually, from their classic range, through a modern range, Project 7 range and a seasonal range.
There are plenty of beers to choose from and try. So I will feature a few below just to get those beer buds revved up.
Stewart's 80/-
Stewart's 80/- is a Scottish Heavy Beer, which is a full body malt focused beer with hops just for balance. So expect plenty of caramel malt and a smooth creamy texture.
This beer is from the Stewart's classic range. At just 4.4% Vol is could be a go to session beer, and one I would like to give a test drive in the future.
Radical Road
Radical Road is an American triple hopped IPA. Those American hops will be sure to give plenty of strong aromas and solid bitterness.
The malt base provides a toffee caramel body with citrus grapefruit notes and a well balanced bitterness to finish. It is a little higher on strength at 6.4% Vol, so not built for a session. It comes from their modern classic range.
Icy Trees Of Green
This is a cold IPA that comes from the Stewarts Project 7 range. It is brewed with Hana malt a Czech Pilsner Lager malt which gives it a crisp edge.
Expect citrus grapefruit and lemongrass notes with plenty of bitterness in the mouth and a dank orange character. It weighs in at 5.9% Vol, so just the one then.
Cherry On Top
Cherry On Top is a Black Forest Gateau stout and is from the seasonal range. It surely has to be an indulgent winter warmer for those cold nights.
I guess it will be exactly what is says with a rich chocolate base and fruity cherry flavours on top. Being a rich indulgent beer, it has to be a one off sipping beer. And the ABV confirms that weighing in at 5.5% Vol.
The perfect beer to sip in front of the fire on a cold winters night.
Final Thoughts
Stewart Brewing then, is an exciting modern brewery with a great range of beers. The chance for anyone to try their hand at brewing their own beer, is just a great idea.
Skeleton Blues is the first beer I have tried from this brewery, and it is a great hazy IPA. However that won't be my last beer from Stewarts, I think its safe to say I will be trying more in the future.
What about you? If you have had the chance to try any of the Stewarts beers, then do share your thoughts about your experience and what you thought of the beer.
Rob is a passionate home bar and pub shed enthusiast with a passion for craft beer. With hands-on experience in designing and building his own home bar, Rob shares his knowledge, tips, and inspiration to help fellow enthusiasts create their own perfect space. Alongside the world of home bars and pub sheds, Rob also explores the diverse and exciting realm of craft beer, providing honest reviews to help you discover your next favorite brew. Join Rob on a journey of flavor, design, and craftsmanship right here on Home Bar Kit.