There were three things that attracted me to this beer. First the name Stiggy Pop. Second was the abstract art design on the can and three, the breweries name, Magic Rock. So it had to come home with me, but is Stiggy Pop a decent NEIPA?
It all denotes to music and art, with a reference to the great Iggy Pop. Also the name Magic Rock that you could be mistaken to think was music based. The art on the can just brings these two things together nicely. Anyway, what about the beer.
Is Stiggy Pop A Decent NEIPA?
Yes its a great New England IPA, but it has a dangerous side that needs to be respected. It pours a lively juice like swirl in the glass. It settles to a deep burnt orange with a generous close knit foamy head. On the nose it is a hoppy citrus burst of mango, lemon and grapefruit with a hint of grassy pine. The taste is an explosion of citrus tropical fruits, including those I mentioned, plus maybe an orangey mandarin tinge too. A satisfying bitterness lurks in the background. Rate My Beer score 4.3 – 5.0.
It's a super fresh solid New England IPA that is too easy drinking for its own good.
Magic Rock
Magic Rock Brewing was founded in 2011 by Rich Burhouse and Stuart Ross, although it had been planned since 2010. Premises were already lined up at Rich's family business Burhouse Limited, an old unused outbuilding.
The family business deals in beads, crystals and other semi precious stones. The building in question did need a little work, but an ideal place for a small brewery.
With the influence of the American craft beer seen, the name for their brewery was important. It had to be something real, nit just a made up name, and it had to be memorable. Although they spent several months coming up with the name it was in front of them all along.
The family business deals in rocks essentially. So Magic Rock was not about the music, but instead the stones.
The Beer
I think the magic part of the name comes from their passion to include local brewing tradition with the inspiring new wave of craft beer. They didn't want their beers to be humdrum, they wanted vibrant and exciting, I guess you could say magical.
Fast forward to 2015 and their success saw the brewery move to new premises in Birkby, Huddersfield just a couple of miles from where they started. As they got the new premises ready they even put some crystals into the concrete. Just to keep the rock going and to remind them where they came from.
Is their beer magical?
I have yet to determine that as I make my way through their range. However this beer does have a certain kind of magic.
Stiggy Pop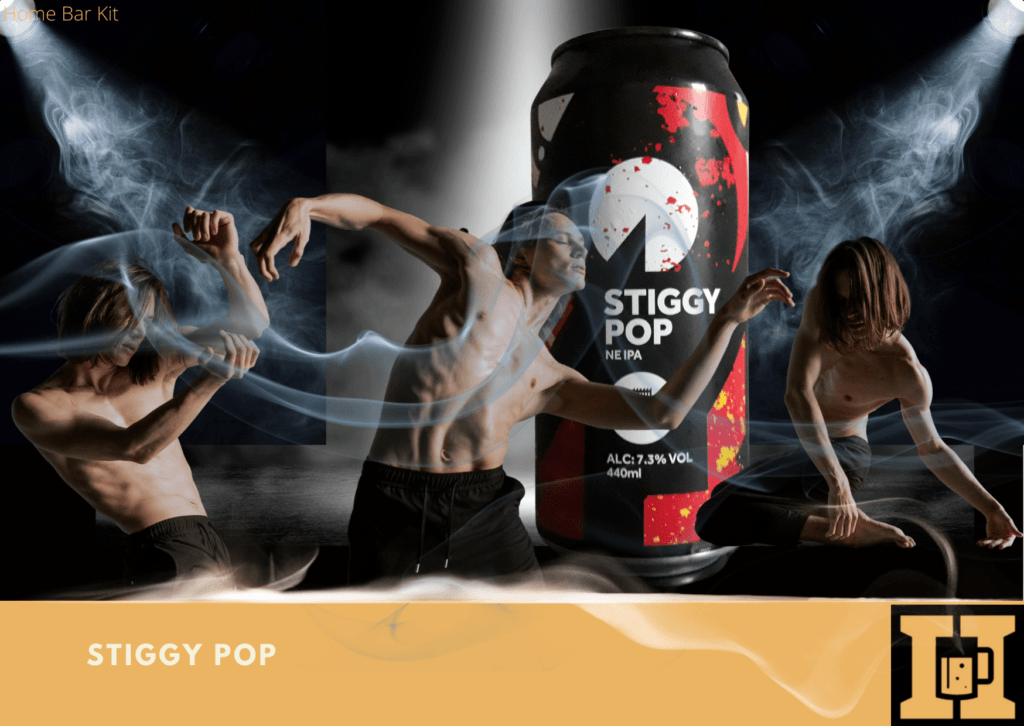 Although the brewery name may not be connected with music, the name of this beer is a definite reference to Iggy Pop. How do I know?
Well I don't for sure, but it is a collaboration with Stigbergets Bryggeri a Swedish craft brewery. And it is not the only one, they also produced Stiggy Stardust, which has to be a reference to the late great David Bowie.
However back to Stiggy Pop, which is a special edition beer and not always available. Although it is at the time of writing this, which is why I managed to get one.
But
Is Stiggy Pop A Decent NEIPA?
It looks good and has a great name, the can design is inspiring, also it's a New England IPA. All those things are the reason why it came home with me for a try.
The pour is lively and fragrant, colors of orange and cream swirl around the glass. When it settles its a beautiful hazy orange with a tight copious foamy lid. The white top does fade, but a good amount stays the duration leaving a crochet type lacing around the glass.
The nose is fresh and vibrant with plenty of tropical fruits bombarding the senses. Mango and lemon hit me, but there are hints of grapefruit and pineapple too. A slight wet grass and pine sit in the background hardly noticeable.
The taste is alive with a fresh fruity citrus, the mango and lemon for me are prominent. The bitterness rides through on a grapefruit carriage with a pulp of orange dragging behind. Pine plays a cameo part with the slightest of dank edges.
The mouthfeel is fresh with moderate carbonation leaving a fruity smoothness laced with a slight bite to end. I like it, its fresh, lively with just the right amount of bitterness.
It is a decent NEIPA, Stiggy Pop is fresh and vibrant, and very easy drinking. This is where the danger lurks because its a real wild child at 7.3% Vol it would be easy to pop a few and end up the passenger.
That's enough of that 🙂
Approach with caution, but dive in because it's worth it. A solid Rate My Beer score of 4.3 – 5.0.
Magic Rock Range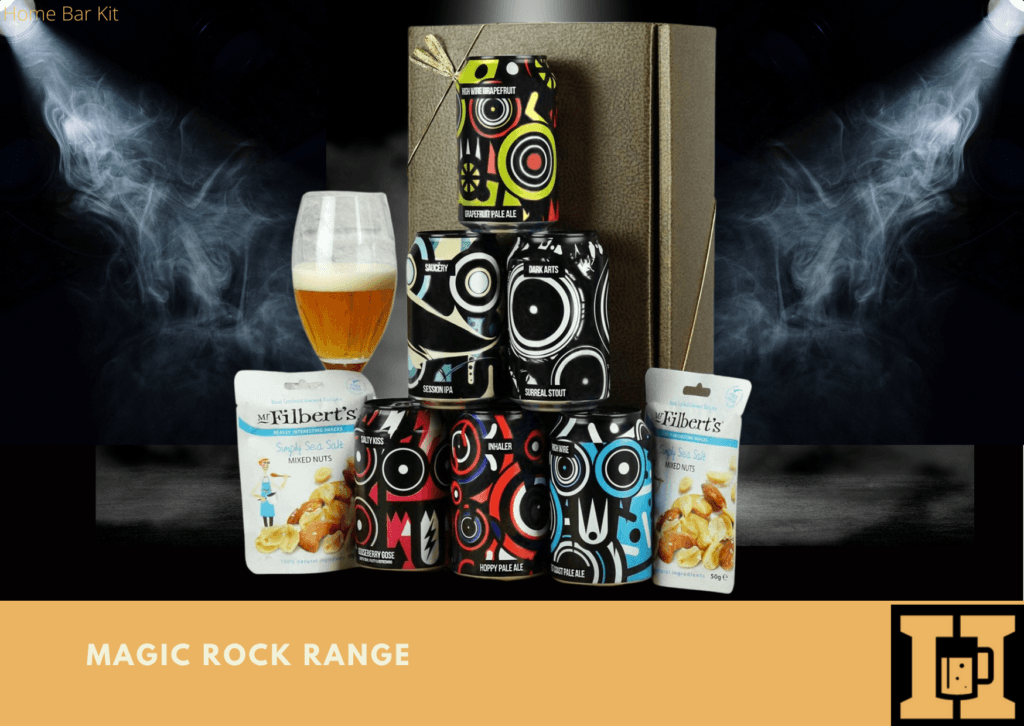 The image shows a few of Magic Rock beers in a gift set
Magic Rock then are not about being safe, they are not after producing middle of the road beers. Their plan was set out to always be exciting. Produce beers that speak everything craft and make them thrilling and stimulating. In fact make them magical.
I haven't experienced their range of beers yet, but you can bet I will be. I think we are in for an exhilarating ride, its going to be fun and interesting.
So I thought I would feature a few or their core range beers that have caught my eye and will be making there way to my fridge soon.
Magic Lager
There is nothing strange going on here, Magic Lager has no tricks up its sleeve. It is a straight forward session lager at 4.2% Vol with no surprises.
A German style lager that is light in body with a bubbly disposition. A beer that promises a refreshing crisp lager experience.
Is this going to close to the middle of the road? Or has it got that Magic Rock within?
I will let you know when I give it a go.
Saucery
Saucery is a session IPA that promises depth of flavors, but with out the depth of strength . So we are back on track with something magical maybe.
This full on flavor IPA is packed with tropical aromas and notes of passionfruit and mango. With a slight bitterness on the tongue to balance things out.
This full on flavor tropical IPA with a bitter edge will hopefully satisfy the taste buds without slapping you around the face. Because with a low 3.9% Vol its a very safe session beer.
Dark Arts
Magic Rock have gone to the dark side with this luxurious surreal stout. Packed with decadent rich flavors and a smooth silky mouthfeel.
Spicy notes entangle themselves around chocolate and liquorice conveying a roasty bitterness. Fruit pops in for an appearance with blackberries and figs teasing the buds. A Luxurious feel ends with smooth hints of the bitter side.
Sounds good to me, I'm in, can I have some Dark Arts please.
Final Thoughts
Well that was quite a journey, it all started with a can of Stiggy Pop, and I ended up involved with the Dark Arts. A journey that I will be pursuing, only the beer though.
Magic Rock though are a brewery to look out for, they are exciting and consistent. Stiggy Pop although a powerhouse in strength is a very likeable easy drink (caution).
I for one will be trying more of Magic Rock beers, starting with the ones I have featured in this article. I can only advise you do the same, and if you do, then share your thoughts below.
Drink responsibly (especially if you are drinking Stiggy Pop), but most of all have fun.