CWRW HAF is a summer beer from the Tomos Watkins brewery in Swansea, Wales. Brewed every year between May and September it is exactly what is says, a beer for the summer. But is it any good?
Well it's a golden style ale with a fresh citrus kick so should be quite refreshing, exactly the type of pint to enjoy on a summers day. To to give it a test drive.
CWRW HAF is an okay beer, but for me, I found it a bit too sweet. It pours a beautiful mid gold with a generous white head. On the nose it has a malty vibe with a citrus edge. The malt hits first in the taste with a little wheat and a lemon citrus kick. There is a honey sweetness to it which overpowers any kind of bitter finish. It gets a rate my beer score of 3.5 – 4.0.
A seemingly decent beer with a good malt base and a nice citrus edge, but just a little too sweet.
Tomos Watkins Brewery
Tomos Watkins Brewery is part of Hurns Beer Co a drinks distribution company. Hurns acquired Tomos Watkins brewery in 2002. It was originally started by Simon Buckley who then went on to establish Evan Evans Brewery.
Hurns was originally a mineral water company that went on to produce lemonade, ginger beer and cordials. It was founded by Arthur Hurn and passed on to his son Idris, and then his son of the same name.
Connie Parry and her brother Phillip took the reins of the company and then obviously acquired the Tomos Watkins Brewery. The two companies combined involve a good part of the Parry family, so they are real family businesses.
On the bottle of Cwrw Haf is says it is brewed in Wales by the Hurns Brewing Co with the Tomos Watkins address.
The Hurns Beer Co is the wholesale drinks business based in a different part of Swansea. So Tomos Watkins is a brand name under Hurns Brewery.
All a little bit confusing, but the worrying thing is that the Tomos Watkins website says temporary closed. I hope that is just for site maintenance.
CWRW HAF, Is It Any Good
My lovely wife Lou had this beer in hand on her return from work recently. She saw it on the shelf in the store and thought I might like to try it, and of course I do.
It stands proud in a 500ml brown bottle embossed with Tomos Watkins. The label is green with the brand, the beer and 2002 with the HB logo. In the middle is a picture of a Wheat Sheaf, but it could be a barley sheaf, it's hard to tell.
On top it has a nice Welsh flag cap, it looks inviting and its time to open it and dive in.
Drinking CWRW HAF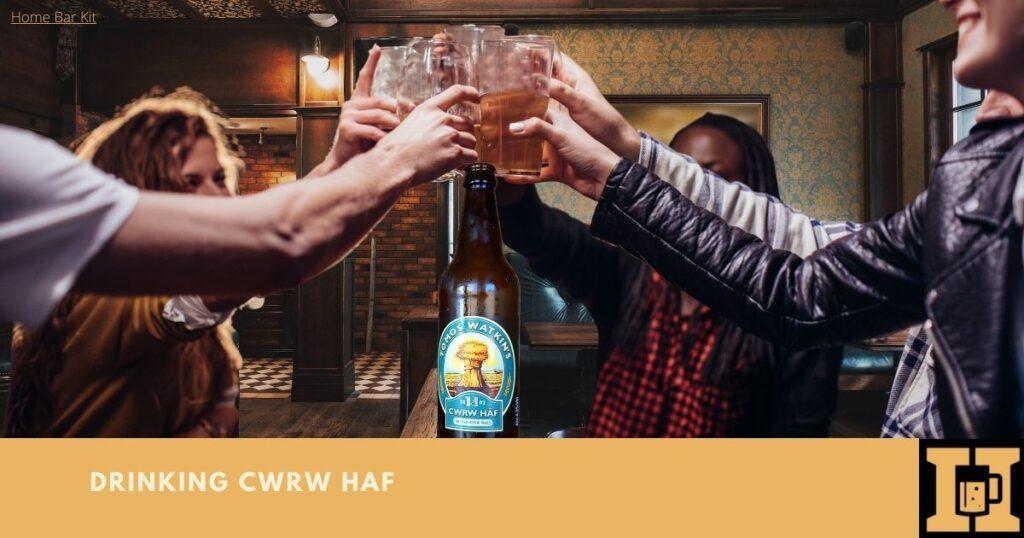 A slightly lively pour reveals a mid golden ale with a two finger white foamy top. A good amount of carbonation bubbles rise up the glass. And the head although fades a little does stick around for the duration leaving a nice lacing around the glass.
On the nose the malt comes through straight away, but then there is this citrus kick that covers it. It smells fresh and inviting.
The taste builds starting with a base of malt, followed some grain from wheat which gives it a smooth feel. A little carbonation tingles in the mouth and then a citrus kick of lemon takes control.
A honey like sweetness seems to linger in the background, for me it spoils the show a little. I am hoping for a nice bitter finish to offset the sweetness, but it doesn't come, a shame.
At 4.2% Vol it is on for a session, if you can stomach the sweetness. It gets a rate my beer score of 3.5 – 5.0.
Boozy Suzy is round at the time and gets involved. Suzy says " refreshing ale with malt wheat and honey. I like it, a summer ale, I could drink that." Suzy scores it a straight 4.0 – 5.0.
My'Lady likes it too saying " Light refreshing sweet ale with a hint of lemon citrus. I agree with Suzy a good summer ale." Lou scores the same at 4.0 – 5.0.
Neither Lou nor Suzy mentioned any bitterness, so its not just me. This is what spoils it for me, its just too sweet and needs some bitterness to balance it out.
Tomos Watkin Beer Range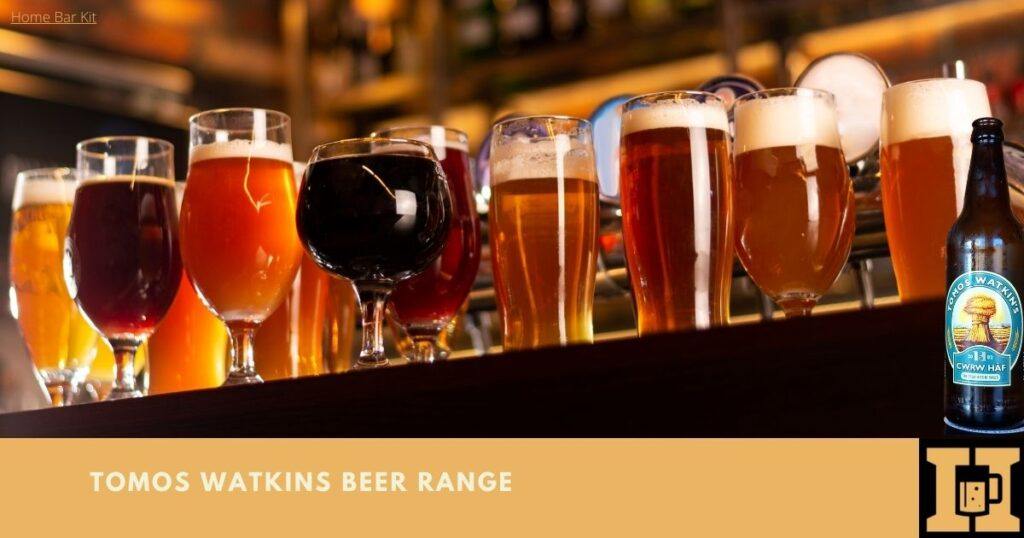 Although I am not that impressed with the Cwrw Haf or summer ale as it translates. I do like the look of what else Tomos Watkins have to offer.
Their range of beers look exciting and I need to investigate and get stuck in, something I am looking forward to.
Here are a few that need to be in my chiller.
Delilah
No surprise a beer name Delilah comes out of a Welsh brewery, but I must try try try Delilah (sorry). It's a light golden blonde beer brewed with American hops.
The result is a light refreshing crisp beer with a fruity citrus kick and a little spice thrown in. Sounds pretty good, and brewed at 4.0% ABV it is a real session beer.
With a name like that, what's the betting Lou is going to love it.
OSB
OSB is a red premium cask ale said to have a fruity citrus hop flavour. I think this beer is more of an old school style bitter.
You could say it is a classic bitter for those times when you just want to have a no nonsense real beer. At 4.5% ABV it still sits in the session bracket, so a second could be on the cards.
Definitely a beer I one to test drive, I will be in search of this one. I just hope it delivers some bitterness.
Two Guns
Two Guns is a premium craft lager with a full body and light carbonation. It is fresh and crisp delivering a thirst quenching experience.
At 4.8% ABV it has a bit of guts and could be a great beer for the lager lover. I like a lager, so it has to be coming home soon, I'm in.
Final Thoughts
I think Tomos Watkins are an exciting brewery producing great beers they are passionate about. I may have not been keen on the Cwrw Haf, just too sweet for me. However, I am looking forward to getting stuck into their other beers.
If you have tried Cwrw Haf, or any of the other Tomos Watkins beers, then do share your thoughts below. Let me know what you think, and give them your own rating too.