You may have spotted two slight details about this beer that relate to a certain time of the year. That time of the year is of course Christmas. Advent the period leading up to the holiday season, and port a drink that also relates to this time of the year. Why then am I drinking Advent premium ale with port in April?
What can I say, its a long story. Well actually it isn't, I just forgot one bottle of beer. I had a few bottles of this beer back in December leading up to the holidays. Very nice it was too, however one bottle got hidden by new arrivals. The result is that I found it a few days ago and thought why not. I wasn't going to leave it till next December. So I enjoyed a festive beer in April, hence this post.
But what was it like?
Advent Premium Ale With Port
It's a swirl of chocolate and cream flowing around the glass as you pour. As it settles it turns deep brown with a slight blush and a cream foamy head. Just what you would expect from a festive beer, aromas of roasted malt with a fruity chocolate twist. On the palate there is bitter chocolate with a rich buttery caramel, laced with berries. In the background the roasted malt has a nutty edge and keeps it all together. The after taste has a berry sweetness like port. Perfect for the festive season, but pretty good in April too. It gets a decent rate my beer score of 4.4 – 5.0.
I know we are going to have to wait a little while until this beer is available again, but at least you can put it on your list to try next Chrimbo. Anyway, moving on.
Black Tor Brewery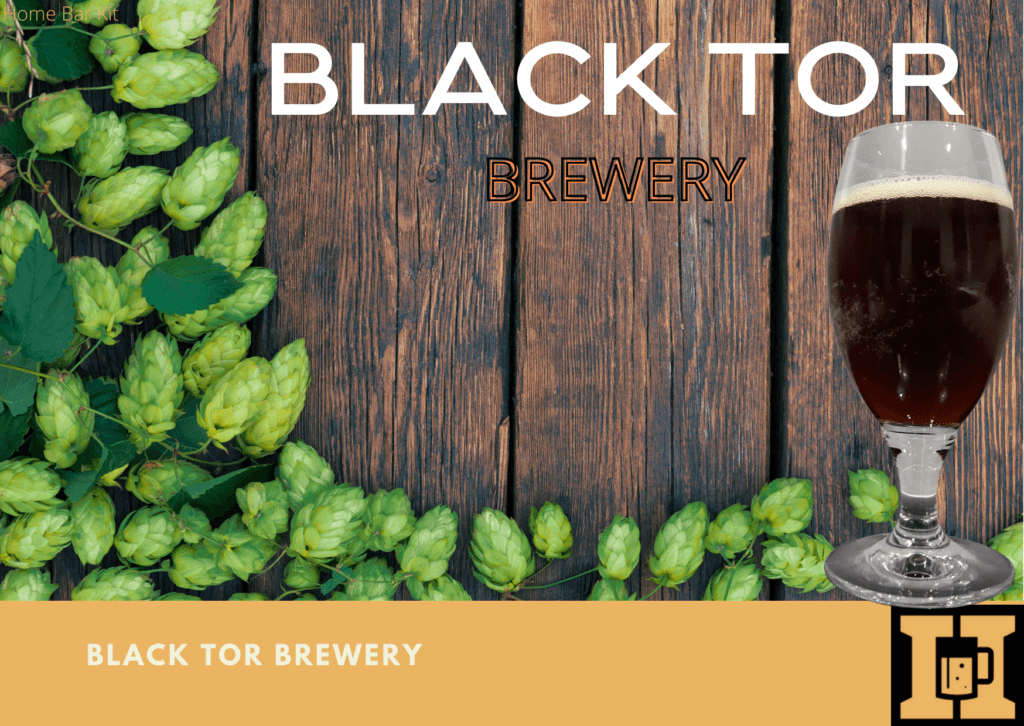 Born in the south west of England Black Tor Brewery started brewing in 2013 in Christow, Exeter, Devon. In 1998 the brewery was Scattor Rock Brewery which was taken over in 2009 and became Gidleys Brewery. In 2012 Gidleys closed and the site was taken over by the now Black Tor Brewery.
Situated on the eastern edge of the Dartmoor National Park, Black Tor is just one of many tors found in this area. I wonder how they came up with the name?
I think it is fair to say that they were inspired by the beauty that is Dartmoor. Black Tor are an award winning independent brewery that have three core beers brewed all year round. On top of those three there are regular limited addition beers as well as seasonal beers.
One of which I know about, its called Advent, a festive beer which I think is available from around October. Jester Green is a limited addition green hopped pale ale. Budleigh Festival Beer is what is says a festival beer. There is also an English Pale Ale, a New Zealand IPA and a rum too.
Black Tor Rum is a premium reserve golden rum as well as a white rum too. I think a bottle of the Golden Rum could find itself in my company soon.
Anyway back to the beer.
The Premium Ale With Port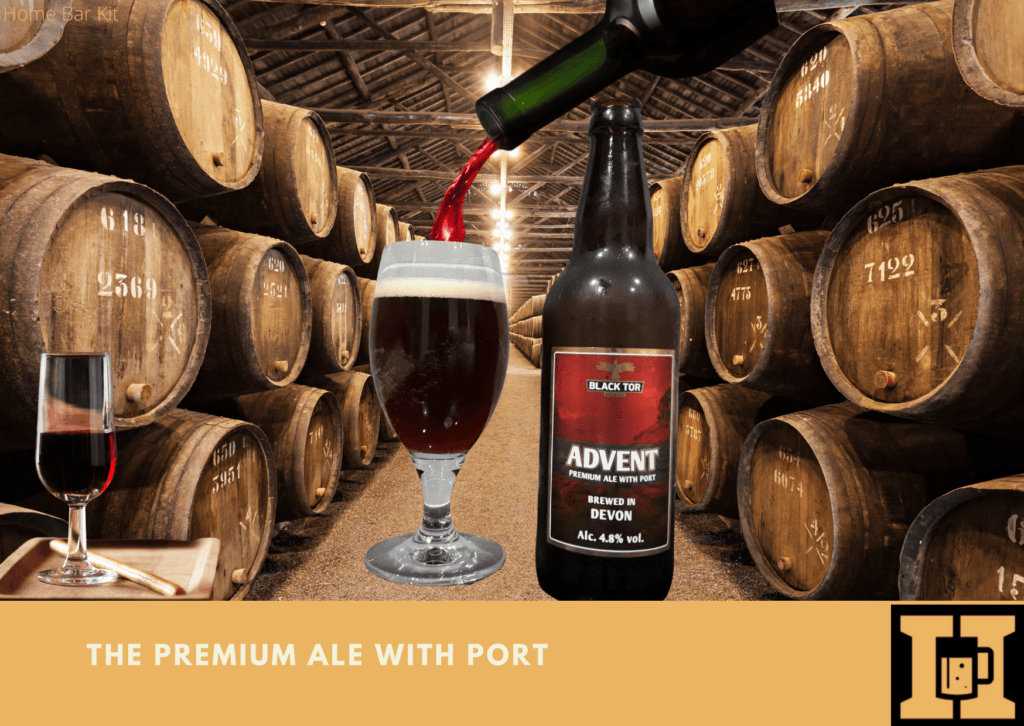 A premium real ale is a thing of beauty, a glass of port is a thing of beauty. Infuse the two and for me it has to be a winner. I love both, and although port does relate to the festive season for some. I am happy to have a tipple year round.
It works too, well Black Tor have made it work and I think it should be available all year round. But that is just me, so when you see it grab it because it is worth it.
The pour is a triumph as it cascades around the glass resembling the Black Tor Falls. As it settles a beautiful red hue glistens over a deep brown body. A rich ivory foam forms a delightful topping and the picture is complete. Aromas escape the creamy top and fill the air with roasted malt entwined with a fruity chocolate sweetness.
The taste is a full one with a smooth bitter chocolate charm flowing into a lavish buttery caramel topped with sweet fruity berries. All the while a committed roasted malt background supports and brings a nutty bite at the end. It all leaves you with a satisfying port like ripe fruity aftertaste.
As much as I could enjoy this beer year round, it is not one to session on, just a little too rich for that. But if you are brave it does fall into the session bracket with its 4.8% Vol. A festive triumph which is also good in April, it gets a fine rate my beer of 4.4 – 5.0.
More Beers I Have Enjoyed.
More Black Tor Beers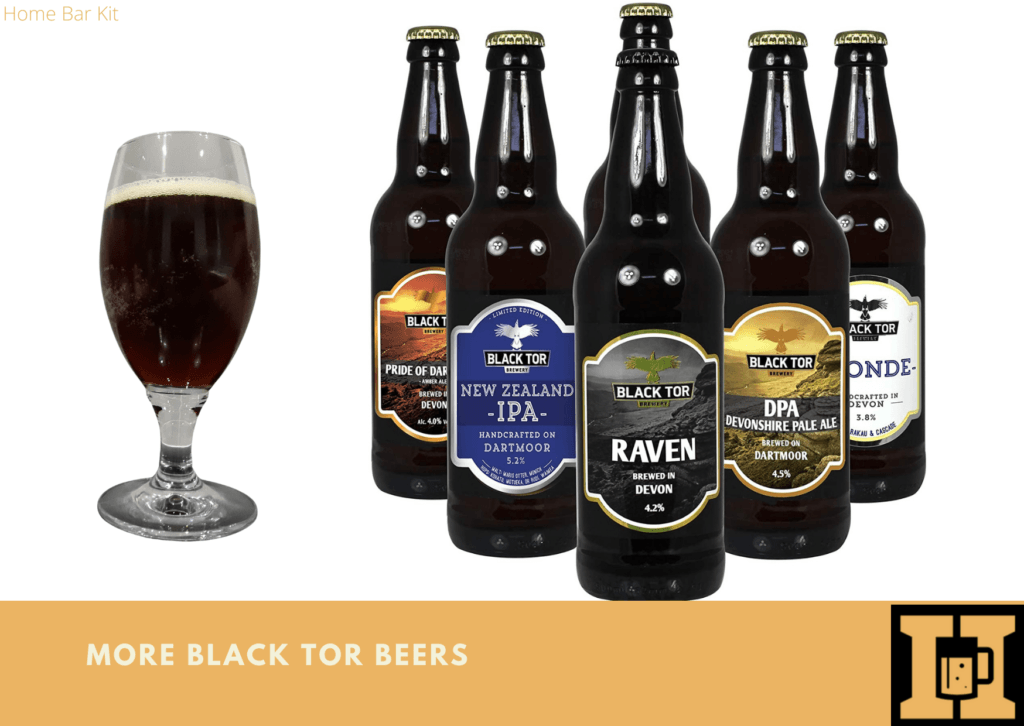 Black Tor is a great brewery producing some great beers from a picturesque part of Devon. Not that the whole of Devon isn't picturesque because it is. If you haven't been yet and get the chance then it is worth it, you can visit Black Tor while you are there.
Dedicated to brewing quality cask and bottled beers Black Tors core range consists of a best bitter, an amber ale and a DPA. You may be wondering what a DPA is, I will include it below, so keep reading.
Raven
To kick things off we have the popular Raven best bitter a classic style bitter. I have had this on tap several years ago, but it is hard to remember what I thought. I reckon I loved it, a chestnut brown brewed with English hops.
It has a fruity aroma blended with a caramel background, and a rich malty base with a full body. At 4.2% Vol it will support a session and has to be a go to bitter for those that have it on tap in their local. I've got my eye on it.
Pride Of Dartmoor
Black Tors original and best selling ale comes in the color of Amber and sports a malty biscuit body. With its floral and caramel notes it oozes a golden brown nutty, buttery bitter flavor.
At just 4% Vol it's another go to ale that will accommodate a great session with friends or family. I am yet to try this golden wonder, but look forward to it.
DPA
What is this DPA? Have you guessed it yet?
It's a pale ale, a Devonshire pale ale and one that delivers that true citrus hit you would expect from this style of beer. Made with English and American hops it is an easy drinking beer that is light and crisp.
Its smooth, its balanced and its a bitter little gem. A floral delight on the nose it hits you with its citrus flavors with a bitter base. At 4.5% Vol it has a little more strength than the other two, but is still on for a session. This one is for all year round, not just for Christmas.
Final Thoughts
Apart from my blunder of drinking a festive beer in spring, its all good. The brewery is fine and the beer is good too. That is going on their Advent Premium Ale with Port, like I said, I have had Raven some years back, but have to revisit in the future.
Just as I will visit their other two Pride Of Dartmoor and DPA. Beyond those I will keep an eye out for their limited addition beers and their seasonal beers too. I will just try and drink them while they are in season this time. If you have had any beers from Dartmoor's Black Tor Brewery then share your thoughts below. What do you think?