Born in 2009 on an annual trip to the US, this hoppy little number has gone from strength to strength since its release in 2010. Winning its first award in the same year and picking up many more since. It claimed gold, the champion beer of Britain 2019 for golden ales. But, is Citra Session IPA any good then?
Well you would think so wouldn't you, I mean its won many awards over the years. I was drawn in by this beer when I saw it on the shelf in a store. You can't miss it really, it shouts at you as you try to walk past. From the wacky label design to the zesty flavor hit this beer is hopping mad.
Is Citra Session IPA Any Good?
For me it is a resounding success, a lively go to IPA. The pour sees a light golden river of beauty come to settle with a thin white head. This all but disappears leaving the slightest of covers. On the nose it is a lively citrus hit of tropical essence, pineapple, lime and mango come to mind. Dare to dive in and your taste buds are in for a treat. Initially it is like being slapped round the face with a bag of hops, in a good way of course. The citrus is there backing up the hoppiness with a zesty tropical fruit bonanza washed down with a little bitter edge. A triumphant rating of 4.7 – 5.0.
A convincing session IPA that might just become an old favorite.
Oakham Ales
John Wood is the founder of Oakham Ales, he started brewing in 1993 after being made redundant from an insurance company. Having an interest in home brewing, John took the plunge and set up his own small brewery located in Rutland, England.
Another interest that John had was Morris Dancing and he served with the Rutland Morris Men as a musician for many years. If that went right over your head, then take a look at The Morris Ring and all will become clear.
Back to beer.
Working on his own he came up with a now renowned beer called Jeffrey Hudson Bitter or JHB as it is also known. Named after Sir Jeffrey Hudson who was also known as Lord Minimus and only stood 3'6″ was in service to King Charles l. Jeffrey was born in Oakham in 1626, His story in fascinating, you can read it at History Extra.
John Wood who sadly passed in 2018 retired from his brewery just two years after starting it. In 1998 the brewery was moved to Peterborough and brewing continued with the now head brewer John Bryan. From the start John Wood was a pioneer in the world of ale, leading with new ranges of hops. Something that John Bryan took on board and still explores to this day.
In 2009 John Bryan discovered a new exciting hop in his annual hop seeking trip to the USA. The hop in question is Citra, which he brought back to the UK and Citra Session IPA was born. The beer was launched the following year and became a permanent Oakham Ale. It now has many awards under its belt, and for good reason.
Is Citra Session IPA Any Good?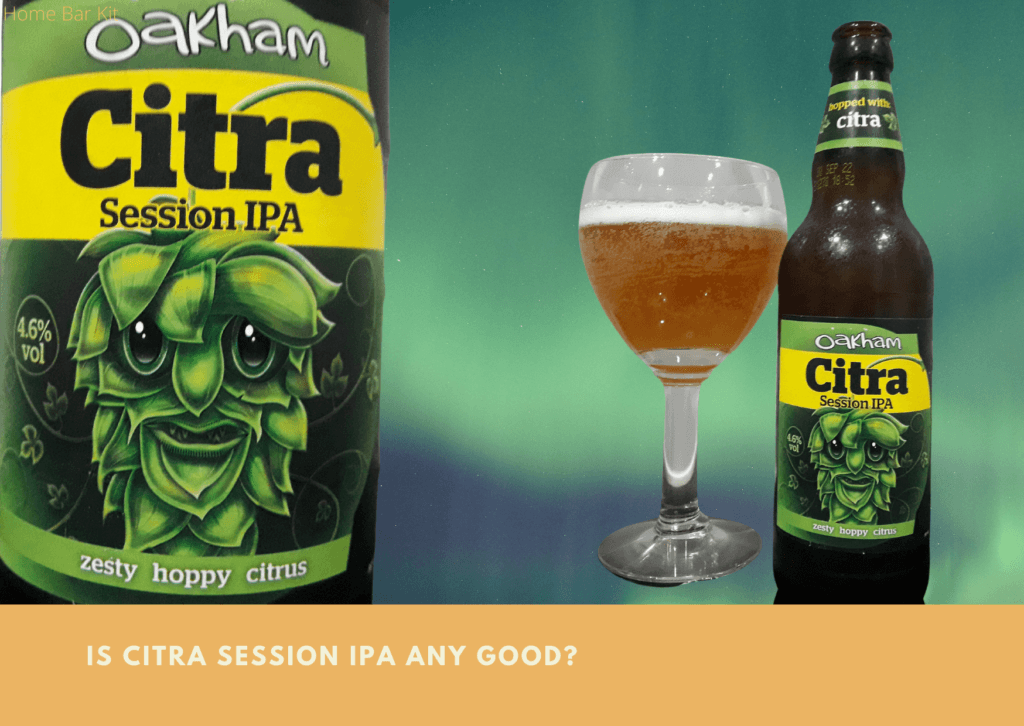 It is lively, energetic and vigorous, but most of all it is a good beer. I may go as far as to say that it is a great beer. In fact it has a lot going for it, and not just the vibrant green and yellow label design. Although the label does reflect the beer, unlike some that seem to be a let down from the visual to the taste.
It screams everything a good IPA should, hoppy, citrus and a fully loaded hit of zest for good measure. It hits the sweet spot in terms of a being session beer. Made with 100% Citra hops gives it that strong floral and citrus body with a smooth bitterness. Refreshing and moreish it is hard to say no to a second pint, clever work John.
The Citra Session IPA Experience
Mr Hop with his wild hoppy locks glares at you from the label goading you to enter his world (yea I know, a bit over the top:). When you pluck up the courage to open the bottle and pour, the world becomes a brighter place.
It is like liquid gold streaming around the glass and settling to a shinning glow with a thin white cap. Indeed it's a glass of sunshine bursting with sweet floral aromas pulling you in for a closer sniff. A tropical paradise wafts from the glass with signatures of grapefruit, pineapple, lime and mango.
The moment has come for a taste and there is no disappointment, more a delight to the taste buds. The distinct hop cascades around the mouth with a medium carbonation. While a huge zesty hit wakes up those buds with a torrent of tropical citrus. After a circus in the mouth, a smooth bitter ending calms everything down.
You are left feeling hopped if you know what I mean and you just want to do it all over again. At 4.6% Vol in the bottle Citra IPA sits comfortably as a session beer. Equally its cask cousin also stands in the session bracket at a slightly lower 4.2% Vol.
It's a winner, and gets a high rating of 4.7 – 5.0.
Give Me More From Oakham Ales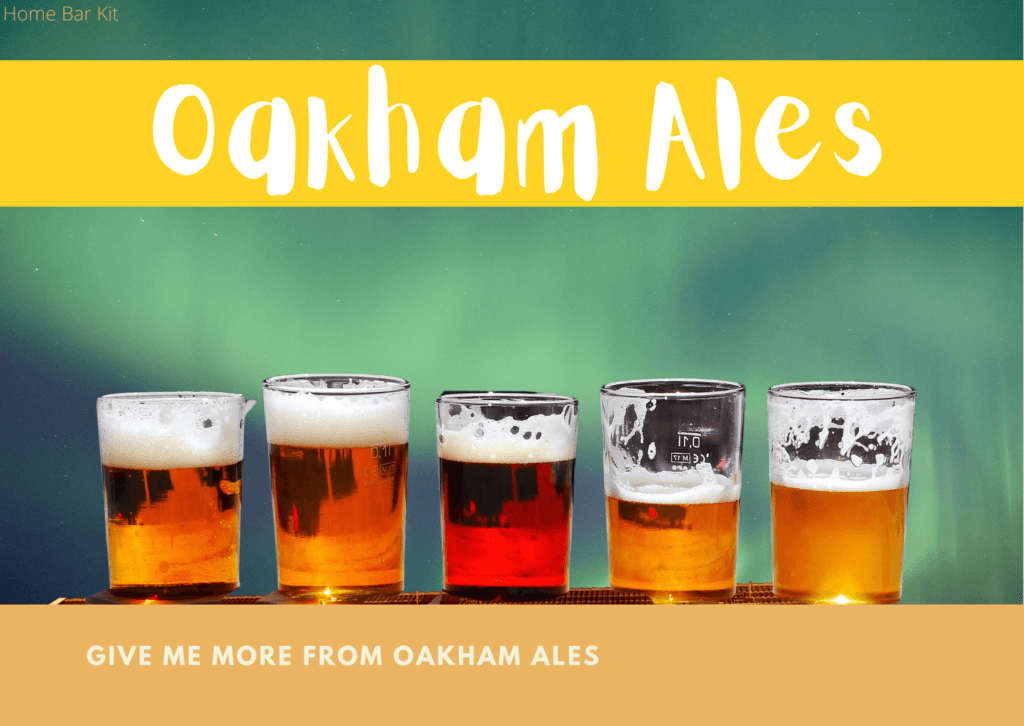 Oakham have a good range of core beers as well as featured seasonal beers. Obviously the seasonal beers are limited in their time frame. Additionally they also have cask aged beers that are treated like fine wine. Aged for the aromas and flavors to develop, producing high ABV beers with the smoothness of a lesser strength ale.
For now though the core beers are in my eyeline and will hopefully be in my cooler soon.
Jeffrey Hudson Bitter
I had to look at the Original bitter from this great brewery outfit first. JHB was John Woods first beer and he hit heavy on the hops, which at the time was not herd of. Over time the hops have increased more with a little tweaking to improve the recipe for today's tastes.
JHB is a light gold beer which has a smooth body with plenty of fruitiness and finishes of with a hoppy ending. On tap it is a modest 3.8% Vol which I have experienced in the past, but definitely need to refresh my taste bud memory. The bottle version is slightly higher with a 4.2% Vol and is now on my hunting list.
Using Mount Hood and Challenger hops may give this beer its fruity but smooth clean bitterness. For me its a must try beer in memory of Little Jeffrey.
Green Devil IPA
An IPA with a big ABV and definitely not in the session range. In fact this beer is seen as the big brother of Citra Session IPA. Again another beer from Oakham that has gained many awards over the years. Being double hopped and using 100% Citra it has a powerful fruity citrus base. It ends with a crisp refreshing end and has the strength to go with it.
Green Devil is a permanent Oakham beer, but is part of the aged cask range. It is brewed in the same way as their other beers, but then goes through an extra care system. Being racked in its cask and aged for a minimum of six weeks to help the aromas and flavors develop.
The result is a strong 6.0% Vol beer that has a devilish bite and a refreshing edge.
Inferno
A lively blonde beer, Inferno was first brewed as a special in 2004. However it made the grade and in 2008 found its way into the core range. It is a truly hoptastic beer with a variety of five hops from the Yakima Valley, America.
Amarillo, Cascade, Centennial, Chinook and sterling is the star line up. Giving this beer a big presence with powerful fruity flavors. In cask it comes in at a humble 4.0% Vol, whereas its bottle cousin pushes forward with a slightly higher 4.4% Vol.
Again another multi award winning beer with a clean and fresh palate.
Final Thoughts
So then Oakham Ales have got a good range of core beers, as well as cask aged and seasonal ranges. A brewery that is not far off 30 years old and producing a modern range of ales that can be described as crowd pleasers.
I think its fair to say that I may have developed a liking for the Oakham Ales. In fact if Citra Session IPA is anything to go by, then I am looking forward to trying their other beers. Any beer lover would do well to give Citra a try, you might just fall in love with it, like I did. I am pretty sure you might start hunting down the rest of the Oakham range.