Who likes Franziskaner Weissbier? Well a lot of people do, however I am not so keen. I had high hopes for this beer, but it just didn't live up to my expectations.
A popular beer throughout Germany and the world and one with a long history. Being a German beer I thought I was in for a treat, but was left slightly disappointed and underwhelmed.
Who Likes Franziskaner Weissbier?
As you can tell, not me in particular. However it is a good beer, you can tell the quality of the beer. I am a fan of wheat beers, but this one just fell off the cliff for me. It pours a cloudy burnt orange with an ample white head. The nose is strong, a bready malt hits with a spicy banana over the top. The taste is like a boiled sweet that's made of banana, it is almost powdery in the mouth. A little spice comes through, but the whole thing is really sweet. For me its a let down and gets a rate my beer score of 3.4 – 5.0.
I wanted to like it, but it didn't work for me.
Spaten Franziskaner Bräu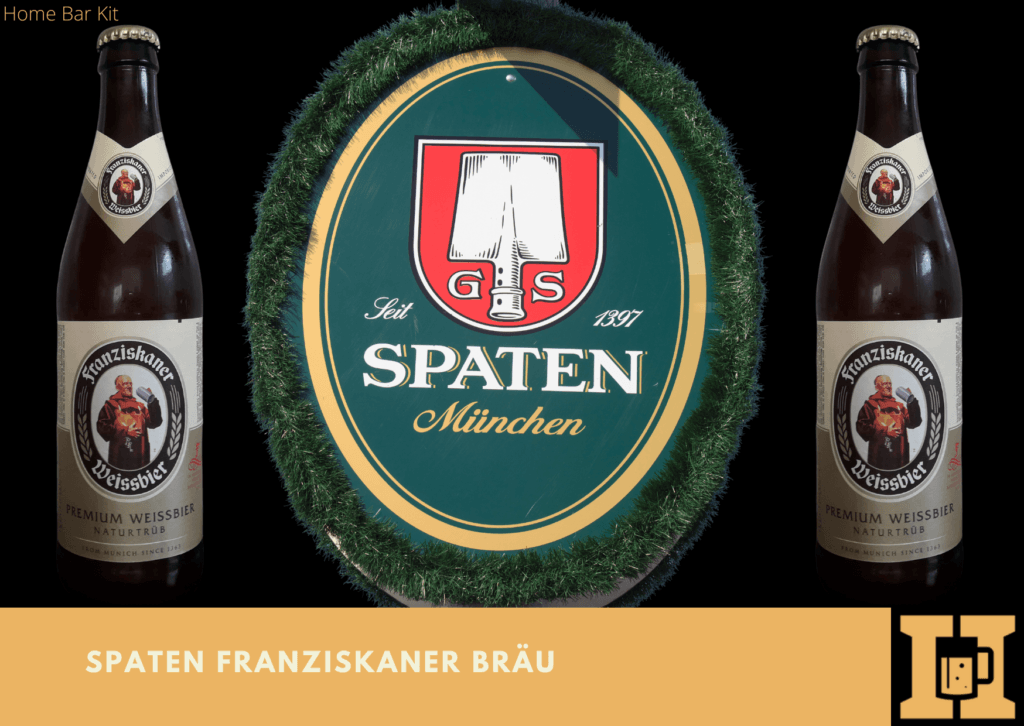 Spaten Franziskaner Bräu is the brewery that makes this beer and is based in Munich, Bavaria, Germany. It has been brewing beer since 1363, so despite me not liking this beer, I think they know what they are doing.
A brewery that old is going to see some changes, and it is no surprise that it has changed hands a few times. In fact many times over its long history with some name changes too.
In 1622 it was acquired by the Spatt family which is where it got its current name. So although it has changed hands many times since then, the name has remained.
Spaten apparently means spade in German and a silver spade has been a logo on the beer. Franziskaner is Franciscan in German and refers to a religious order. This why there is a monk on the label.
Today the brewery is owned by AB InBev, now there's a surprise.
The brewery brews beers in accordance with the Bavarian purity law. This stipulates that water, barley, malt and hops are the only key ingredients for brewing beer. Yeast was later added to this list of ingredients.
Spaten Franziskaner Bräu are one of the breweries that brew beer for the famous Oktoberfest. Which by the way is coming up soon, and start on the 17th September. It is the 187th Oktoberfest.
Who Likes Franziskaner Weissbier?
This style of beer is very popular in Germany and Belgium, which is probably why they brew them. Many other people around the world are big fans too.
As a wheat beer, this one just didn't work for me, it is no where near as good as Hoegaarden Belgium beer. I haven't had one them for a while, I will have to put that right.
Franziskaner Weisbier on the other hand is just too sweet, and seems to have a synthetic like taste.
However that is just me, others seem to love it. There are plenty of people that think this beer is one of the best of this style.
Drinking Franziskaner Weissbier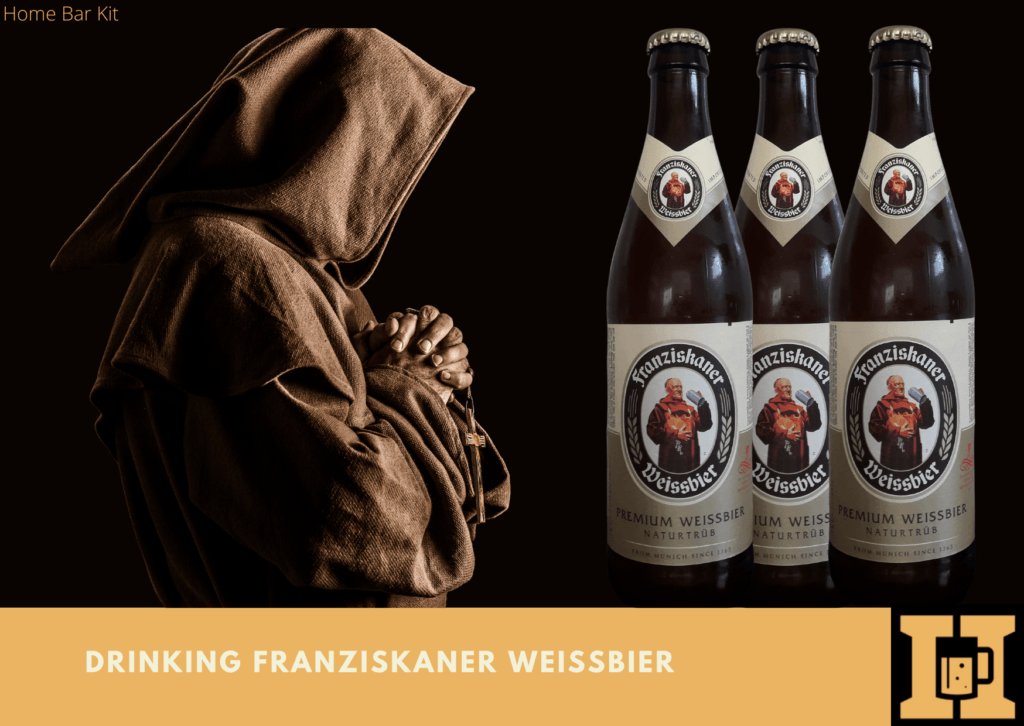 Like I said I was looking forward to trying this beer. The bottle looks great with its old style label and monk enjoying a beer on the front. This only encouraged me more, so I had to get it open.
It poured a cloudy dirty orange with a lavish white foamy head. This does fade quickly, but leaves a nice thin lid on top of the beer. So far so good, it looks great.
The nose is strong with a distinct bread aroma with banana floating on top. There is a citrus note which carries a little spice with it. It smells light and powdery and at this point my enthusiasm begins to wane.
The taste didn't pick me back up, you get the malty bread taste coming through. However this is totally over run by the banana. It is very overpowering and sweet too, a little spice floats on top, but it can't compete with the banana. The only relief is a small amount of citrus lemon, but again banana wins that fight too.
As the beer goes down it leaves a beautiful lacing around the glass. However the sweetness builds too, the mouthfeel is powdery and just way to sweet for me.
At 5.0% Vol it is safe as a session beer, but no thanks.
For its style this should probably score higher, but for me it gets a rate my beer score of 3.4 – 5.0. M'Lady wasn't that keen on it either and scored it a slightly higher 3.8 – 5.0.
Spaten Franziskaner Bräu Range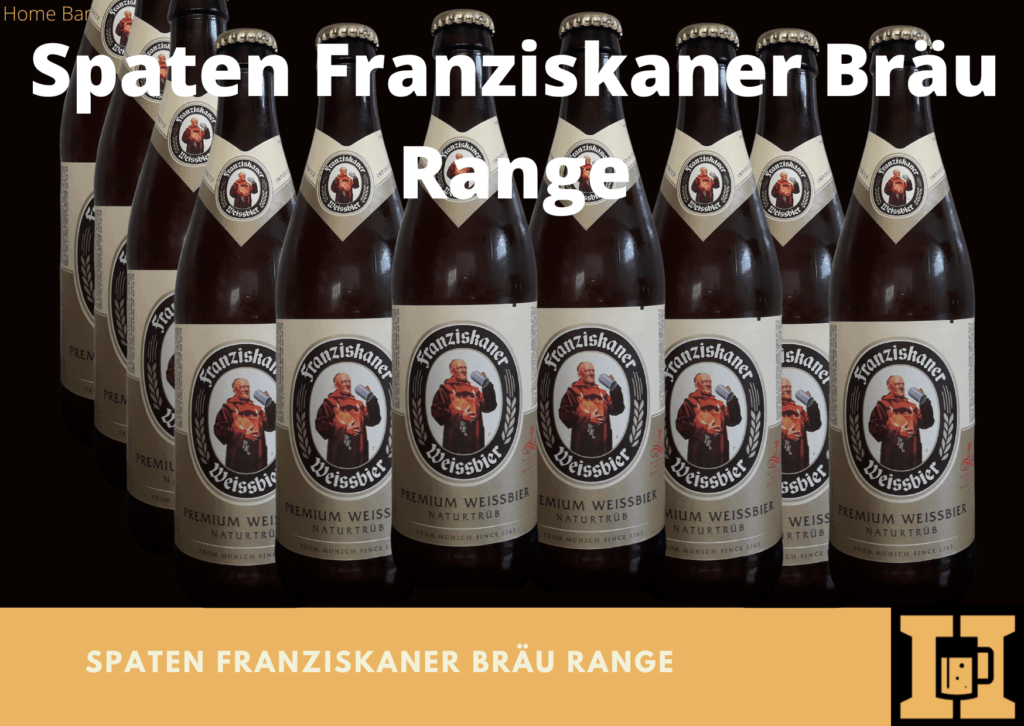 Even though I am not keen on this beer, I still want to try their other brews, I am sure I will find one I like. Maybe all of them, there are a few, they can't all be about the banana.
After all the Franziskaner is said to be one of the most successful wheat beer brands. And with their long history of brewing that has to say something.
So I will feature a few below that I am going to try in the future.
Franziskaner HefeWiessbier Naturtrüb
This is a yeast wheat beer that is naturally cloudy. It is light copper in color and sports a lavish white foamy head. Aromas spill with fruit of which banana stands tall with a citrus undertone.
Not more banana, I like bananas, I just don't want them in my beer. It has a high carbonation and is said to be fresh with subtle spices and plenty of fruit flavor with a sweet finish.
I have suddenly gone off this one, but I will still give it a chance. Who knows at 5.0% Vol I may have more than one, I am so optimistic.
Franziskaner Royal
It pours a deeper of burnt orange again with a generous white top. Said to be a wheat beer enjoyed in its most beautiful form. Oh guess what, the aromas are a blend of bananas, melon, apricot and dark berries with a little fig thrown in.
The taste has a slightly tart front which is struck down with a sweetness of the wheat beer style. A little malt raises its head to finish.
It's not a session beer at 6.0% Vol, so just the one then.
Another banana concoction that puts me off, but I will hunt it down and give it my best shot.
Franziskaner Kellerbier
This one is a bottom fermented beer unfiltered and naturally cloudy. Amber in color with a full body it is brewed with bottom fermenting yeast which takes it away from a wheat beer.
This cellar beer has low carbonation and a soft mouthfeel. And guess what, nope there is no mention of banana. Hooray, instead it has a soft bitter front with a malt and spice body, that sounds more like it.
At 5.2% Vol it is not a session beer, however it just rides slightly high of this, so I might have a bananaless second one just to celebrate.
Final Thoughts
Well that was interesting, a fine traditional brewery producing some fine beers, albeit revolving mainly around bananas.
That being said I am looking forward to trying the Kellerbier, and maybe the other two might not be as strong on the Banana front as the one I tried today.
I know many people like it, but it was just too sweet for me and the mouthfeel felt powdery. However if you have had this beer, then share your thoughts. Do you love it or hate it?
I hope you like it, anyway I'm off to get a banana 🙂