There is nothing like a golden ale to quench the thirst and this one comes from Gower Brewery. In fact it is their flagship ale and a popular one at that. However is Gower Gold Ale any good?
I did have a pint of Gower Gold a few years back on a visit to Mumbles (a beautiful place) which is known as the gateway to Gower. I am pretty sure from memory that it is a decent pint. So I thought it was time to refresh and try it again.
Is Gower Gold Ale Any Good?
Gower Gold is a good beer, refreshing with a solid body, it hits the spot. It pours a light golden copper with a very generous fluffy top. On the nose it is subtle with a mild malty base and a little kick if citrus. The taste is more powerful than the nose. It starts with a slightly sweet malty biscuit that develops with a citrus hit. Flavours of grapefruit and lemon give it a zesty edge. A satisfying bitterness comes in at the end for a nice finish. I like it, and it gest a rate my beer score of 4.1 – 5.0.
A good solid golden ale from Gower Brewery.
Gower Brewery
A brewery founded in 2011 by four friends and set up at one of their pubs. Work started with acquiring a 5 barrel brewery equipment and the renovation of the building they were setting up in.
The goal was to start brewing on a particular date in November, the date is 11-11-11. So they had there work cut with little time to di it in.
Success was had and they completed their first brew on the afternoon of the 11th November 2011, simply named Brew1.
Since then the brewery has seen steady growth with a move to an industrial unit and many awards under their belts.
January this year saw an update to the look of some of their bottle labels getting a fresh new look. Including Gower Gold with a new golden beach scene.
The brewery also have a few venues to enjoy their beer too. One at the brewery itself, the Brewery Tap Crofty, after the industrial estate it sits on.
Then there is the Malthouse, Swansea which is a partnership with Swansea Grand Theatre. And the latest addition is the Taproom Mumbles, which is a collaboration with Pieminister. Enjoy a pie and a pint in the heart of Mumbles.
What Is Gower Gold Like?
It is like an original golden ale, and it is one of the Gower Brewery originals. Brewed since December 2011 this beer has become a popular ale in the Gower range.
The brand new look label on the brown 500ml bottle is shinny gold with a shoreline beach scene and the sun in the background. It looks fresh and is a good update on the old label.
So what is the beer inside like?
Drinking Gower Gold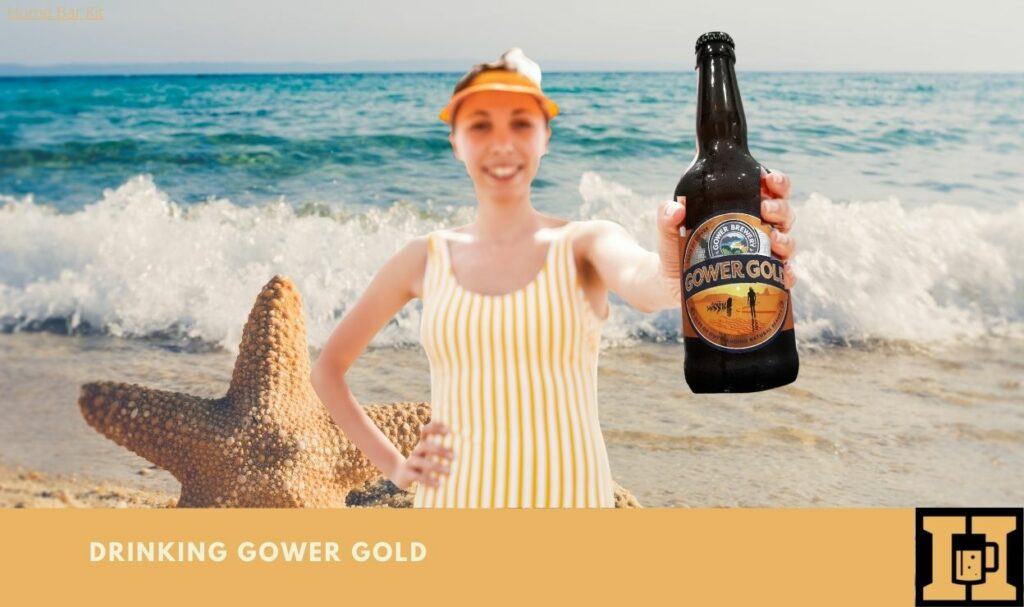 A lively pour sees the beer settle to a light gold copper with a generous fluffy white head. Streams of bubbles rise in the glass and the white top gradually fades to a thin cover.
The nose is subtle and mild malt notes are followed by citrus and the slightest floral background.
In for a taste and a good malty biscuit base kicks things off, followed by a fresh hit of citrus. A distinct grapefruit flavour dominates the citrus kick with a subtle lemon lending a hand. This all finishes with a well balanced bitter end.
It's a decent golden ale, nothing that really punches you in the taste buds, but a good solid beer nonetheless. At 4.5% Vol it is a refreshing session beer and for me gets a rate my beer score is 4.1 -5.0.
M'Lady is of similar mind saying "It's like a strong beefy lager with a nice touch of citrus and not too bitter". Lou scores it a close, but lesser 3.8 – 5.0.
Gower Beer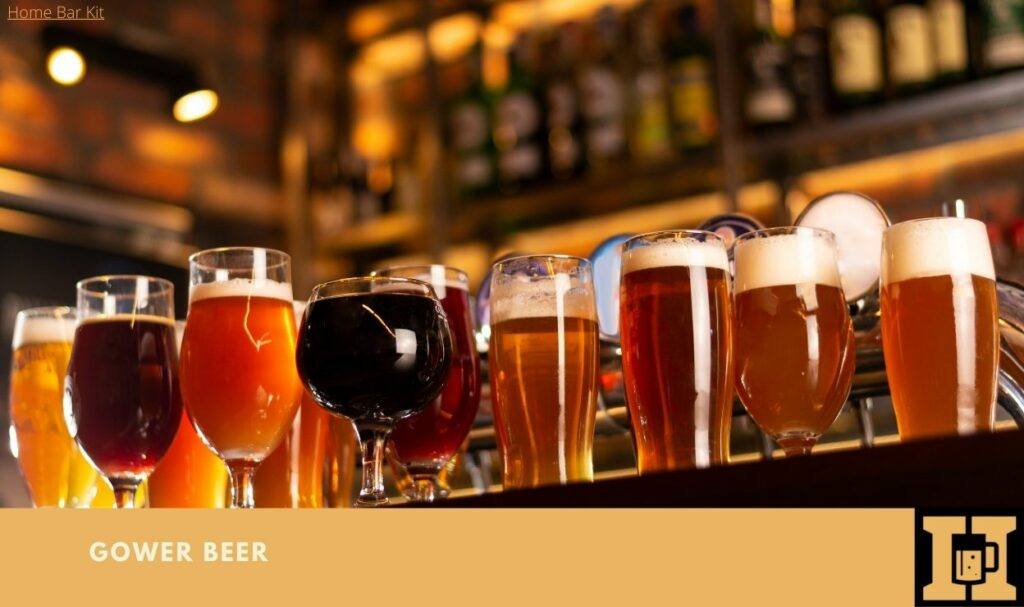 Gower Brewery have a decent range of beers, some of which have been around for years. There is something for everyone, from a lager and a cider to a light ale, ruby ale and porter.
They are available in bottles as well as mini kegs, and of course on draught too. Here are a few that look like they need investigating.
Lighthouse
Lighthouse is a continental style lager inspired by Czech lager and named after the Whitford Point lighthouse off the Gower coast.
A fresh crisp lager with a touch of citrus zing, it is ideal to quench the thirst on those hot summer days. Another Gower beer that site in the session bracket at 4.5% Vol.
A Welsh Lager worthy of a try.
Rumour
Rumour is a ruby ale and apparently inspired by the ladies that gossip out on the cockle beds and may be responsible for a Gower rumour or two.
Crystal and chocolate malts make up this ruby ale for rich notes of caramel malts. Thrown into the mix is a well rounded fruity edge with notes of citrus. I hope there is some bitterness too.
At a straight 5.0% ABV it site right on the fence of session.
Black Diamond
It's is all about the malt with Black Diamond made with five different malts. So we can expect rich maltiness with coffee, chocolate and liquorice flavours.
Sounds like a rich decadent porter that may fit well as a dessert beer. It weighs in at a mild 4.2% Vol so a few could be on the cards.
Although is it too rich for more than the one.
Final Thoughts
Gower Brewery are well established and have a good range of solid beers, although I haven't tried them all yet. But I will be working my way through them over time.
Gower Power is one I recently tried and I have to say, I do prefer that to Gower Gold. Having said that, they are different styles and I guess I just prefer a real ale over a gold ale.
That doesn't take away the fact that Gower Gold is a decent beer. If you have tried this beer or any of the Gower Brewery range, then do share your thoughts below.