Madri Excepcional is a premium lager that has taken the UK by storm in the last few years. The marketing gave us the impression this is a Spanish beer making its way to the UK. A premium Spanish lager with a drinkable 4.6% ABV, what's not to like? So is Madri Excepcional a hit or miss?
Unfortunately this beer is not what it seems to be. In fact it is a mass produced UK beer dressed in Spanish clothes.
Is Madri Excepcional A Hit Or Miss?
In terms of success in the beer market it is a massive hit. Apparently delivering the highest value sales of an alcohol product in its first year. However for me in terms of it being a great premium beer it is a big miss. Nothing more than a mundane middle of the road lager. Yes it is drinkable and quite refreshing but there is nothing exceptional about it. It gets a rate my beer score of 3.4 – 5.0.
So what is Madri and where did it come from?
Molson Coors/La Sagra
What can you say about Molson Coors Beverage Company except it is massive. A big player in the beer market. However its history is interesting and dates back to 1786 with John Molson and 1873 with Adolph Coors.
It has come a long way since then, swallowing up many breweries over time an becoming a huge drinks company. Brands such as Coors Light, Miller Light, Carling, Blue Moon and Staropramen are just the tip of the iceberg.
To find out more about Molson Coors history pop over to their history page where there is a timeline.
So what about Madri lager then?
Well Madri is a collaboration between La Sagra a brewery in Toledo, Spain and Molson Coors. La Sagra was founded in 2011 by Carlos Garcia.
In 2017 Molson Coors invested in La Sagra brewery and in 2020 Madri Excepcional was launched. Although it is a collaboration between the two companies it doesn't seem to be brewed in Spain at all.
In fact it is brewed in the UK at Tadcaster, Yorkshire by Molson Coors. Looking at the label with the Chulapo fella on the front and the words 'El Alma De Madrid' which translates to 'Soul Of Madrid' it does seem like it is a Spanish beer.
But in reality it is just a British beer with the spirit of Spain.
What Is Madri Excepcional Like?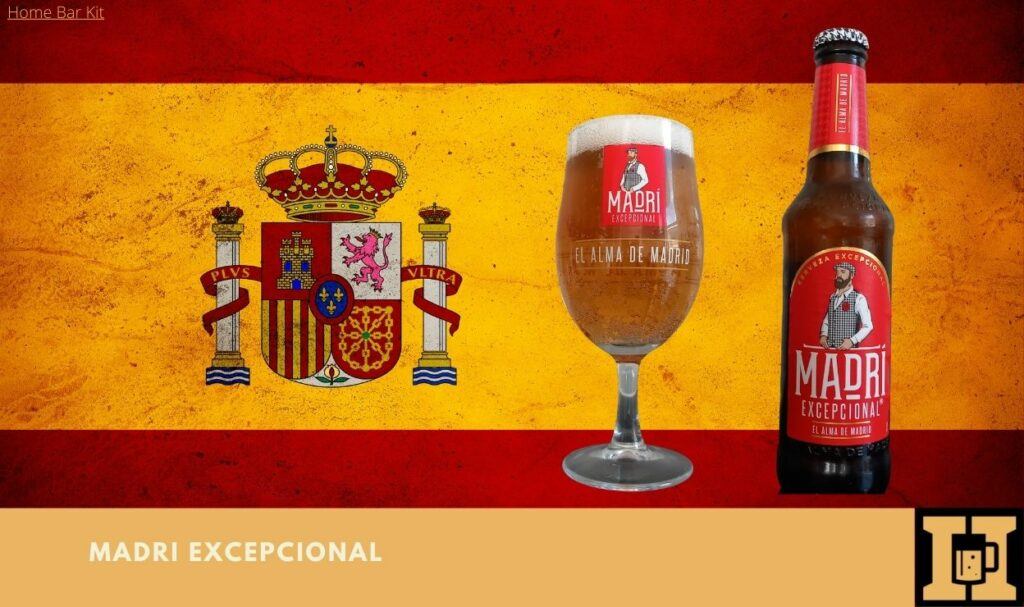 I am not sure whether the recipe for this beer comes from La Sagra brewery or Molson Coors. Maybe it is a joint effort, but it is brewed in the UK.
Although it looks Spanish and a Spanish brewer may have had a hand in the recipe that's as far as it goes. Madri is just a new beer brand fashioned by marketers at Molson Coors to fit into the popular Mediterranean lager trend.
It is a give them what they want beer made to look like something it is not.
So how does it stand up then?
Drinking Madri Excepcional
It pours a light amber gold with a one finger fluffy white top. A constant flow of bubbles rise to the top keeping the head alive.
On the nose it is subtle with a slight malt aroma and a little cereal like grain.
The taste is a similar affair with a little malt base and a powdery edge which ends in a slight bitter finish. The mouth feel is quite smooth, but there isn't much body.
It is a typical macro style lager, crisp, dry and refreshing, but not much flavour. At 4.6 % Vol it is a decent strength for this type of beer. It gets a rate my beer score of 3.4 – 5.0.
M'Lady has a similar view saying "Very little nose, fairly smooth but nothing backing it up, a bit bland". Lou scores it a surprisingly higher 3.8 – 5.0.
I have tried this on tap too when it was first launched in 2020. People were raving about it and saying "try one, its great."
So I did, and then went to the only decent beer I could find on the array of macro taps lined up on the bar, Shed Head pale ale.
Molson Coors Brands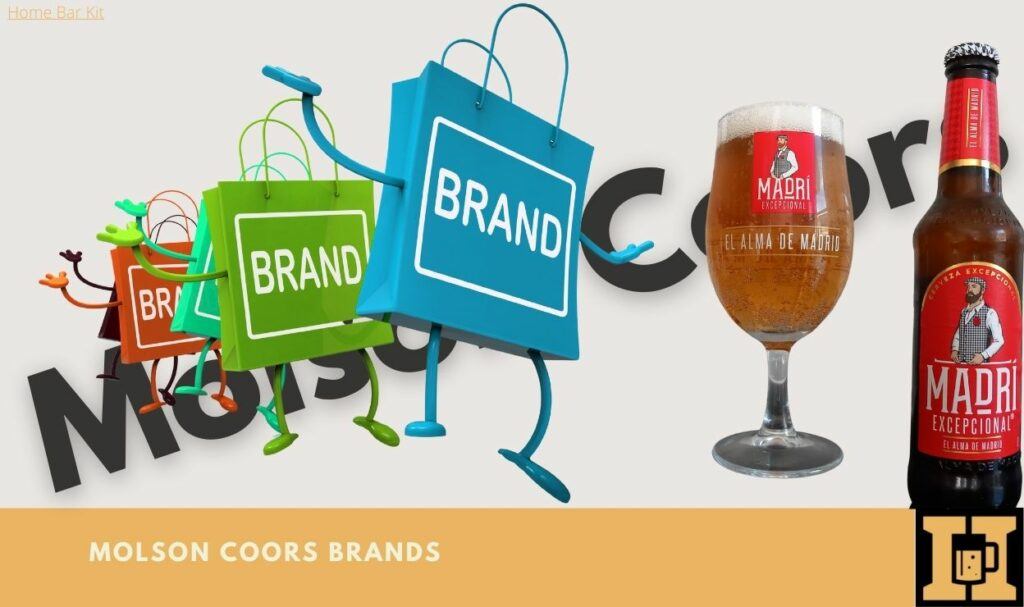 As you might imagine there are plenty of Molson Coors brands. However I didn't think there was as many as there actually are, wow.
The obvious ones we all know or expect are of course Coors, Coors Light, Coors Original, Miller Light, Miller 64, Molson Canadian, Molson Dry and Molson Export.
Then you have got Carling, Fosters, Caffrey's, Cobra, Grolsch, Lech, Ostravar, Pravha, Sol and Worthington's.
But what about Bavaria, Bergenbier, Colorado Native, Granville Island, Hop Valley, Noroc, O'Keefe, Peroni, Sharp's and Tyskie.
And that is not all, the list goes on an on, Molson Coors really are a massive drinks company.
Final Thoughts
Going back to Madri Excepcional, the label looks appealing and the beer is okay. However for me it just doesn't live up to what you expect from it.
I would say it is a standard lager that fits into the same area as Carling and Fosters. The same body and the same kind of taste, which is well, as Lou said, a bit bland. The only difference being it is higher in ABV.
I will quite happily drink it if there is nothing else on offer, but there are far better beers readily available.
Madri might be a hit for Molson Coors in terms of sales, but for me it is a big miss.
What do you think of Madri? Excepcional or not? Do share your thoughts below and let me know what you think.