Whenever I see a Northern Monk beer in my fridge I am happy. This one is a twist on their popular Faith Hazy Pale Ale, a limited edition version with a little more tropical bite. But how good is Faith In The Tropics?
The original Faith which is one of their core beers, is a favorite of mine. So when I saw a twist edition I had to take a closer look. However is it an improvement on the original or have they gone too far?
How Good Is Faith In The Tropics?
It's good, but not as good as the original Faith, but it is certainly tropical. It pours a hazy orange with a fluffy generous head. The nose is vibrant with a hoppy tropical explosion. The fruit that stood out for me was pineapple and pear. The taste has a real smoothness with a medium carbonation. There is a taste of fruit salad with pear, pineapple, mango and an orange feel over a creamy malt background. The after taste is totally tropical with a slight sweetness. It gets a rate my beer score of 4.4 – 5.0.
I like it, but the original Faith is a better beer.
Northern Monk
The brewery Northern Monk is based in Holbeck, Leeds in the north of England. A proud independent brewery run by Russell Bisset and Brian Dickson.
They have a firm commitment to the Northern community and beyond. Working with other businesses and charities to promote positive change. Their Patrons Project is one way they are able to do this, which of course is through beer.
The beers they brew are inspired by the traditional Monastic brewing by Monks. As well as producing the best beers with quality ingredients.
Each year they run a homebrewing competition with any home brewer in the UK being able to submit their beer. The winner gets to have their beer brewed at Northern Rock, which is pretty cool.
Alongside this they also run an artwork competition for the can design of the winning homebrew beer. I think entries are closed for this years competition. However any homebrewers or artists have a year to perfect their beer or designs for 2023.
The brewery has come a long way since their humble start back in 2014, and produce a lot of exciting new beers.
How Good Is Faith In The Tropics?
So it's a tropical milkshake twist on the original Faith Hazy Pale Ale which I love. Faith is a perfectly balanced hazy beer, and already has enough tropical fruit.
However the monks have blown it up in the tropics and the result is a zesty fruit explosion. For me it didn't need any more fruit, but they did it anyway. At least the original Faith is one of their core range beers, so stays intact.
This one is a limited edition and not the only twisted Faith. There have been a few including Holy Faith a 0.5% Hazy Pale and Divine Faith a hefty 8.4% DIPA.
Anyway back to the beer in hand.
Drinking Faith In The Tropics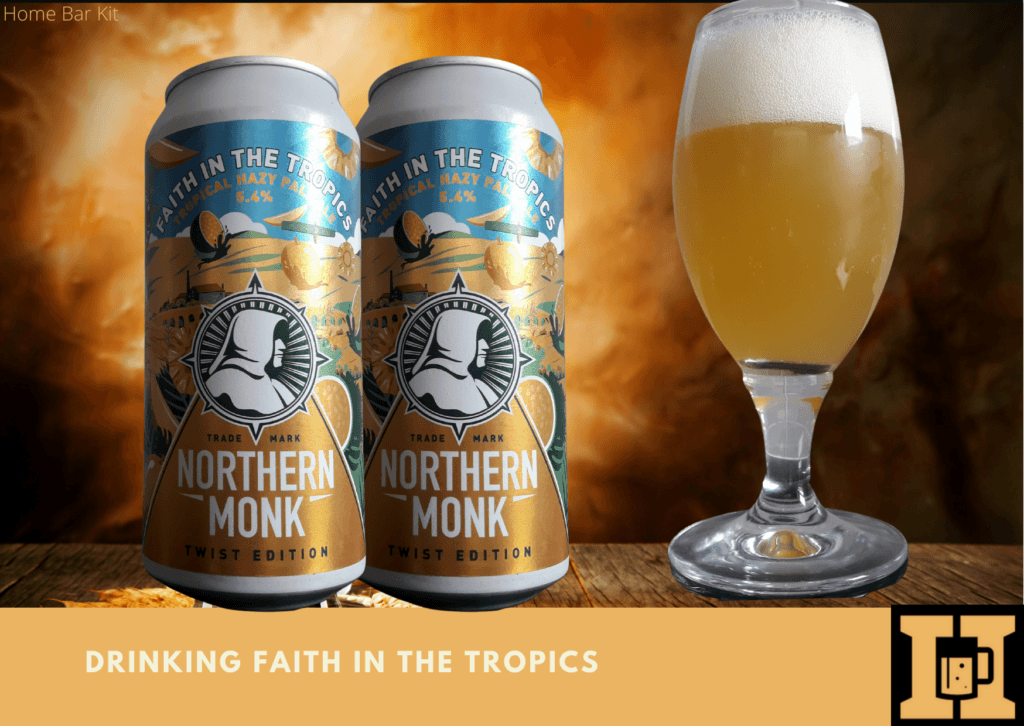 The can design is a typical Northern Monk design, the rolling fields of the north overlooked by the Angel of the North. Giant tropical fruits like passionfruit, pineapple and banana are dotted around the fields.
It looks inviting and needed opening immediately.
I like to pour most beers aggressively and this one was no different. It looked just the same as the original Faith, an orange sunshine settled in the glass. The head is a tight knit congregation of fluffy white bubbles.
Although the generous head fades it does leave a moderate top and a little lacing decorates the glass as you drink.
The nose is lively with a circus of fruity notes bombarding the senses. The most prominent fruits for me were pineapple and pear, M'Lady also picked up an orange scent.
The taste hits you with all the fruit you can handle. Again pineapple and pear are up front with a more subtle mango and something I could not nail down following. This may be the passionfruit or banana which give it the fruit salad vibe.
A medium carbonation lends out to a real smooth mouthfeel. The fruit salad vibe is laced with a creamy malt base that lets you know this is a beer and not a fruit juice.
At 5.4% Vol it is just a little outside of a session beer. However because of all the fruit, I think one is enough anyway. I like it, but it is not in the same league as the original Faith. It gets a Rate My Beer score of 4.4 – 5.0, Lou gave it a close 4.3 – 5.0.
Northern Monk Beer Range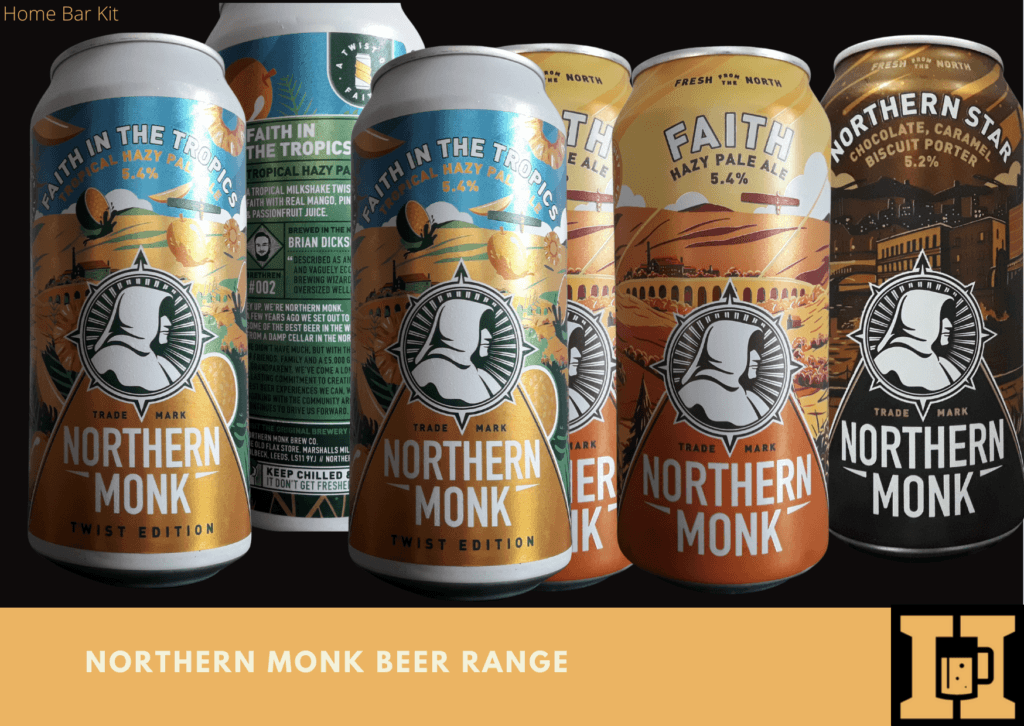 The Northern Monk range of beers is plentiful with a strong core range as well as seasonal and limited edition beers too. They also produce a range of small batch experimental beers named OFS as well as beers brewed under the Patrons Project.
Today I am going to feature a few of their core range beers, ones that are always available to enjoy.
Striding Edge
A beer named after the famous Striding Edge ridge a route to the Helvellyn mountain in the Lake District. A somewhat dangerous ridge that has caught many a hiker out in the past.
This beer is a hazy light IPA that is not as dangerous as the real ridge. At just 2.8% Vol it is way more forgiving than the tricky ridge. It's piney, citrus and fresh, and although light, some say it feels more than its light ABV.
A simple light IPA ripe for a little summer garden session, or maybe an ideal festival beer.
Eternal
If Striding Edge is a little too light for your beer thirst then this session IPA will be right up your street. A Northern Monk flagship beer it is still pretty light on strength but its high in hops.
So its got the hoppiness of a true IPA but still sits well within a session beer making it pretty appealing. A go to beer that is ripe for any occasion. Hoppy, citrussy and refreshing, this 4.1% Vol beer is a popular choice.
It has definitely made it onto my beer hit list and maybe will become a favorite too.
Heathen
If a bit more bite is the name of the game, then let Heathen New England IPA into your life. Well out of the session bracket it demands a little respect. At a hefty 7.2% Vol it will not take any prisoners, so be warned.
On the positive side it is a well balanced beer with a surprising soft smoothness for the high strength. Loaded with the American Citra hop it is fruity and tropical with a pleasing bitter edge.
A perfect one off treat on a Saturday evening.
Final Thoughts
I think it is fair to say that Northern Monk do live up to their core values. They produce some great exciting beers that do seem to shout quality.
Even if the core range doesn't set you alight with excitement, their seasonal or Twist ranges will have something to please. From an ice cream pale ale to a Bourbon imperial stout with a lot in between.
I don't think Faith In The Tropics is an improvement on the original Faith, however it is a good beer. I just prefer the latter, how about you? Share your thoughts on the Northern Monk beers you had tried.