A real ale from the mighty Adnams Brewery in Southwold on the Suffolk Coast in England. A brewery with over 150 years of experience. So is Broadside Ruby Red Beer any good then?
Well it should be with all that brewing experience, and Broadside itself is 50 years old. So it has got to be good, right.
Is Broadside Ruby Red Beer Any Good?
Broadside beer is a great beer, rich with deep flavours and a smooth finish. It pours a deep brown with a nice red hue. A generous off white head sits on top. On the nose a bready malt base is overlayed with spicy orange fruit notes. The taste is rich in sweet malt and fruity flavours come through laced with alcohol. A little hop bitterness comes through that balances the sweet malt and the finish is smooth. It gets a sweet rate my beer score of 4.5 – 5.0.
You know why this beer has been around for 50 years, because it's a real ale that is real good.
Adnams Brewery
Adnams Brewery also known as Sole Bay Brewery is located on the East Coast Of England. A stones throw from the sea and pretty much next to a lighthouse it has a lot of history.
Now in its 151 year it still brews 7.2% Vol Tally Ho first brewed in 1880, that is an old beer. It must bee good to have been around for 143 years.
The brewery though doesn't just hold onto old beers. It has through a lot of investment over the years moved with the times.
Not only do the brewery always have an eye on sustainability, but also on being environment friendly too. In 2008 they brewed the first carbon neutral beer East Gate.
On top of that they have also moved with the times when it comes to their beer. Brewing old style as well as new style beers side by side.
But its not all about the beer, Adnams have a range of spirits, wine, cider as well as low and zero alcohol drinks too.
Adnams may have a lot of history behind them, however I think they still have plenty of history to make.
Is Broadside Ruby Red Beer Any Good?
Broadside was first brewed in 1972 to commemorate the 300 anniversary of the Battle of Solebay in 1672. A ferocious battle fought in ferocious weather and the the first naval battle of the third Anglo Dutch War.
The beer was so well received that it has stood the test of time and is still with us today 50 years on. I can only imagine the beer is ruby red to recognise the vast amount of blood spilt during Anglo Dutch wars.
Or it might just be a coincidence.
It stands in a 500ml bottle with a battle seen on the label, so what is Broadside like?
Drinking Broadside Ruby Red Beer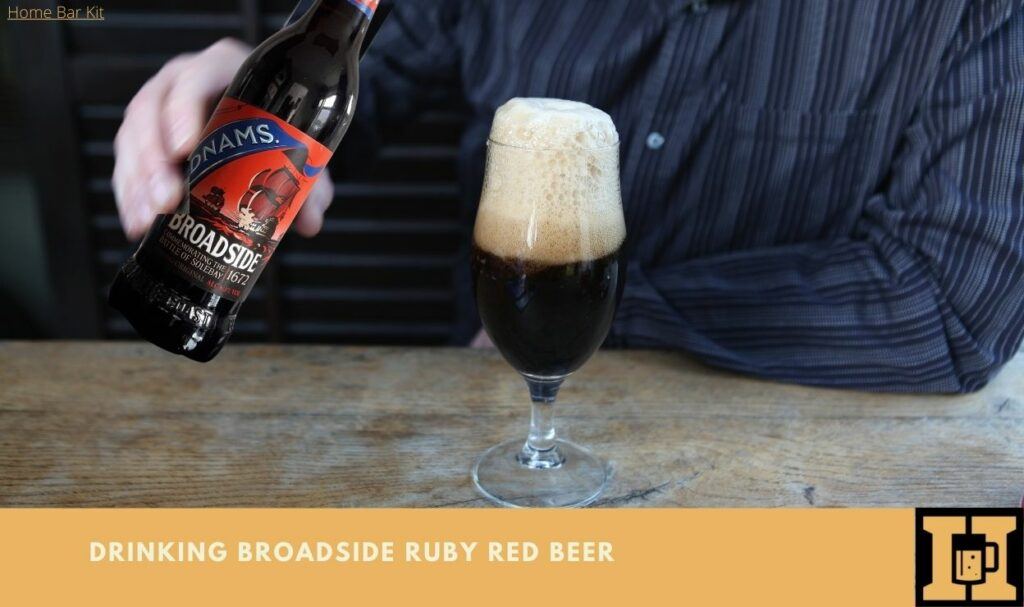 The pour is a delight with the deep brown beer falls into the glass with swirls of off white breaks. It settles and looks like a dark beer with a generous off white top. Hold it up to the light and the ruby red shines from the glass.
On the nose a rich bready malt with hints of sweet caramel forms the base aroma. Fruity notes join the malt party laced with a little spice.
The taste is just as exciting with the sweet bready malt hitting first. Bitter hops come in to balance the sweet malt with orange marmalade flavours and a hint of spice. A good balance of sweet and bitter finish off with a smooth end that teases you to go again.
But be careful because its got a bite with a 6.3% ABV, its a sipper not a guzzler. A perfect beer to savour, it gets a rate my beer score of 4.5 – 5.0.
M'Lady is also impressed and said "It is a rich and decadent beer with a Bara Brief like taste." Bara Brief is a traditional Welsh bread flavoured with fruit, spices and tea in case you are wondering. A bit like fruitcake I guess.
Lou score Broadside a solid 4.3 – 5.0 rate my beer score.
Adnams Beer Range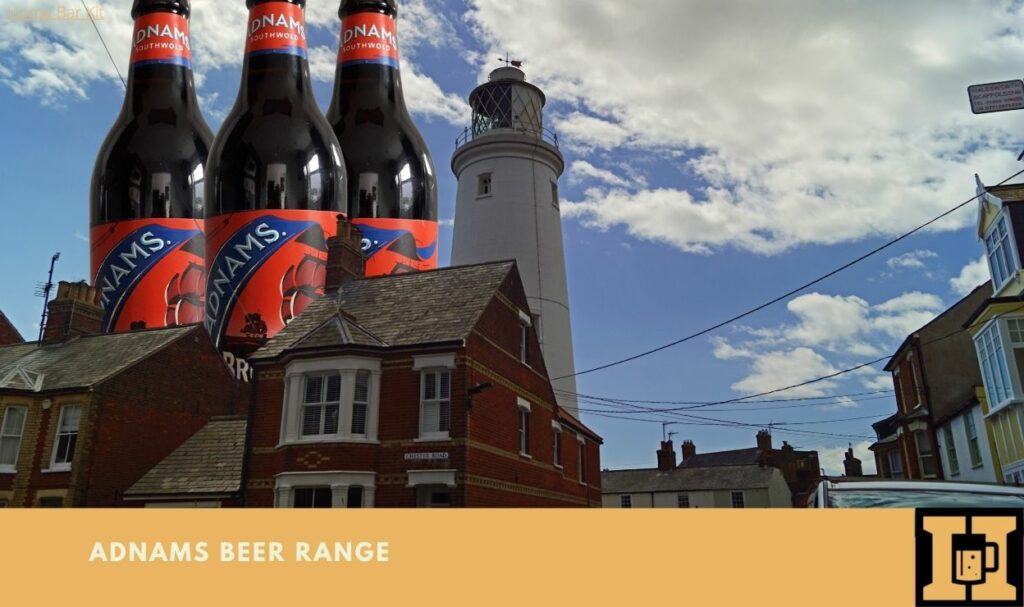 Adnams range of beers is pretty comprehensive and features not just beers of yesteryear, but all new shiny beers too. They have moved with the times and have a decent amount of craft beers too.
Whether you want lager, pale ale, bitter, stout or cider, they have got your back. It is going to take me some time to work my way through their range. It will be a challenge, but hey, I'm up for that.
Here are a few beers I've got my eye on.
Old Ale
Although Old Ale is winter style beer and based on a strong ale, I would drink it any time of the year. A recipe that dates back to 1890, it may be old but its current too.
It promises flavours of roasted grains and red fruits all laying over a caramel malt base. Does sound like a bit of a winter warmer. What ever time of the year you drink it, just get stuck in because its a mild 4.1% Vol.
Both Barrels
Both Barrels in an interesting beer that is in limited supply each year. It is actually Broadside beer that is aged for a year in Bourbon barrels with some cherries thrown in.
The process started in 2010 with one barrel, there are now thirteen barrels. Each year some of the beer is taken from the barrels and bottled. More broadside is added to the remaining beer in the barrels along with more cherries.
Flavours of cherry vanilla and oak along with a little whiskey are to be expected. Just as well this beer is limited because it packs a real punch. It weighs in at 9.0% Vol, tread carefully people.
New England IPA
This India Pale Ale is part of the Adnams Jack range, which recognises old traditional brewing incorporating modern style beers.
Its a fruity number with citrus and tropical fruits blending well with a slight hoppy bitterness. A golden hazy dry hopped IPA that is juicy to the end. But don't get any ideas, its not a session beer with its gritty 6.0% ABV.
Sounds like an IPA I need to test drive.
Final Thoughts
It is fair to say that Adnams is a brewery that has served beer lovers for a very long time. However they have not got stuck in old ways and push the boundaries at every turn.
So look to serve beer lovers for a very long time to come, maybe even another 150 years. Broadside is a great example of an Adnams beer. Likewise their Ghost Ship Ale is also a little cracker.
If you have tried any of the Adnams beer range, then do share your thoughts and let me know what you think. If not, then maybe its time to check them out and jump in.