It's not often you go on a trip to the jungle. But when you get the chance you just gotta jump in and soak up the experience. I did exactly that, and drinking jungle trip turned out to be a tropical extravaganza. To say it is a loaded beer is an understatement.
It is one of many craft beers produced by the London Beer Factory based in South East London. After drinking this one, it is one of many beers I will be trying from this progressive brewery. How good is it though?
Drinking Jungle Trip
It's a lively pour revealing a hazy amber body which produces a generous white top. The nose is a citrus carnival releasing a grapefruit and orange twang nestled in a pine backdrop. The taste is just as explosive as the aromas that attack your senses. The whole mouth is woken up with a citrus eruption, a grapefruit and orange bite blasts the mouth. It's fruity with a spicy pepper background leading to a slightly bitter end.
A truly refreshing experience that will ambush the taste buds every time. The trip to the jungle is worth it and it deserves a 4.7 – 5.0 rating.
Who is responsible for this tropical wonder?
London Beer Factory
Based in Norwood, South East London this beer factory is the creation of two brothers. Ed and Sim Cotton opened the brewery in 2014 and have experienced notable success from an exciting array of beers.
Back in 2013 Sim who was an avid homebrewer took a three week course at the brewlab based in Sunderland. Brewlab is the Uk's leading training facility for brewing. Here Sim honed his skills and knowledge for the journey ahead . Ed on the other hand had a background in wine and wine making. Together they make quite a team in the craft beer world.
The London Beer Factory surprised the UK when they used the innovative 360° can from the US. A can where the whole top lifts off, turning it into a glass like drinking vessel. This allows the drinker to experience the aromas that they wouldn't normally get when drinking from a can.
In 2018 the brothers open a tap room in Bermondsey, London, which neatly fits under an old railway arch. Here they blend and condition craft beers aged in oak barrels. Punters can enjoy a barrel to tap craft beer experience.
London Beer Factory are an exciting outfit that constantly come up with new and exciting craft beers to satisfy their fans.
Drinking Jungle Trip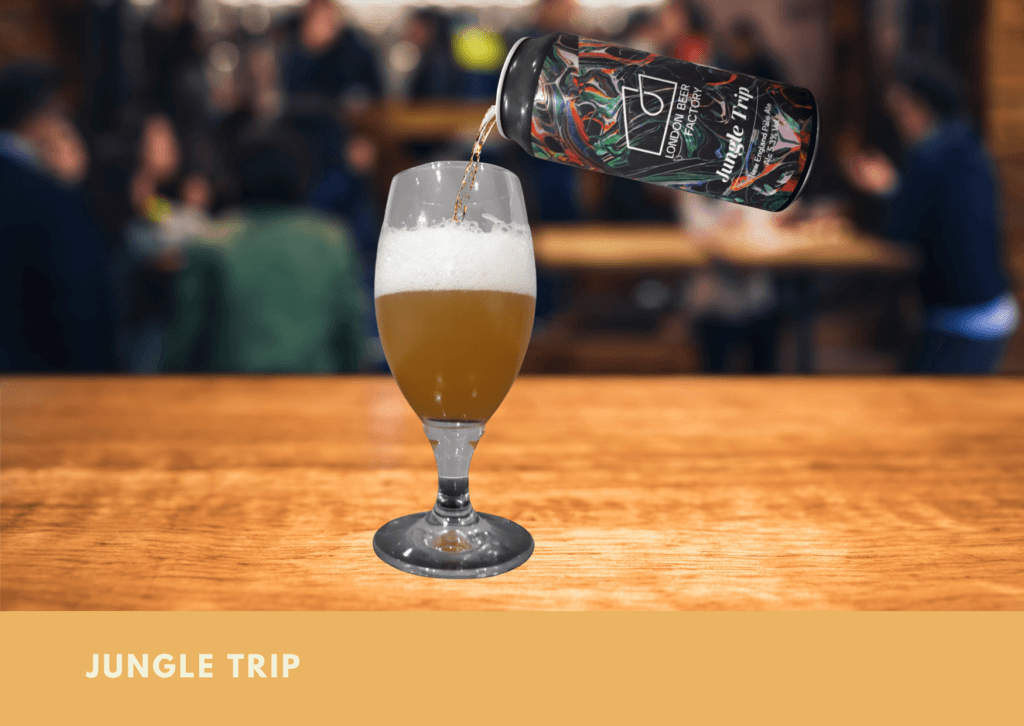 I didn't go looking for a jungle trip, this is another beer presented to me by my son Joe and I was happy to take it on. The funky design on the can is a bold signal to let you know you are in for an exciting trip. It is a New England pale ale which is a style of American pale ale that is dry hopped for a hazy finish.
The pour is full of life and as it settles creates a lavish foamy white top hat. This diminishes slowly leaving a thin white cap that sticks around to the end, lacing the glass as it goes. The body is full, a hazy amber delight beaming from the glass.
The hoppy aromas attack the senses, while grapefruit and orange thrust forward, and a grassy pine surrounds them like a blanket. The taste emulates the nose and delivers a punchy burst of hoppiness with grapefruit prominence and a squeeze of sweet tart orange twang. It comes together as a tropical fruity escapade weaved with a spicy pepper, slightly bitter conclusion.
Golden Promise, oats, wheats and Dextrin make up the malt bill. While Nelson Sauvin, Summit, Comet and Columbus are the staring hops, it's like a party in a glass.
Because of its Alc 5.3% Vol it is not classed as a session beer. But a couple of cans makes for a great weekend treat. I'm a fan and I think it deserves the 4.7 -5.0 rating I have marked it.
More From London Beer Factory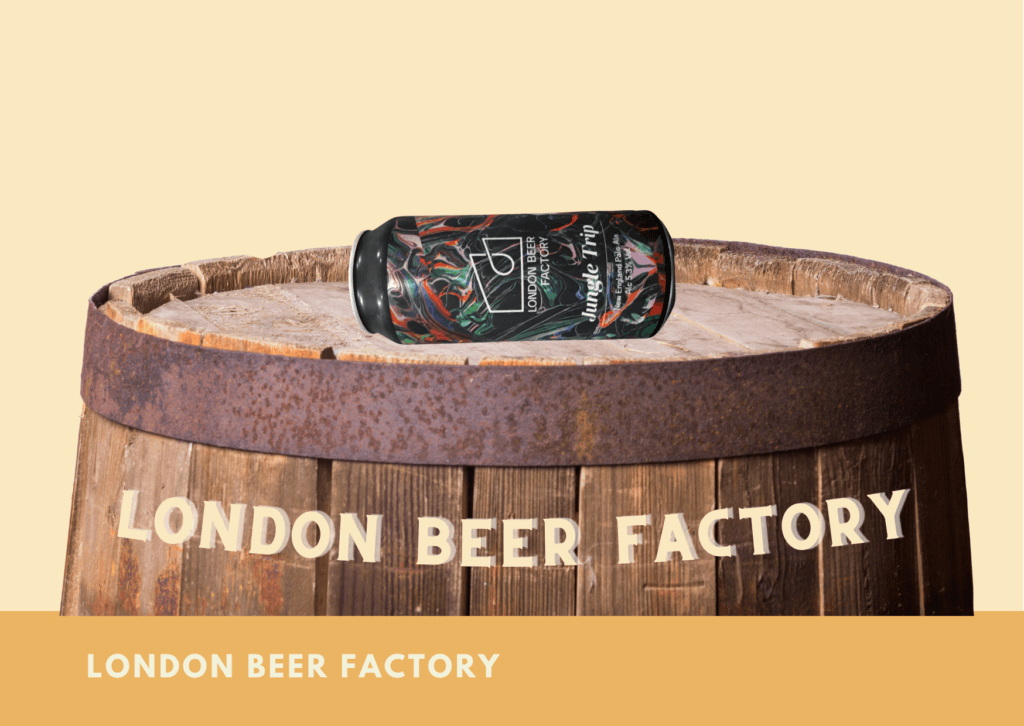 London Beer Factory have a lot to offer when it comes to craft beers. If you want something different, then their selection is worth looking into. Here are a few that will be on my list for future review.
Zia
Bold and strong this stout is based on one of my favorite deserts. A Tiramisu Pastry Stout has to be on my list of beers to checkout. In fact it could replace the famous desert as an after dinner drink. Something to savour after a meal, though with its potent Alc 9.2% Vol just the one can.
The promise is of luxurious mocha aromas and a creamy roasted body with a sweet chocolate malt flavor. I'm in, it's a must have for me and it will be popping up here soon.
Street Life
An American style pale ale, this beer promises to be a fruity little number. With an American and New Zealand hop combination I would say that will seal the deal.
The light Alc 4.2% Vol puts it in the session beer range and it could be a go to beer. A perfect soundtrack for a garden BBQ on a sunny afternoon, gather and enjoy. I will, thank you.
Star Gazer
Another New England pale ale, it's double dry hopped and combines three hops from New Zealand. To the eye it is has a beautiful hazy orange body. It promises the fruity flavors of passion fruit, tangerine and peach, that's got to be a fruit overload.
With a mid range Alc 4.4% Vol it is a sesh beer that will satisfy any fruit craving. LBF describe it as perfect to share under a starry sky. I must try that sometime.
Final Thoughts
Most breweries that produce craft beers are a passionate bunch with exciting ideas. London Beer Factory is no exception, they are creative and inspiring. Led by two brothers that had a vision and are not scared to experiment, they have to be commended.
I have a vision myself after drinking jungle trip, and that is to try all their beers. This might take a while, but I'm all in. Have you had the pleasure of drinking any LBF beer? If so, then share your thoughts and the beer you tried.