Although I have drunk this beer many times over the years, I have only just got around to reviewing it. It's a popular pint among beer lovers. So what is the well loved Landlord Pale Ale really like?
A favourite beer for many over a long period of time. First brewed in 1952, the Landlord has won many awards. It is still wowing the beer community to this day. However is it really as good as the reputation it has earned?
What Is The Well Loved Landlord Pale Ale Really Like?
It's like an old English ale that is smooth, well balanced with plenty of flavour. It doesn't disappoint and it won't bow down to any other beer. It pours a golden amber with a lavish white top. On the nose it bursts with rich malty biscuit with a slight hoppy citrus floating on top. The flavours of malty caramel carry a gentle hoppy citrus with a slight spicy tip. A good balance of sweet and bitter play in the mouth and end the experience perfectly. It's a cracking beer and gets a rate my beer score of 4.7 – 5.0.
It is called favourite among a large selection of beer lovers. And apparently won more awards than any other beer. Well done Timothy.
Timothy Taylors
Timothy Taylor actually started brewing beer in 1858 in Keighley, West Yorkshire, England. At the beginning he had two partners, James Shackleton and John Naylor.
Five years later Timothy not only buys out his partners, but also has the chance to buy some land. The special thing about this land is it stands on a natural aquifer spring.
So in 1863 Timothy builds the Knowle Spring Brewery. Which is where Landlord and other beers are still made to this day. A well is sunk and the use of the natural spring water is used to create the unique taste of Timothy Taylor's beers.
Fast forward to today and the brewery is still in the Taylor family. It is said to be the only independent brewer left in West Yorkshire.
Pure water, Golden Promise barley, Whole leaf hops and their own 2000 generation yeast are the magic ingredients behind the beer.
The traditional brewing process and the quality ingredients are what give Timothy Taylor's beer that unique flavour.
What Is The Well Loved Landlord Pale Ale Really Like?
It is like a real traditional English pale ale that will not bow down to its modern equivalents. Brewed in the same way as years gone by. It holds on to a certain charm that has proved to stand the test of time.
It isn't fancy, it isn't overly hoppy, but it packs flavour and balance. You know what you are getting with Landlord. A classic pale ale which is easy to drink and and not too strong.
I actually bought a bottle to review the beer. However a few days later found it on draft, so enjoyed both the bottle and the cask.
Both were satisfying. one at home and one in the pub (okay it might have been more than one in the pub).
Drinking Timothy Taylor's Landlord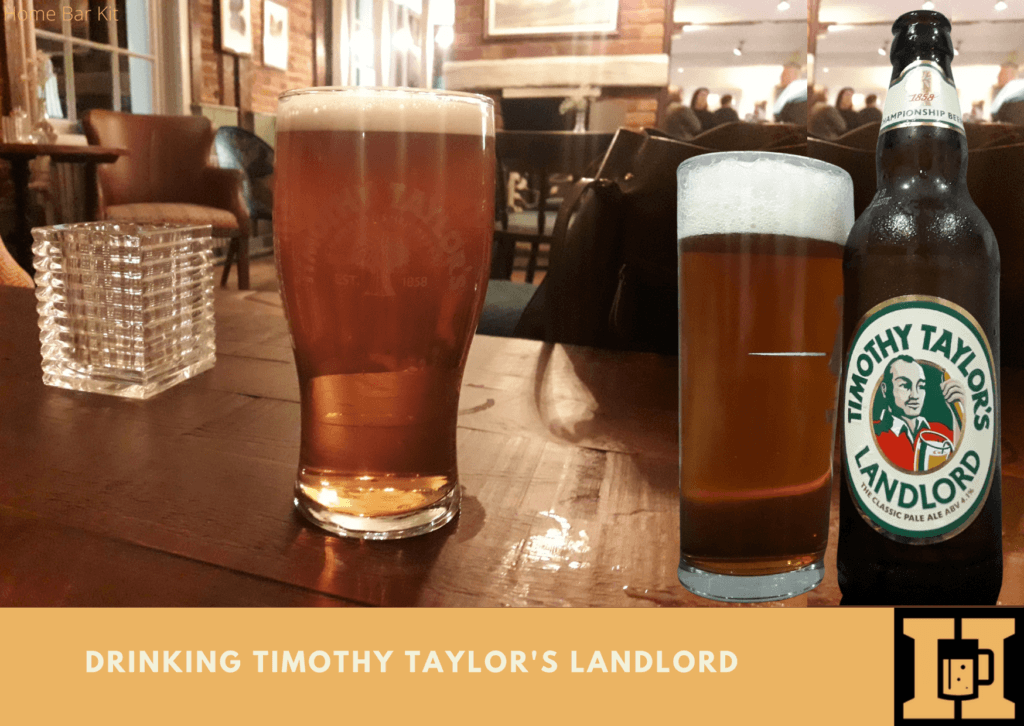 The pour is a swirl of cream and gold tangled together rushing around the glass. When it settles a golden glow shines from the amber liquid.
The nose is rich and malty with biscuit caramel notes. Over the top of the rich malt floats a slight hoppy citrus with a perfume of floral and pine.
The taste has the nice caramel malt base with a leafy and pine citrus hoppiness. A slight earthiness and spice add a little twist on top. A medium carbonation distributes the flavours nicely around the mouth. Also the body feels medium to full boasting a higher ABV that it actually is.
In the bottle it is a lowish 4.1% Vol, while from the cask it is a slightly higher 4.3% Vol. It gets my seal of approval and I can understand why so many beer lovers like Landlord.
A perfect go to beer that gets a 4.6 – 5.0 rate my beer score.
M'lady likes it too and described it as the taste of the forest (weirdo). Lou scores it a little lower at 4.2 – 5.0.
If you like a traditional English pale ale, then just ask the Landlord for Landlord.
Timothy Taylor's Beer Range
The core range of Timothy Taylor's beers is not vast, but it is strong and true. The most popular being Landlord, with Boltmaker, Golden Best and Knowle Spring in support.
However there are other beers that have popped up from time to time, and other beers added along the way. They are all brewed with quality ingredients and care of attention. A range I am looking forward to working my way through.
Boltmaker
Formerly known as best bitter, Boltmaker is a typical Yorkshire bitter, bold and flavoursome. Citrus fruity aromas make way for roasted malt flavours with a bitter end. Sounds good to me, who doesn't like a good old bitter.
A good solid bitter which at just 4.0% Vol is worthy of a couple of pints in your local pub. It's on my list.
Knowle Spring
Knowle Spring is a Blonde beer made with Strisselspalt hops from France, as well as Minstrel, Cascade and Chinnook too. Citrus grapefruit aromas with a little floral thrown in build up to the zesty spicy orange flavours.
It promises to be refreshing and hoppy, and well worth a try. At just 4.2% Vol a second pint can easily be enjoyed too.
Golden Best
If a light mild beer is the order of the day, then Golden Best is a worthy brew. Subtle on the nose as well as in taste. Gentle hop aromas laced with soft fruits follow through on the taste, which is malty and smooth.
The strength is subtle too with a mild 3.5% Vol it certainly fits as a session beer.
Final Thoughts
Like I said the Timothy Taylor's range is not vast, however it is all pure quality. Among some of the other beers available are Dark Mild, Landlord Dark, Hopical Storm, Cook Lane and Poulters Porter.
So it is growing and has some beers that sound very interesting, ones that have made my beer hit list.
If you are familiar with Landlord Pale Ale, then do leave your thoughts below and if you like give it your own score out of five. Likewise, if you have enjoyed any of the other Timothy Taylor beers, again share your thoughts below.