I love trying new beers and will do so at every opportunity. Having said that I am not a big fan of sour beers, which is why I haven't had many over the years. I thought it was time to change that and try a new sour beer. So what's triple fruited mango by Vault City like?
Well I was optimistic, full of hope and actually looking forward to it. I love mango and I love beer, so it just made sense as a new experience. However, will I repeat it?
What's Triple Fruited Mango By Vault City Like?
It's like a fruit juice that is too sickly for its own good. Pour it into a glass and you are faced with a murky dirty soup, with the thinnest of tops. On the nose it is a dank stewed fruit aroma, but mango does come through with pineapple too. The taste is sharp and of course sour, I mean really sour and like over ripe fruit. I am not keen and it scores a low 2.1 – 5.0.
A modern sour beer that is definitely sour, but not beer at all.
Vault City Brewing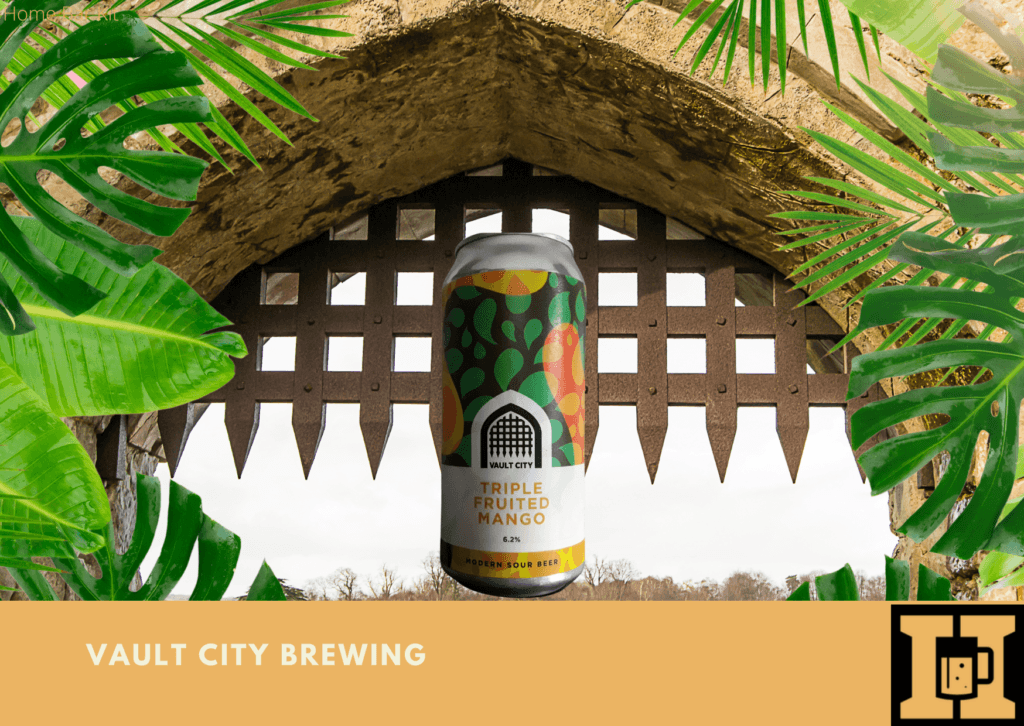 Vault City Brewing was born in 2018 in Edinburgh, Scotland. The boys responsible are Johnny Horn and Steven Smith-Hay. They came together over their love of sour beers, and wanted to experiment with fermenting methods using cultured yeasts and bacteria's.
The brewing started in the kitchen cooking up their brews on the stove and fermenting in the basement. Their drinks were well received locally and over Scotland.
This growth soon spread to the rest of the UK and beyond. With quick growth we now see them in a full blown brewing facility in Dundee, Scotland.
They are now a strong brewery in the sour beer market, they might even take over the world in this beer genre.
What's Triple Fruited Mango By Vault City Like?
For me it is not a good beer, in fact I wouldn't describe it as a beer at all. I would describe it as a very intense thick fruit juice. I say thick because that is what it looks like, almost as if it could stand up on its own unaided by the support of the glass.
Obviously I am not a fan of this beer, but I will definitely be trying more beers from Vault City. I hope it is just this particular one that I don't care for.
Having said that, M'Lady loved it, as I am sure many others do too, so maybe it's just me. I will include Lou's rate my beer score too because her score is slightly different to mine.
Drinking Triple Fruit Mango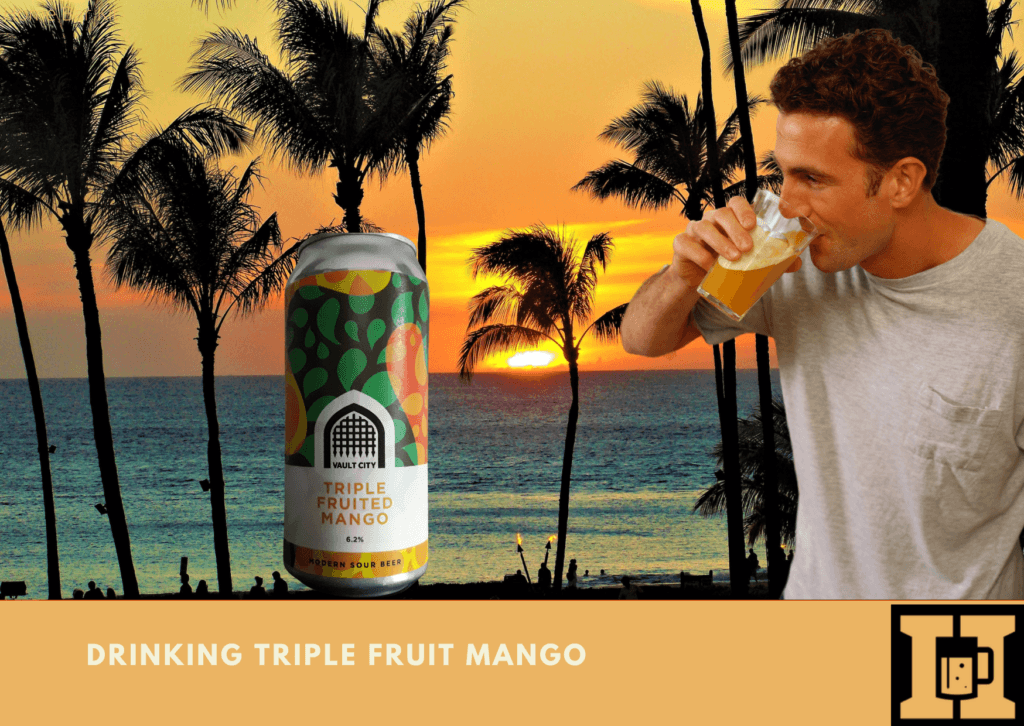 The can design depicts the contents, its juicy and fruity. A white band highlights the mango colored writing Triple Fruited Mango and the Vault City logo sits on top.
The pour reveals a dark thick burnt orange juice like liquid with an off white foam top. This disappears almost instantly exposing the murky orange below.
The nose has a dank aroma of stewed fruit with mango prominent and a slight pineapple edge. It tells the story of a fruity experience to come.
The taste hits you with a big sharp sourness that attacks the tongue. It is almost like fruit that is over ripe and not that pleasant to taste. It lingers in the mouth and the aftertaste is strong and pungent.
Lou on the other hand said it looked like a juice, but a mango sunset juice. On the nose she got a seaweed aroma oddly, but this soon revealed a sweet mango fragrance.
Lou did get the over ripe fruit thing, but loved that and loved the strong mango flavor too. A breakfast drink she said, but one she could drink all day. Although at 6.2% Vol it would not be advisable.
What can I say, I am not a fan, but Lou is and our scores differ in the same way too. My rate my beer score is 2.1 – 5.0, whereas M'Lady scores it a decent 4.2 – 5.0.
You can guess who finished this sour beer.
Vault City Beer Range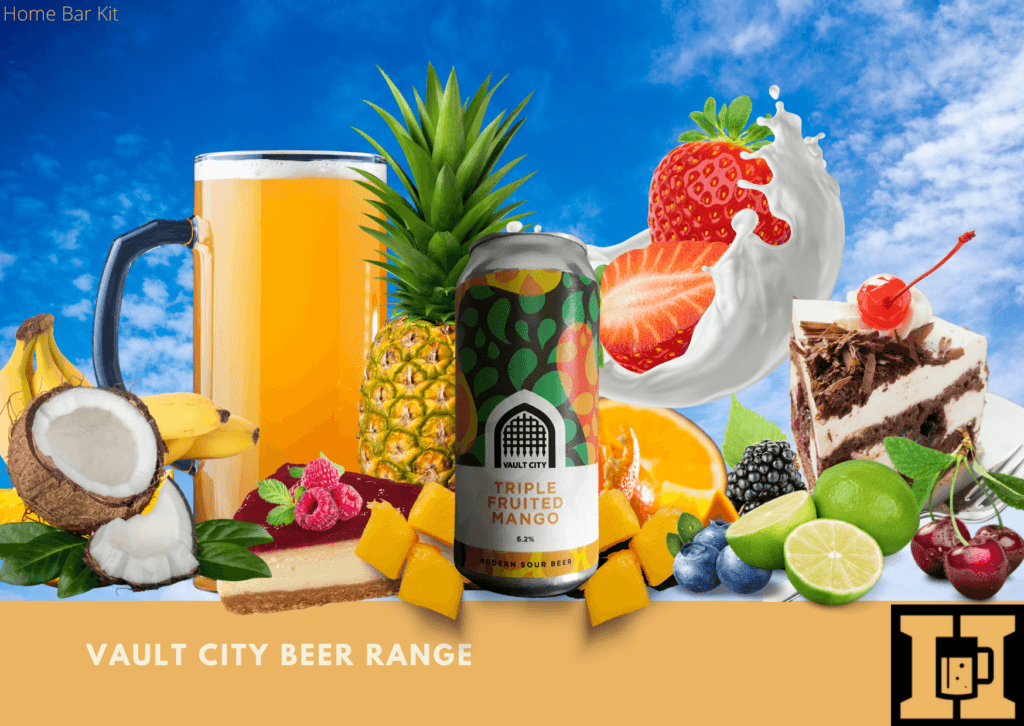 So what else have the sour beer kings got up their sleeves?
More sour beer is my guess and I will be looking out for them as I want to compare them with Triple Fruited Mango.
I am not sure if they have a core range as such, but they have got some weird and wonderful flavors to choose from. I am going to feature the ones that I want to try for my next Vault City experience.
Tonka Black Forest Gateau
This one is right up my street, mainly because I love black forest gateau, you just don't see it anywhere now days.
So this sour beer promises flavors of rich dark chocolate and sweet sour cherries. It is laced with Tonka beans to add a little vanilla and spice to the proceedings.
Apparently the wrinkled black Tonka bean is illegal in America because they contain coumarin which is deemed unsafe.
Anyway back to the beer, I am looking forward to trying this cake beer and hope it does give the delightful flavors of black forest gateau. At 4.5% Vol it lives in the session range, although if it is as rich as the cake, just one will do.
White Chocolate Raspberry Cheesecake
Some beers are just getting too weird, but who doesn't like cheesecake?
I'm in, with layers of white chocolate creaminess and topped with fruity raspberries it sounds a delight. Hints of vanilla and lactose promise a lavish taste experience. But look out because underneath it all lies a sour base.
Who put that in there?
I guess that is what Vault City do, anyway be careful because this dessert delight comes with a strong warning. It's a massive 8% Vol beer that could leave you feeling sour.
Strawberry Skies
I am pretty sure this one is all about the strawberries and they are locally sourced Scottish strawberries too. It is described as a smooth and full bodied sour, there's that word again.
The Hibiscus flower provides a creamy feel coupled with Madagascan vanilla beans. Sounds good on paper, but it does hide a hefty secret. At 8.5% Vol its a one off tipple, those Scottish strawberries are strong.
Final Thoughts
I know I am not a keen sour beer lover, although I've had a few over the years and I am sure I liked them more than this one. However, I will seek out more beers from Vault City in the future, especially the Tonka Black Forest Gateau.
I am hoping they prove to be more to my taste than the Triple Fruited mango, but I am sure Lou will finish them if not.
Sorry for the low score boys, just not my glass of beer.
If you love sour beer, then you will probably love the Vault City beers. Give them a go and share your thoughts below.