Although I haven't tried all their beers, I am a fan of Brewdog, and love the beers I have tried. My newest adventure into the Brewdog world got me lost in their planet saving lager. You didn't miss read that, I did say planet saving lager.
It might not save the planet single-handed, but it is a step in the right direction, and it tastes good too. A light crisp and refreshing lager.
Lost Lager By Brewdog
On the nose it is laced with citrus notes and a hint of malty bread, almost toasty. Diving beneath the generous frothy top and sipping the light golden body, it impresses. It is light and dry with the carbonation giving a crisp feel in the mouth. A short burst of malty hops with a biscuit base fades to a dry lemon citrus. A lagertastic 4.1 – 5.0.
The Planet Saving Brewery
We know that Brewdog like to keep things fresh, they are always moving forward and standing out as a unique brewery. A brewery that has seen massive growth and does not look like it will stop growing anytime soon.
They are a carbon negative brewery and Lost Lager is a part of that movement. Brewed using surplus bread and a third less water, it does its bit to help the planet. A company that is using wind turbines to power their brewing process, it has to be said they are making an effort to reduce carbon.
Electric trucks are now being introduced for those all important beer deliveries. The newest addition is an electric powered van, converted into a mobile bar. A great concept that will no doubt pop up at the many festivals in the future.
We can all help the planet when we drink Lost Lager because for every pack we buy, Brewdog will plant a tree in the lost forest.
Lost Lager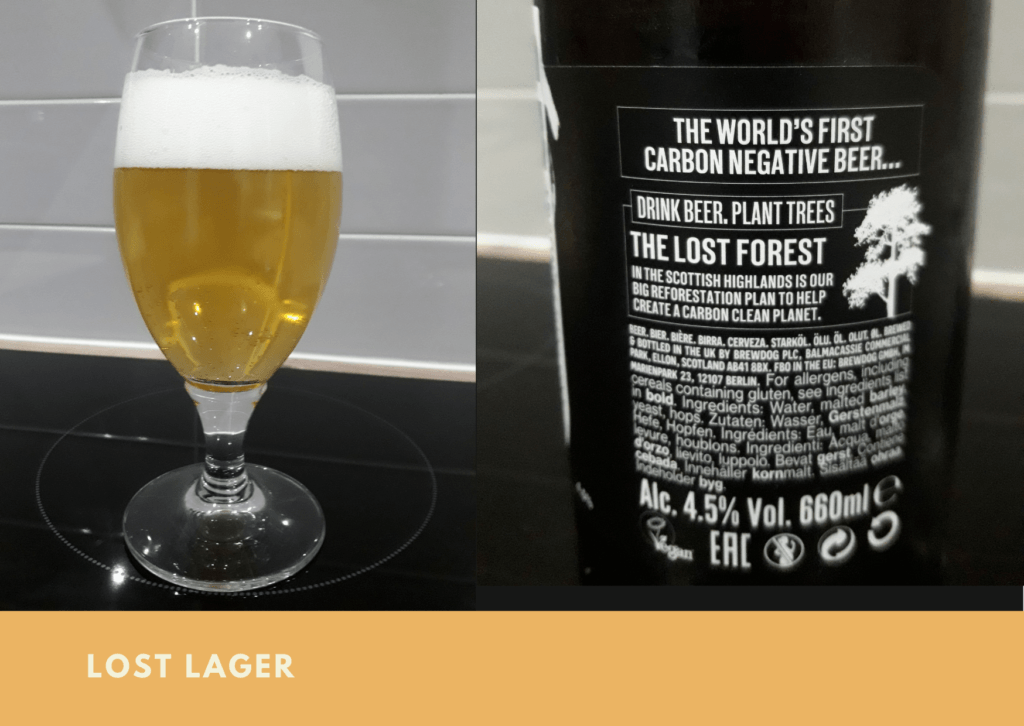 A beer inspired by an ancient forest known as the Caledonian Forest was Scotlands rain forest. Once flourishing it is now diminished to a ghost of its former self, hence why it is lost. Brewdog have bought a large parcel of land near Loch Lomond to do its part of restoring the Lost Forest.
They plan to plant one million trees on this land and restore some of the peatland too. It is a massive project that is probably one of the biggest reforestations the UK has ever seen. You've got to give it to Martin and James (or the two named Elvis), they keep pushing the boundaries.
This lager then is part of a mission, and one that is positive to our planet. While enjoying this lager, it's a nice thought to think that it is playing a part in restoring a historical forest.
Moldy Old Dough
There is bread added to the brewing process of this crisp lager, but it's not moldy. It is surplus fresh bread that supplements the malt bill.
Is it a worthy lager?
The pour is pleasing, a light golden liquid that is like sunshine with a pure white frothy top. As it settles the top does descend, but leaves a thin lid that sticks around.
The nose is pleasant but subtle, a biscuit malt with the tang of fruity citrus just lightly lifts from the rim. A fizzy sensation dances on the tongue as the first sip is taken. This passes and there is the distinct malty flavor of biscuit or cereal which is followed by a hit of citrus.
These aren't by any means explosive flavors, just like the aroma they are subtle, but pleasant. The citrus hit does lend itself to lemon and finishes with crisp dry acidic after-taste.
The Verdict
All in all this is a refreshing crisp lager with a dry citrus edge. With its pilsner style hops, I like this lager and would enjoy it again and again, especially because of the trees. It doesn't set the world on fire, but it is a solid lager that is a joy to drink.
The bottle I drank was a hefty 660ml so didn't disappear in a flash. At 4.5% vol it's a middle of the road strength, so would fit in the session bracket.
Although it doesn't set the world alight, it is a decent lager and one that I think is worthy of a gratifying 4.1 – 5.0 rating. Give Lost Lager a go and help rebuild a forest for the future.
More Beers Enjoyed By Me.
More From Brewdog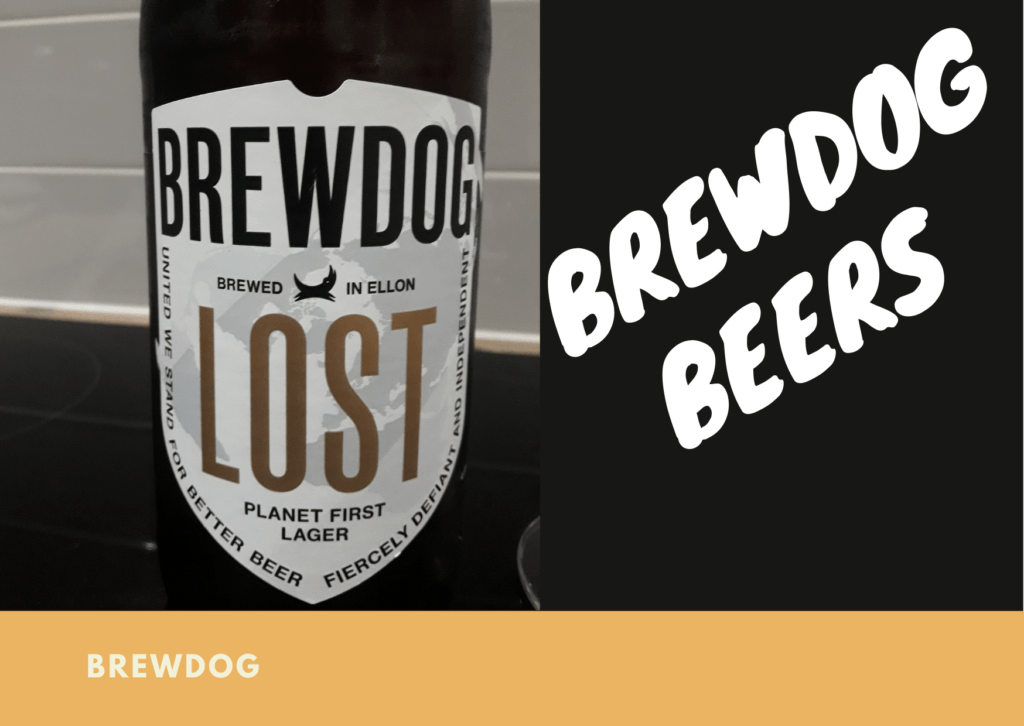 I am working my way through the Brewdog range, and here are a few I will be trying in the near future.
Jack Hammer
Not a beer to be taken lightly, this IPA will punish if a session developed. More of a beer to enjoy at leisure, with a respect for its full flavored strength. A straight to the point grapefruit hit will cut through the taste buds with a hit of bitterness. It's a bitter flavor that is said to keep on growing until it's hammered home.
I am looking forward to trying this IPA, but with its 7.2% vol I will not be taking it for granted. I will appreciate this fierce brew for what it is, a pretty strong ale with a sting in its tail.
Ten Ton Truck
If you thought Jack Hammer demanded some respect, then beware of the Ten Ton Truck. This Imperial Russian Stout packs an even bigger punch.
A bourbon barrel ale that promises dark chocolate, treacle and vanilla notes that finish with roasted coffee. It sounds divine and will be visiting me soon, if I can get my hands on it. Don't be fooled by its heart-warming flavors though, this beer is a wolf in sheeps clothing.
Unleash this stout without some control and you will feel like you've been hit by a ten ton truck. At a colossal 13% vol, this herculean beer will wipe out the foolhardy.
Basic Shake
A bit weird, but intriguing, this milkshake IPA is a fully loaded fruity sensation. The fruits involved are kiwi and lychee with a flourish of berry notes kicking around. All that juice is rounded off with a malty milk sweetness that promises a smooth shaky experience.
It hits the middle of the road in strength with its 4.7% vol, but not sure it would be a contender for a session beer. Why, because more than one milkshake and you are going to be all shook up (sorry Elvis).
I am not sure I would go out of my way to track this IPA down, but if I stumbled across it I would give it a ride. Just the one though.
Final Thoughts
Apart from the milkshake IPA caper, which does not fill me with confidence (I might be surprised though). It has to be said that Brewdog are hitting the spot with a constant flurry of beers. They may not be traditional in all they do, but they do produce some fun and exciting beers.
An exhilarating company, they constantly move forward and they do it fast, leaving others in their wake. I enjoyed the Lost Lager and will continue to work my way through their range of beers. What Brewdog beers have you tried? Share your thoughts on your Brewdog experience.