Another lively little IPA number from the Brewdog Household. You can't go to the store these days without a Brewdog offering staring at you from the shelf demanding your attention. They just draw me in, and while I try to resist temptation, sometimes it is futile. This time it was a cheeky little session IPA, but what is the Dead Pony Club like?
Another unusual name from the punk brewery. If they were looking for memorable, then they nailed it with the name. But what about the beer? I had to wait until it had chilled slightly, but it was worth the wait.
What Is The Dead Pony Club Like?
It's like a rush of citrus hoppyness with a sweet caramel base just about keeping its feet on the ground. It pours a deep golden brown with the slightest haze that resembles a hot summers day. A solid foamy head forms as it settles. On the nose it teases with lemon and lime and all things pine with a sweet caramel base. The related taste hits you with a hop forward flavor spiked with a citrus burst that settles with a sweet caramel smoothness. It all ends with a smooth almost creamy light bitterness. In fact it is a feisty little number for a relatively low ABV session beer. Hence a rate my beer of 4.5 – 5.0
This ballsy little beer is definitely punching above its weight, and it does it with confidence.
The Brewdog Club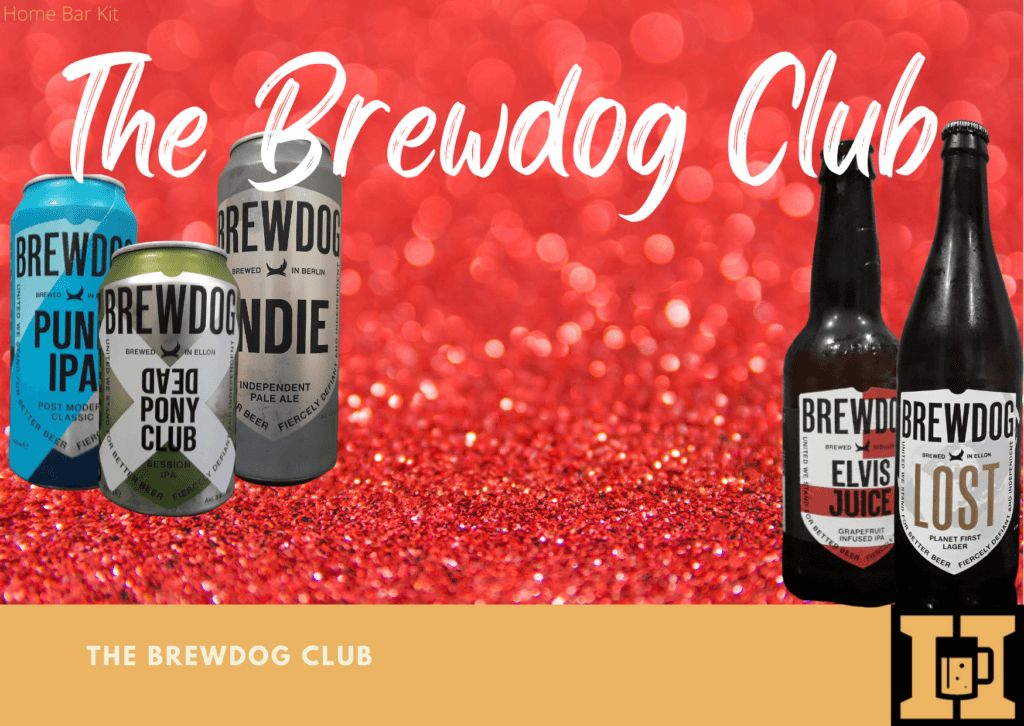 It has to be said that Brewdog do their own thing, they are one of the big leaders in the craft beer industry. Sometimes controversial, sometimes just plain wacky, but always consistent in the delivery of good beer and business ethics.
Born in Scotland they have achieved B-Corp certification, and committed to be carbon negative. Their Lost Lager is the catalyst to restore a forest lost to time. The promise to plant one million trees and restore important peatland is a strong commitment.
If that is not monumental enough, they come up with P.O.P SODA just to be sure they are doing their bit. Brewdogs new soda drinks are called P.O.P for a reason, it stands for Planet Over Profit. All profit from these soda's is going back to the planet to fund solutions to the climate crisis.
Soda drinks with a mission, however what about the beer.
What's In A Name?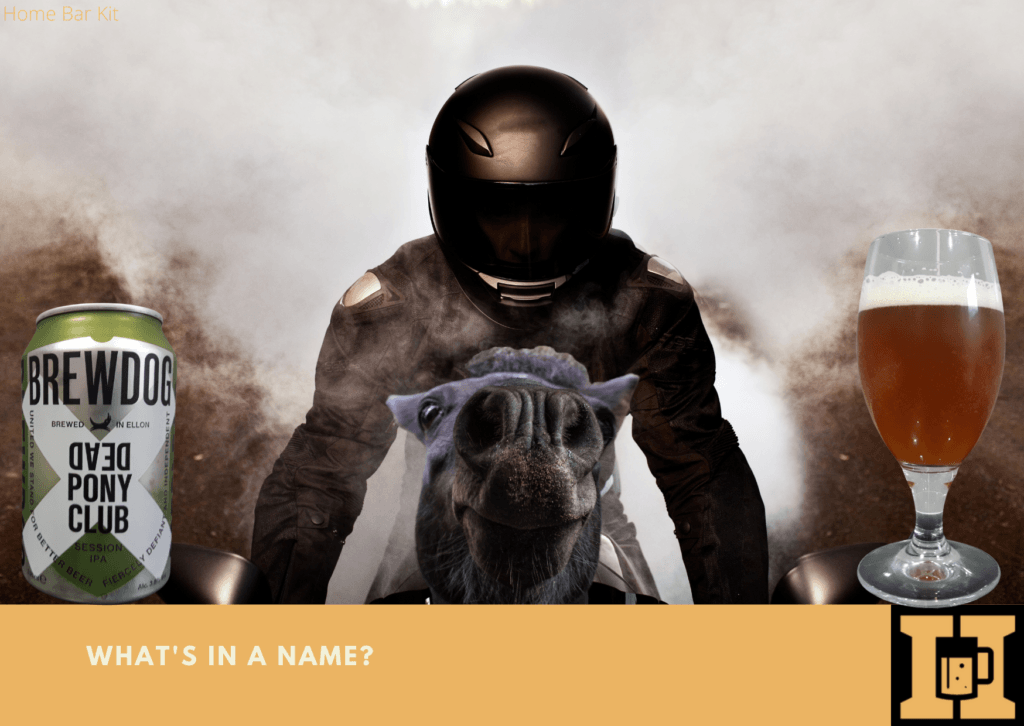 The Brewdog club is stronger than ever and moving as fast as always. But what about the Dead Pony Club?
A cool club that has found its spot in a market flooded with big contenders. This lively session IPA has a big following and refuses to be overlooked.
But what does the name mean?
Lets just say it has nothing to do with the beer, an exciting hoppy IPA brewed for a session. But what do you call such a go to beer? Why not create a name that will demand attention and set this beer aside from the crowds.
I think it's fair to say that Brewdog have done just that. Starting out as two opposing ends of a scale, from the gentleness of a pony trot to the hellraising thunder of a angel. Okay I am not making sense, so this is what happened in brief.
The original working name was 'Death's Head Pony Club', which takes the inspiration from the the famous biker club the 'Hells Angels' and the lighter pony club. The Death's Head is part of the Hells Angels emblem they all wear on their patch. While the pony club is self explanatory, two different forms of riding at opposite ends of the scale.
This name then got shortened to work better on the label. Keep the D in death and drop the H in head and you get dead. But we don't want to stop there, lets turn dead back to front. What is the opposite of dead? I know, genius.
Maybe it does reflect the beer after all.
What Is Dead Pony Club Like?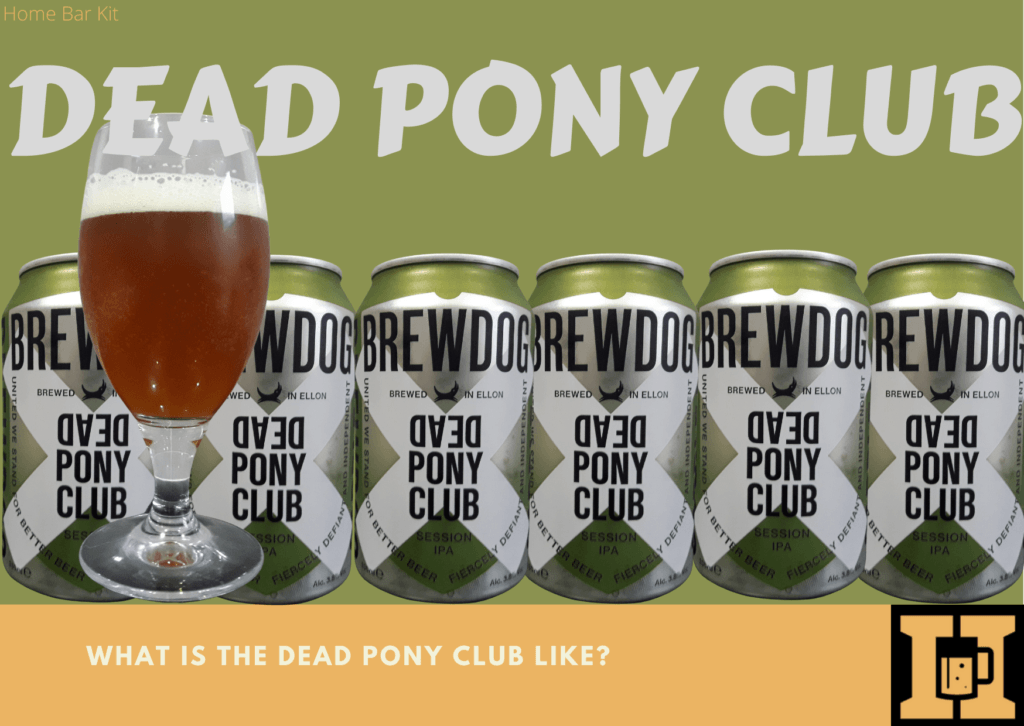 Moving on from the name, which is hard to do, as Brewdog found out. They decided to give it a little tweak, but met with a big fat NO NO from its fans. The Dead Pony Club is now an established club, don't mess with it.
At just 3.8% Vol it is a light session beer that demands respect like it is some kind heavyweight contender. It surprises on all levels with its lively aroma and hoppy citrus taste. However it delivers a depth of a beer that is much stronger in profile. Like I said it is punching above its weight, but it does it convincingly.
The deep golden pour settles with the slightest of haze covered by a solid foamy lid. The aromas rise like rockets tickling the nose with citrus goodies of lemons and limes. Hops bellow with a piney fragrance sitting in a malty caramel chair.
The taste starts off busy with a hoppy hit laced with the citrus delights of lemon, lime and a hint of tart grapefruit. This is carried in the fresh carbonation happening in the mouth. A smooth malty caramel then descends with a tiny bitter twist to finish.
It starts off like The Prodigy's Fire Starter and ends up with the smoothness of Barry White. And I can't get enough of your love, babe.
We all like a session beer, because we like more than one beer. But at just 3.8% Vol it really is a pup and just cannot ever score high. It would do well to score the same 3.8 in its rating. However this beer has something special. It may only be a weak offering, but it has a strong delivery, and for that reason scores a rate my beer of 4.5 – 5.0.
More Beers I Have Enjoyed.
Other Brewdog Beers
It stands to reason that this fast moving brewery are going to have more excellent beer up their sleeves. They have just that, and it is a range that will blow your socks off. Delivering on quality and flavor, this brewery does not disappoint.
Here are just a few of their large range of craft beers, something for everyone.
Clock Work
If you like a beer with a juicy explosion then this might be the bright little number to satisfy the buds. Could it be something to do with the famous film from the 70's? Or may be it has more to do with the legendary clubbing brand.
Whichever does not really matter. it's just a classic IPA infused with the sharpness of a Tangerine. At 4.5% Vol this is a solid session beer. Packed with a promise of juicy citrus tangerine and tropical fruits supported by a malty base. It makes the 'try it' beer list for me.
Tree Haus
Up next is a strong lager with three American hops balanced finely with a German style lager. It combines notes of lemon laced by a peppery earthiness. A Bavarian Helles style beer with depth and balance, promising a lager with a difference.
At 6% Vol it does not work as a session beer, but is worthy of a couple of cans at the weekend.
Alice Porter
A deep rich porter that just like Dead Pony Club delivers on a level not akin to its strength. This humble little porter weighs in at 5.6% Vol a lesser strength for the style of beer. However it hides a strong malty base with a velvety roasted coffee rich blend of flavors soothing the taste buds into submission.
With the touches of spice you might expect from a porter there lies a citrus trick on the top, just to keep you guessing. It's a porter with a twist and deserves a place in our hearts.
Final Thoughts
Whichever way we look at it, Brewdog keep performing. Producing interesting beers that are on the edge of a cliff, they won't back down. The beer and the names are a celebration of the 21st century and beyond. And they do it all with the planet in mind, its a winning combination.
Dead Pony Club is a solid session IPA that gives more than you expect from it modest ABV. I don't know how they did it, but I'm glad they did. A perfect beer for those times when one or two just isn't enough. Worthy of a top spot in the cooler. Give it a go and join the exclusive Dead Pony Club.