The first striking thing about this beer is the bottle. Fashioned on an eighteen century gin bottle, but also having a resemblance to an old medicine bottle too. Anyway is St Peters Plum Porter a nice beer?
When I picked this bottle up, I was looking forward to trying it. A plum porter with flavours of damson and blackcurrant, sounds interesting. But is it as good as it looks and sounds?
Is St Peters Plum Porter A Nice Beer?
No, this plum porter is not a nice beer. In fact it doesn't really resemble a beer at all, let alone a porter. The nose is fruity, with blackcurrant being the prominent aroma. The taste has the slightest of malt base with a fruity body, again the blackcurrant being the stand out. However it has a synthetic type aftertaste, and no bitterness at all. The rate my beer score is 2.9 – 5.0.
I know its a sweet porter, but it is really sweet with no bitterness at all.
St Peters Brewery
St Peter's Brewery was founded in 1996 by marketing man and entrepreneur John Murphy. The brewery is located in old buildings in the grounds of St Peter's Hall in the Suffolk countryside, England.
It was one of the original craft beer breweries producing a range of beers with character. All packaged in the unusual oval bottles.
The brewery has grown steadily over the years picking up many awards and a strong following of beer lovers.
In early 2021 John Murphy took the decision to retire. The brewery was sold to a small group of friends headed by Derek Jones. So the brewery remains independent and in private hands.
What Is St Peters Plum Porter Like?
When you see this beer on a store shelf it is hard to walk past. The vintage style bottle and the large print white letters saying Plum Porter pull you in.
So it had to come home, and I must admit both myself and Lou were looking forward to giving it a test drive.
However it didn't live up to our expectations. I am sure it is popular with others, but for us it fell a little short. In terms of beer and a porter, it just doesn't cut the mustard.
It pours a rich black with a two finger off white head, it looks as good as the bottle does. But from here on in it goes downhill.
Drinking Plum Porter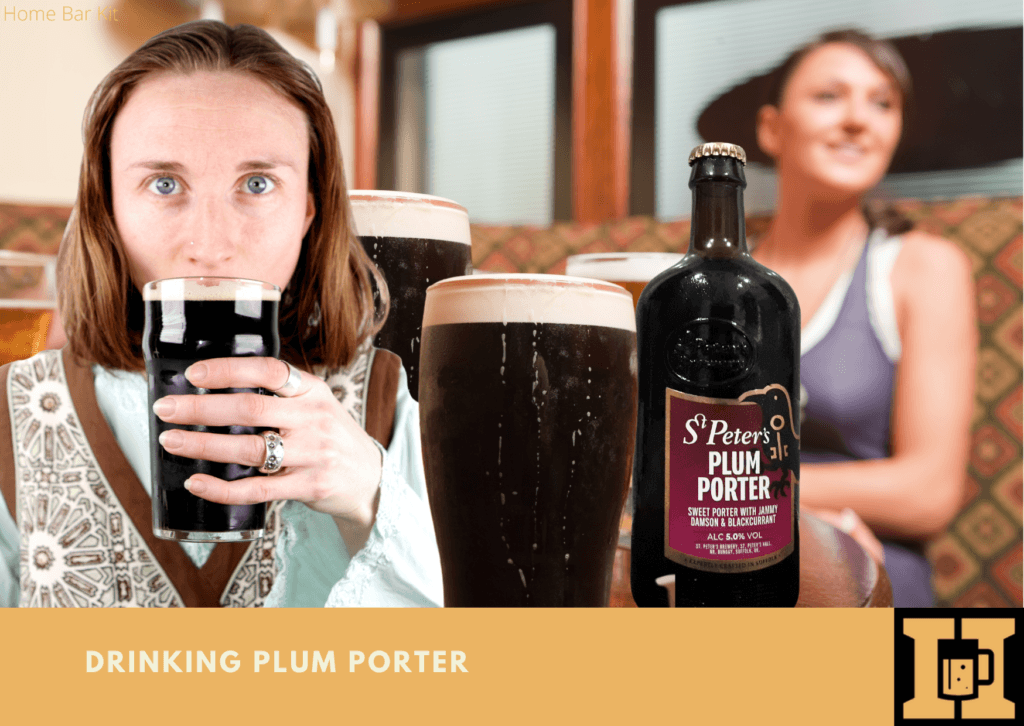 The aroma is distinctly fruity, a very subtle chocolate malt base gets overwhelmed by the fruit. Which has a blackcurrant jam like smell with a kind of medicinal hint.
The taste follows the same path with a slight malt base bullied by the fruitiness. Plum and damson may be present, but blackcurrant steals the show. It is sweet, which is fine, but also has an artificial aftertaste that lends itself to medicine.
I had high hopes for this beer, but for me there is nothing beer about it. It feels like a light fruit drink, not a porter. Weighing in at 5.0% Vol, however you wouldn't know it, high in carbonation, its like a fizzy fruit drink. Unfortunately it gets a rate my beer score of 2.9 – 5.0.
M'Lady wasn't impressed either saying, "Disappointing, I thought I Would like it, it looks nice and the initial hit is okay, but then it falls off the cliff." Lou scores it a slightly higher 3.4 – 5.0.
It's a shame because I wanted to like it, but it doesn't work for me.
St Peters Beer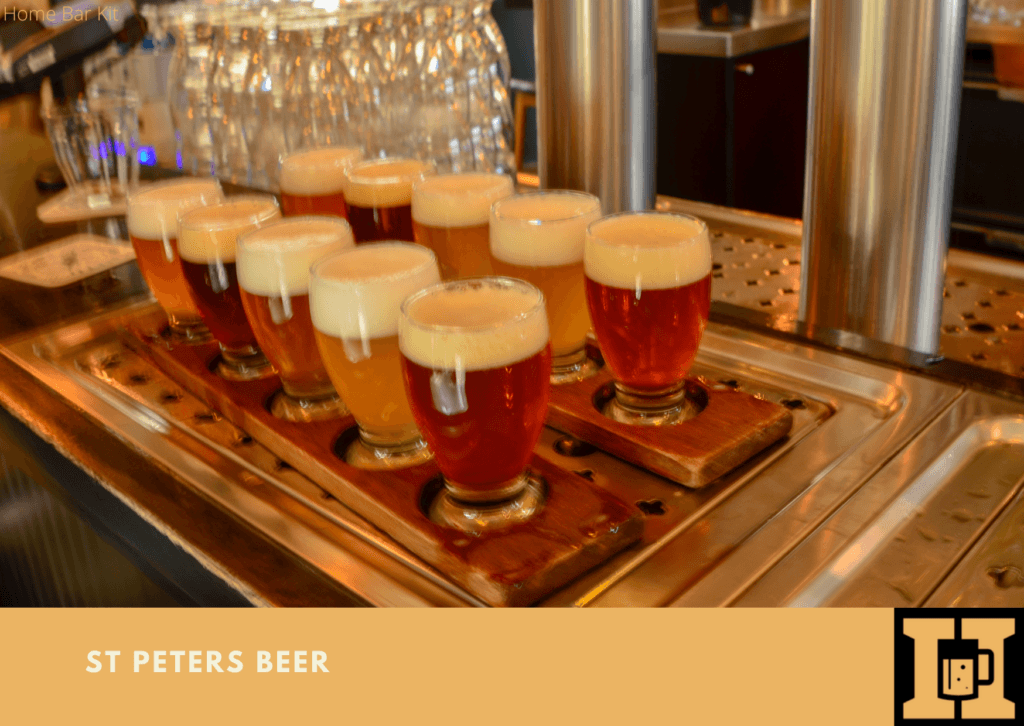 Although I am not impressed with the Plum Porter, it just doesn't work for me. I am still intent on trying more of St Peters beers.
They have a decent range including, pales ales, bitters, stouts, porters and some fruit beers too. All the beers come in their distinctive old style oval bottles.
Here are a few that I am going to look out for.
Best Bitter
You can't beat a best bitter, and this one promises to be a traditional best bitter. Roasted malt caramel with a nutty twist gives it a bitter edge with a little sweetness to finish.
Sounds like a decent beer to me, and at 4.3% Vol it could be a perfect session bitter. I hope the bitterness stands its ground though, and is not smothered by the sweet finish.
India Pale Ale
A traditional IPA with high hops and high hopes from me. It is described as an IPA with a full body and a zesty character. A malty toffee base with a floral citrus top, sounds like a proper pale ale.
At 5.5% Vol it is over the session fence, but not too far. I look forward to getting to grips with this traditional style IPA.
Farmers Flagon
A red ale that was brewed to celebrate the National Farmers Union. A rich red ale that has a subtle malt body with spiced pepper and a touch woody charm.
Sounds intriguing and at 4.3% Vol it is safe to serve it up in a Flagon too. I like a red ale, so will be keeping an eye out for this one.
Final Thoughts
Whilst investigating their beer range I stumbled across something confusing. The plum porter is listed under the stouts and porters, as you would expect.
However, it is also listed under fruit beers, where it describes it as a refreshing change to a bitter or porter.
Like I said, slightly confusing, but I know which category of the two it does fit.
As I said earlier, although I am not a fan of the plum porter, I am sure I will get on better with their more traditional brews.
If you have had any St Peters beers then do share your thoughts below. Especially if it is the plum porter, I hope you got on better than I did.