When it comes to building a home bar the bar top is one of the best parts. This is the part of a home bar that shines and shows your own personality. A bar top is your own unique stamp, whether it be simple or extravagant in design. So what is the best type of bar top for a home bar?
A bar top is one of the finishing touches to a home bar. So it is worth giving it a little thought before committing to a certain type. Here I go through the different types of bar tops to consider and how practical they are.
What Is The Best Type Of Bar Top For A Home Bar?
The best type of bar top is the one that suits you best. Whether that be a high end marble for luxury. A mid range granite for durability. Or a lower end recycled wood to save the budget. Its a personal choice, a choice that suits both your budget and personality. But one thing is for sure, you can get pretty inventive with your bar top.
Whatever your choice, just keep in mind it will need to stand up to spills as well as knocks and scraps.
What Is The Best Material For A Bar Top?
The best material for a bar top really depends on a few factors. And because everyone's situation is different, it means there is no real best material.
Cost is a big factor, it is okay to say that granite or quartz are the best material is terms of durability. They also look great too, however they are also expensive.
Another factor to consider is maintenance, an expensive marble top will need regular sealing to avoid stains.
A simple wooden bar top may be less expensive. But overtime it will need to be recoated to keep its clean look.
Ease of installation is another consideration, not everyone is a DIY superstar. Marble and granite are not only expensive materials, but need expert fitting to. This could blow the budget beyond all boundaries.
Finally, a bars theme may determine the type of bar top of choice. An old style pub theme may find a marble bar top looks out of place.
These are a few things to consider when opting for a bar top. So lets look at some bar top options and their practicalities.
High End Bar Top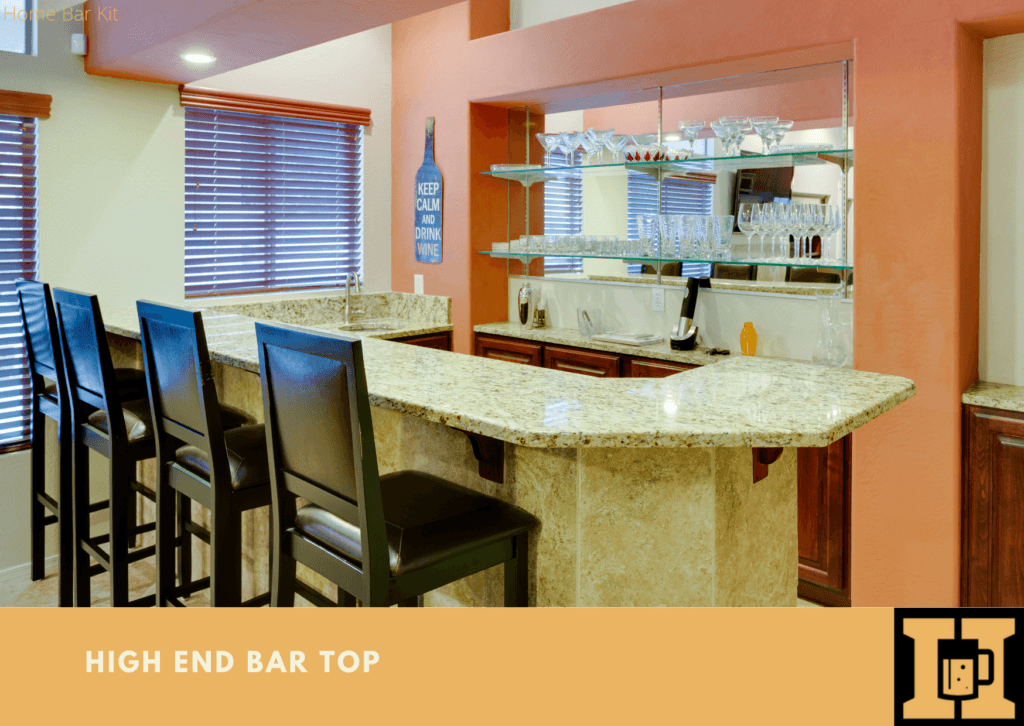 If you have a hefty budget, then you may want to pay a hefty price tag for a high end bar top. Unless you are an expert, then these will need to be installed by a expert.
Whilst these are all beautiful, they may not fit every type of home bar theme. So it is pointless paying top dollar for something that may look out of place.
However if your bar theme is a luxurious one, then these may just fit the bill.
Marble
Obviously marble is a thing of beauty, elegant and for sure a statement. However it is also very expensive and could easily become the most expensive part of your home bar.
Marble is a natural stone so oozes character when it comes to aesthetics, and each piece is unique. Colours vary from dark reds and browns to white.
Although it is pretty durable, it can scratch and will stain easily from spills if unprotected. Being porous marble will need to be sealed at the beginning. And then periodically, maybe once or twice yearly.
Onyx
Onyx is similar to marble and is a natural stone with beautiful contrasting layers and lines. One of its most beautiful features is being translucent. This means it can come alive if backlite, a light under your onyx bar top will look impressive.
But just like marble it is expensive and will need to be installed by an expert. It can chip and scratch too, so needs to be treated with respect.
Also being a porous stone it will also need sealing periodically like marble.
Granite
Another natural stone, but maybe the god father of durability. It looks good and will not easily chip or scratch.
However it is also pretty expensive too and will need fitting by an expert, pushing that budget even higher. Just like marble and onyx it does come in a variety of colours and each piece is unique in pattern.
When it comes to maintenance, it is also a porous stone and will need sealing from time to time. Remember a bar top is going to see plenty of spills and drips, you have to protect porous stone from these to avoid stains.
Quartz
Quartz may have the advantage over marble, onyx and granite. Mainly because it is not only durable, but does not need sealing.
Made up of ground quarts, resin and polymers all compacted together, means it is very strong and less likely to chip or scratch.
However it is still an expensive option that is best installed by and expert. It also comes in many colours as these can be added during production.
It is an engineered stone that looks good and won't let you down.
So, that is the high end bar tops, they look great but come with a hefty price tag. What about the mid range options.
Mid Range Bar Tops
A mid range bar top is still a little expensive, but will not set you back as much as the high end choices. Some are still best installed by an expert, although they can be an easier DIY option than marble or onyx.
So what are the mid range choices?
Slate
Slate is a pretty durable stone and can look great as a bar top. Although still a little expensive it is a lot less than the likes of marble.
Slate is used for roof tiles, floor tiles as well as window sills and worktops. It is pretty resistant to chips and scratches, but they can happen.
Some say that slate does not need sealing as it is not too porous. And it is used as roof tiles after all, however when used for flooring it is recommended to be sealed.
Sealing slate can also enhance the look of it, bringing out the natural lines and colours.
Concrete
Who wants a concrete bar top?
Well before you write it off, they can be beautiful too. They are strong and pretty durable, however they can chip and crack like any stone.
Concrete can be polished or sealed to give a truly beautiful surface. Plus a concrete bar top can be a DIY project.
The easiest way to make one is to create a mould first and pour the concrete into it. This gives the option of versatile designs because you can add curves or round edges.
Also colour can be added too, you can really customise to your hearts content and create a really unique bar top.
Epoxy Resin
If you want to create a really unique bar top and go wild with design, then epoxy resin could be the way to go.
This type of top will need to be twinned with wood. so a wood base with a lip, which the resin can be poured into. It is a very doable DIY project and can turn out some great designs too.
Bottle caps or beer mats can be inlaid into the resin giving a really bar feel to your top. Different colours can also be used, as well as a mixture.
Although epoxy resin will cost, the final cost of the bar top will depend on the size and how much you need.
The finished surface will be smooth and durable, also very easy to keep clean too.
Glass
Glass is another option for a bar top, pretty durable as long as you don't drop a heavy object on it. A similar look to epoxy resin and best set on a wooden top with a recessed lip.
The glass will need to be toughened glass for safety. It is in the mid range bar tops because glass can be expensive. Again the final price depends on the size of the glass you need.
Just like epoxy resin, as long as the recess is deep enough, then you can lay different design under the glass. This makes for a unique design.
So it becomes a versatile bar top with many design options.
Tile
Another bar top style can be made up of ceramic tiles, or porcelain or travertine which resembles marble. This again will need to be mounted on a base top.
Pretty durable, but not always practical. Although the tiles themselves are pretty easy to clean. Grout can be hard to keep clean and could stain from spillages.
But again you can create some unusual designs and colours. The cost will depend on the type of tile you choose for the job.
Economical Bar Top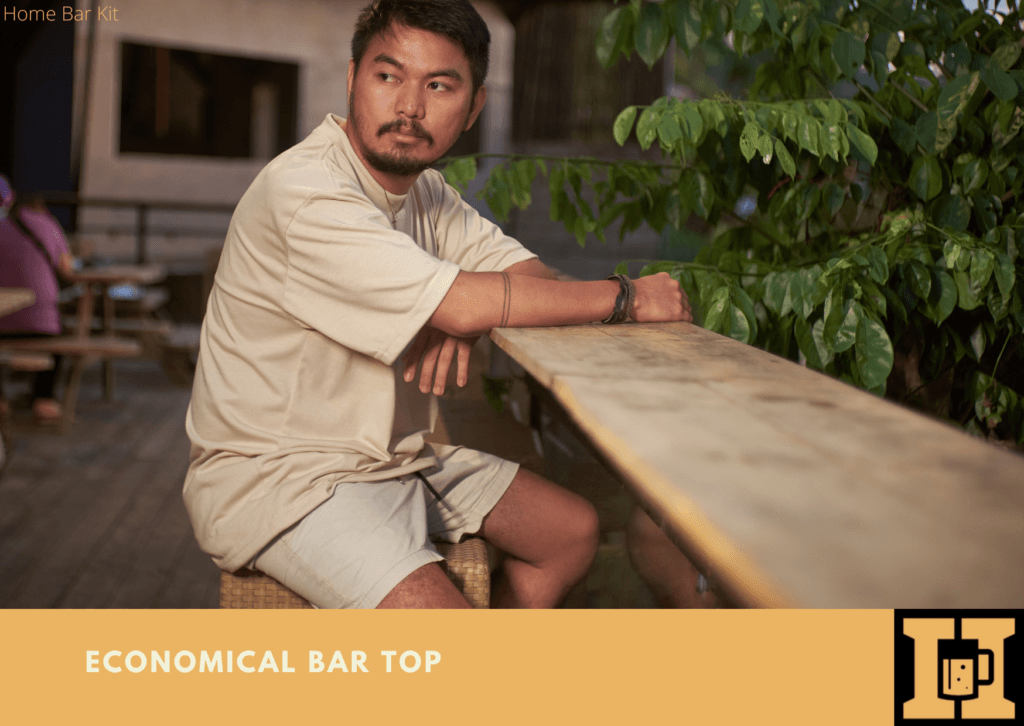 The obvious choice for an economical bar top is wood. However depending on the type of wood you use, the price can easily take it out of the economical section.
The good thing is that with a little work, even scrap wood can be made to look good for a bar top.
Wood
Wood as a bar top is versatile and hard wearing, plus it can be easily repair or recoated if it needs it. Also different shapes and edges can be formed quite easily.
With a little imagination you can create something really unique. Carving and drilling can mean setting bottle tops or even miniature liquor bottles in the wood.
Oak, pine, chestnut or walnut, whatever the wood it can be fashioned to fit perfectly and follow any line. It is easy to fix and a definite DIY project.
If a single piece of wood is over budget, then there are cheaper ways to make a wooden bar top.
Scaffold boards, pallets or fence planks can all be used to create an perfectly good bar top.
Wood will need treating to stop spills and moisture spoiling it. Varnish, wax or paints will give a different look to the bar top.
Laminate
Laminate work tops are made up of layers of sheet paper mixed with resin and the set on a chipboard base. The designs and patterns are endless.
There is a vast variety of laminate work tops, normally for use as kitchen counter tops, that can be great as a bar top.
They are hard wearing and relatively inexpensive, easy to fit and quick too. Low in maintenance and last a long time as long as they are looked after.
A good economical way to get a decent bar top for a home bar.
Other Bar Top Materials
There are other surfaces that can be put on a bar top, which are normally a top surface shaped over wood.
Sheet metals can make an attractive and industrial style surface for a bar top. The type of surfaces can be tin, stainless steel, copper or even pewter.
These could fit into any of the ranges from economical to high end, depending on the metal and how it is fitted. Just another bar surface to think about.
Final Thoughts
When it comes to a bar top, there are plenty of options and many can be a DIY project. One of the most important factors to think of is the type of bar you have.
The general decor of the bar may determine the type of bar top you create. A laminate kitchen work top may let a luxurious bar down a little. However if the bar is more rustic, then a marble bar top will be a little over the top.
For me, I think wood is always a good go to material for this purpose. It can be made to look luxurious and high end. Or on the other hand it can be made to look rustic too.
Having said that I do like the idea of the epoxy resin, it can be pretty versatile and limitless in design aspects.
Whatever you decide, I hope this list of different bar top ideas gives you some inspiration for your own home bar. Share your thoughts on any other fine and wacky bar top ideas.