Tribute Pale Ale comes from the Cornish brewer St Austell, a beer that has been around since 1999. It's a popular easy drinking session ale. But what does Tribute taste like?
Described as zesty and fresh made with UK and US hops it sounds a promising beer. It has won plenty of awards over the years, so it must be good. Or is it?
Tribute Pale Ale tastes just fine, a nice malt base is laced with a zippy citrus edge. It pours a light copper gold with a generous white top. On the nose it is subtle with a malty biscuit base and a hoppy citrus kick. The taste is similar but more potent. A caramel biscuit malt starts the show followed by a hit of citrus grapefruit and a fruity marmalade edge. A little spice lends itself before a mild bitterness finishes off. It's a good solid pale ale that goes down well, it gets a rate my beer score of 4.5 – 5.0.
A decent well balanced beer that is a pleasure to drink.
St Austell Brewery
St Austell Brewery is an independent brewer that started life in 1851 and founded by a Walter Hicks. That's all I'm giving you as I have written the basics about St Austell brewery before reviewing Proper Job IPA and Mena Dhu Stout.
So it's more about the Tribute, a beer that started out with the name Daylight Robbery. It was a seasonal beer brewed for the total eclipse on 11th August 1999.
However in 2001 it became a core beer but under the new name Tribute. To honour the all the people who had got the brewery to its 150th anniversary of the same year.
Tribute has won an array of awards over the years including Champion Beer Of Cornwall, Supreme Champion beer at SIBA and Regional Cask Ale Of The Year.
It has also done its fair share of sponsoring for sports as well, including the South Wests Rugby Football Union, Plymouth Argyle and Somerset County Cricket Club.
Tribute is a busy beer, it even has its own website Tribute Ale.
Tribute Cornish Pale Ale
So Tribute is a popular beer, you could say it is an old favourite for many people. It is close to its 24th Birthday too, so I imagine it will be celebrating this year.
I expect Tribute to be a zesty beer, mainly because it is described as zesty and fresh. However while it does have a little kick of zest, there is not as much as I'd hoped for.
It is fresh though, a zippy little pale ale with a nice malt base and a light citrus kick that finishes with a pleasing bitterness.
Although I would be happy with a little more bitterness, but that's just me.
Drinking Tribute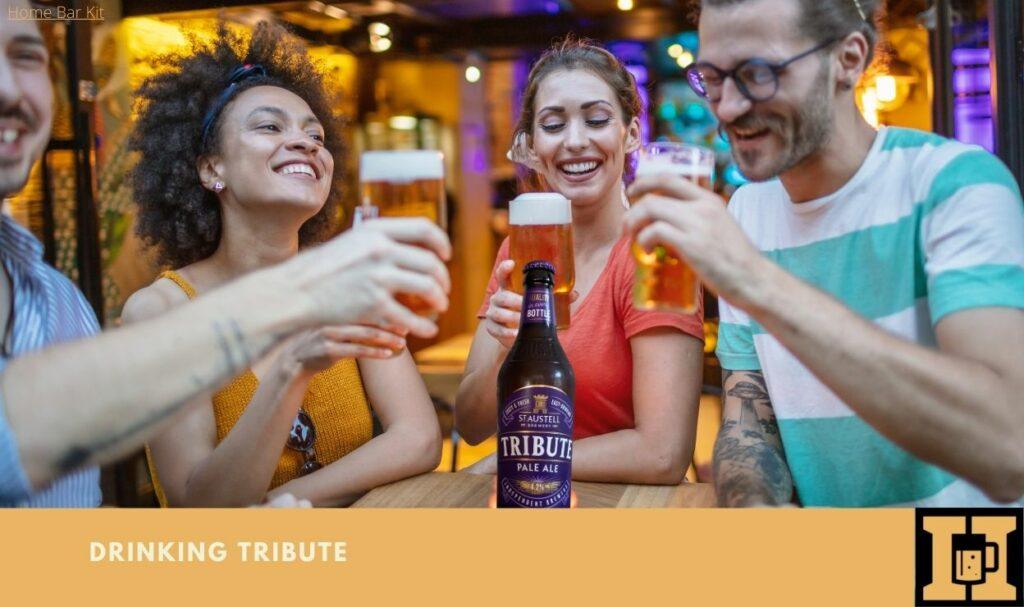 It has to be said that the bottle is attractive. A tall proud bottle embossed with the St Austell name and an in your face purple label.
A slightly aggressive pour see the beer settle to a light copper gold with a foamy white top. The head does fade to a thin cover, but there is good lacing decorating the glass as the beer goes down.
The nose is not in your face, it's pretty subtle with a trace of biscuit malt up front followed by a little citrus just catching the nose.
The taste is stronger than the smell, which is good. A solid caramel biscuit malt base sets things up nicely. A citrus kick follows with sharp grapefruit that is soften by a pleasant apricot taste.
Just a hint of spice cuts off the fruitiness and leads to a mild bitter finish.
The beer does feel fresh and well balanced and it certainly goes down well. At 4.2% Vol it's a good go to session beer that doesn't disappoint. It gets a rate my beer score of 4.5 – 5.0.
M'Lady thinks is a pretty decent pale ale and says "It tastes like it smells, a malty biscuit fresh beer with a citrus undertone." Lou scores it a close 4.4 – 5.0.
Some say Tribute is not what it use to be, that it doesn't have the depth of flavours it use to have. It's possible I guess, but St Austell say it is unchanged for 20 years.
Peoples palates change and with the variety of beers around today perhaps it doesn't seem as potent as is was. Anyway, I think its a decent pale ale and will be happy drinking it anytime.
St Austell Beer Range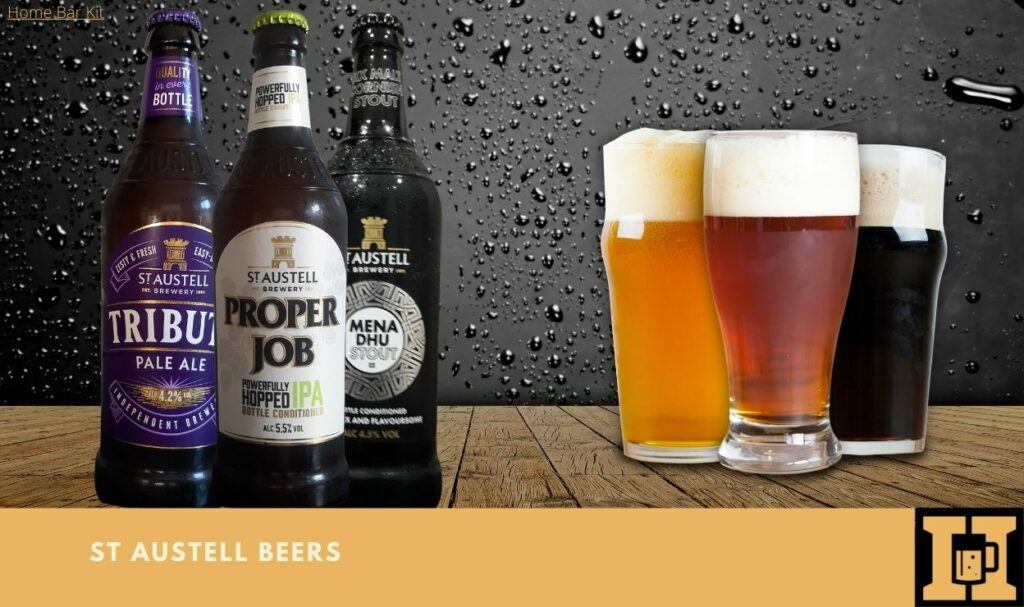 As you would expect St Austell having been around a while have a good range of beers. Their core range is a good selection and is available all year round. However they also brew some seasonal beers, as well as limited edition beers and small batch beers.
So there is plenty to choose from, here are few that look interesting.
Black Square
Black Square is an Imperial Stout, a seasonal beer that is matured for 10 months in oak bourbon casks. It is let loose at Christmas and I'm betting it sells out quick (must set a diary note).
It features flavours of bitter chocolate and berry fruits, it is said to be rich and complex. But above all else it is strong, at 11% ABV it is not to be taken lightly.
A rich decadent Christmas stout to sip and savour.
Cardinal Sin
Cardinal Sin is an Abbey Dubbel which is obviously brewed in Cornwall and part of the small batch range. Dark malts and brown sugar along with Belgian Abbey yeast and a little spice makes it a complex beer.
A rich dark fruit taste with a touch of spice and a bitter edge. It sound like a good ale that maybe suited to just the one. Which is just as well because it weighs in at a hefty 7.8% Vol.
Mild Mild West
Mild Mild West is as you would expect a mild bitter. A rich caramel toffee with the sweetness of raisins and a fruity hop edge end with a little bitter finish.
Probably more sweet than bitter, but hopefully well balanced, this could be a proper pint of mild. At just 4.2% Vol it makes for a good session ale, that's if it not to rich.
I'm in, and I hoping for a nice smooth well balanced mild.
Final Thoughts
St Austell Brewery are a well established successful brewery, who produce some great beers. It is not just the Cornish people that enjoy the beer today, and that is a good thing.
They have plenty of beers to try, or which I will be working my way through over time.
Tribute for me is a good staple pale ale that has a worthy place in today's beer market. It will certainly be a regular in my cooler.
If you have tried Tribute Pale Ale, then do share your thoughts, let me know how it fairs on your palate.
Thank you for reading.