When looking to build any kind of shed or garden room the base is where you start. A concrete base is the one that most people would plump for, and for good reason. Concrete makes a good solid foundation for any size shed. So why choose a plastic grid base?
The main thing a base needs to be is strong and level, so will plastic stand up to the job?
There are many benefits for using a plastic grid base. One, they are easy to install and can be built on straight away. Two, they are strong, especially when filled with gravel. Three, they are not a permanent structure and can be easily taken up and reused. Four, they drain extremely well, so no standing water to damage the shed. Five, they are an economical way to create a good solid base.
So a plastic grid system is a good alternative to a concrete base.
Why I Chose A Plastic Grid Base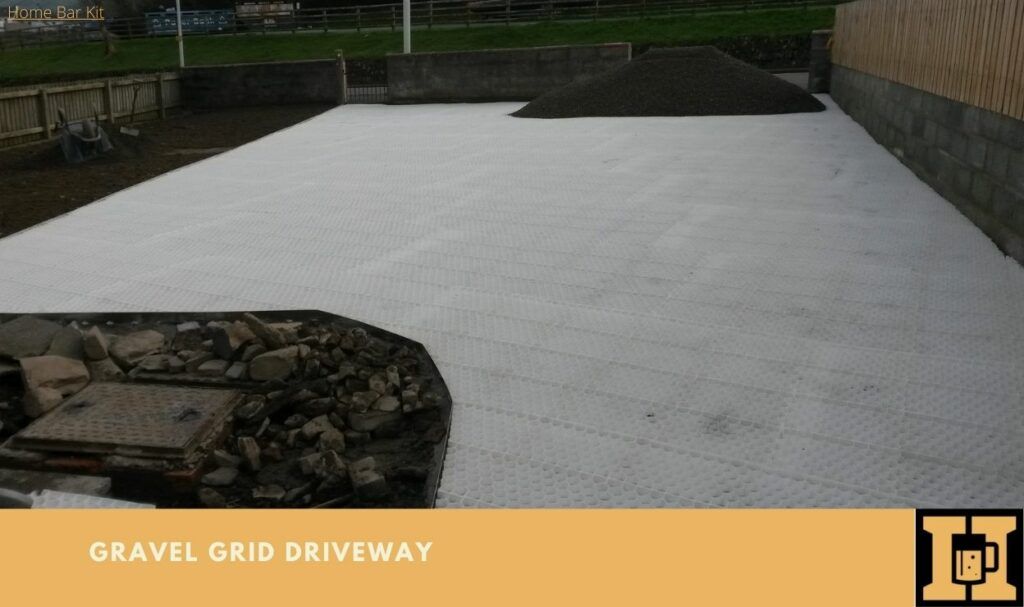 I did like most people first decided to lay a concrete base for my pub shed build. However, the amount of disruption it was going to cause made me rethink.
Other types of base were also contemplated, such as a wooden frame and paving slabs. But the final choice is a plastic grid.
A few years ago I had a similar choice to make when I was laying a new driveway. Should it be concrete, or maybe tarmac?
I chose a plastic grid filled with gravel. It has performed great with no loss of gravel being carried off the driveway.
Even though the drive has a slope it has not moved and had a fair amount of traffic. It has withstood not just cars, but commercial vehicles too.
Once the ground is prepared the grid goes down so quick. The picture shows the grid laid ready for the gravel, this took about an hour to lay.
So I thought if a grid is good enough for a driveway, then it will work as a base for my pub shed.
Preparing The Ground For A Plastic Grid Base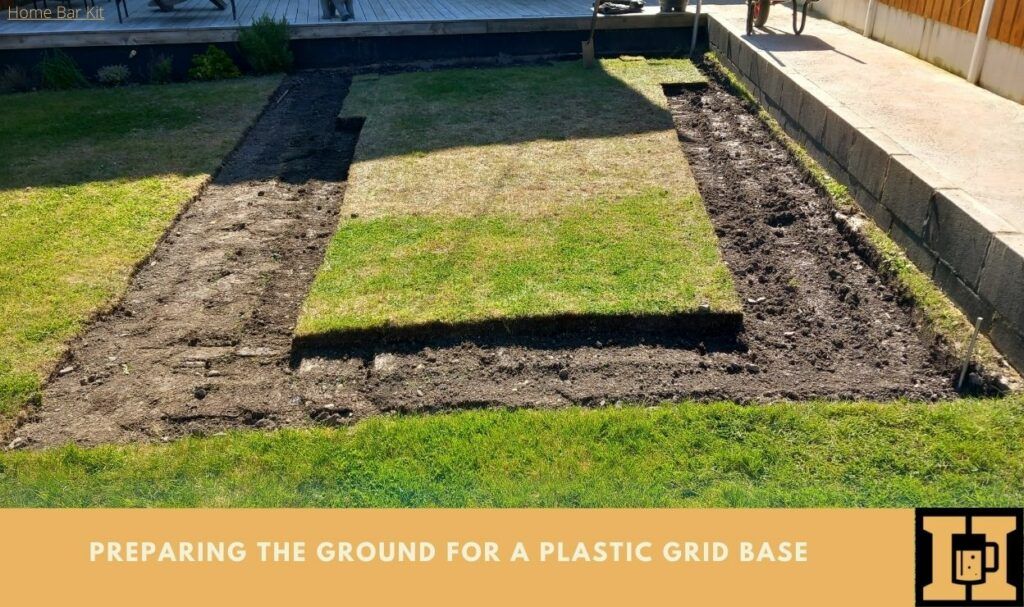 I have seen the plastic grids put straight onto grass, which I guess works if the grass is perfectly level to start with.
Mine isn't, so I first removed the grass and then levelled the ground. Levelling the ground is a hard job, but after a lot of effort from myself and my son Joe we got there.
But it did take quite a long time, and was a little frustrating too.
Next I added a groundsheet and laid some left over grid from the driveway around the parameter as a frame. I filled these with gravel and then added gravel to the ground sheet and compacted it down.
This allowed for any slight discrepancies in the surface to be dealt with by the gravel. Once all the level were checked the plastic grid is clip together and laid inside the other grid.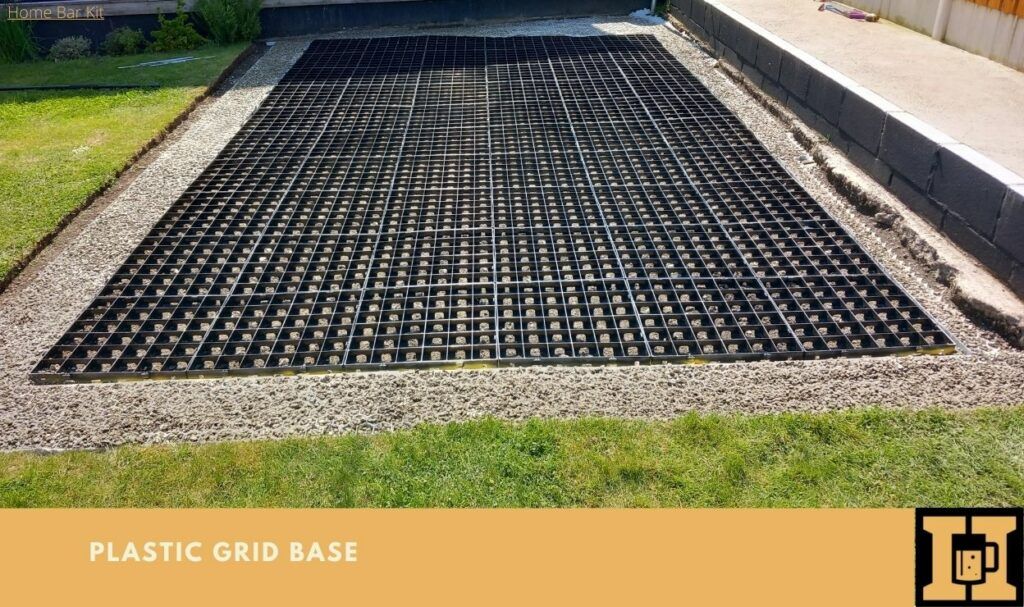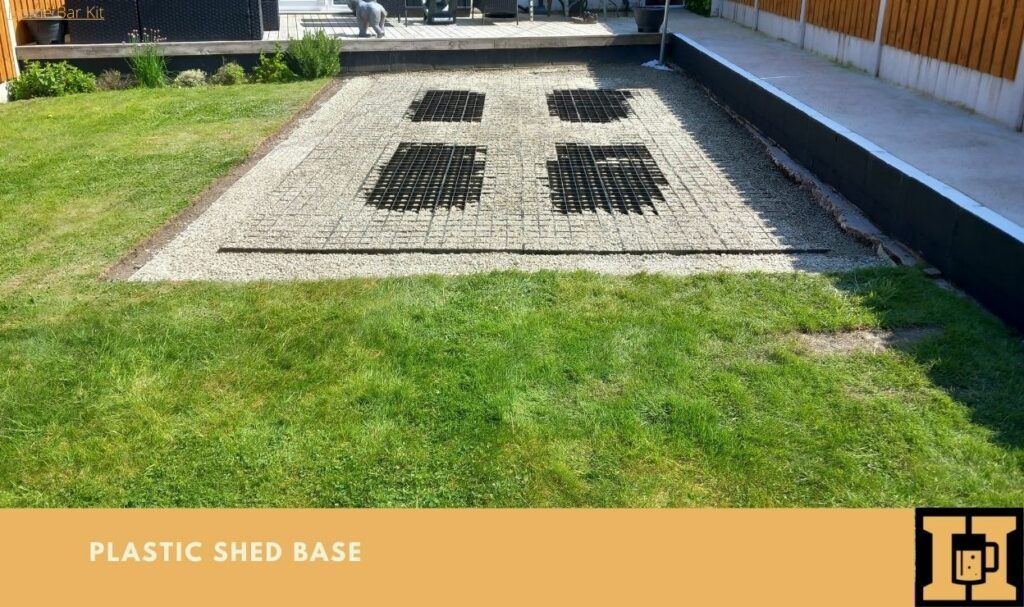 Finally I filled the plastic grid shed base with gravel, and it is ready to build on.
Easy To Install
Apart from digging up the grass and levelling the ground the rest took little more than an hour. The grid just clicks together with locking clips and 60 500mm x 500mm tiles went together in about 10 minutes.
You don't actually have to fill the grid with gravel. But it does make it even stronger and stops it moving.
So it really is an easy system to use for a shed base. All that is left to do is build the cabin.
A Strong Shed Base
A shed or garden room can be pretty heavy, especially when it is filled with contents like furniture. So the base needs to be up to the job and provide enough support to hold the structure.
There are a number of plastic shed base systems, but I went for ProBase. The company state that the grids which measure 500mm x 500mm x 40mm have undergone independent testing.
Each grid can stand 50 tonnes of vertical load, and once filled with gravel this goes up to 175 tonnes per grid. I am pretty sure any side shed will not exceed these weights.
So a plastic grid is a strong alternative for a shed base.
A Movable Shed Base
While it is not common practice to move a shed or garden room once it has been built, it is a possibility. Sheds, garden rooms and cabins are expensive, so if you want to move house, then you may want to dismantle them and take them with you.
Or perhaps you decide to move your shed to a different part of the garden.
A plastic grid shed base can easily be taken apart and moved too. This makes a plastic grid a versatile base that is not permanent.
Self Draining Shed Base
Unless a concrete base is absolutely perfect there may be a few low points. This means water could puddle which is not good for the shed to sit in. Also as rain hits the concrete it splashes on the lower panels of the shed.
A plastic grid filled with gravel lets water drain immediately meaning the shed is not sitting in any water. Also if the grid is larger than the shed the surround becomes a french drain and stop splashing.
An Economical Shed Base
It can cost a lot of money to prepare the ground for a shed, but it doesn't have to.
Compared to the price of concrete and timber, a plastic grid is a very economical way of laying a shed base.
I paid £316.80 including VAT for a 5m x 4m grid which included the groundsheet too. The got 2 tonnes of 10mm gravel and it cost £93.00.
So for less than £410.00 I have a good solid base for my pub shed. A lot cheaper than a concrete or wooden frame base.
Final Thoughts
So those are the five reasons I chose to use a plastic grid for my pub shed project. I think the number one reason is the convenience and ease of installing that sold it for me.
Once the ground is prepared it really does go down quick, and the best thing is that you can build right away.
It is of course down to personal choice and where the shed is to be situated. A plastic grid will not be suitable if a garden has a steep slope.
If you have any questions about the plastic grid base, or if you have any other shed base ideas. The do share your thoughts or leave your questions below.
I am off to build my pub shed which will feature in a future post. Thanks for reading.