A Helles style lager that comes from a creative brewery in the fantastic city of Edinburgh, Scotland. Edinburgh Beer Factory are a celebration to the father of pop art Eduardo Paolozzi and they brew beer with the same artistic flair. So is Paolozzi Helles Lager a decent beer?
Helles the German pale lager is popular the world over and many prefer it to the Pilsner style lager. So have the Edinburgh Beer Factory done this beer style justice with their Paolozzi Helles Lager?
Is Paolozzi Helles Lager A Decent Beer?
For sure it is a decent beer and one not to be missed. It pours a crisp light golden with an ample white foamy crown. The nose is subtle with slight sweet citrus notes over a malt base. The taste is crisp and fresh with a soft bready malt base and a slight hop bitterness. It ends with a sweet tangy edge, a perfectly balanced lager. I'm in and it gets a rate my beer score of 4.5 – 5.0.
A really nice lager with a full body, it feels complex but simple at the same time.
Edinburgh Beer Factory
The brewery is an independent family run business launched in 2015 and is inspired by the home city of Edinburgh. As well as being inspired by this cultural city with its amazing architecture and surrounding scenery.
Edinburgh Beer Factory is also a celebration of one of the sons of Edinburgh, Sir Eduardo Paolozzi a Scottish artist. Paolozzi created many sculptures and graphic work. He is considered by many to be the inventor of pop art that vibrant modern art movement of the 1950's.
The family responsible for the brewery are the Dunsmore family who like the artist Eduardo set out to make beer an art form with the highest attention to the quality of the beer.
There is even a Paolozzi Restaurant and Bar which is a partnership with a Scottish-Italian restauranteur Gino Stornaiuolo. As you can imagine this is a mixture of Italian food complimented by EBF and local beer and set in a modern pop art backdrop.
A very interesting brewery with a small range of beers which get their full concentration.
Is Paolozzi Helles Lager A Decent Beer?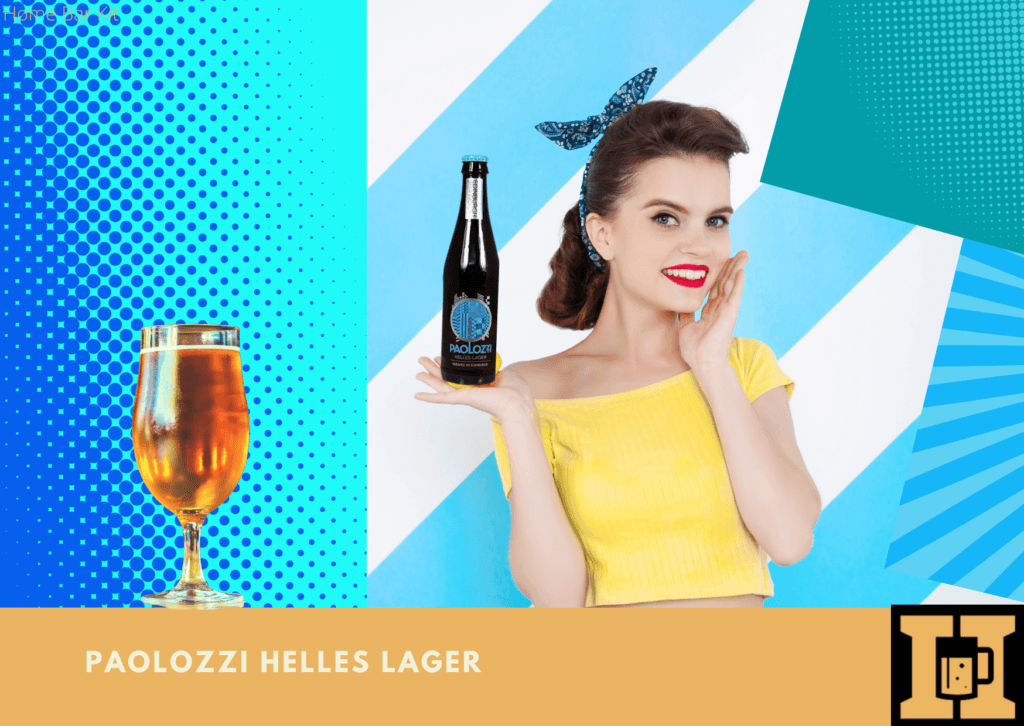 Although my heart is in ale rather than lager, I do love a decent lager with something more to offer than the mass produced lagers.
So I had high hopes for this Scottish craft lager, even though the packaging didn't make a big noise.
The brown bottle that carried my lager was definitely on the subtle side, with just a small abstract style label. However it is now available in 500ml cans which are somewhat more jazzy in comparison.
After cracking the crown, it poured a light gold with an inviting glow and a generous foamy top.
The nose was ultra-fine with a sweet citrus note, in the background is a malty biscuit aroma with the slightest of grassy notes.
The taste delights with a delicate malt base of bread mixed with a gentle hop bitterness. A medium carbonation with a smooth mouthfeel that ends with a sweet note that has a tangy edge.
It has a strong sturdy body that is crisp and refreshing and at the same time a clean smoothness. A well balanced meaty lager that satisfies the palate.
It is a little moreish to be honest, but at 5.2% Vol it stands outside the framework of a session beer. However it is hard to just have the one, so self control is needed. Especially if it is presented on tap in a bar, that would be nice.
Edinburgh Beer Factory have got a winner with this Helles style lager. For me it's a joy and gets a worthy 4.5 – 5.0 rate my beer score.
Edinburgh Beer Factory Range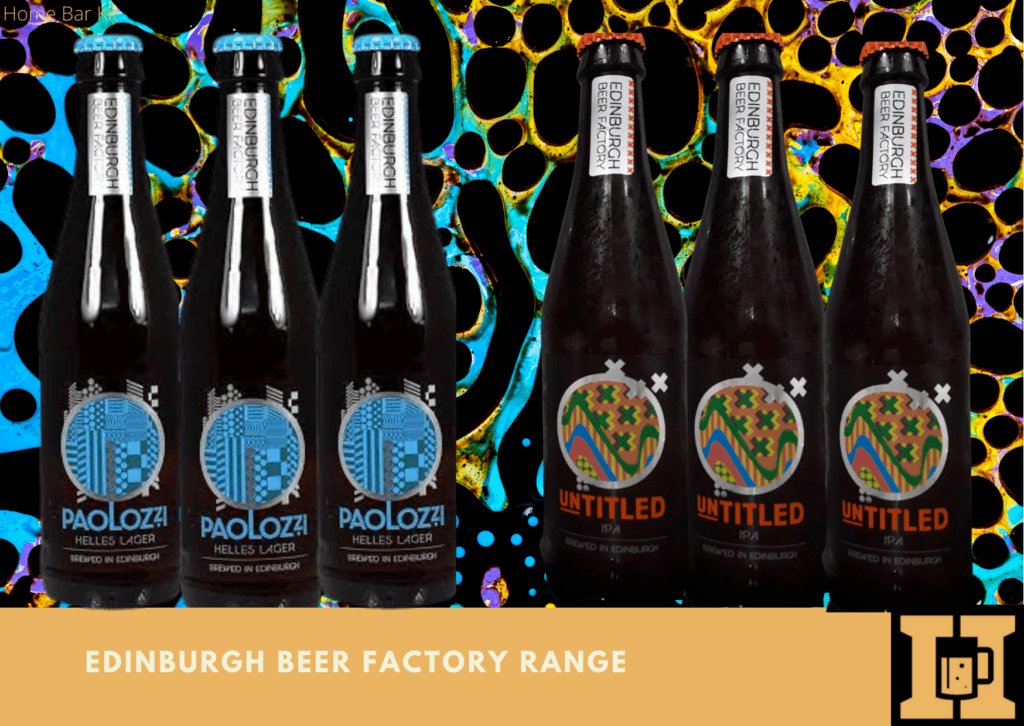 So what else have the brewery got up their sleeves? As I said earlier the range from EBF is not a huge one. They do not produce copious amounts of different beers like some craft breweries. However they brew a modest selection very well.
Having said that they do also produce a great selection of ciders too.
I am sure there will be more beers added to the range in the future. But for now even though the range is modest they offer something for everyone.
Edinburgh Lager
A straightforward pilsner style lager that is safe as a session beer. With Noble European lager hops it gets that real pilsner feel.
By adding rice to the malt bill you get a pleasing dry finish. It promises to be a crisp refreshing lager you would expect from the pilsner style.
I am not sure whether it will stand up to the stature of Paolozzi, but I reckon it will still be a good lager. At just 4% Vol it is a safe bet to have more than the one. Cue a hot summers afternoon in the beer garden.
Edinburgh Pale
Another simple straight to the point beer both in name and packaging. However the contents are probably not so understated.
A dry hoped pale ale that is brewed with Cascade and Centennial hops which are similar in their profile. Together they promise a floral citrus experience with zingy grapefruit flavors. It should be clean and refreshing, another one that lends to a drink on a warm day.
At 4.2% Vol it will be kind if you indulge in more than one to quench that beer thirst.
Untitled IPA
They couldn't be bothered to name this one, maybe it speaks for itself. Could be the influence of the art world, maybe Eduardo himself.
I have recently tried this IPA, so it will be featured soon. Without giving too much away it stands well as a solid IPA, no fuss just a decent malt base with the unsurprising hoppy citrus twang.
A full bodied beer that has a strength tag of 5.5% Vol, so you know you have had a beer.
Edinburgh Stout
The stout lovers can rest easy as EBF offer this smooth silky brew that weighs in at a round 5% Vol. A good hardy stout with a backbone and a full body.
Brewed using their own house yeast it promises to be rich with toasted malt notes supporting a little chocolate and coffee sprinkled on top.
Sounds like a good solid stout that may have a smooth but slightly sweet edge. It has to be worthy of a try, so I will look to seek it out soon.
Final Thoughts
So there you have it a solid range of beers from a family brewery set in the heart of Scotland. Taking inspiration from the artistic culture of Edinburgh, EBF have kept it simple, yet complex too.
They are not in your face beers that boast extravagant livery or ingredients, no Noni is used in the making of their beers 🙂 However the two I have tried so far have not disappointed and I will be back for more. Solid to the point beers that deliver on body and flavor.
If you have tried any of Edinburgh Beer Factory beers, then share your thoughts. How did they fair in your flavor banks?