I was recently asked what I thought of this beer, and although I had tried it many years ago could not remember. So I got myself a bottle or two and gave it a go. Just so I could answer the question, what do you think of Duvel?
I had forgotten how strong this beer is, so just the one bottle was the sensible option. The dumpy little bottle seemed so harmless, however it packs a punch. But what is it like?
What Do You Think Of Duvel?
I think it is a light feeling beer that is refreshing and crisp, but it does hide the strength it holds within. The pour is lively revealing a golden straw and scores a humongous fluffy top. The nose is citrus forward with a malty bread base. The taste is citrus lemon with an almost shandy feel, but in a good way. A lemon/lime top with a little bitter edge. It's a lively beer but with a mild smooth carbonation in the mouth. The shandy likeness somewhat puts me off, however I can't dislike it. So it scores a rate my beer of 4.5 – 5.0.
It doesn't feel like a strong beer, which makes it a little dangerous.
Duvel Moortgat Brewery
The Duvel Moortgat Brewery is still run by the same family, the 4th generation of the Moortgat family. We have to go way back to 1871 when Jan-Leonard Moortgat along with his good wife Maria started the brewery.
The two perfected the beer and built a lucrative business. Going into the new century saw the sons come into the business. Albert the brewer and Victor responsible for getting the beer to customers.
The first world war exposed Belgium to England and the English ales inspired the brothers to create a special beer. For this they travelled to the UK in search of yeast, and ended up with Scottish yeast. The strain of that yeast is still used today.
The new beer eventually conquered the world and is still popular to this day. They even invented the now popular Tulip beer glass which they designed especially for their beer.
Today Moortgat has eleven breweries worldwide, including three in the US and one in the UK.
From humble beginnings to a global brewery, that's a Belgian win.
A in depth history of Moortgat is well documented at BeerTourism
What Do You Think Of Duvel?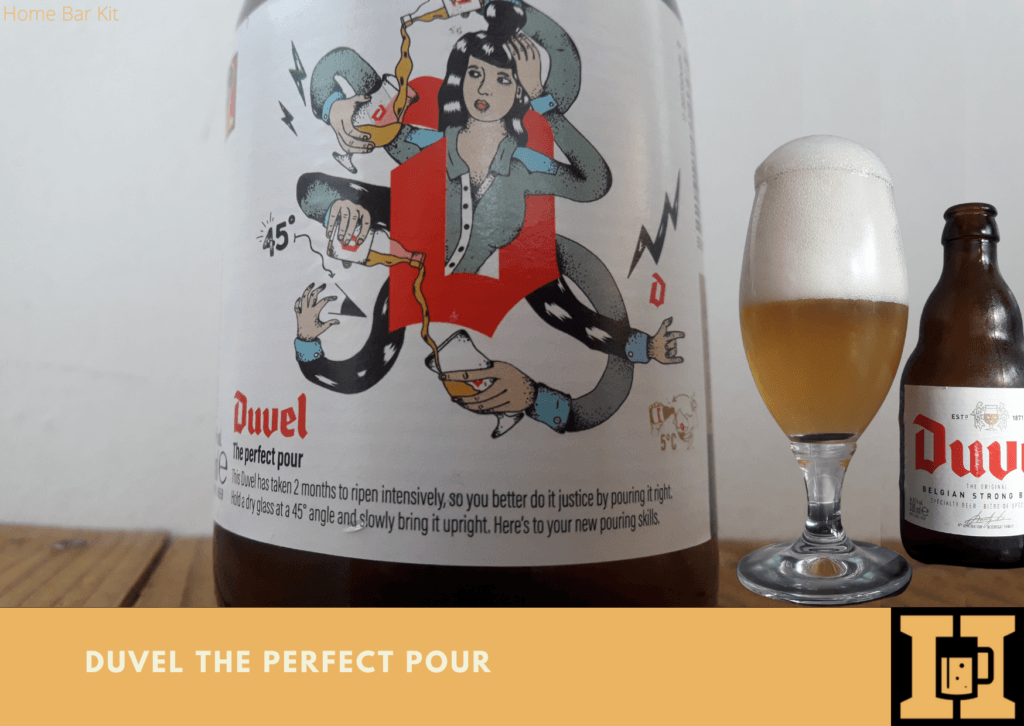 It's a gladiator in a small body. A strong blond beer all packed up in a little bottle. The bottle is pretty cute in shape, the label is basic with a whiff of tradition. On the back is a lesson in pouring, we all know how to pour beer thank you very much.
But maybe there is good reason why the bottle is so small, it only holds 330ml.
It's because it is a whopping 8.5% Vol, like I said a gladiator in a small body.
Look I did pour as per the instructions, but that did not stop the head being gigantic. However this does settle, but retains a good depth and leaves a moderate lacing around the glass. The body is a bright golden shade of straw.
Drinking Duvel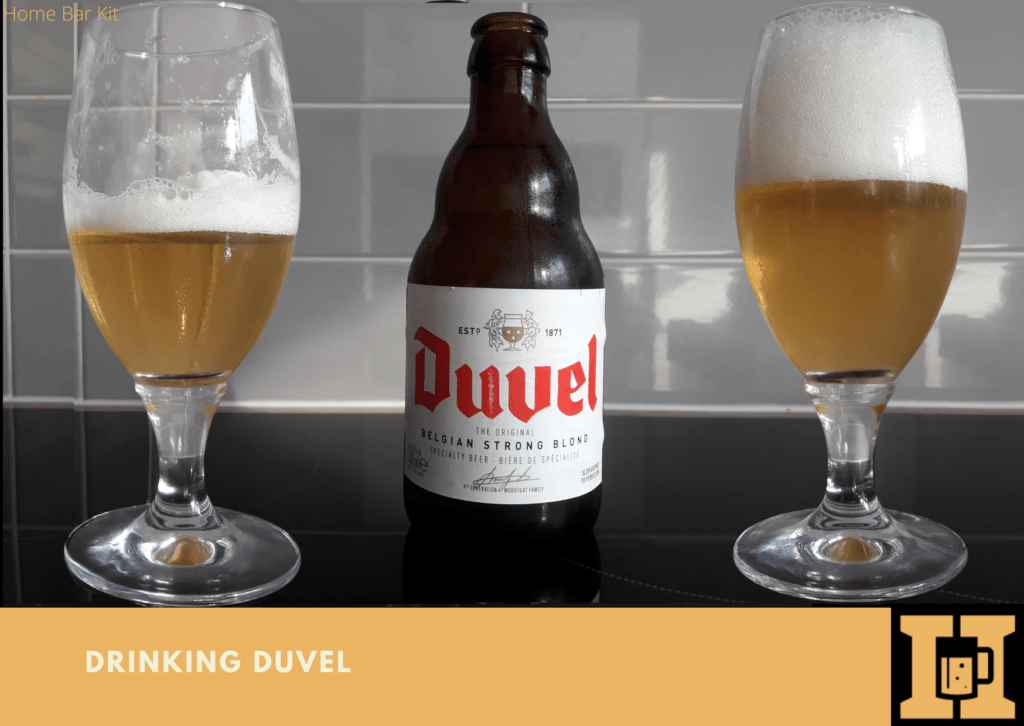 For me this was a deceiving beer, but more about that in a minute.
The nose gyrates from the glass like a citrus cloud tainted with the aroma of lemon and limes. A malty bread base makes its presence known. And did I detect a little spice in there too, I am sure I got something.
The citrus hits you like a train up front, for me it was lemon and/or lime. Like a beer had been topped with one or the other.
This is the deceiving part, it felt like a shandy/radler and I am not keen on them. Having said that although it felt like a shandy, it had more too it. I can't explain it, but it had hooked me and was reeling me in.
Back to the taste, and the citrus cloud is held up by a satisfying malty base that has a slight sweetness to it. At this point I didn't get any spice that I thought I got from the nose.
Although highly carbonated it didn't feel like it. The mouthfeel was smooth and fresh. It goes down way too easy and leaves a sweet aftertaste that is cleverly tangled with a bitter edge.
It's a light, crisp and refreshing beer, but the shandy thing gets to me.
It gets a decent rate my beer score of 4.5 – 5.0. This is only the second time this had happened, but M'Lady score the same. Lou liked the beer, but then she does like a shandy.
Duvel Moortgat Brewery Beers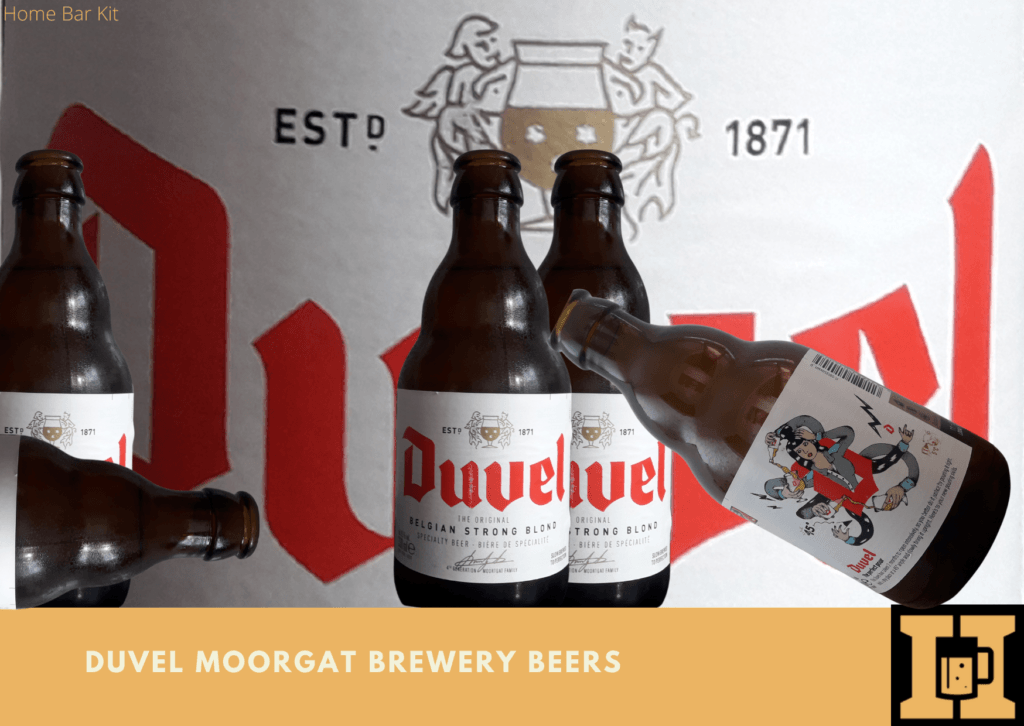 Apart from the 8.5% monster that is the original Duvel, they do brew some other beers too. Although it is not a vast range of beers.
A small simple range packaged in small dumpy bottles.
Duvel 6.66
Another Belgian Blond beer, it's a light golden almost sunny appearance with another very generous head. It is described as a mild and expressive beer that is, well delicious.
Did you guess why it is called 6.66? Two reasons I think. First of course it has an ABV of 6.66%. Second it is brewed with a variety of six hops, some of which a dry hopped in the brewing process.
Duvel Tripel Hop Citra
There are two clues in the title of this beer that tell us this beer is triple hopped and includes the Citra hop. Well it is triple hopped, Saaz and Styrian Goldings are in the mix. Aswell as the aromatic citrus giant that is Citra.
It is even bigger than the Duvel original and has an ABV of 9.5%. Wow it is wise to navigate this one with caution.
Duvel Tripel Hop Cashmere
Have you spotted the similarities to the Tripel Hop Citra? So this is the same beer, but with a difference. It is triple hopped with the same Saaz and Styrian Goldings.
However instead of Citra as the third hop, it has Cashmere. This gives it that tropical feel of melon peach and tangerine, with a little lemongrass and coconut thrown in.
It still has the fierce 9.5% ABV, so proceed with caution.
Final Thoughts
Duvel then is a beer brand that has been around for a long time. Still in the same family, its presence is felt worldwide.
If you haven't tried a Duvel beer yet, now might be the time. Just take it easy as they don't seem to understand the concept of a session beer.
Duvel Original is a nice beer, I just find it hard to get over the shandy like feel to it. That won't stop me trying their other beers though, oh no.
What do you think of Duvel?
If you have experienced the Duvel beers then share your thoughts below and let me know how you got on.