It is not often you hear that sentence in a pub these days. However it use to be a popular sentence because mild was a popular beer. So can I have a pint of mild please?
It depends if you get lucky or not. There are some pubs that do still have a mild on cask, but they are few and far between. I am not talking new style mild beers from craft breweries. This is about an old style mild like XX Mild from Greene King.
Can I Have A Pint Of Mild Please?
Yes you can, and there are still some old style mild beers brewed today. One such beer is XX Mild from Greene King. The recipe is close to the one that was brewed over a hundred years ago when it was a popular pint. XX Mild is better than I expected it to be, in fact it is rather good. Easy to drink with plenty of flavor, it gets a rate my beer of 4.5 – 5.0.
There are plenty of mild style beers around today, you can find a list of some at Rate Beer.
What Is Mild Ale?
Mild Ale is an old style beer popular in Britain and probably the favoured beer for a long time. It is regarded as a young beer because it is not aged for very long.
A dark mild is as you would expect dark in color with dark roasted malts and chocolate, caramel and bitter coffee notes. A pale mild is lighter in color with light malts and sweet toffee notes.
Mild Ale is normally low on the strength scale and easy to drink, but with some good flavor. However it did fall out of fashion and bitters forced their way in, until lagers stole their limelight.
Mild then, though still around is not sold in much volume and many breweries dropped it off their brewing list.
It has made a bit of a comeback though and many craft breweries have brewed a version of the once popular mild ale. This is a good thing, obviously.
Many regard a mild as an old persons drink, and a weak beer without much flavor. I say it is a little gem that is all too often overlooked.
So I was happy to spot the XX Mild and there was no argument that it was coming home.
Is XX Mild Any Good?
I have had this beer before, many years ago but memories fade. So I wanted to try it again and if I'm honest I wasn't expecting much from this Greene King brew.
I am just happy to see it and initially bought it just for old time sake. However I was surprised how good it is, I know me too.
I thought, when I write about this beer it is going to be another Session IPA response. That one really got some peoples hackles up, some of the comments are comical.
This one could be the same and split the crowd. However I had a little scout around for reviews and found that they are mainly positive. The scores are way higher than I expect.
Maybe there is still love for the mild after all.
It's a proper pint that deserves a place at the bar in any local pub.
Drinking XX Mild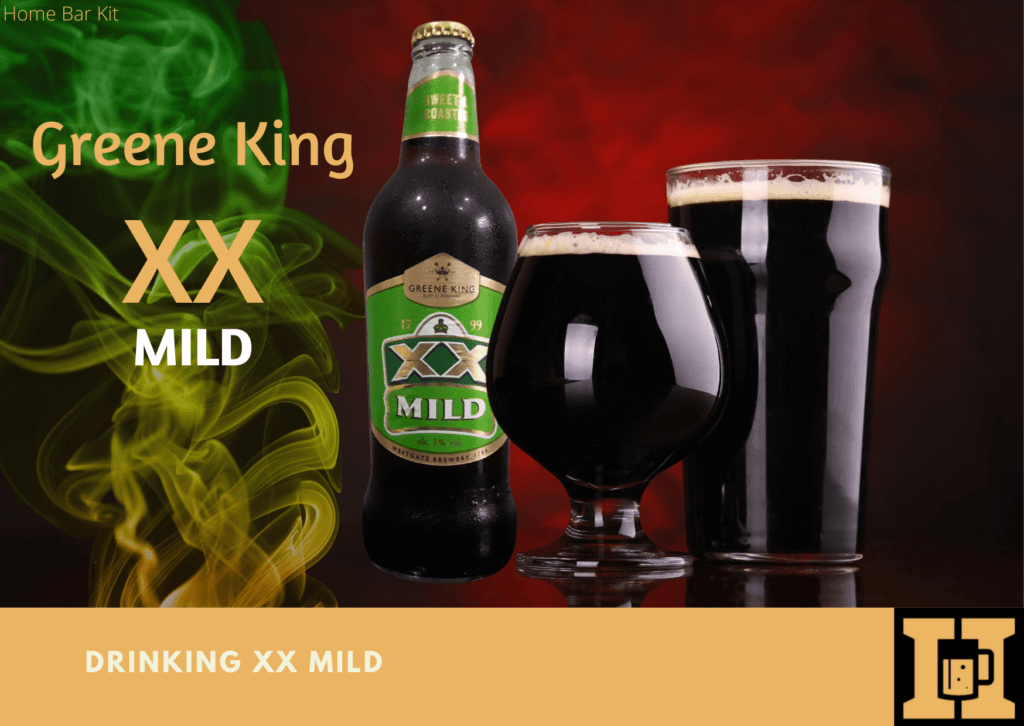 The clear bottle with its green label edged with gold shone from the shelf. The XX Mild spoke to me and without any hesitation, I took it home.
At home I put my flat cap on and cracked the crown.
Once poured it settles to the deepest of brown almost black with a cream frothy head. The head gradually fades leaving just a whisper of cover. As it goes down a mild lacing clings to the glass like a limpet clings to a rock.
The nose is sweet and sticky with toasty roast malt and chocolate caramel aromas. It smells rich and deep with an invite to proceed.
Once you do a dark roasted malt fills the mouth with sweet chocolate caramel undertones. It is not too sweet though and a slight herbal note floats on top. It is smooth with a medium smoky body that feels stronger than its low 3.0% Vol.
I am impressed and quite frankly would like pub Landlords to contact Greene King and put their orders in.
An easy drinking low ABV beer that is smooth and packed with flavor.
The rate my beer score for me is a decent 4.5 – 5.0, while M'Lady although liked it scored it a lower 4.2 – 5.0.
Greene King Beers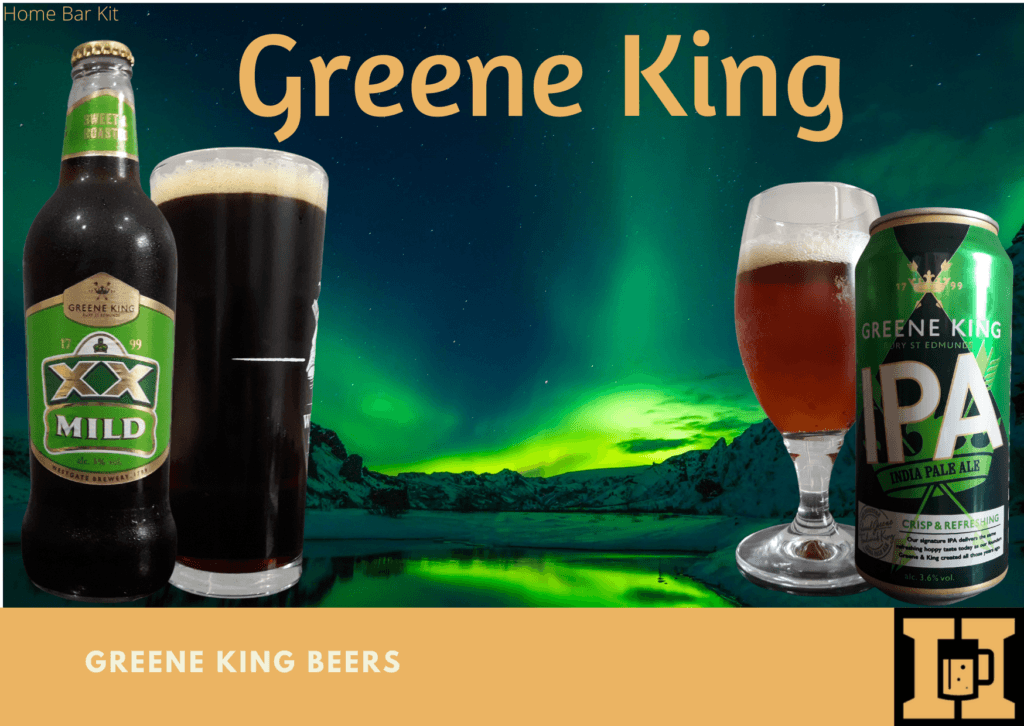 I hope the XX Mild gets a better response than the Session IPA, I don't want to have to go into hiding. But apart from these two beers there is much more from Greene King.
A collection of old style ales as well as some new style beers too. Here are a few they have to offer under the GK label.
Bonkers Conkers
Bonkers Conkers is a small batch seasonal beer, there is no awards for guessing which season. A deep gold amber colored beer that is brewed with five hop varieties.
It promises fruity aromas of blackcurrant, lemon and a little orange peel thrown in. A biscuit malt base holds up citrus hop kick for a warm but refreshing experience.
At 4.1% Vol it is okay to have more then one, I'm on the look out.
East Coast IPA
Greene King describe this beer as a bold, brash punchy American style IPA that's crisp and hoppy. It is triple hopped to celebrate this style of beer from across the pond.
Its soft malt base gives way to tropical fruits and dry hop bitterness making it fresh and crisp. At just 4.0% vol it is easy drinking with an east coast feel.
Sub Terranea
Sub Terranea is an intense bitter oatmeal stout that is based on an old GK recipe from 1926. Inspired by tales of the fiddler lost beneath the tunnels of the brewery.
It's intense, deep, dark and full of mystery with its dark roasted aromas and flavors. Think chocolate, coffee and treacle. Oh it sounds deep and it packs a punch too at 6.4% Vol, just the one then.
Final Thoughts
The XX Mild then, what can I say apart from, 'Can I have a pint of mild please.' I am a little surprised how much I like it, but I do and will definitely be having it again soon.
It is an easy drinking, flavorsome ale that has a low ABV, what's not to like?
Have you tried XX Mild? If so what did you think, share your thoughts below and let me know. I'll go and put my hard hat on:)