Vergina Red Amber Lager comes from a Greek brewery. Demetri Politopoulos is the man behind it, and it all started when he wasn't happy that Greece did not have its own beer identity.
Demetri changed all that and could be said to have started the Greek craft beer revolution. Today you can find many craft beers in Greece as I recently found out on a trip to Santorini. This lager is one of those beers.
What Is Vergina Red Amber Lager Like?
Vergina Red is not your average lager, but it is a decent beer. It pours a deep copper red with a thick generous off white head. On the nose it is simple with the malts shining through and a hint of fruits. The taste is not so simple with a rich caramel malt base that has a citrus and fruity edge. It leads to a touch of peppery spice and a great bitter finish. It gets a rate my beer score of 4.5 – 5.0.
It's like a lager impersonating a real ale, and its pretty good at it.
Macedonian Thrace Brewery
Macedonian Thrace Brewery was born in the heart of Demetri Politopoulos in the mid nineties when he thought Greece should have its own 100% Greek beer.
He established the brewery in 1996 after obtaining a brewing Technology diploma in Chicago USA. The brewery was set up in Komotini in North Eastern Greece. A choice influenced by the excellent quality water courtesy of the Rodope Mountain Range.
Early 1998 saw the first beer bottled at the brewery, Vergina Lager, the first 100% genuine Greek beer with a Greek label.
Since then the brewery has added more beers to the range, built a malting plant as well as a visitors and bar. The malting plant has enabled given the brewery their own Thracian malts.
They now supply many breweries across the Balkans and Eastern Mediterranean.
Vergina Red Amber Lager
I ordered this lager in a Greek Taverna in Fira, Santorini and was expecting just a standard lager. W
However when it arrived the bottle told me nothing apart from red amber ale. The rest was all Greek, which is fair enough that is what Demetri wanted.
The brown bottle stood proud wearing a deep red and white label sporting a gold lion. The pour revealed exactly what the label briefly described. A deep copper red beer with a generous off white head, that clung to the side of the glass and laced it all the way down.
Drinking Vergina Red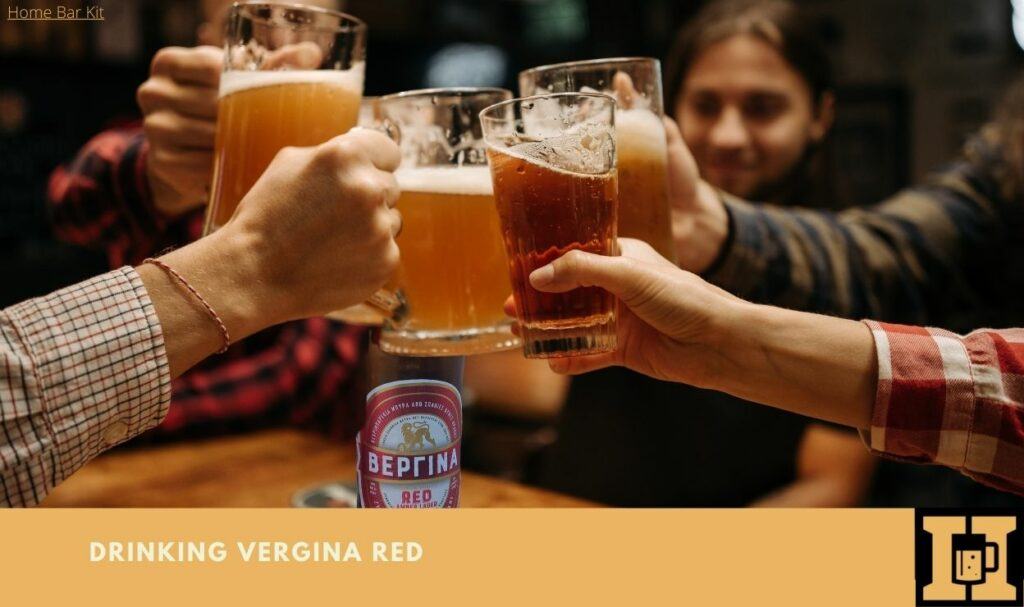 On the nose it is a simple affair with subtle notes of malts and a little touch of citrus fruit. Up to this point it didn't look or smell like your average lager. And the taste confirms that.
The taste is complex, almost intense for a simple lager. However this is no simple lager, rich caramel malty flavours flood the mouth. It has a depth to it with a little fruity citrus edge that compliments the malt base.
But the highlight is a little peppery spice on the backend that leads straight to a satisfying bitter finale.
I like it, however its a little misleading, like a lager dressed up as a real ale. Maybe its a lager/ale hybrid, whatever it is, I like it.
At 5.8% Vol it is not a session beer, so I only had one, which went well with my Gyros. To sum up it is a good beer I would quite happily drink again. It gets a rate my beer score of 4.5 – 5.0.
M'lady is not so keen saying "It smells light with a faint malt and taste rich with malty caramel." I think that is pretty positive, however in spite of that Lou scored it only 3.5 – 5.0.
I'm a puzzled as you.
Vergina Beers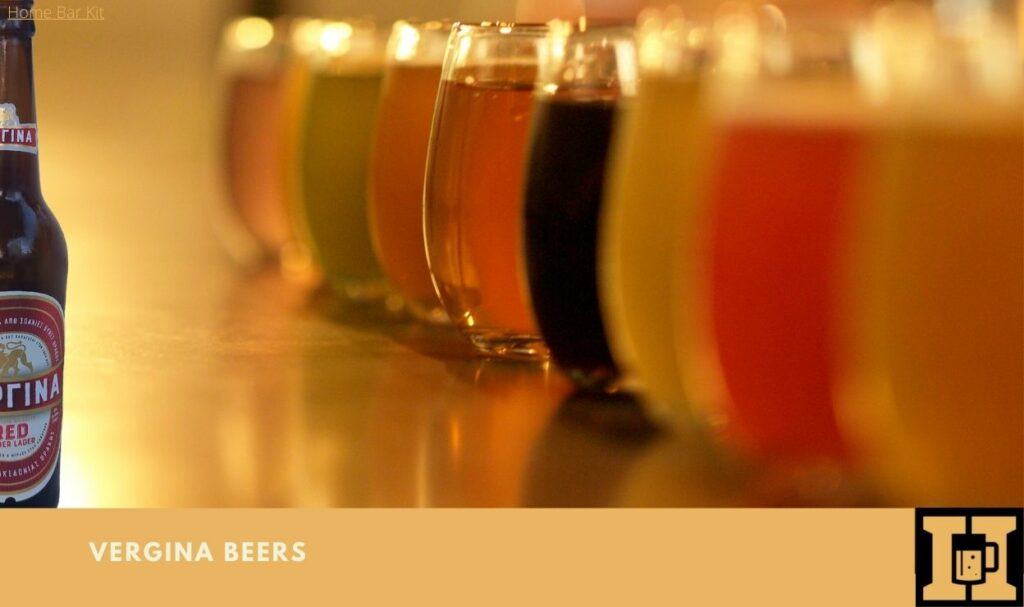 Macedonian Thrace Brewery produces a decent eight beers in the Vergina beers range. Mostly lagers of some description and a few only brewed in limited editions.
One thing I will say is that I want to try them all, even the alcohol free lager and the radler. They have all hit my beer hit list.
Here are a few of them at the top of the Vergina beer hit list.
Vergina Black
Vergina Black is a dry stout and one I am looking forward to trying , if I can get my hands on it. An unfiltered black beer that promises fine aromas and a rich deep taste.
That taste includes flavours of roasted malts laced with coffee and vanilla notes, it sounds delightful. At %.5% Vol its not up for a session, on the other hand surely two will be cool.
Vergina Lager
The classic Vergina lager which I think is the first beer produced by the brewery. A standard but premium lager that follows the German Beer Purity Law whilst being brewed.
It is described as a light refreshing lager with a smooth body and I'm hoping a little bitterness. It runs in at a standard 5.0% Vol so just qualifies as a session beer.
One or two could fit the bill in the Greek sunshine.
Vergina Honey And Spice
Vergina Honey And Spice ale is a Monastic style beer that packs a punch. Fused with honey, pink pepper and bergamot it could have some intense flavours.
Double fermented with Abbey style yeast it whacks out a hefty 9.0 % Vol so hold on to those socks. I want to try this one, yet I am not a fan of honey in beer, I don't like it.
I'll brave it though.
Final Thoughts
To summarise Macedonian Thrace Brewery are an impressive outfit producing a good range of beers. It is not a vast beer range in comparison to other breweries. Nevertheless I think it is a solid line up of eight beers.
I am sure that number will grow in the future, you can't stop a craft brewery crafting more beer.
If you have tried Vergina Red Amber Lager then do share your thoughts below. Or any of the other Vergina beers, let me know what you think of them.